Rhubarb banana bread with a streusel topping is a sweet, yet tangy treat that is bound to be your new favorite way to bake with rhubarb and bananas.
This vegan banana bread with streusel is the perfect treat for sharing!
The rhubarb adds a tart twist on this classically sweet banana bread while the streusel adds an extra layer of crumbly sweetness that makes this quick bread stand out!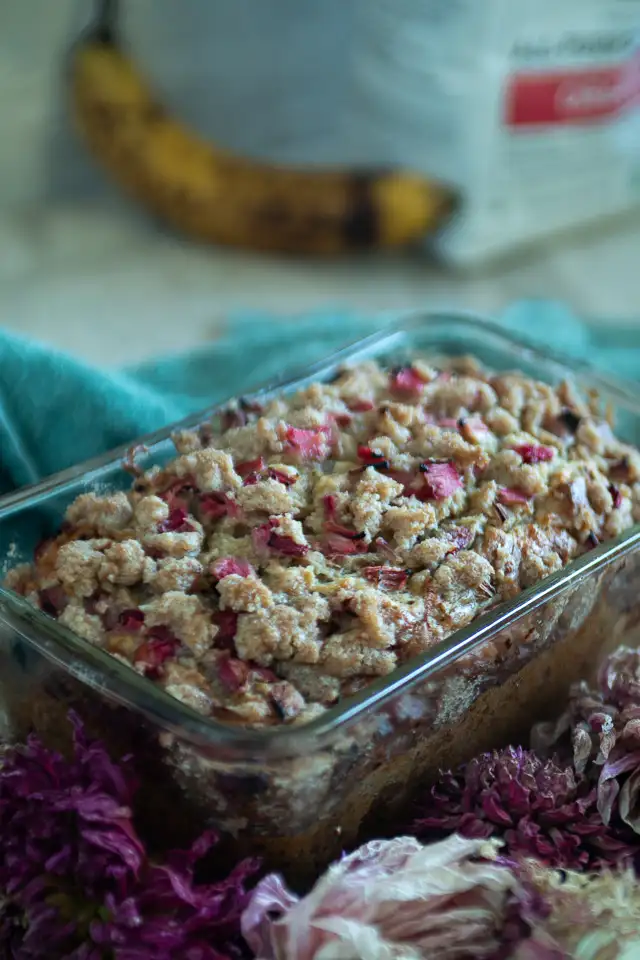 Rhubarb Banana Bread can be made with either fresh or frozen rhubarb- making this recipe perfect to enjoy throughout the year. The tangy rhubarb pairs beautifully with the sweet and fruity banana bread adding small bursts of tanginess that is mouthwatering.
The streusel topping helps balance the sourness of the added rhubarb by adding a sweet crumbly element that works perfect in this sweet bread.
Rhubarb Streusel Banana Bread is a perfect treat for picnics, or really any kind of traveling! It transports great and does not need to be refrigerated. Keep it wrapped up in some wax cloth to keep it moist and long lasting. (I linked to esty since it's my favorite place to buy vegan wax cloths!)
If you do refrigerate the banana bread, it will last up to a week. It will last for about 3-4 days on your counter (depending on temperate of your house!)
I would personally be impressed if this bread lasts that long- my family has a difficult time not eating the whole thing the day I bake it! The way it makes the entire house smells is pure heaven!
The best part is that this rhubarb streusel banana bread is really easy to make.
If you are looking for other fun baked goodies try making these cranberry orange muffins! They are also sweet and tangy with chunks of fruit, perfect for a quick breakfast treat.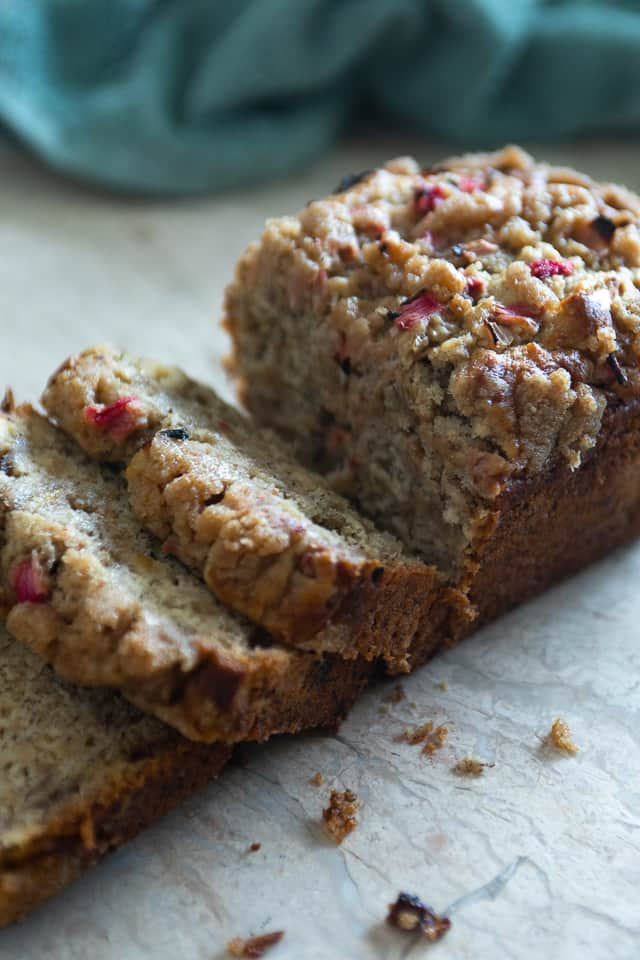 Streusel Rhubarb Banana Bread
Rhubarb Banana Bread with a streusel topping is a sweet and tangy quick bread that is a crowd pleaser! With bits of chopped rhubarb in the batter and paired with a streusel topping this banana bread recipe will become your favorite
Print Recipe
Ingredients
Wet Mix
4

Large

Ripe Bananas

2/3

Cup

Brown Sugar

1/3

Cup

Sunflower or Another Neutral Oil*

1

tsp

Vanilla

1

Cup

Rhubarb, fresh or frozen
Instructions
Preheat Oven to 340 F or 171C

Mash your bananas and add the sugar, oil, and vanilla. Cream together then stir in 1 cup of rhubarb

In another large bowl sift your flour and then add the rest of your dry ingredients

Create a well in your dry ingredients bowl and pour in your banana mixture. Gently fold to mix- do not over stir*

Combine your streusel ingredients in a small bowl

Pour your banana bread batter into a loaf pan, sprinkle the remaining 1/2 cup of rhubarb over the top, then sprinkle the streusel over that

Bake for 70-80 minutes. It is done when it is golden brown on top and if you poke a clean toothpick/chopstick it will come out clean *If using frozen Rhubarb cook for 80 minutes
Notes
Neutral oils that work great is avocado oil, sunflower oil, canola oil, vegetable oil
In place of coconut oil for the streusel topping you can use your favorite choice of plant based butter
Over stirring or too much mixing will lead to a tougher, chewier bread. To keep it soft and slightly crumbly mix only to combine
Nutrition
---
---
Are you wanting to bake more?

Try out this Cranberry Orange Pulp Muffins for another sweet treat!

This is a secretly healthy recipe that is sweet, soft, and a loaded with fiber! The secret in these muffins is that it uses orange pulp to help flavor the muffins- which is perfect to enjoy with a glass of freshly made orange juice.

By