This Miso Mushroom Gravy is a rich, creamy, umami bomb!
Using the power of mushrooms and miso this gravy has an ultra-savory depth that cannot be beat. This naturally vegetarian gravy is so flavorful it will win over the hearts of everyone, including those picky meat eaters.
This ultra savory, rich, and creamy gravy is made in under 20 minutes!
This dairy free and meat free gravy is something the whole family will enjoy. With how rich and flavorful it is- it's really something everyone will love!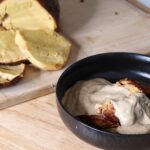 Making Mushroom Gravy Vegan
To make this mushroom gravy vegan, use plant-based butter or homemade lobster mushroom oil. I like the flavor Miyokos butter the best, but like the affordability of Earth Balance.

This recipe is also AMAZING with lobster mushroom oil.
Lobster Mushroom Oil is made from infusing wild lobster mushrooms with shallots and garlic in coconut oil. It's absolutely delicious and works great with the other mushroom flavors. The lobster flavor from the mushrooms does get lost from the flavors of the mushroom gravy. Yet it somehow enhances all the other mushroom flavors in the gravy, making it burst with flavor.
Mushrooms To Use
To make this vegan mushroom gravy recipe, you'll want a variety of mushrooms. While you can get away with using 8 oz of one kind of mushrooms, you'll have the best overall flavor using a few. The best tasting combinations are a blend of shiitake, oyster, and maitake!
That being said, this recipe has been made many times over using many different combinations of mushrooms and it's always consistently delicious.
Use what mushrooms are available to you, including dried. To use dried mushrooms, rehydrate them by soaking them in warm water.

Here are some mushrooms I've mixed into this gravy. The more varieties the merrier!
Different mushrooms will flavor the gravy differently- go figure!

Shiitake is the punchiest of the mushrooms and is most flavor packed. They are musty, meaty, and slightly earthy.
Oyster and maitake mushrooms have a lighter, yet meatier flavor. Maitke is also called Hen of the Woods for its hen, poultry like flavor.
Morels have a meaty yet slightly nutty flavor.
Cremli, Button, and Portabella all have an earthy yet slightly metallic flavor. As mentioned earlier they are all the same mushroom, just harvested at different times.
Lions mane has a lighter flavor, with slightly bitter and sea food like notes.
Hedghog mushrooms have a delicate flavor that is slightly nutty, slightly musty flavor.
Chanterelles have a meaty yet apricot and fruity notes in the flavor.
Can I make Mushroom Gravy Without Flour?
This recipe calls for all-purpose flour to help thicken up the texture and add a smoother mouthfeel.
It's completely optional!
You can skip it altogether; however the mouthfeel is rounder and nicer with something with starch to help thicken it.
A gluten free option would be to substitute corn starch or rice starch. You can also get nice results with casava flour. Do a 1:1 substitution.
Best Misos for Miso Mushroom Gravy
The miso you use will have a large impact on your flavor of gravy. There are many different types of misos, or amnio pastes. The type of miso and the age of your miso will impact the flavor dramatically!

Light Miso is commonly a short, aged soybean mash with koji. It has a slightly sweet yet salty flavor that has a slight umami base. Chickpea miso often has a similarly sweet and salty flavor.

Red Misos are a longer aged miso with more 'funkiness' and depth to it. The best way to describe the depth is like smelling the difference between a fresh ricotta vs an aged cheddar. There's more of a deep, funky, base you can taste at the back of your mouth.

If you live near an international grocery store or are lucky enough to live near a miso maker you have access to more flavors of miso! There are misos made from red lentils, from black beans, butter beans, really any low-fat legume!

The different types of misos are notable because combining different varieties of miso together helps add different layers of depth to your gravy. For example, you could mix together a blend of light and red miso together to get a funky yet slightly sweet result. To get a 'meatier' or more intense flavor, stick with red miso, for a sweeter and lighter result stick with a light miso.

For a deeper darker gravy that is almost like steak sauce use a red miso with shiitake mushrooms.
For a lighter, sweeter, and more herbal tasting gravy use a light miso with oyster mushrooms.

H Mart, Uwajimaya, and health food grocery stores often have the best selection of misos. If you live in or around Seattle you need to try Symbiotic Cultures at the Ballard Farmers Market (Sundays, as of 2023). I mention this vendor because I'm personally obsessed with her small batch misos and shoyus and she's inspired me to start making my own at home! Working with koji is a whole rabbit whole of culinary exploration.

Is Mushroom Gravy Bad For Dogs?
We love our dogs, but do not share this gravy with your dogs!
The shallots, white wine, and garlic are all bad for your dog's health.

You can always make a special batch of 'puppy gravy' where you make this recipe with alterations!
To make this recipe dog friendly skip the shallot, garlic, and wine.
Replace the mushroom/vegetable broth (high in sodium and might contain onions) with soy milk, or milk of choice.
All of the other ingredients like mushrooms and miso are very healthy for your dog!
Share in moderation so they can enjoy a balanced diet.
Ways To Use Mushroom Gravy
There are many ways to use this vegan mushroom gravy recipe, it's a fall and winter favorite! While the most popular uses are to top over holiday foods, don't let that stop you from pouring it over your waffles for breakfast!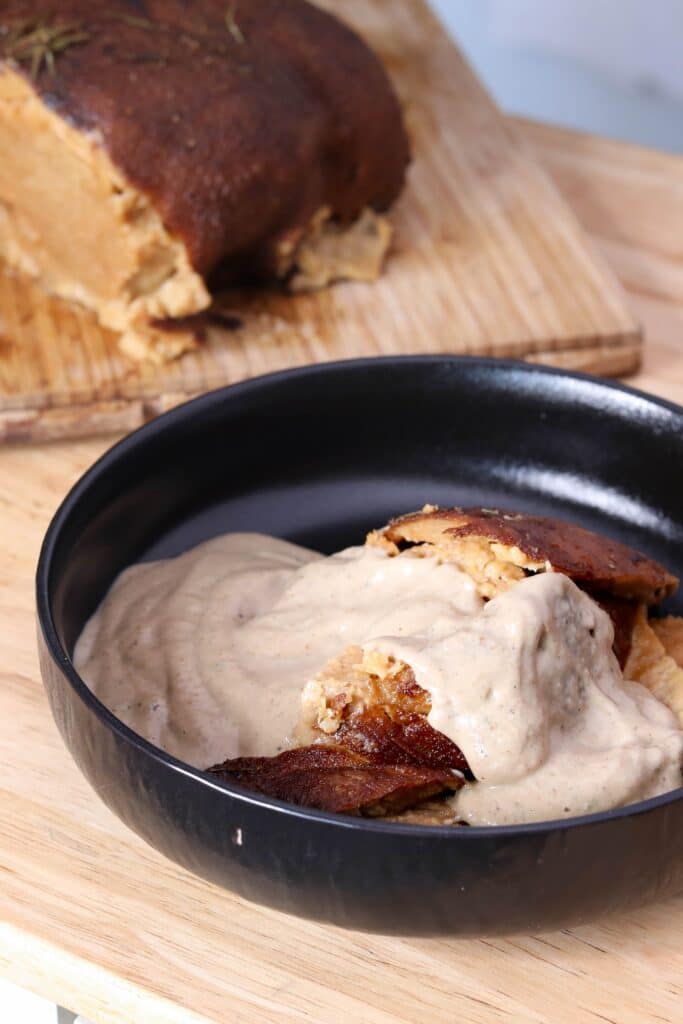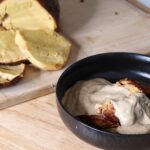 Miso Mushroom Gravy
This ultra savory, rich, and creamy gravy is made in under 20 minutes!
This dairy free and meat free gravy is something the whole family will enjoy. With how rich and flavorful it is- it's really something everyone will love!
Print Recipe
Equipment
Blender

a high speed blender, a food processor, or a handheld immersion blender all work here
Ingredients
8

oz

Mushrooms

Fresh Assorted Mushrooms like Oyster, Maitake, Shiitake, Wine Caps, or Cremini

½

tbs

Mushroom Seasoning

Optional

1

large

Shallot

Roughly 3-4 tbs minced

3

cloves

Garlic

2

tbs

White Wine

or 1/2 tbs of white wine vinegar

1

cup

Unsweetened Soy Milk

or milk of choice

4

tbs

All Purpose Flour

or gf flour of choice

4

tbs

Butter or Lobster Mushroom Oil

2

cups

Mushroom Broth

Vegetable, or Vegetarian Chicken Broth works here too

2

tbs

Sage

1

tbs

Rosemary

2

tbs

Miso

Variety of choice, lighter varieties will have a sweeter flavor, where darker varieties like red or barley will have a deeper flavor
Instructions
Preheat a saucepan on medium heat

Mince mushrooms, shallot, and crush and mince the garlic.

Add oil to the preheated pan and add the minced mixture to the pan, add the mushroom seasoning if using

Sauté for 7-10 minutes, stirring frequently to prevent sticking

Add in the wine vinegar, let it evaporate and cook for another 3-5 minutes

Add the cooked mixture to a blender and set aside

Reduce the heat to low medium and add the butter to the saucepan

Add the flour and milk

Whisk together, then add the vegetable broth.

Whisk to remove lumps

Remove from heat and let cool for 1 minute

Pour into the blender

Add your fresh sage, rosemary, and miso to the blender. Blend on high for 2-3 minutes or until completely smooth

Serve immediately and use within 1 week in the refrigerator, or within 3 months in the freezer
Notes
Have multiple types of miso? The benefit of using multiple kinds of miso is that it adds a further layer of flavor. Try adding a few kinds! 
If you made a batch of seitan, reuse the broth from simmering the seitan to make your gravy!
If you are using the broth from the seitan turkey roast include the shiitake mushrooms and onions that the seitan simmered in. Your gravy will be slightly thicker but the flavor is insane! Give it a try!
Nutrition
Calories:

140

kcal

|

Carbohydrates:

11

g

|

Protein:

4

g

|

Fat:

9

g

|

Saturated Fat:

5

g

|

Polyunsaturated Fat:

1

g

|

Monounsaturated Fat:

2

g

|

Trans Fat:

0.3

g

|

Cholesterol:

20

mg

|

Sodium:

877

mg

|

Potassium:

259

mg

|

Fiber:

2

g

|

Sugar:

1

g

|

Vitamin A:

333

IU

|

Vitamin C:

1

mg

|

Calcium:

95

mg

|

Iron:

6

mg

By