Crispy Rosemary Roasted Potatoes is perfect for a holiday side or a treat for a cool autumn evening!
These roasted potatoes are fantastic in the cooler months when you need some crispy comfort food. They also make a fantastic holiday side!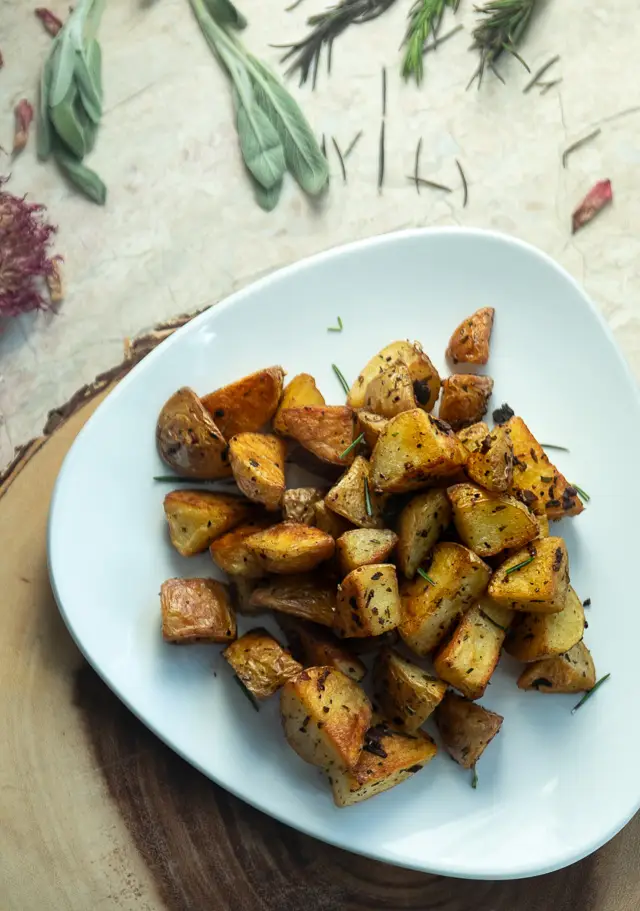 What to Serve With Your Rosemary Potatoes
Rosemary Roasted Potatoes pair fantastically with a seitan roast and another roasted vegetable like butternut squash.
If you are including them with your holiday feast, consider making some wild rice stuffing to go with everything! This recipe has 3 different ways you can serve wild rice stuffing, which can make your dinner a fun and unique experience. I personally love serving my wild rice stuffing out of mini pumpkins the best, but try each of the methods to discover your favorite!
These also make a great snack, while they are fantastic on their own- they taste incredible with smoky maple balsamic ketchup.
How to Make the Best Roasted Potatoes
This recipe differs from your standard roasted potatoes in a few ways.

The first trick is soaking your chopped potatoes in salted water before cooking them. This helps draw out moisture from them, giving a more crispy exterior. Many restaurants will make their french fries this way if they make in house fries.
You want the water as salty as the sea to help draw out moisture.

While other recipes have you preboil your potatoes to make them crispy, soaking them in salted water and pan frying before roasting is superior. When you boil the potatoes the flavor can become bitter and you loose valuable nutrients. Boiling vegetables like potatoes decreases the nutrients- which is why most nutritionists have you steam or stir fry your vegetables.

The second trick for this recipe is sautéing the potatoes in garlic and butter before you roast them. This helps the garlic flavor permeate through the butter giving the potatoes an even flavoring and crisp. You'll notice that you do not add the herbs at the same time you cook your garlic, we don't want the herbs to take on a bitter flavor. That is why you don't add the herbs until right before you roast the potatoes, as they would become bitter and burn in the heat and loose their flavor.

Many people would be tempted to use more than the recommended 2-3 cloves garlic. Who doesn't love garlic right? In this case, more than 3 cloves of garlic can overpower the flavors of the herbs. You want the rosemary and sage flavors to come through, more than three cloves of garlic will stop that from happening.
The fresh herbs in these potatoes really make this whole dish pop!
Rosemary Roasted Potatoes Ingredient Options
This recipe works well with Butterball, Yukon, Baby Red, or Fingerling potatoes. If you want to use a russet potato be sure to peel it before chopping and soaking it in the salt water.
For a fun personalized twist try using an infused salt like truffle salt or a red wine salt.
If you're not sure which plant based butter to use consider some brands like miyokos or earth balance (those are household staples for us!).
Otherwise coconut oil is a fantastic sub for butter! Coconut oil has a much high smoking point compared to other oils, especially compared to olive oil.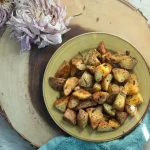 Crispy Rosemary Garlic Potatoes
This Crispy Rosemary Garlic Potatoes are crispy on the outside while being soft and tender inside. This simple recipe tastes incredible and makes the perfect snack or side dish!
Print Recipe
Ingredients
1

Pound

Yukon Potatoes

2

tbs

Plant Based Butter

1

tbs

Chopped Fresh Rosemary

1

tsp

Chopped Fresh Sage
Potato Brine
5-8

cups

Water (enough to cover the chopped potatoes)

4-8

tbs

Sea Salt
Instructions
Chop up your potatoes into bite sized pieces, around 2 inch chunks

Add to cold water to a bowl to cover the potatoes and add roughly 4 tbs- 8tbs salt. Make this water as salty as the ocean! Set potatoes to sit in the water for about 20 minutes This helps makes the potatoes crispy without drying them out

Preheat oven to 425

Finely chop your garlic, rosemary, and sage

On medium heat add 1 tbs butter to a large fry pan (bake friendly if possible) to melt Then add your garlic and sauté until it starts to brown

Drain and rinse your potatoes, then add to the pan with the garlic. Fry for about 10-15 minutes until the potatoes start to brown on the edges

If your potatoes start to stick to the pan add an additional 1 tbs of butter. Now turn off heat and add your rosemary and sage, mix well

Add your potatoes to the oven and roast for 20-25 minutes until they are crispy and completely golden brown
Notes
Yukon potatoes work fantastically in this recipe as you do not need to peel the skins, however baby reds or golden potatoes will also work great. If you want to use Russet potatoes be sure to peel them before you pan fry them.
Add salt to taste. Soaking your potatoes in the salt water does get the potatoes to absorb some salt. Rising your soaked potatoes will mean you may need to add additional salt. Salt after you roast your potatoes to taste.
Try using black salt, truffle salt, or even a red wine salt for a more flavorful variation.
Nutrition
By