This Hen of the Woods Recipe is filled with meaty, juicy flavors coated in a Kentucky spice blend. Foraged, store bought, or grown- Hen of the Woods is a medicinal fungi that is amazing breaded and fried, air fried, or baked!
I updated this recipe to include fried, air fryer, and oven instructions to make a healthier options for preparing this mouth watering recipe.

Try out all 3 ways you can make these Kentucky Fried Hen of the Woods
Whether if you want to pan fry them, air fry them, or bake them this Kentucky Fried Hen of the Woods Recipe has got you!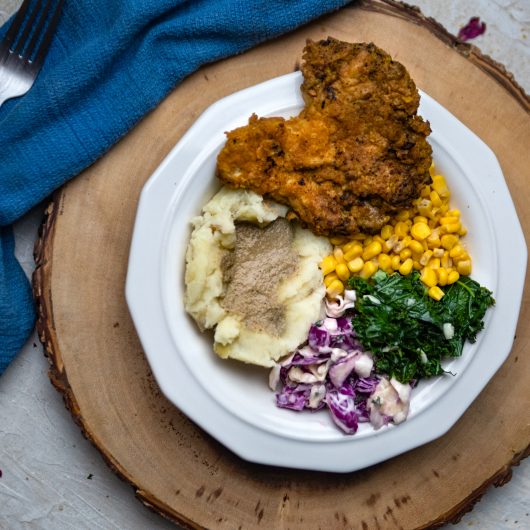 *This Post Contains Affiliate Links At No Extra Cost To You. This Helps Support My Website and Mission To Help Make The World More Eco Friendly*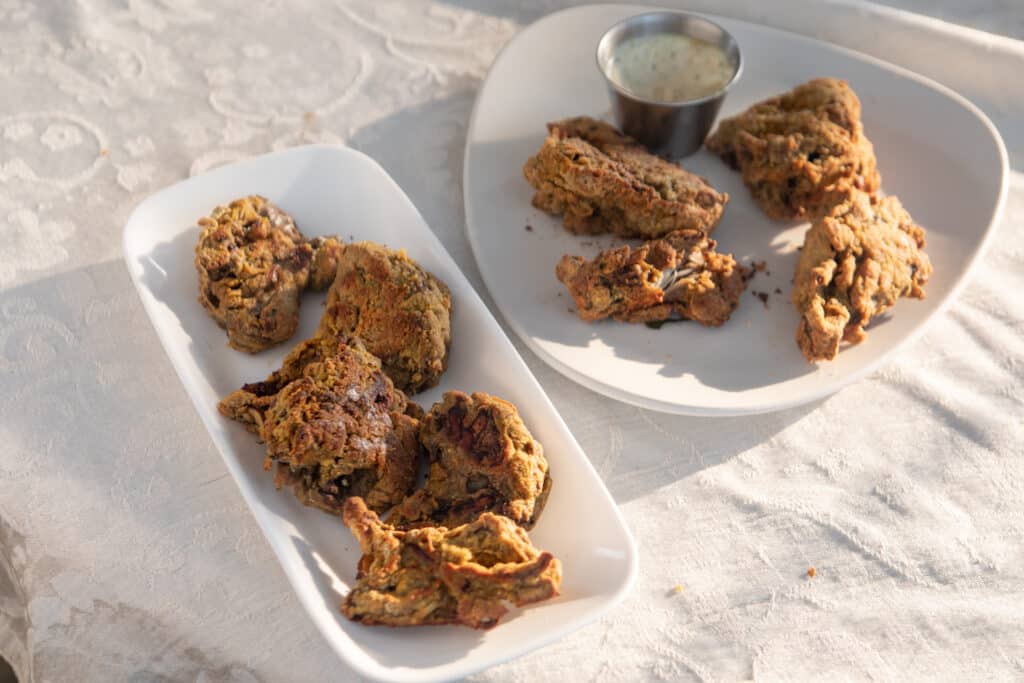 Hen of the Woods aka, Maitake Health Benefits
The star of this show is the Hen of the Woods, a delicious, and nutritious mushroom.
Hen of the woods or maitake, is an earthy, meaty fungi that grows on hardwood trees in the forest. The Japanese call it the dancing mushroom because of foragers happy response to finding it because of the wonderful health properties. It's considered a medicinal mushroom by improving your immune system, helping prevent and potentially kill cancer cells -all while tasting amazing.
Where to find them?
You can find these mushrooms at health food grocery stores, international grocery stores (Asian grocery stores often carry it since maitake is considered a medicinal mushroom), and farmers markets.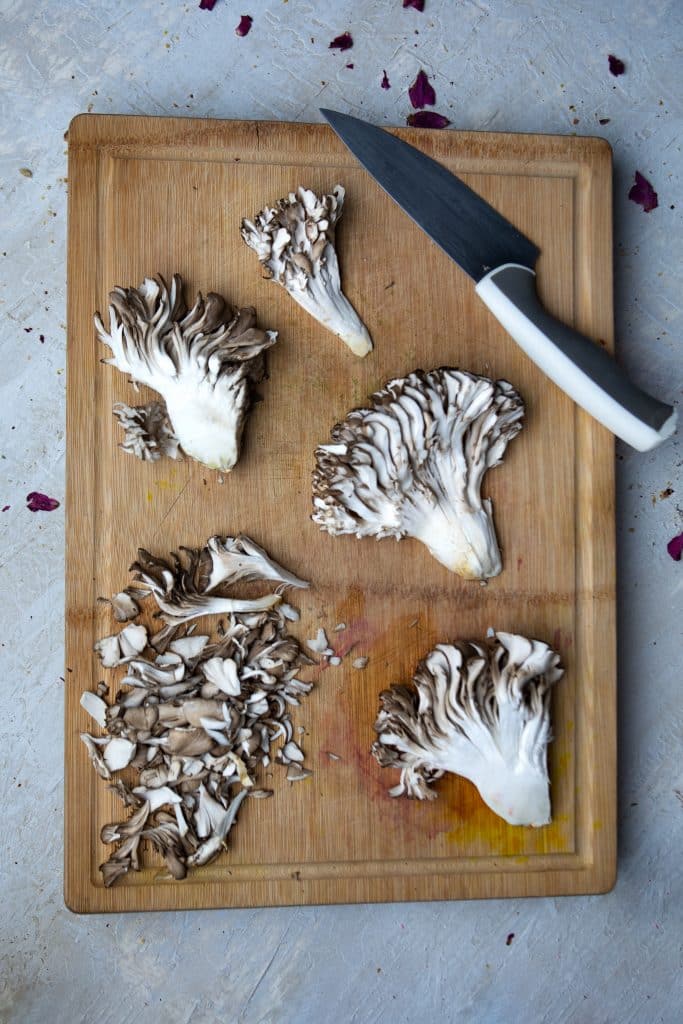 Hen of the woods is a great mushroom to forage! It grows mainly on the East Coast of North America, but it is also found in Western Europe and in Asia. It grows on dying or recently dead hardwood trees.
The Flavors at Play
Not all fungi are created equal- this recipe will not be the same if you substitute the mushroom for a different variety.
This Hen of the Woods recipe works perfect with Chicken of the Woods and Oyster Mushrooms.

All three taste amazing in this- but hen of the woods will have the most meaty- yet juicy flavor.
The chicken of the woods will have a more chicken like flavor, but is much drier than hen of the woods.
The oyster mushroom is the easier to find- foraging or at the grocery store. It has a more metallic, yet meaty flavor- and is very juicy. It is great in this recipe- but the hen of woods really is king here.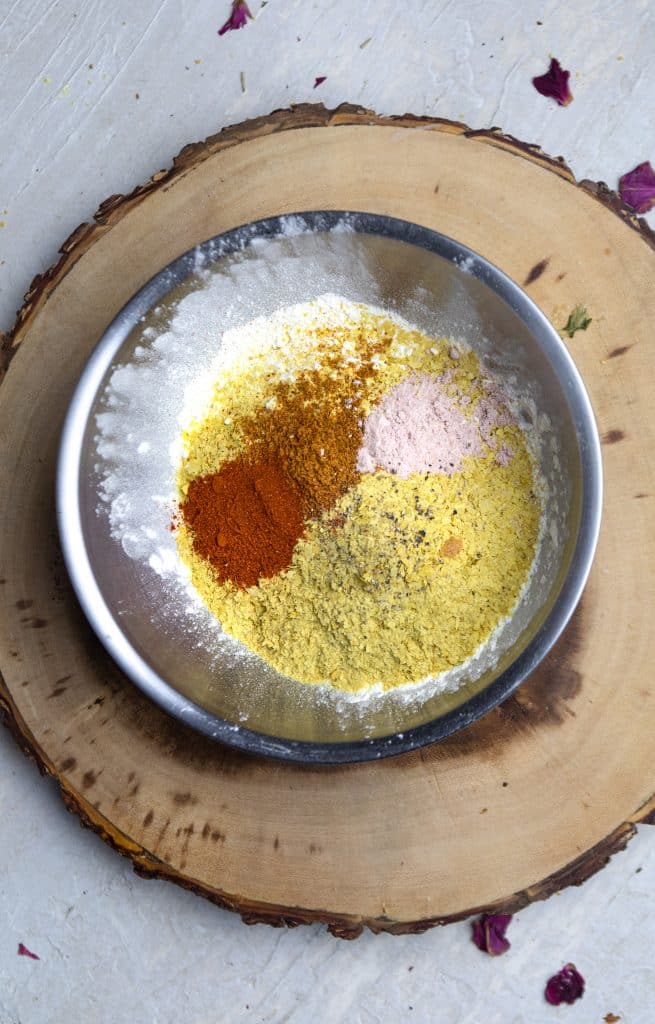 The main 'Kentucky' flavor in this Hen of the Woods Recipe comes from the flour mixture you dunk it in.
The combination of nutritional yeast flakes, mace, black salt, and smoked paprika has that effect.
This seasoning blend is savory, rich, and really brings out the meaty flavors of the mushrooms.

Black salt can be found in Indian grocery stores, vegan specific grocery stores, and online.
It commonly used in Indian recipes, tofu scrambles, chickpea omelets, plant based cheese recipes, it adds a savory sulfur flavor. It adds an extra depth to savory recipes- perfect for curries, stews, and savory dishes. Be mindful that is is powerful, a little goes a long way. Too much can easily overpower and ruin the best recipe. Since sulfaur is similar to an egg flavor you'll want to be mindful to not use it in place of sea salt. Rather a pinch can add a meaty element of depth. Use just the right amount and you'll ground your savory dish into a meaty masterpiece.
Black Truffle Salt is also great in this recipe. However, that is a specialty item you would need to buy from a gourmet cooking store or order online. It is not necessary, but it is a great ingredient to have on hand. Black truffle salt has this earthy savory flavor that pops with black pepper. White truffle salt on the other hand has a wine like earthy flavor, like a earthy white wine. I would save the white truffle salt or oil for a savory dish that needs a little lift. Not in this dish. Stick with black truffle salt or oil if you have it.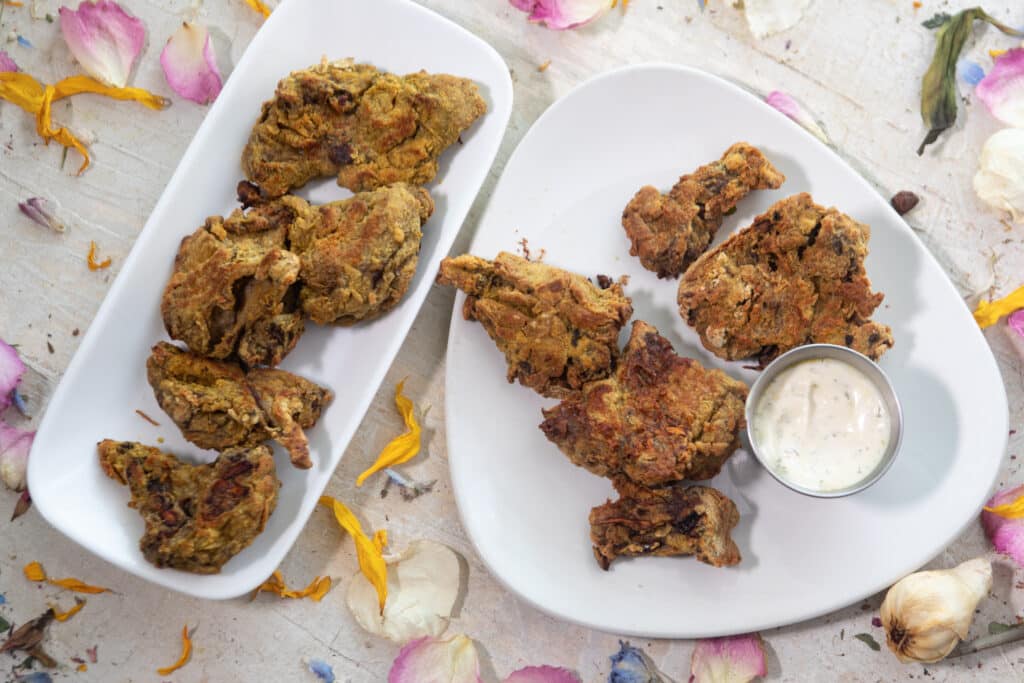 Ways to Serve it
Max out with this Kentucky Fried Hen of the Woods Recipe with all these ways you can serve it up
With soul food like mashed potatoes, corn, kale, coleslaw
With mac and cheese and buffalo sauce
In a sandwich with hot sauce and coleslaw
In a sandwich with ranch, cheese, lettuce, tomato
In a wrap with sprouts, red peppers, cucumber, with poppy seed dressing
Over a buddha bowl with brown rice, peppers, tempeh, sprouts, and bock choy
Over a buddha bowl with black beans, quinoa, salsa, guacamole, and lettuce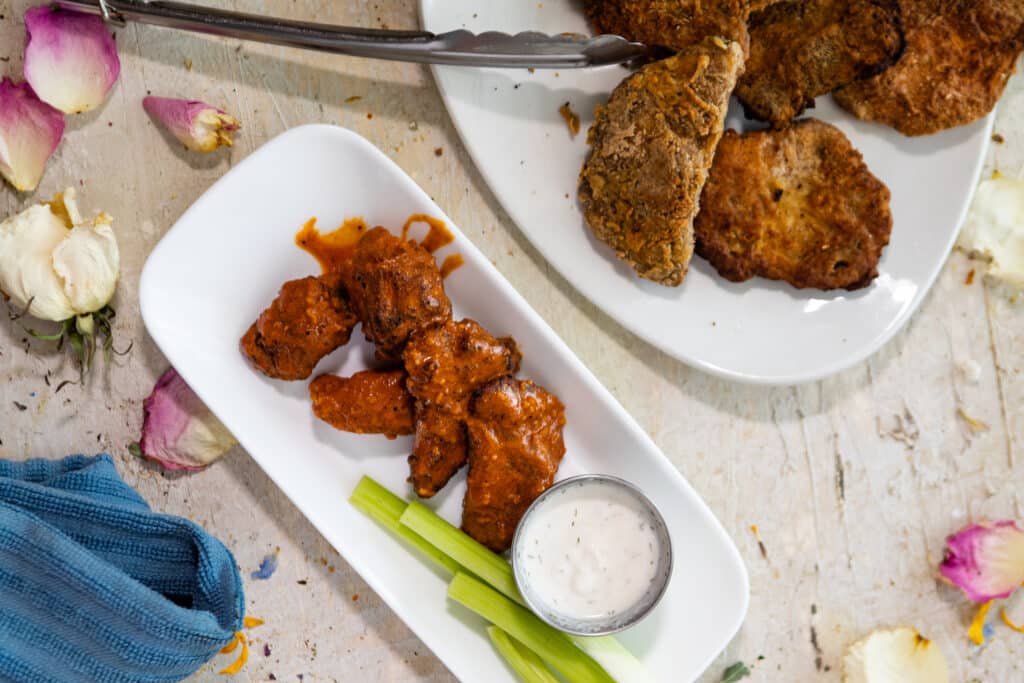 Find some Chicken of the Woods?
Try out this Fried Chicken of the Woods Wings recipe!
Love Hen of the Woods?
Try it roasted!
---
Looking for more Wild Mushroom Recipes?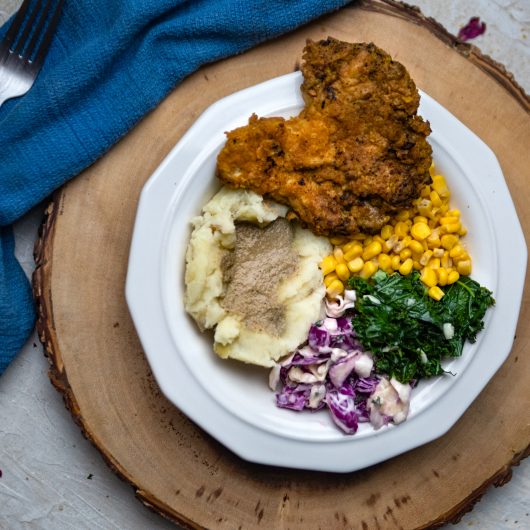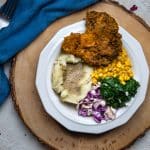 Kentucky Fried Hen of The Woods
Whether if you want to pan fry them, air fry them, or bake them this Kentucky Fried Hen of the Woods Recipe has got you!
Print Recipe
Ingredients
16

Ounces

Hen of the Woods, aka Maitake
To Fry
2

cups

Refined Coconut Oil, Sunflower oil, or Canola Oil
To Air Fry*
Oil to brush or spray on wings
Instructions
Prepping the Wings
Clean your mushroom, lightly scrub base to remove any dirt

Slice the mushroom longways at about 1/2 to 1 inch slices (or close to 13-20mm)

In a wide bowl whisk your flax seed powder with the liquide smoke, then set aside

In another wide bowl add all your dry ingredients and mix well

Take your mushroom slice, dunk it in the flax egg, then in the flour mixture- repeat 2-3 times for a thicker breading
Pan Frying Directions
Using a non stick pan heat up enough oil to thoroughly cover the bottom surface, about 1 inch deep on medium heat The amount will vary based on the size of your pan

Fry for about 4-5 mins on medium heat while covered, then flip and repeat

Place cooked mushroom on parchment paper or a clean towel to absorb excess oil
Air Fryer Directions
Freeze for 20 minutes to ensure the batter doesn't seep through the air fryer basket

Brush or spay oil over the frozen wings

Put in Air fryer, allowing space between each wing. Do not over crowd

Cook at 370 for 20 minutes in the air fryer, flipping half way through
Oven Directions
Preheat oven to 375F

Freeze for 20 minutes, then brush oil over them For oil free wings skip this step, do not freeze

Bake for 30 minutes or golden brown, flipping after 15 minutes

Allow to cool and serve
Video
Notes
You can use ground chia seeds in place of flax seed powder, a general egg replacer, or chickpea flour
Chia and flax seeds are a great source of omega 3, give it a try!
You can substitute the flax egg dip for a bottle of Just Egg
Completely deep fry them for ultimate decadence
Try coating them in your favorite hot sauce
This recipe can be made oil free (for the air fryer or oven directions), however it does make the breading rather dry, and it looks ashy. However, a baked option would be awesome coated in sauce, inside a burrito, wrap, taco.
However it can be a bit dry on it's own if there is no oil, if it's in something you wouldn't notice at all.
If you do not have nutritional yeast flakes add 1tsp marmite to the Flax Dip
Another option is to add 1/2 tsp liquid smoke or 1 tsp black truffle oil to the Flax Dip
If you don't have either of those, as a last resort, use 1 tsp soy sauce

The nutritional yeast flakes add a umami depth to this recipe, it adds a savory punch.
Nutrition
Calories:

335

kcal

|

Carbohydrates:

61

g

|

Protein:

15

g

|

Fat:

5

g

|

Saturated Fat:

1

g

|

Polyunsaturated Fat:

3

g

|

Monounsaturated Fat:

1

g

|

Sodium:

613

mg

|

Potassium:

758

mg

|

Fiber:

8

g

|

Sugar:

2

g

|

Vitamin A:

341

IU

|

Vitamin C:

1

mg

|

Calcium:

57

mg

|

Iron:

6

mg

Love this recipe?
Check out more plant based recipes, eco-friendly lifestyle tips, and more on wild/grown food below!

By