This vegan bao burger is made with a blended burger patty filled with shitake mushrooms, miso, and garlic for a flavor packed burger!

The soft bao buns encases this flavorful burger with fresh pickled veggies, fresh herbs, with a sriracha mayo.
This fusion of Western and Eastern flavors will be the star of your next grill out!
This blended burger is filled with shitake mushrooms all wrapped inside of a freshly made bao bun! This shiitake mushroom burger is then topped with sriracha mayo, pickled red onion, and cilantro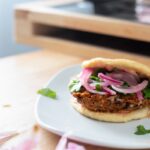 How to Make a Shiitake Mushroom Burger
This is a mushroom burger unlike what you've tried before, where the mushrooms are blended into the patty itself with lots of flavorings like miso and black garlic.
This recipe includes directions on making your own bao buns, but you can serve this burger on any kind of bun you have available.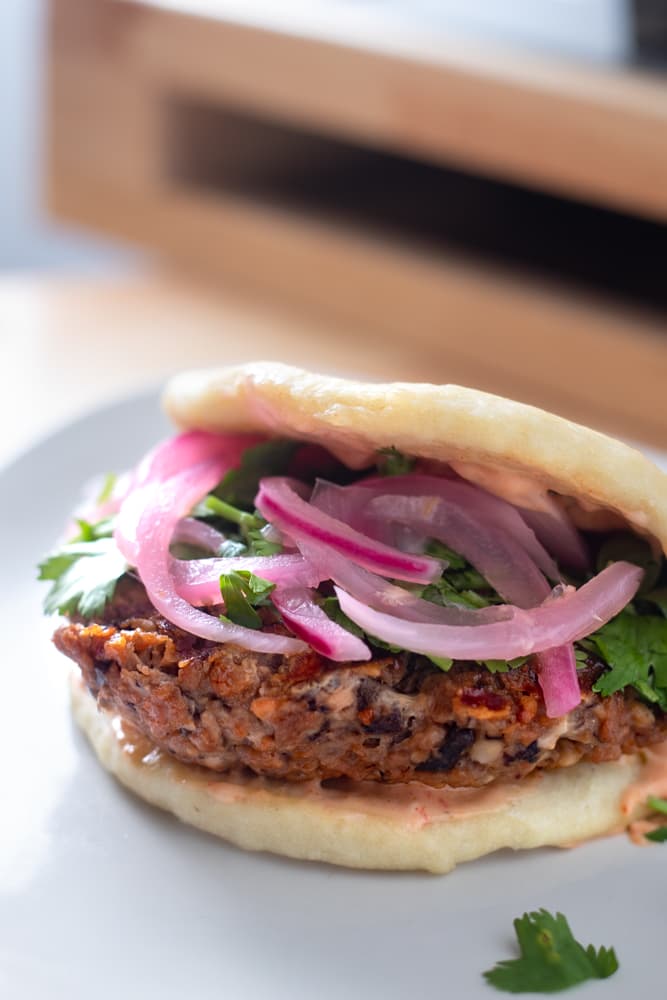 Blended Burger Patty
This vegan shiitake mushroom burger recipe stands out from the rest where the burger patty itself is blended shiitake mushrooms and plant-based burger. It is then seasoned with light miso, toasted sesame oil, and black garlic.
The shiitake is finely minced along with the black garlic and is blended into the burger meat with the miso.

This creates an extra savory, super flavorful burger patty!
Shiitake Mushroom Alternatives
Shiitake mushrooms have a unique flavor that is difficult to fully replicate. But if you don't have access to fresh or dried shiitake mushrooms, then give oyster mushrooms a try! Oyster mushrooms have a lovely meaty flavor that is incredible inside of burgers. Another alternative is hen of the woods, also called maitake! It is a medicinal mushroom with a rich, meaty flavor that is reminiscent to hen.
If you have no other options, you can use cremini mushrooms, however they don't have those same rich meaty flavors the other mushrooms have.
Flavoring the Patties
In addition to the minced shiitakes, you will add miso, toasted sesame oil, and black garlic to the burger patties. Yellow, mellow Miso is recommended however a Chickpea Miso also tastes fantastic here. Try to avoid using a more intense Red Miso here so it doesn't overpower the burgers.
If you do not have access to black garlic instead add 2 tsp of roasted garlic powder. Alternatively, you could grate in 1 large clove of garlic. Consider adding a tsp of black strap molasses when replacing the black garlic to have a deeper flavor. Black garlic has a very deep, molasses like flavor. Adding a small amount of molasses with fresh garlic will give you a similar flavor.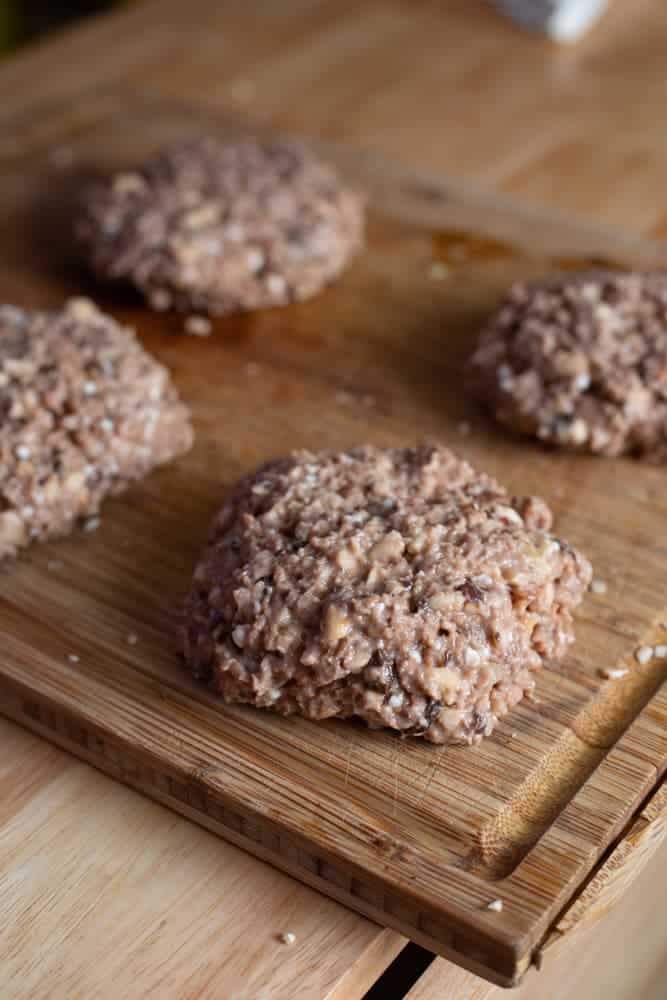 Bao Buns
The savory shiitake mushroom burgers are perfect on soft and fluffy bao buns!
These tender buns are the perfect portal for these savory burgers.

The process to make the buns is pretty simple where you will activate yeast, add your flour, knead, and let rise. Then you'll break the dough into 4 sections, roll them out, oil them, and then steam them!
To steam the bao buns you will need a steamer basket!
They are inexpensive and are a great staple to have if you are a dumpling lover or enjoy dim sum.
While you can pick up some premade bao buns for these burgers, they will most likely not be large enough. A simple way to get around that is to treat each bao bun like an individual bun and use two for these large burgers.
Otherwise make these extra-large bao buns to stuff your quarter pound burgers into!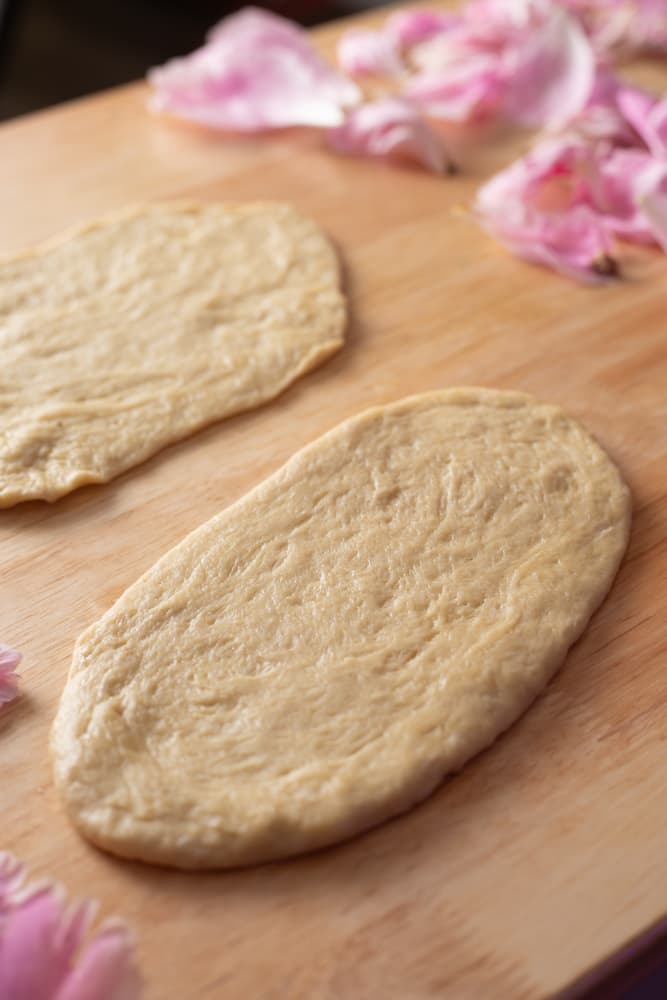 Topping The Vegan Shiitake Mushroom Burgers
After the buns are steamed and the burgers are grilled it is time to top it! Pickled Red Onions are fantastic on these burgers- same goes with Đồ Chua .
Đồ Chua is a Vietnamese pickled daikon and carrot, it is commonly served over Bahn Mi. It is also a commonly served over noodles and as a condiment with meats.

Fresh cilantro is another fresh herb that helps brighten this burger. In addition to the cilantro you could try bean sprouts, fresh mint, or basil.
Sriracha mayo is the best sauce to go with this burger as it has the right amount of richness and spice to help round out all the competing savory, sweet, fresh, and sour flavors.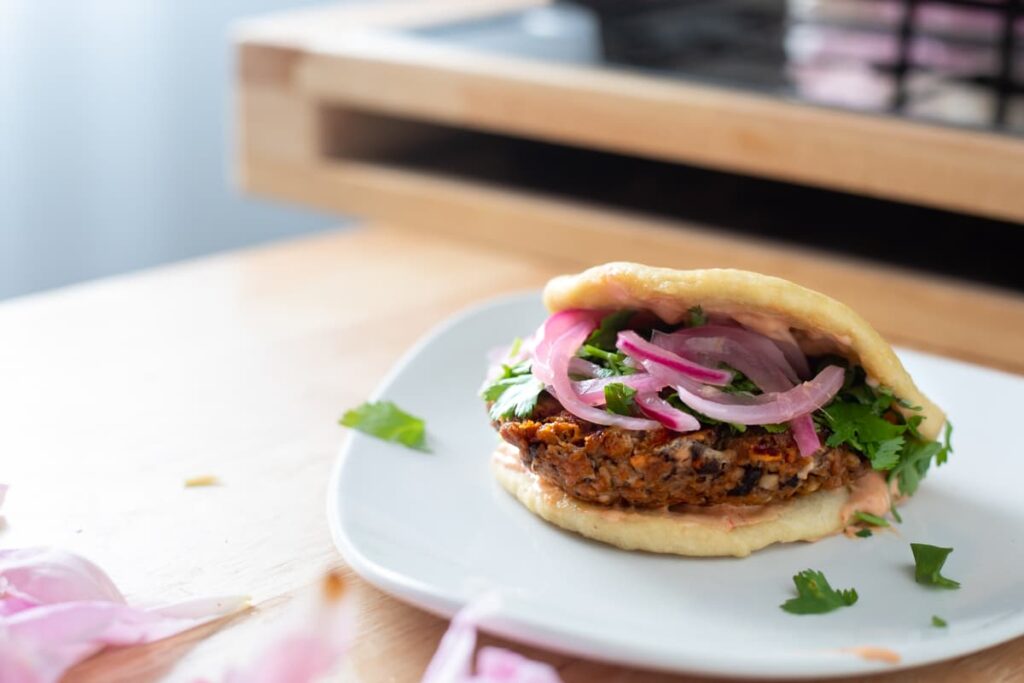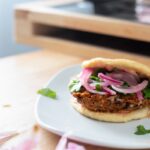 Shitake Bao Burger
This blended burger is filled with shitake mushrooms all wrapped inside of a freshly made bao bun! This shiitake mushroom burger is then topped with sriracha mayo, pickled red onion, and cilantro
Print Recipe
Ingredients
Meaty Shitake Burger Patty
Burger Toppings
Đồ Chua

or Pickled Red Onions, Kimchi,

Cilantro
Instructions
Bao Buns
Add the yeast, sugar, and water to a large bowl and stir

Set aside for 5-10 minutes until it is foamy on top

Add the oil, then the flour, baking soda, baking powder, and salt.

Mix it until it's a shaggy dough then transfer it to a clean surface.

Knead the dough until it is smooth and elastic (about 5-7 minutes)

Brush the inside of a bowl with a little oil and place the dough inside. Cover and set it aside in a warm place for 45 minutes

Divide dough into 4 sections, roll into balls

Roll the dough balls out to 1/4 inch thick ovals

Top each oval of dough with olive oil, and then fold in half

Place folded dough onto a steamer basket lined with parchment paper

Steam each bun for 8-10 minutes on medium high heat
Meaty Shitake Burger Pattys
Finely chop all the mushrooms and garlic

In a large bowl combine the chopped mushrooms with the garlic, Egg Replacer, Vegan Beef, Miso, and Sesame Oil

Mix well together and form into four large patties

Grill the patties for about 6 minutes on each side or until golden brown and caramelized
Assemble
Make the sriracha mayo by mixing them together in a small bowl

Brush on the sriracha mayo onto the bao buns, then add the grilled burger, the cilantro, and your pickled veggies
Notes
In place of Just Egg make a flax egg or a chia egg.
To make 1 flax egg add 1 tbs ground flax seed powder to 3 tbs of water
To make 1 chia egg add 1 tbs ground flax seed powder to 3 tbs of water
Nutrition
Calories:

819

kcal

|

Carbohydrates:

91

g

|

Protein:

33

g

|

Fat:

36

g

|

Saturated Fat:

5

g

|

Polyunsaturated Fat:

6

g

|

Monounsaturated Fat:

14

g

|

Cholesterol:

36

mg

|

Sodium:

2458

mg

|

Potassium:

682

mg

|

Fiber:

10

g

|

Sugar:

10

g

|

Vitamin A:

97

IU

|

Vitamin C:

11

mg

|

Calcium:

223

mg

|

Iron:

7

mg

Ready to see More Recipes?
Here's the latest:

By