Vegan Mayonnaise is a staple that you need to try!
Once you see how easy it is to make homemade mayo you'll never want to buy it again.
Try out this budget friendly recipe to enhance your cooking!
And it's totally allergy friendly being dairy, egg, soy, and nut free!
Making your own vegan mayonnaise only takes a few minutes of your time and will last for weeks in your fridge. While there are lots of plant based options for mayo at the store- this budget recipe is much more affordable.
Another benefit is making it at home is you have full and total control over the ingredients– no hydrogenated oils, eggs, soy, or nuts here!
Try it on a sandwich with focaccia bread, or use it in this Lobster Mushroom Roll recipe! This vegan mayo is the perfect base for salad dressings, coleslaw, and more.
Thickening Add Ins For the Best Egg Free Mayo
Try out some of the thickening options for an extra health boost!
When making the mayo pick from one of the options rather than adding all of them- you don't want your mayo too thick.

Prepared Irish Sea Moss is a great addition to this vegan mayo since it is high in omega 3 fatty acids and it can help regulate your blood sugar. It has a neutral flavor and is a clear gel, this helps make a more aesthetically pleasing mayo.

I highly recommend adding in prepared Irish Sea Moss- it creates the best thick texture for this vegan mayo!
Ground Flax Seeds or Flaxseed Meal is a great add in to this mayo. While it helps thicken it is also loaded with omega 3 fatty acids, can help prevent cancer, can lower cholesterol, lower blood pressure, and can regulate your blood sugar. The flax meal will create a brownish gel that will speckle, darken the color of your mayo while thickening it.
Ground Chia Seeds or Chia Seed Meal is another superfood add in that helps thicken your plant based mayo. Chia seeds are very nutritionally dense being high in manganese, magnesium, and calcium. It's also loaded with antioxidants, omega 3 fatty acids, fiber, and protein.
The result when you add it to your vegan mayo is similar to the flaxseed meal. It will darken the color of the mayo, with small speckles, while thickening it.
The last optional add in for a thicker mayo is tapioca starch. While there aren't any health benefits to adding this, it does thicken the creamy mayo without disrupting the white color or altering the flavor. It is a great option if you blended up your mayo and added the oil too quickly and it is much too thin.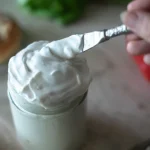 Vegan Sunflower Mayo
How to make Vegan Mayo at home! This homemade vegan mayo will become a new staple in your kitchen.
Print Recipe
Ingredients
Optional Health Boosting Add Ins for an Extra Thick Mayo Pick one of These to Thicken your Mayo Further
1/4

cup

Prepared Irish Sea Moss (recommended)

2

tbs

Ground Flax Seeds

2

tbs

Ground Chia Seeds

1

tbs

Tapioca Starch
Instructions
Blend aquafaba on high for 2-3 minutes

Add everything except your oil to the blender (including those extra thickening options), return to high blend speed

Slowly pour oil into the blender while its running, doing a very thin stream of oil. If you add the oil too quickly the mayo will not be as thick- go as slowly as possible for the thickest result. Depending on whether you use a thickener will determine how much oil you need, stop adding oil once it is at your desired thickness or begins to settle on the top of the mixture.

Jar it up and refrigerate- it will continue to thicken slightly overnight. *Since this recipe is all natural, some separation may occur! Either stir it together or pour out the excess liquid after it settled. Adding a thickener like Irish Sea Moss will help reduce separation.
Video
Notes
Don't have sunflower oil? Try another neutral oil like canola or vegetable oil.
Do not use coconut oil! It will clump in the cold mixture and make the mayo runny. Do not use olive oil- if you want a mayo result.
Use olive oil if you want an aioli, but add a couple of cloves of garlic to the blender.
Aquafaba is the liquid from cooked beans. Strain your cooked beans and save the aquafaba for lots of wonderful recipes like this one.
Try to use a light color bean like chickpeas or white beans for this, black bean or pinto bean aquafaba doesn't look as visually appealing.
If you do not want to cook beans use the liquid that is in a can of beans for this recipe. (Although you can save some money and reduce your sodium if you cook your own beans rather than buying them canned)
If you do not have white wine vinegar sub it with apple cider vinegar, if you don't have that you can use standard white vinegar.
Experiment and try it with rice vinegar for a 'sushi' like flavor
The purpose of the vinegar is to increase the acidity, experiment with homemade vinegars of various kinds aioli
Black salt adds a depth and a slight egg flavor to the mayo. It is highly recommended but in a pinch you can swap it out for a salt of your choice.
Nutrition
More of the Latest Vegan Recipes Here!
By