How to make air fryer focaccia bread using this simple and vegan recipe. Bake fresh and soft bread out of your air fryer- no oven required.
This recipe is a life saver during the holidays when the oven is already full or in the summer when you don't want to heat up your whole house. Who knew air fryer focaccia bread could taste so good?!
Soft baked focaccia bread made in an Air Fryer!
Who says you need an oven to bake incredible bread?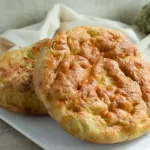 Air Fryer Bread
This American Focaccia Bread recipe is soft, chewy, and a sure way to delight your friends and family.
The result is crispy edges with a soft chewy center.
The focaccia bread recipe makes a thick and fluffy loaf that still retains chewiness. Many other focaccia bread recipes leave you with a flat focaccia- this recipe gives you a focaccia with more body to it. The key to this focaccia is have two rises- this helps get the yeast to help you create a thick yet fluffy bread.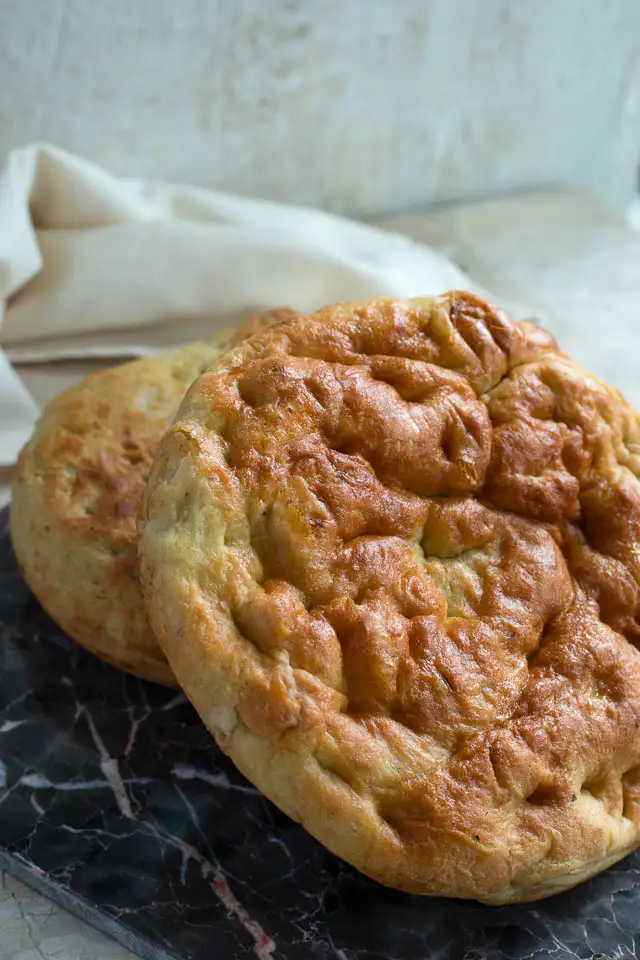 This recipe is great as a base for stuffing, for dipping in soups, sliced into sandwiches, and is a great way to have some plastic free bread!
Since most bread at the grocery store is wrapped in a plastic bag that ends up in a landfill where it will take hundreds of years to decompose harming our ecosystem- making bread at home is a great alternative!

Customizations For the Best Focaccia
When I make air fryer focaccia I add herbs right into the dough. This is because if you try to top the dough with herbs (which is what is traditionally done), the herbs will fall off when you flip it.
Since it's cooking in the air fryer it will need to flipped for it to properly cook. Making it impossible to decorate the top of the bread with herbs or veggies.
For a healthy addition try adding flax seeds, hemp seeds, sunflower seeds, oats, and crushed nuts to your bread! This is a great way to add extra texture, omega fatty acids, and other valuable nutrients.
I have not experimented with adding veggies to the dough, if you try it please leave a comment below and share your experience!
The focaccia bread tastes awesome without any herbs if you prefer it plain.
Otherwise if you want to experiment you could try out some other herb combinations.

Some other herbs you can try is rosemary, bee balm leaves, lavender, catmint, tarragon, shaved truffles; have fun and experiment!
The Difference Flour Can Make
You can make this recipe a few ways, with all purpose flour, whole wheat pastry flour, or higher protein bread flour.
They all work great but will give you slightly different results.

All purpose flour gives you a great bread, it will produce more crumb than the other two breads and offer a neutral flavor. If I want to make the bread into croutons, stuffing, or have more crusty for dipping in soups- this will be my go to.

The whole wheat pastry flour will produce a softer bread with a nutty finish. This is my go to when I want to have soft nutty bread for French Toast, sandwiches, or to eat on the side with a salad. It's also awesome made into croutons, stuffing, or toast! Since pastry flour is lower in protien (gluten) you will not have as fluffy of a result compared to bread flour.

A bread flour will give you a neutral flavor like the all purpose flour, will give you a chewier, more structured bread with less crumbs. It will be softer than the all purpose flour bread, where it will hold more moisture.
This is my go to for when I want my herbs to stand out in flavor and if I want sandwiches. This bread retains moisture well and has the best flavor of the three flours. It is the highest protein flour where the dough will be able to hold the air bubbles better- resulting in a fluffier and taller bread.
Considerations for Fluffy Bread
Consider that when you are activating your yeast it will take longer with cooler water, and if you use too hot of water it can kill your yeast!
When you add your warm water to your yeast shoot for 100 degrees. If your water is too cool (cooler than 85 degrees) it might not activate at all or it'll take up to twenty minutes.
Using a thermidor is very helpful!

Another thing to consider is that this recipe uses two rises. This helps the bread get as tall as it is in all those pictures- while it does take time, it's worth it.

The amount of time it'll take for the rises will vary off the temperature of your kitchen.
In the winter it can take up to 90 minutes for the first rise, where in the summer it can take only 45 minutes.
What you are looking for is the dough to double in size. I've found if you flip the dough at 45 minutes then let is rise for another 15 it really helps it fluff up.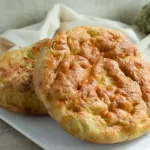 Air Fryer Focaccia Bread
Soft baked focaccia bread made in an Air Fryer!
Who says you need an oven to bake incredible bread?
Print Recipe
Ingredients
Optional Herbs
1

tbs

Thyme

1

tbs

Sage

1

tbs

Rosemary

Olive Oil for topping
Instructions
Add your 2 tsp sugar and 1 1/2 tsp of yeast to a large bowl and mix in the warm water that is between 105 and 110°F. Too hot will kill the yeast and too cool of a water temperature will make it take longer for the yeast to activate.

Let sit for about 10 minutes until it is foamy

Add everything else to the bowl and mix. Start to knead your dough, adding some flour to your hands to help prevent sticking. Don't add too much flour; it will be a little bit sticky to start and will gradually hold its form. – until dough is smooth and bounces

Put dough back in the bowl, and move the bowl to a warm spot in the kitchen. Now place a wet towel over the bowl and let the dough rise for 45 minutes

Flip the dough over and let rise for another 10 minutes, or until it is double in size from when you first started

Knead the dough for 4-5 minutes to push out any air bubbles and help it get more elastic

Put the dough back in the bowl, cover it again, and let it rise for another 30-40 minutes. It should be about double in size once again

Pour enough olive oil to cover the dough, about 2 tbs, and using your fingers dimple the dough. You want the olive oil to go into the dimples of dough without kneading it into the dough. Do this on both sides

Now place the dough in your clean air fryer basket, and bake at 350 for 10 minutes

Now flip the bread in the air fryer- sprinkle herbs and sea salt over the top Bake at 350 for another 15 minutes

Remove from air fryer, brush with olive oil, sprinkle over salt serve and enjoy!
Video
Notes
Use All Purpose Flour or Bread Flour for differences in desired texture. See article above for what to expect for different results between the flour
Nutrition
Want to be in the know for the latest recipes and articles?
Join me here!

You might like these recent posts…

By