Wild Rice Mushroom Stuffing is a holiday classic that's been veganized.
The chewy wild rice, savory mushrooms, sweet apple, and soft yet crispy bread is the best vegan stuffing.
This Vegan Wild Rice Stuffing can be made into dressing, stuffed into roasted pumpkins, and stuffed into roasted apples.
All three ways taste incredible and will be the star of your holiday- which one will you try?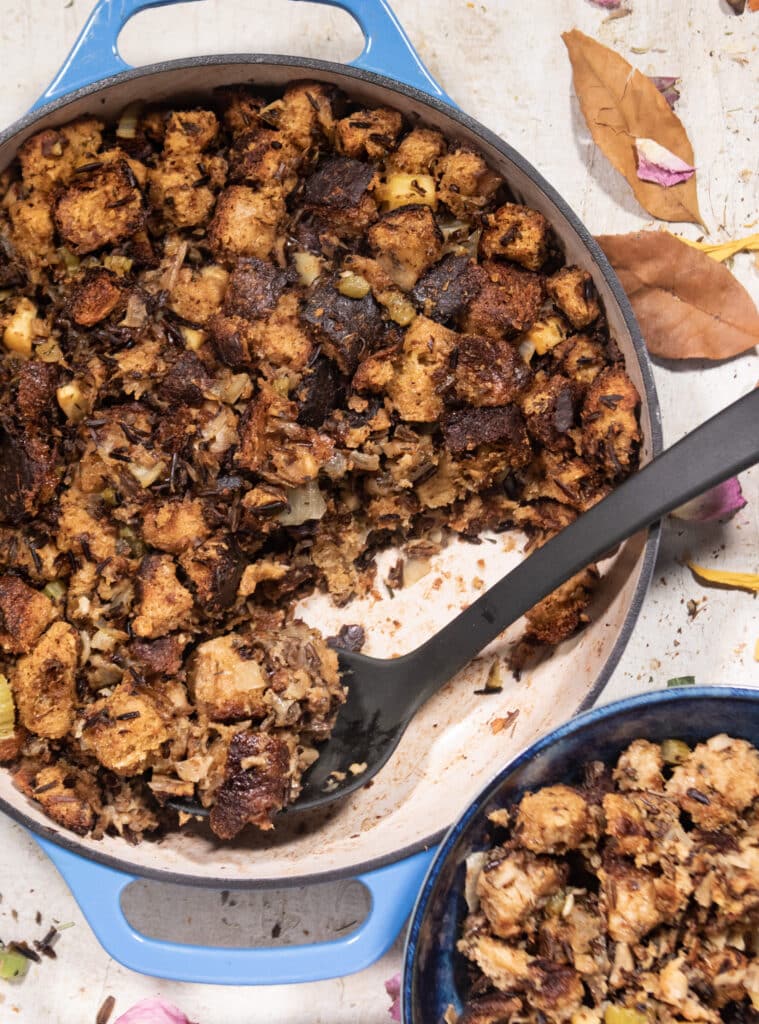 If my family has an American traditional recipe, it's stuffing.
I took my mom's famous Minnesotan Wild Rice Stuffing Recipe and converted it into a delightful plant based version.
Her stuffing is so good that every year for Thanksgiving it was her job to make it for all our extended family because it's unbeatable. She learned how to make it from her grandma and passed the recipe down to me.
As a kid she would make it with vegetable broth, plant-based butter, and would skip adding turkey to it for me (I went vegan at 13).
Since then, I pushed her vegetarian version further by using savory hen of the woods mushrooms and skipped the plastic bags of pre-seasoned breadcrumbs by using my own.
While stuffing is an American classic recipe- it is very regional. I've lived in Colorado for over 4 years, yet my cooking is still very influenced by my Minnesotan roots. Wild rice, apples, onions, and bread crumbs are all staple ingredients for Midwestern-style stuffing.
Nothing else compares!
How to Step up Your Stuffing Game
There are a couple of game changing ways you can make the best vegan wild rice stuffing. The key here is to use multiple kinds of bread for your breadcrumbs, use fresh herbs, make a homemade broth, and use quality mushrooms.
Using Multiple Breads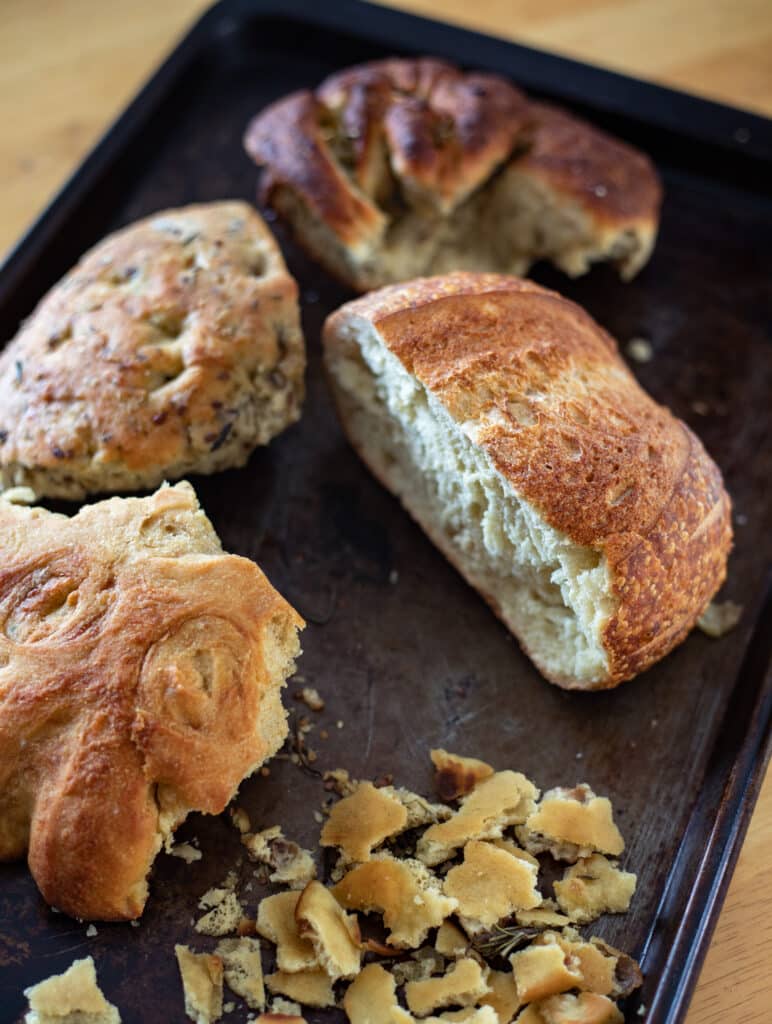 Using multiple kinds of breads in your vegan wild rice mushroom stuffing is key. This helps prove the overall texture and flavor of your stuffing.
I like using a whole grain bread mixed with a type of white bread. Using only whole grain bread can make the overall effect feel too chunky, dry, or too seedy. Using only brioche or French bread can make it feel too soggy, too plain, with no depth. But have a combination of both and you've got some magic brewing! Sometimes I'll mix it up and through in chunks of English Muffin, Sourdough, Pita, Baguette, Focaccia, and sandwich bread- whatever I have on hand. When my family makes stuffing they will use up to four kinds of bread to make the bread crumbs. Granted, they would make enormous batches of it!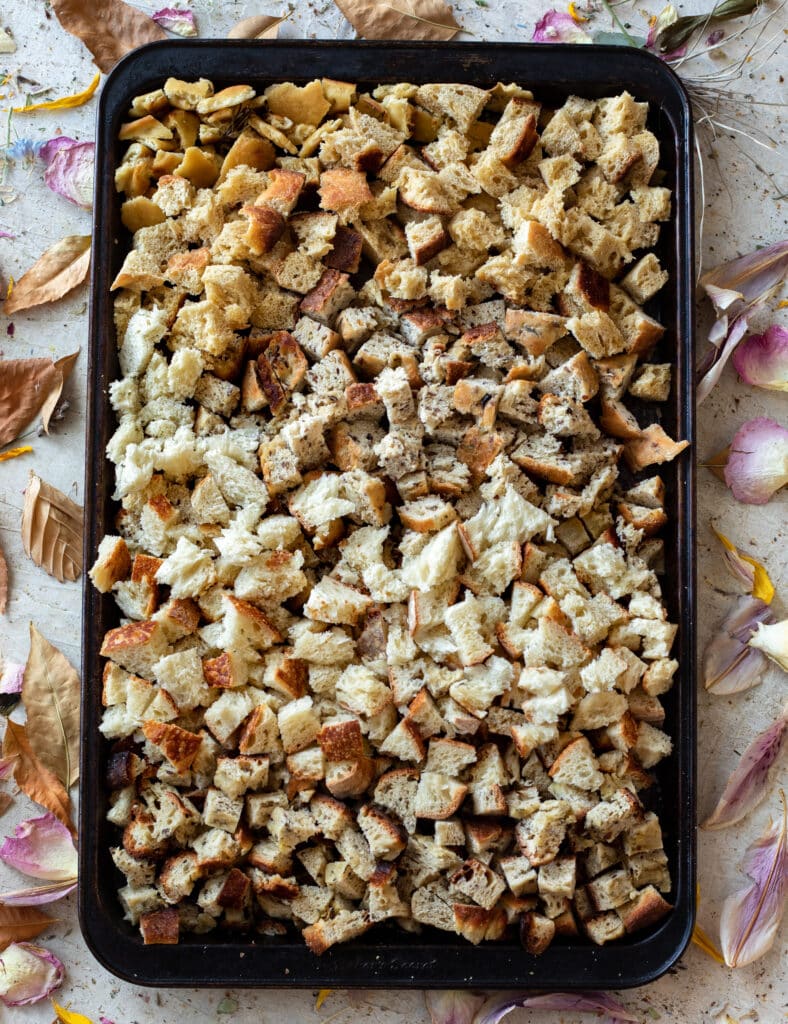 Fresh Herbs
Using fresh herbs rather than dried is another way you can really make the flavors pop in this stuffing. Use as many fresh herbs as you can, however dried will still work. Fresh herbs aren't exactly in season right now, but try to use as many as you can get your hands on.
The herbs you want to focus on are fresh bee balm leaves, oregano, sage, rosemary, and thyme.
Homemade Broth
Making your own vegetable broth is another way to really enhance this stuffing. When you make your own broth you have much more control over the overall flavor of the dressing. Making your own broth from vegetable scraps is a great zero waste way to make flavors pop!
I have multiple jars of vegetable scraps in my freezer for when I want to make broth. I try to choose the jars with more herb stems, more onion peels, and more garlic skins. Granted, I do all additional onion, garlic, and herbs to my broth to really get the flavor right.
You are looking for a sweet, savory, more onion heavy flavor broth. Try to use lots of herbs like thyme, sage, and rosemary to enhance the sweet onion and garlic flavors!
The Perfect Mushrooms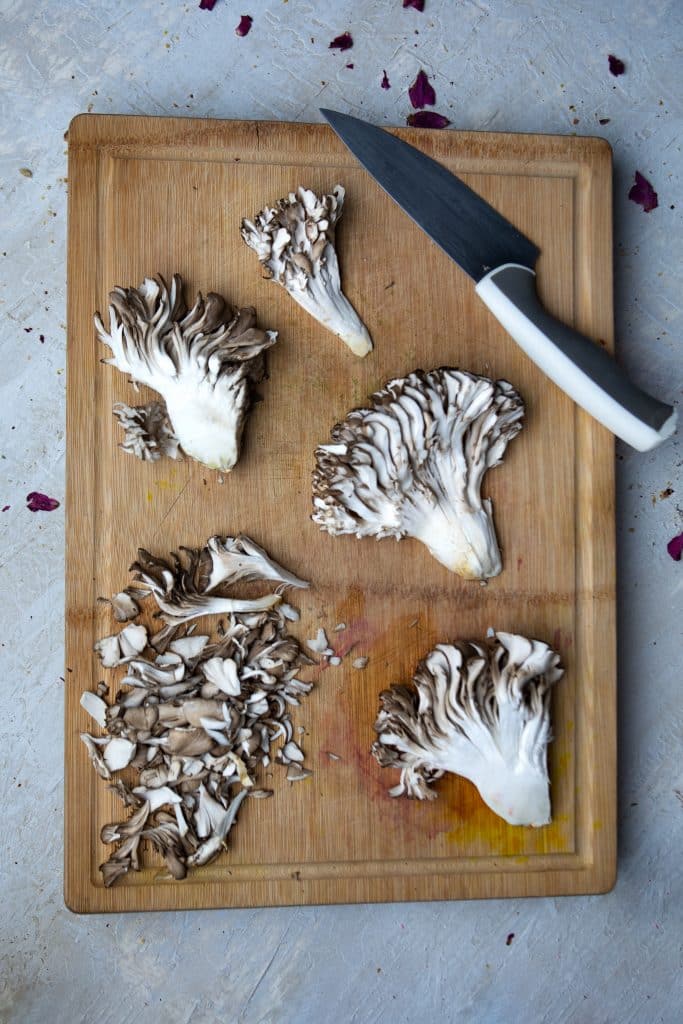 There is so much variety in mushrooms that can influence a dish. Mushrooms can come in large array of flavors, textures, smells, and densities. Having quality mushrooms can transform a recipe from good to incredible!

The best option for mushrooms in this stuffing is maitake, chanterelles, oysters, and hedgehog. If you have them, use chanterelles! They add a meaty yet fruity element to the stuffing.
I personally love the juicy and meaty maitake in this stuffing. It is more available than chanterelles or hedgehog mushrooms. The texture is more hearty than oyster mushrooms with a richer flavor. However, oyster mushrooms are even easier to find than maitake and also work great in this! In a pinch you can use chestnut or shitake mushrooms.
Ways To Serve it
There are three ways I love to serve this stuffing. Straight out of the pan with a slightly crispy top, stuffed inside a small pumpkin, or stuffed inside a hollowed-out apple. All three ways taste amazing!
I also believe it would be awesome stuffed inside a delicata or butternut squash- but I have not tried that yet.
If you do, please tell me how it is in the comments!
Dressing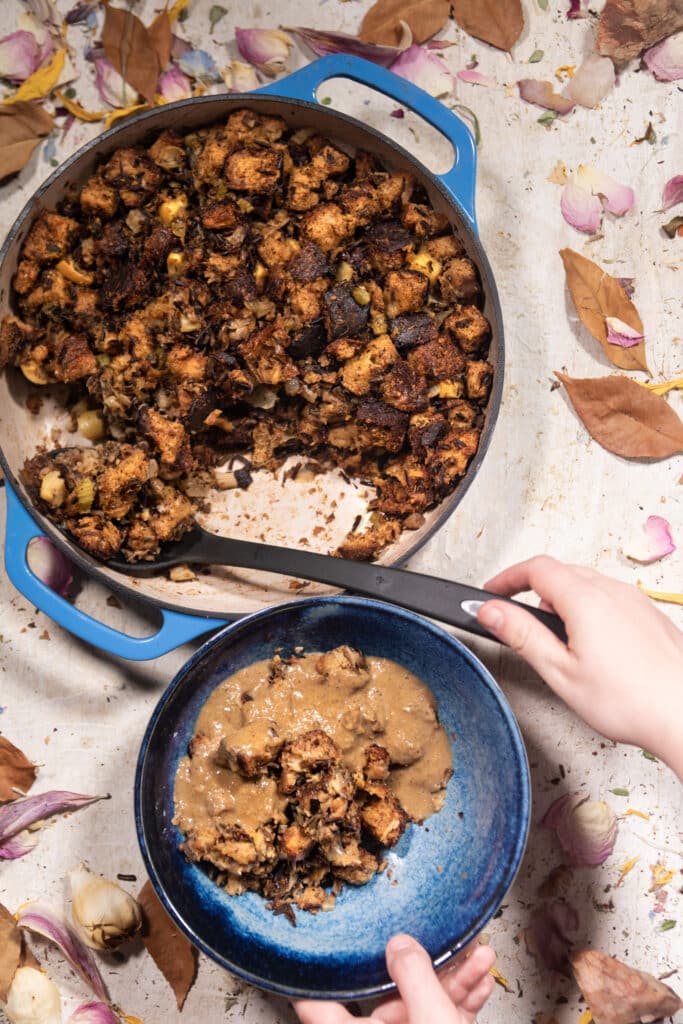 This stuffing is awesome as a dressing. (A dressing is stuffing that served out of the pan, not stuffed into anything).
This is how I've always enjoyed this stuffing!
This way is great because there are more options for leftovers. I love using leftover dressings inside Thanksgiving Burritos with mashed potatoes, gravy, seitan, roasted veggies!
Try serving it with lots of gravy in addition to all your sides. The main thing you need is a decent casserole dish– or multiple of them if you are using small ones. I used this cast iron one pictured above with great success, but also have used it in a Dutch oven, a glass casserole dish, and even a bread dish!
Keep in mind that the thinner the baking dish you need, the drier your dress will be. If you are using a thinner casserole dish (less than three inches like most glass casserole dishes), try increasing the amount of broth you use for a wetter dressing. You want the texture to hold together, kind of like a bread pudding. I've found in shallow baking dishes the stuffing can fall apart and can get dry! Add anywhere from 1/2 cup to 1 full cup extra broth for shallow baking dishes.
Stuffed Roasted Pumpkin
Stuffed into a pumpkin is the prettiest way to go!
When you stuff your pumpkin and roast it in the oven you can eat the whole thing. The pumpkin adds depth and sweetness to the dish, and a nice creamy element.
It also looks gorgeous serving it!
The small decorative pumpkins are perfect for this, it makes a single serving and roasts up like a dream. This is my favorite way to stuff it!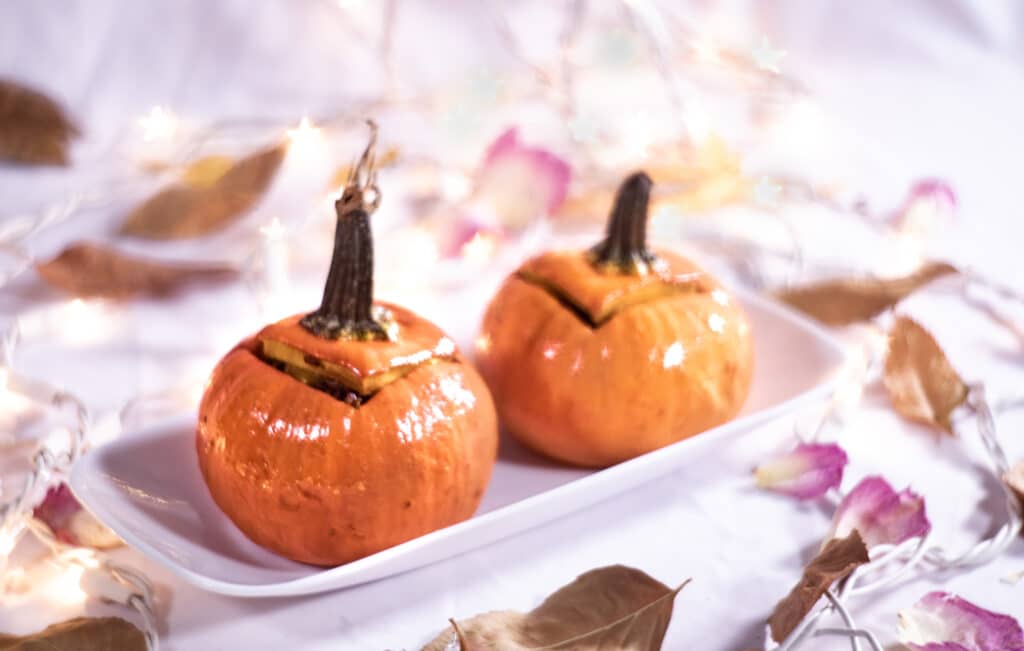 Stuffed Roasted Apple
Stuffed roasted apple is a wonderful treat! It makes a single serving that tastes incredible. The savory stuffing compliments the sweet apple and pairs wonderfully with a savory gravy. This is my fiancés favorite way to eat this stuffing. It's sweet and savory- the perfect side to your feast!
To make it this way I would add an element of spice to help lift this dish. Just a pinch extra of black pepper, or spicy plant-based sausage would be perfect for this!
Other Stuffed Options
Try it in a delicata squash, inside a seitan roast, or inside a giant portabella mushroom. Otherwise serve it up as a classic dressing! After it's cooked there are so many creative potential options.
You could make a Thanksgiving burrito with seitan, stuffing, gravy, and roasted sweet potato's. You could serve it up in a fall buddha bowl like this delicata buddha bowl. It is fantastic with roasted chickpeas and maple roasted brussels sprouts! I also bet it could be great in a pot pie too.
Let me know in the comments below if you have other fun serving ideas.
Vegan Wild Rice Stuffing
This Wild Rice Mushroom Stuffing is a traditional recipe from my Minnesotan family that has been veganized. It is the perfect balance of savory, sweet, chewy, moist, and decadent
Print Recipe
Ingredients
8-10

Cups

Chopped/Crumbled Mixed Bread*

2

Cups

Wild Rice

Fully Cooked

2

Cups

Maitake Mushroom

Chopped Finely

2

Cups

Vegetable Broth*

1

Medium

Diced Apple

1

Medium

Yellow Onion

Finely Chopped

3

Cloves

Garlic

Crushed and Chopped

2

Stocks

Celery

2

TBS

Fresh Sage Leaves

Chopped, about 10 leaves

2

tbs

Fresh Rosemary

about 2 large sprigs

1

Tbs

Thyme

3/4

Cup

Water

3/4

Cup

Chickpea Flour

*or egg replacer of choice, see notes

1/2

Cup

Melted Butter
Instructions
To Do For All Versions First
Once your bread is chopped, cubed, and crumbled put onto a baking sheet and bake at 250 for 30 minutes, or until dried

*You can also use premade stuffing breadcrumbs like this to skip this step!*

In a pan sauté your onions, garlic, celery, and mushrooms in a large, oiled pan for 3-5 minutes on medium heat

Now add your cooked wild rice, apples, and herbs, then sauté another 2 minutes

In a large bowl add your toasted bread crumbs, pour over the sautéed veggies, and the veggie broth. Mix well

In a small bowl whisk the chickpea flour with the water together, then pour over the stuffing mix
To Make Dressing
Pour your bread mix into a casserole dish. Drizzle melted butter over the top

Cover and bake at 350F for 35 minutes

Remove lid and bake for another 10-15 minutes for the top to crisp *Be careful to not let it dry out! Shallow baking dishes need 8-10 minutes, very deep baking dishes need 12-18 minutes. Use your judgment how long it needs for your pans depth.
Stuffed Roasted Pumpkins
Take a small pumpkin (no larger than 6 inches in diameter), wash it, scoop out the seeds and stringy bits

Coat the outside of the pumpkin with oil, and stuff it with your stuffing

Fully stuff it to prevent empty pockets

Put on a baking pan and roast in the oven at 350 for 35-45 minutes. The time will depend on the size of your pumpkin. Extra small ones only 3 inches in diameter will be done at 32-35 minutes. Large ones at 6 inches across will take 40-50 minutes. You'll know its done when the pumpkin flesh is soft to the touch. If you touch it it should leave an imprint.

Serve whole, or cut it in half for it to cool faster.
Roasted Stuffed Apples
To hollow out your apple cut a square large enough to fit a spoon at the top. Chisel it out with your knife. Once you have a hole at the top of your apple get a spoon and carefully scoop it out. Reserve the apple bits you are scooping out for another recipe- or add it to your existing stuffing to add extra sweetness. (Do add some spice for balance if you try this)

Continue to hollow out your apple, trying not to break the skin, but keep the thickness of the hollowed apple around 1 centimeter. If you leave the apple thicker than that it will take ages for it to get soft enough while roasting.

Coat your apple in oil (unrefined coconut oil has the best flavor for this) and stuff it!

Roast in the oven at 350 degrees for 45-60 minutes in the oven. You want that apple to soften up, if your hollowed out apple is too thick this can take longer. Conversely, a very thin apple will take less time.

Serve with a savory sage gravy and enjoy!
Notes
As I mentioned in the article above, this stuffing is the best with multiple kinds of bread. Use as many different kinds as possible. This adds depth to the flavor, enhances the texture, and really makes your stuffing stand out.
Try using whole sourdough, multigrain, whole wheat, brioche, focaccia, etc.
Do not use a wild rice blend!
The other rice mixed with the wild rice can get soggy and will ruin the texture
To make wild rice – add 1 cup dried to 1 1/4 cup water to an instant pot and cook on high pressure for 28 minutes 
Maitake or hen of the woods is recommended for this stuffing. Oyster mushrooms, chanterelles, and hedgehog mushrooms are all solid choices for this stuffing. In a pinch you can use shitake mushrooms, or cremeli mushrooms. 
Egg Replacer: The chickpea flour works as a binder in this recipe. You can use a vegan egg replacer like Just Egg, just add 1 cup of it. 
A quality vegetable broth can really transform this stuffing.
I like to make my own veggie broth so I have more control over the sodium and overall flavor.
I make a veggie scrap broth with onion and garlic peels, herb stems, mushroom stems, and potato skins. I'll add extra onion and garlic, a bay leaf, black peppercorns, and black salt. I do a 1:1 ratio of water to veggies in my instapot for 40 minutes to make it. Then I compost the scraps when I'm done! No veggie scraps or broth at home?
Here is how to make a quick zero waste veggie broth
3 cups aquafaba
2 cups water
2-3 tsp truffle salt
2 tsp onion powder
2 tsp garlic powder
2 tsp nutritional yeast flakes
1 tsp miso
1 bay leaf
Nutrition
Calories:
651
kcal
|
Carbohydrates:
113
g
|
Protein:
24
g
|
Fat:
13
g
|
Saturated Fat:
6
g
|
Polyunsaturated Fat:
2
g
|
Monounsaturated Fat:
3
g
|
Trans Fat:
0.3
g
|
Cholesterol:
20
mg
|
Sodium:
1182
mg
|
Potassium:
571
mg
|
Fiber:
8
g
|
Sugar:
12
g
|
Vitamin A:
384
IU
|
Vitamin C:
3
mg
|
Calcium:
108
mg
|
Iron:
8
mg
Love this recipe? Please let us know how it went!


@wildveganflower
In via Hand swipe (right to left)
Out via sideways table swoosh/twirl(left to right motion)

By