Roasted Delicata and Cauliflower Buddha Bowl is the best way to enjoy seasonal fall veggies in one bowl!
This Buddha bowl is loaded with proteins, vitamins, and minerals. This buddha bowl is the perfect way to boost up your immune system while enjoying the flavors of fall.
Try this healthy plant based nourish bowl!
The Delicata Squash
This gorgeous winter squash has a flavor similar to sweet potatoes and butternut squash. Delicata is milder in flavor compared to both butternut squash and sweet potatoes, that is lightly sweet. If you enjoy chanterelle mushrooms you'll notice it has a light apricot flavor like them.
The delicata can be substituted for butternut squash if you don't have it available, but I recommend giving this squash a try.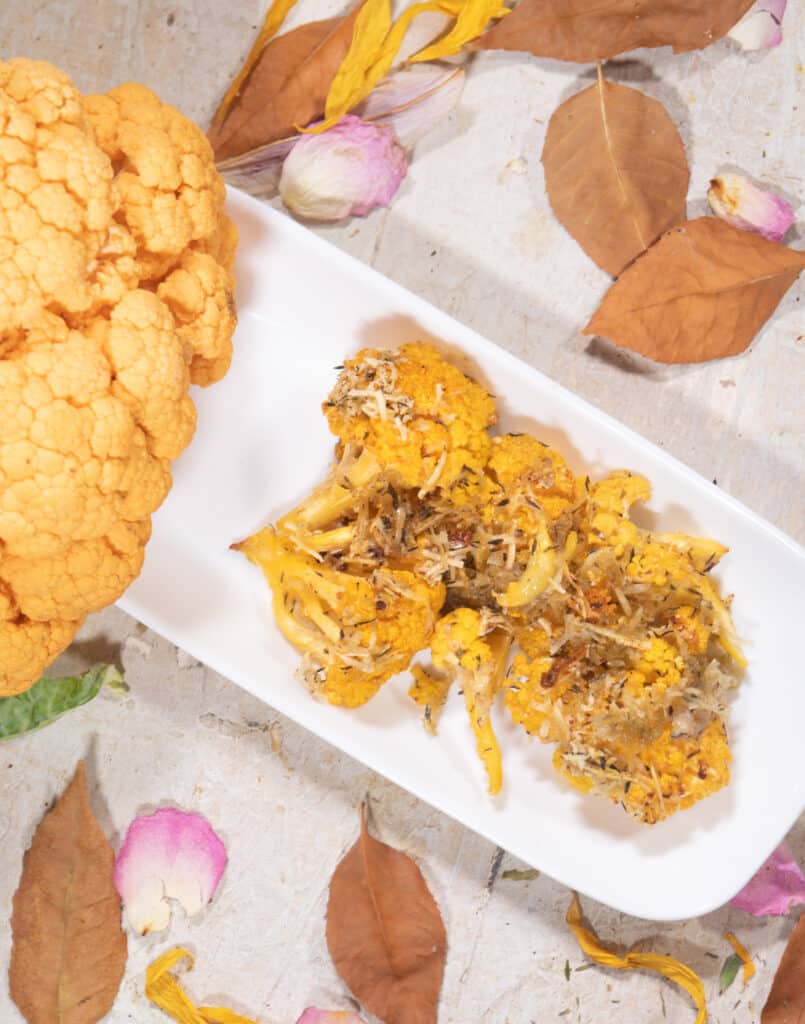 The Cauliflower
You'll notice that I used a yellow cauliflower for this recipe- any variety of cauliflower works great in this. I've found that both yellow and purple cauliflower are slightly sweeter than the white variety. However the sweetness isn't enough to really affect this recipe.
To coat the cauliflower I used a plant-based parmesan, I've found that Violife melts the best. However, you can use your favorite kind of parmesan for this recipe. If you are vegetarian, keep in mind that parmesan is made with rennet (parts of an animal stomach).
If you are an eco-warrior like me, I recommend trying out a plant based parmesan to help reduce your eco footprint.
The Chickpeas
To make this buddha bowl higher in protein the chickpeas serve as both the protein and grain. To help you save money and be more eco friendly try cooking your chickpeas from dried rather than using a can. Sure, cans can be recycled, but it's best to skip it if possible! Especially if you have access to bulk bins or refill markets. The best money saving method is to bulk buy them in a 25 pound sack- that are in a paper bag. It is the cheapest per pound to buy a 25 pound sack of chickpea, it lasts for ages, and the paper bag can be composted! Talk about a win!
Cooking them from dried is very simple. If you have an instapot simply add 2-3 times the water per amount of cooked chickpeas. (I always make big batches for meal prep during the week).
Before I invested in an instapot I used a crockpot to cook them. If you cook the chickpeas over night in a crockpot on medium heat you don't need to presoak them. It's very little effort. Simply add your chickpeas and water to your crockpot before you go to bed, and scoop them up in the morning.
Save the aquafaba to use for vegetable broth, making mayo, brushing on dough, or for any whipped recipes.
Maple Mustard Vinaigrette
This recipe features a sweet yet zesty vinaigrette dressing that pairs beautifully with the savory, salty vegetables. You'll want a dark maple syrup if possible for extra depth in the flavor. The mustard in the dressing should be a zesty dijon if possible, but use what you have. The white wine vinegar is preferred in this, however a balsamic vinegar will also work. In a pinch you can make apple cider vinegar work, but you'll want to reduce them amount you use. The apple cider vinegar has a much sharper flavor than the white wine or balsamic vinegar.
If you don't want to make a dressing, a poppy seed dressing or a balsamic vinaigrette dress will work well in this buddha bowl. You want something that is slightly sweet to contrast the savory flavors in this Roasted Delicata and Cauliflower Buddha Bowl.
Roasted Delicata and Cauliflower Buddha Bowl
The Roasted Delicata and Cauliflower bowl is a healthy dinner that is perfect for late summer and fall. The cheesy and crispy cauliflower is wonderful with the soft, yet chewy oven roasted delicata squash. The sliced apples adds an element of sweet crispness to an otherwise savory and hearty buddha bowl.
Print Recipe
Ingredients
Roasted Delicata Squash
Roasted Parmesan Cauliflower
3

cups

Cauliflower, cut into bit sized pieces

1/3

cup

Plant Based Parmesan Cheese*

1/2

tsp

Sea Salt

to taste

1

tsp

Onion Powder

1

tsp

Sage

1

tsp

Thyme
Herbed Chickpeas
2

cups

Cooked

1

tsp

Thyme

1

tsp

Sage

1

tsp

Sea Salt
Maple Mustard Vinaigrette
Fresh Toppings
1

cup

Fresh Spinach or Arugula

1/2

Medium

Chopped Apple

1

tbs

Crushed Pecans
Instructions
Delicata Squash
In a pan under medium high heat melt melt 2 tbs butter and add your delicata. Add your sage, salt. and cinnamon and sauté for 5-6 minutes until fragrant. Set aside
Roasted Parmesan Cauliflower
In a large bowl add your cauliflower and sprinkle over olive oil, grated parmesan cheese, onion powder, sage, thyme, and sea salt. Stir well for an even coating

Pour your delicata squash onto a baking sheet with the coated cauliflower. Both will fill half a large baking sheet, they can fit on the same sheet
Oven Roasted Veggies
Roast both the Delicata and the Cauliflower for 20 minutes
Dressings
While your veggies are roasting, in a small bowl mix all your ingredients together for the dressing, set aside

In another medium bowl add your chickpeas, thyme, sage, and sea salt and mix well
Over All Assembly
In your serving bowl add your spinach, drizzle a small amount of dressing over it. Now add the herbed chickpeas, roasted veggies, and fresh apples.

Drizzle your remaining dressing over everything

*optional* Sprinkle over crushed walnuts or pecans, dried cranberries, cooked wild rice or quinoa
Notes
For premade parmesan cheese the brands Violife, Follow Your Heart, and Daiya are all great.
Otherwise add 1 tbs nutritional yeast flakes ground up with 4 tbs brazil nuts/walnuts, 1 tsp garlic powder, 1/2 tsp black salt, and 1/2 tsp miso paste to a food processor and blend up. This makes a quick and healthy plant based parmesan nut crumble
The amount of salt needed with depends on the parmesan cheese you use. Different brands and recipes are saltier than others, salt to taste!
If you do not have white wine vinegar you can sub it with balsamic vinegar.
In a pinch you can use 1/2 tbs Apple Cider Vinegar
Nutrition
Calories:
474
kcal
|
Carbohydrates:
32
g
|
Protein:
32
g
|
Fat:
25
g
|
Saturated Fat:
10
g
|
Polyunsaturated Fat:
2
g
|
Monounsaturated Fat:
9
g
|
Cholesterol:
109
mg
|
Sodium:
4049
mg
|
Potassium:
1042
mg
|
Fiber:
6
g
|
Sugar:
20
g
|
Vitamin A:
1910
IU
|
Vitamin C:
109
mg
|
Calcium:
330
mg
|
Iron:
3
mg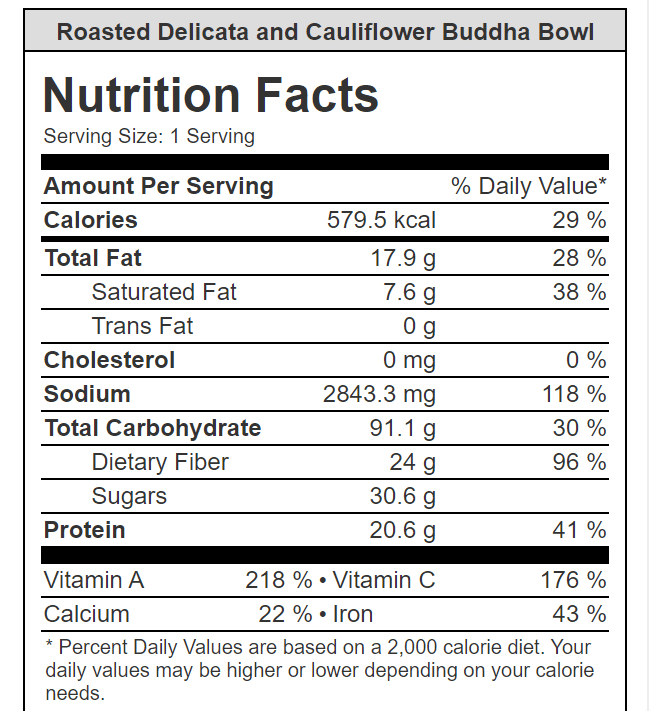 Like this recipe? Check out more recent posts

Air Fryer Recipes Baking Recipes Bread Recipes Breakfast Candy Recipes Chanterelle Recipes Chicken of the Woods Recipes Comfort Food Recipes Dip Recipes Drink Recipe Eco Friendly Lifestyle Fall Recipes Fried Recipes Gluten Free Recipes High Protein Recipes Instant Pot Recipes Late Summer Recipes Lobster Mushroom Recipes Low Calorie Maitake Recipes Morel Recipes Muffins Recipe Mushroom Recipes Nut Free Oyster Mushroom Recipes Pasta Recipe Pizza Recipe Plant Based Seafood Recipes Sandwich Recipes Seitan sides snacks Soul Food Soup sourdough Soy Free Recipes Spring Recipes Stove Top Recipe Summer Recipe Sweet Recipe Tea Recipe Thanksgiving Vegan Recipes Winter Recipe Winter Recipes

By