This completely vegan Lobster Roll is made with Wild Lobster Mushrooms- a fungi that naturally tastes, looks, and smells like a lobster!
This classic New England inspired roll has all the flavors and textures you are looking for. The lobster mushroom carries that salty rich flavor that is paired perfect in the creamy mayo and celery.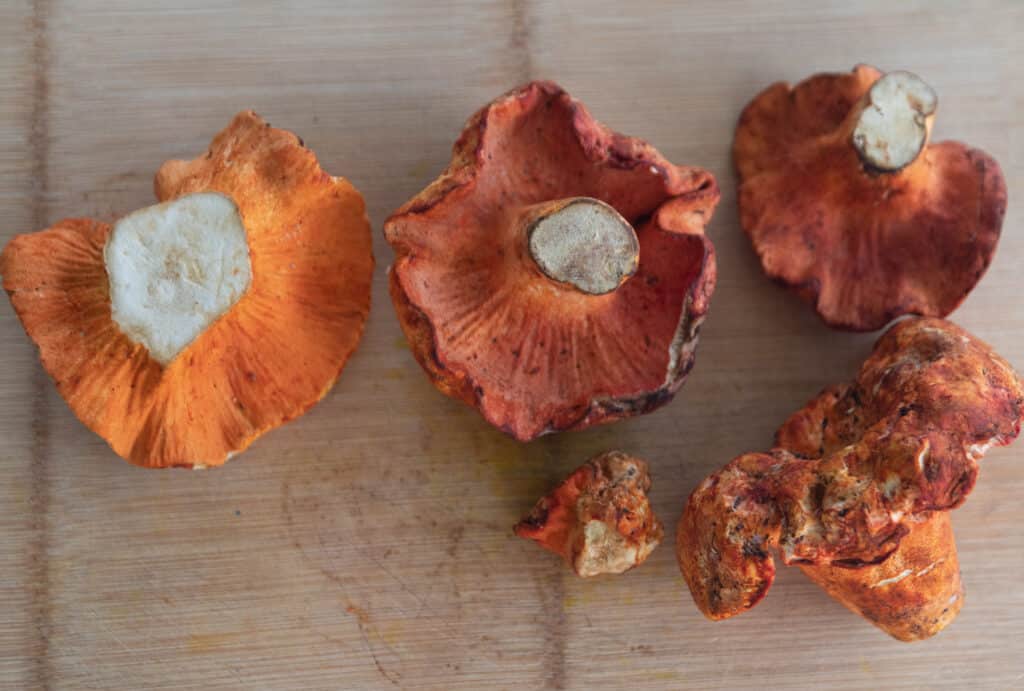 This roll is easy to make- the tricky part is finding fresh lobster mushroom to fill it with! Wild lobster mushrooms can be tough to find, they cannot be commercially grow.
They have to be foraged.
Lobster mushrooms are formed by a parasitic spore that takes over another mushroom in the forest. Once the spore reaches a mushroom it transforms it, making it red, changing the shape, making it smell like seafood, and changing the flavor. The only appear in mid to late August through September which further complicates things. They are found in Colorado in the Rocky Mountains and along the West Coast from Northern California up through Oregon.

This roll doesn't work as well with dried lobster mushrooms, you'll want them fresh to keep that buttery texture.
If you want to go a head and try this roll with a different mushroom, do it with king oyster or lions mane mushrooms. This recipe will not work with most mushrooms- the flavor will be completely off. However, king oyster or lions mane mushrooms are fairly neutral in flavor and pick up an ocean flavor once you marinate them.
DO NOT DO THIS RECIPE WITH SHITAKE, PORTABELLA, OR CREMINI MUSHROOMS! You'll be sorely disappointed.


Since I've only been foraging for a couple of years and am obsessed with this vegan seafood alternative, I'll make a special trip to the farmers market for these. I'm in Colorado, my go to mushroom vendor is Mile High Fungi. They are at multiple locations and always have lobster mushrooms this time of year. Be sure to check in with your local mushroom vendor at your farmers market to check if they have it!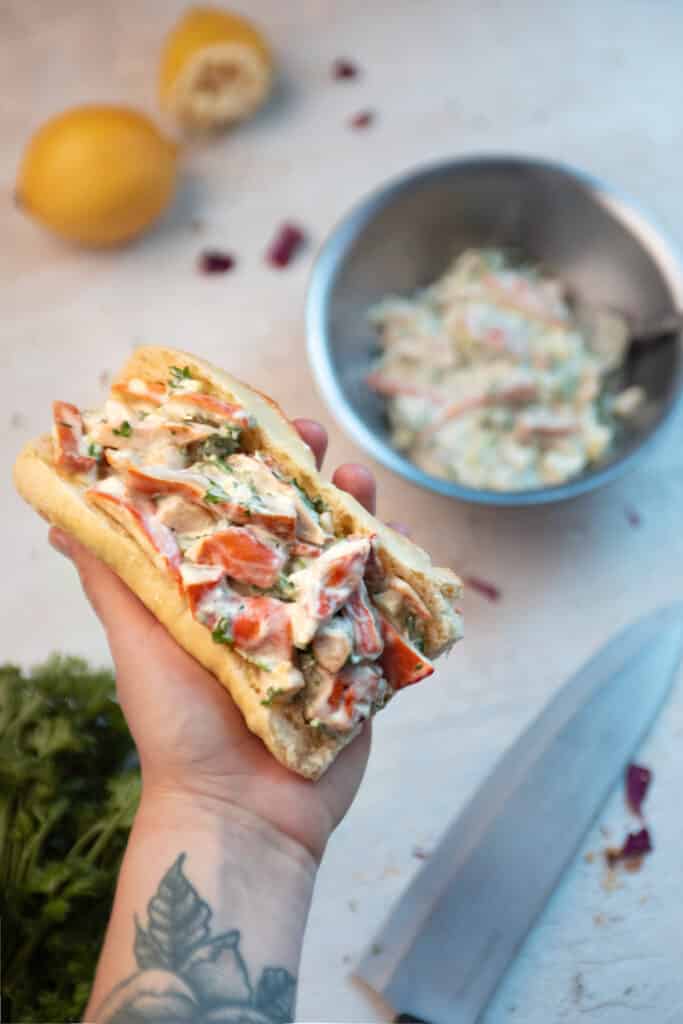 I make this recipe every late summer/ early fall. Here is last year's version I made that included parsley in the mix filled inside a baguette rather than a bread roll.
I prefer the roll without the parsley. The parsley brightens the roll, but can overpower the lobster flavors.
You'll also notice that the colors are much more white in this roll than in the updated images. I didn't cook the lobster mushroom long enough- a fully cooked lobster mushroom will be more yellow in the whites. I've learned since that you really need to cook your lobster mushrooms for at least 20 minutes in butter and white wine. The white wine isn't completely necessary, it does help add a deep sweetness, an acidity that really works well in seafood.
If you have more lobster mushrooms be sure to check out Lobster Mushroom Stuffed Shells
Or if you love wild mushrooms in general be sure to check out Kentucky Fried Hen of the Woods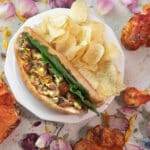 Vegan Lobster Roll
How to Make a Lobster Mushroom Roll- Inspired by New England Lobster Rolls
Print Recipe
Ingredients
Roll Filling
1

cup

Lobster Mushrooms

1

tbs

Plant Based Mayo

1/2

tbs

Chopped Celery

1/2

tbs

Chopped Green Onion

1

tsp

lemon juice* about 1/2 small lemon
Instructions
Create your ocean broth by adding everything into a large bowl, mix well, set aside

Clean and then break up your lobster mushroom into bite sized pieces

Add the broken up lobster mushrooms to your ocean broth and let marinate for 30 minutes

Add your marinated lobster mushroom to a pan and with butter and sauté for 25 minutes, add more butter as the mushrooms absorb it to prevent sticking. To create a deeper flavor add a tablespoon of dry white wine while the mushrooms are cooking

Add your sautéed add to a medium sized bowl, then add your mayo, chopped celery, green onion, and lemon juice

Stir to mix evenly

Add inside of a soft bread roll, the classic New England way is to use a hot dog bread roll for ultimate softness. A fusion twist is to serve it in a baguette (which is amazing!) Another option is to add some greens, which I like for color- but it is not traditional
Notes
lime juice if you are out of lemon!
For a fresher take on this add a tablespoon of fresh chopped parsley to the lobster mushroom mix
Nutrition
Enjoy this post? Be sure to check out these other plant based recipes, eco friendly tips, foraging facts, and basic herbalism

By