These stuffed shells are full of lobster mushrooms in a creamy vegan alfredo sauce. This creamy plant based pasta is a decadent treat for anyone who is looking for a plant-based lobster!
This dairy free yet delicious pasta that is for the wild mushroom lover!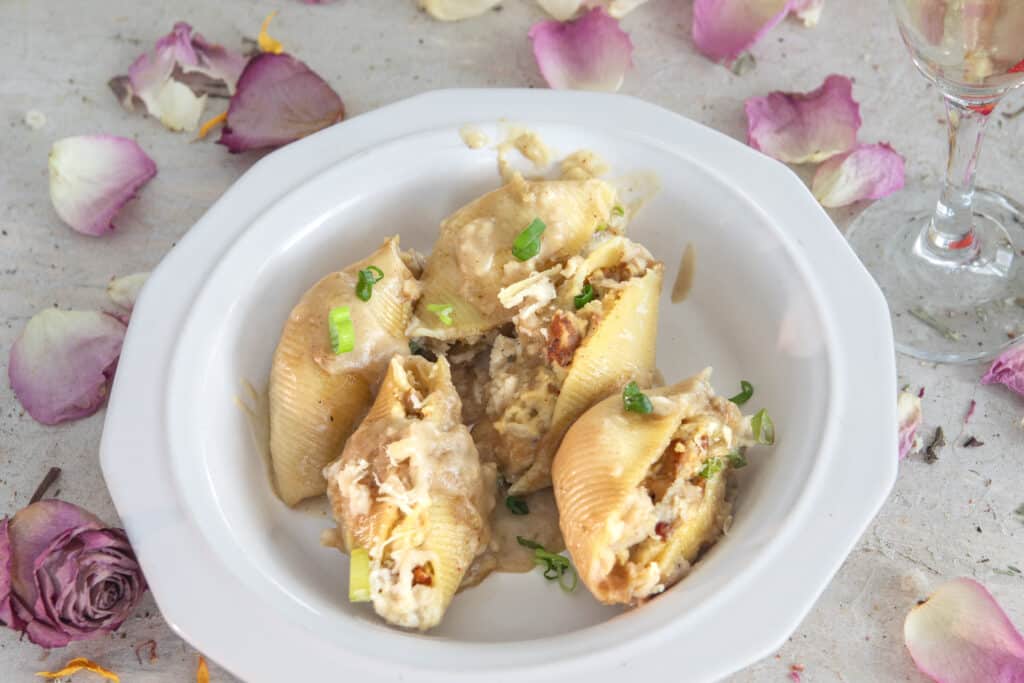 Whether if you are a mushroom forager or a vegan looking for a plant based lobster alternative this is a recipe that will impress.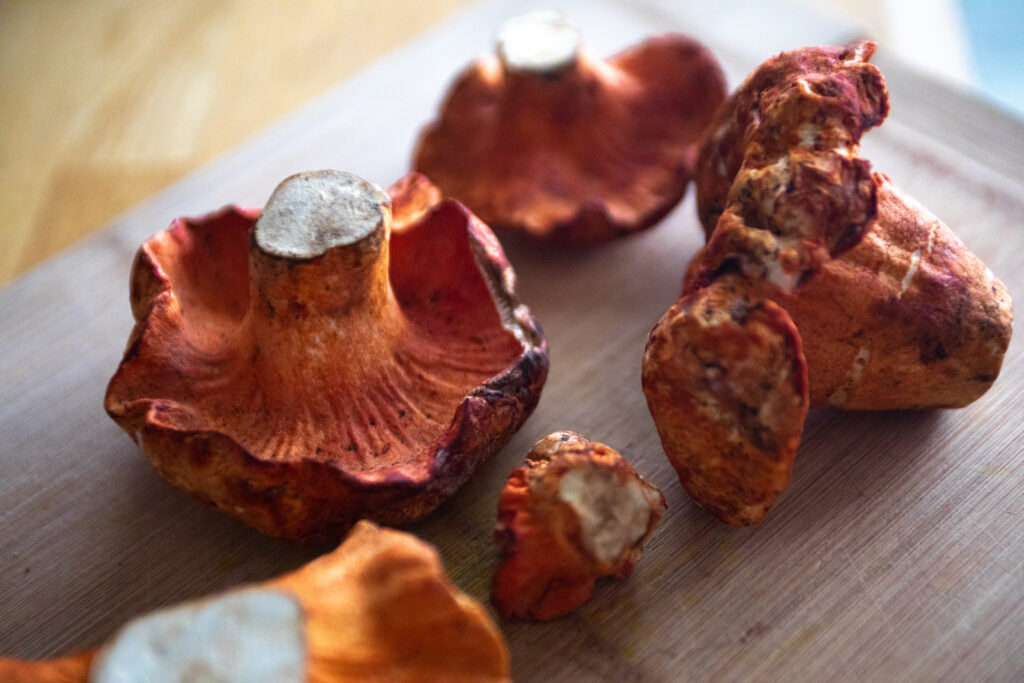 Where Can I Find Lobster Mushrooms?!
Lobster mushrooms grow in the late summer to early fall- their bright orange color stands out amongst hardwood trees. They are a parasitic fungi where their spores take over another mushroom- transforming it. It will turn it red, change the shape into a lobster like fin, and it will develop a fishy smell and taste. Look for your local chapter of the Mycology Society for group forays!

If foraging isn't your thing then be sure to check out your local mushroom vendor at the farmers market. The lobster mushroom cannot be grown so expect to pay anywhere from $16-40 per pound!
It's is worth it for the rich lobster flavor. Alternately you can purchase them dried online!

If you are in Colorado be sure to check out Mile High Fungi, Fresh From the Farm Fungi, or Front Range Fungi. They all sell both cultivated and foraged mushrooms!

If you live in Washington many mushroom vendors will sell them at farmers markets and even at pike place market there are vendors who sell these beauties.
That's where I was able to pick up a maitake or hen of the woods mushroom for my Kentucky Fried Hen of Woods.
If you scored big and more more lobster mushrooms try these recipes for
Lobster Mushroom Rolls or Lobster Mushroom Cream Cheese Wontons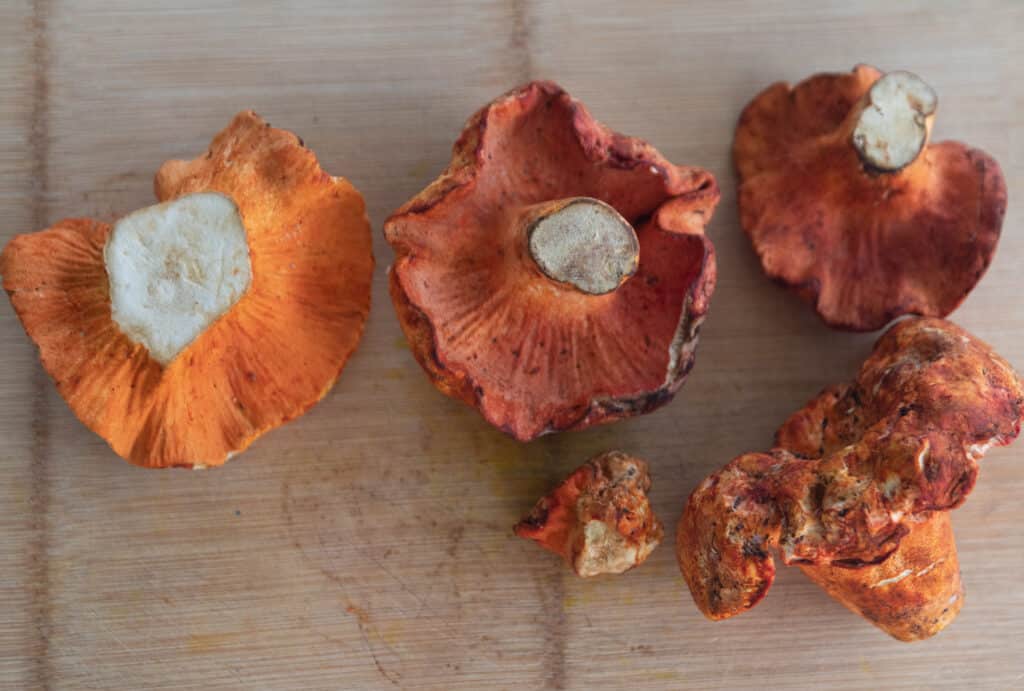 Making Vegan Alfredo Sauce
When making these vegan stuffed shells you can use your choice of premade alfredo sauce if you don't want to make it fresh- using a premade sauce can be a huge time saver!
This recipe uses plant based cheese to make the base of the sauce where in the past I've used a healthier option where the sauce uses veggies.
Since lobster mushrooms are a rare treat it is worth it to splurge on using extra butter and cheese for this recipe.
I used Miyoko's mozzarella and Violife parmesan, both are cashew based and have great flavors. Swap it out for whatever cheese you have on hand, or even try making your own!
I bought my almond ricotta from Somebody People since they have it included in their Denver Zero Waste Produce Box. Which is a must try if you are in Denver!
However you can use whatever ricotta cheese you choose.
The alfredo sauce does call for white wine- it helps add a sweet acidity to the sauce that is delightful. If you are vegan make sure the wine contains no animal parts in it by using Barnivore– it's my go to website whenever I'm wine shopping! Most white wines are vegan but many can contain fish bladders, fish oil, gelatin, casein, crushed egg shells, and more. These additives are more commonly in red wines but can be found in some whites and rosés!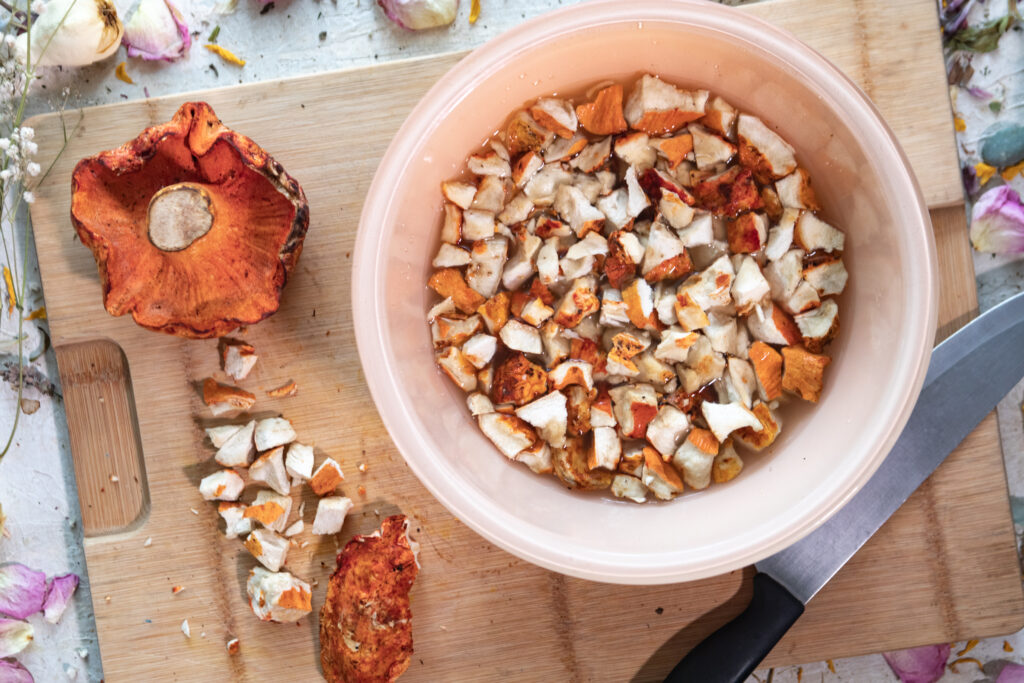 How to Assemble the Stuffed Pasta Shells
First step is to prep the mushrooms, clean them and soak them. Some chefs like Sauce Stache skips this step but I find it important. Most lobster mushrooms will be very dense and will have a crunch or firmness to it. Depending on how fresh the mushroom is, it can dry out. Sauce Stache helped moisten the mushroom by cooking it in lots of butter. I've found that this still leaves the mushroom tough and it doesn't have as strong of a lobster flavor that I want.
After I break up the the lobster mushroom into small bite sized pieces I'll soak it in an ocean broth. The broth is made up of wakme, nori, kombu, and sea salt- the different kinds of seaweed with the sea salt really adds to the lobster flavor.
From there you'll want to make your pasta, grate your cheese, chop up some onion and garlic. Then it's as simple as making your alfredo sauce, adding cheese to to your prepared lobster mushroom- then stuffing the shells. After that, you bake up to perfection and enjoy!

Lobster mushroom baked into a cheesy,
creamy, savory, yet sweet comfort filled dish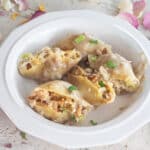 Vegan Lobster Mushroom Shells
These vegan stuffed shells are packed with lobster mushroom and almond ricotta, covered in a plant based alfredo sauce.
Print Recipe
Ingredients
Ocean Broth
5

Cups

Filtered Water

2

Tbs

Sea Salt

1

Tbs

Dried Wakme

1

Tbs

Dried Kombu

1

Sheet

Nori
Lobster Mushroom Sautee
1 1/2

cup

Fresh Lobster Mushroom

3

Tbs

Chopped Yellow Onion

3

Tbs

White Wine

3

cloves

Garlic
Alfredo Sauce
1/2

Large

Large Shell Pasta

2

Cups

Aquafaba*

1

Cup

Plant Based Mozzarella*

1/3

Cup

Plant Based Parmesan*

3

Tbs

Butter*

3

Tbs

White Wine*

1

Tbs

Tapioca Starch*

3

Cloves

Crushed and Chopped Garlic

1

tsp

White Pepper

1

tsp

White Truffle Oil*
Shell Filling
1/2

cup

Almond Ricotta

1/3

cup

Non Dairy Parmesan

1/3

cup

Non Dairy Motzerella

1

Chopped Green Onion
Instructions
Start by washing then breaking up your mushroom into bite-sized pieces. Try to break it up with your fingers for more organic shapes, set aside

Add all your ingredients to create your ocean broth in a large bowl, put lobster mushrooms and allow to soak for 30 minutes

Prepare your shell pasta, set aside

Sauté your Lobster Mushroom in butter, with the garlic, onion, and white wine on medium high heat for about 15 minutes

Add your Lobster Mushrooms to a bowl with your shell filling ingredients, mix well

Preheat oven to 350 F

In a large saucepan heat up your butter and add your garlic and the white wine, sauté over medium heat

Add all of the other ingredients listed for the sauce and whisk to incorporate. Once the cheese is warmed enough it will dissolve into a cream, really whisk it to incorporate

Pour half your alfredo sauce into a casserole pan- set the rest aside

Now stuff your pasta shells with the cheese lobster mushroom filling, place into your casserole pan, filling it up

Pour the remainder alfredo sauce over the shells and sprinkle a light layer of cheese and green onion over the shells

Bake the pasta in the oven for 30-35 minutes, until the top is golden brown and has a light crisp

Serve with a green salad, a glass of white wine, and good company.
Notes
Mozzarella:
I used Miyoko's Mozzarella- other cheeses might melt differently. Whisk the sauce as it melts (or use an immersion blender) to blend other cheeses like Violife, Daiya, or your preferred brand. You don't want chunks of cheese in the sauce- you want everything to blend into one nice cream
Parmesan:
I used Violife parmesan- please try it out with your favorite homemade parmesan or another brand if you'd like. A nut parmesan will result in a less creamy result but will have extra health benefits
Butter:
I used a plant based butter from my local produce box- Earth Balance is a great tasting plant based butter, or you can try using a homemade version.
You could swap out the butter with refined coconut oil with a tsp of nutritional yeast flakes.
Wine:
Many wines are not vegan, but I used Beringer Pinot Grigio. Any dry, white wine will work.
Use the app Barnivore to make sure your choice of white wine is vegan
A white wine reduction could replace the wine
Starch:
You can easily sub the Tapioca Starch with Corn or Potato Starch. The purpose is to help keep this nice and thick. The benefit of Tapioca Starch is that it is more gooey and stretchy than Corn or Potato Starch
Truffle Oil:
The White Truffle Oil is optional- it adds a nice umami with light notes and enhances seafood and wine flavors. Black Truffle Oil will be more deep earthy and also enhances umami. There isn't a substitute but this alfredo will still taste great without it.
Lobster Mushroom Substitutes:
If you aren't able to get lobster mushrooms you could swap them out with shrimp of the woods, king oyster mushrooms, wild puffballs, or lionsmane. It won't taste like lobster but it is the closest sub that will still give it a seafood quality.
Do not sub it for shiitake, portabella, button, or cremili mushrooms- those earthy, nutty, metallic flavors do not work for seafood.

Another great option is to use plant based shrimp! All Vegetarian Inc is one of my soy-free favorites made from Konjac but many Asian grocery stores will have tasty soy based shrimp. Skip the marinating steps and pan fry it with the garlic as you would with the lobster mushroom.
Nutrition
Love this post?
Check out more plant based recipes, eco friendly lifestyle tips, and more on wild food below

By