Lobster Mushroom Wontons stuffed with cream cheese and chives- it's crispy yet creamy in the center!
This recipe has you create a lobster mushroom confit, where you add the slow cooked mushrooms to cream cheese, chives, and stuff it into a wonton wrapper. Creating a mushroom confit creates a tender, yet firm mushroom that is so succulent! You will be left with leftover lobster mushroom oil that tastes like a cross between lobster and truffle mushrooms. This oil is a recipe in itself and is a delight in pasta and in cream sauces.

This recipe has you cook your wontons in an air fryer, but a convention oven will also work!
These Rangoons features Lobster Mushroom- a mushroom that tastes, smells, and looks like a lobster! It's found growing on and near hardwood trees in late summer to early fall. Many of your local mushroom vendors will start selling them in August through September. Mile High Fungi is my go to vendor for the lobster mushroom or other foraged mushrooms in Colorado.
Lobster Mushrooms and Other Filling Alternatives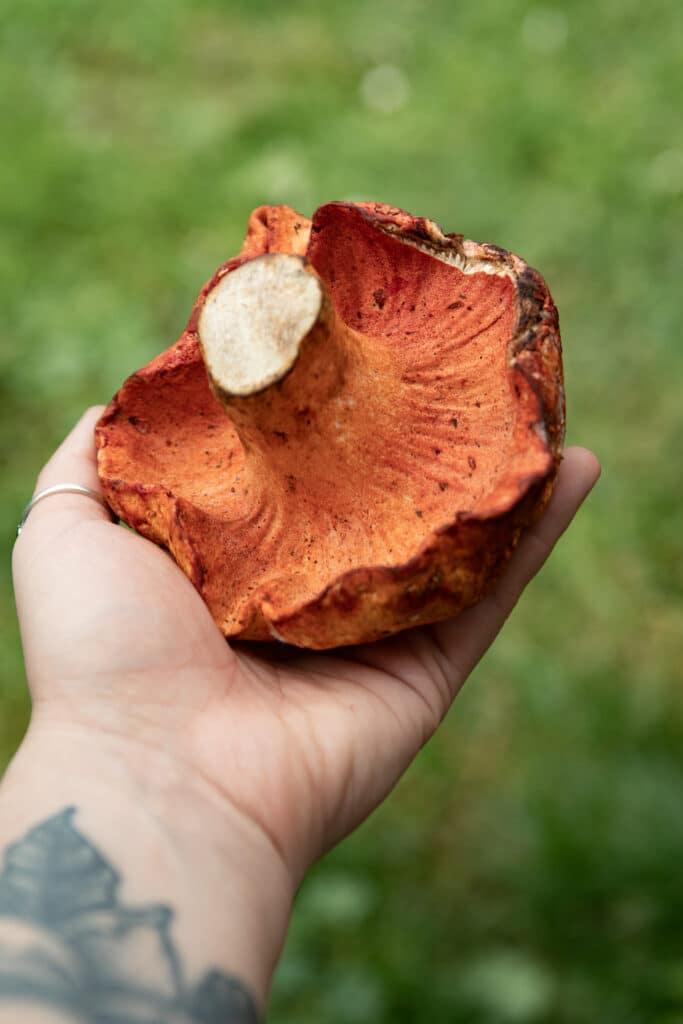 To make these Lobster Mushroom Wontons, or Vegan Lobster Rangoon, you'll want some lobster mushrooms. If you do not have access to the lobster mushroom you can sub it out with your choice of vegan shrimp or leaving it out all together for dishes like traditional cream cheese wontons. If you do want to try it with vegan shrimp, try out the brand All Vegetarian Inc or head to your local Asian grocery store. Many of them sell soy shrimp that are totally vegan!
Since I'm in Colorado, my first go to stop is Nooch- the all vegan grocery store. If I don't want to drive out to Denver I'll go to my local H Mart or Pacific Ocean Marketplace. Both have vegan shrimp and a huge vegan selection!
General Assembly
To make these lobster mushroom wontons, you'll want to prepare the lobster mushroom. Do this by presoaking it in an 'ocean broth' made up of kombu, wakame, nori, and sea salt. This helps soften the tough mushroom and helps enhance the lobster flavor.
Then you'll want to cook the mushrooms in butter before you add your sugar, cream cheese, and green onions.
After that, you'll simply add a tablespoon of filling in wonton wrappers, twist them shut, brush with oil, then pop them in the air fryer, or bake them up!
For a more decadent variation try deep frying the wontons in a neutral oil.
The wrappers I used were called Egg Roll Wrappers- I discovered that even though they are called egg roll wrappers they are egg free! Double check the brand you are using to ensure it is egg free for a plant based experience.
If you are obsessed with wild mushrooms or lobster mushrooms like me, check out this Lobster Mushroom Stuffed Shells recipe!
You might also like Kentucky Fried Hen of the Woods if you are love wild mushrooms.
Ingredients
3

medium

Cleaned Lobster Mushrooms (roughly 2 cups)

2

Tbs

Butter
Filling
1/2

Cup

Non Dairy Cream Cheese

2

Chopped Green Onions

1

tsp

Sugar

1

package

egg roll or wonton wrappers
Instructions
Prepare the Lobster Mushroom
Break up the cleaned lobster mushroom into small bite sized chunks

Add all the ingredients for your ocean broth into a large bowl except the nori sheet, add your lobster mushroom, then cover with moistened nori sheet Let this soak for 25-30 minutes

Remove lobster mushroom from broth and sauté on low/medium heat with your butter for 20 minutes, adding more butter as it becomes absorbed to prevent sticking and burning
Assemble the Filling
In another bowl add your lobster mushroom, and the rest of your filling; stir, set aside your egg roll wrappers next to a small bowl with water

Using a measuring spoon, add one Tbs of the filling to the middle of your wrapper.

Using the water set aside, wet the outsides of your wrapper, twist your egg roll wrapper to be closed, adding more water as needed to keep the wrapper sealed

Repeat until you've used up all your filling

Brush refined coconut oil or another neutral oil over your wontons

Place in air fryer at 370F for 17-20 minutes, or desired crispiness; flip halfway through, and make sure you're checking how they look throughout their cook time Or Put in a freezer safe container and save for a snack to cook up later! *Can be cooked right from frozen, but cook for 20-25 minutes instead

Serve with Sweet and Sour Sauce, Sriracha Mayo, with your favorite ramen, or enjoy them plain.
Nutrition
Calories:
467
kcal
|
Carbohydrates:
70
g
|
Protein:
13
g
|
Fat:
16
g
|
Saturated Fat:
7
g
|
Polyunsaturated Fat:
1
g
|
Monounsaturated Fat:
2
g
|
Trans Fat:
0.2
g
|
Cholesterol:
25
mg
|
Sodium:
4301
mg
|
Potassium:
118
mg
|
Fiber:
4
g
|
Sugar:
2
g
|
Vitamin A:
289
IU
|
Vitamin C:
1
mg
|
Calcium:
84
mg
|
Iron:
4
mg
Love this post?
Check out more plant based recipes, eco-friendly lifestyle tips, and more on wild food below!

By