Celebrate the flavors of lobster mushrooms with this creamy, savory, slightly sweet bisque.
If you are a forager, fungi foodie, or simply wanting a hot bowl of creamy, decadent soup to dip your sourdough bread in, you need to try this vegan lobster bisque!
This vegan lobster bisque uses the wild lobster mushroom- the flavors of this soup is like truffles and lobster combined! This creamy, succulent soup tastes better than the animal-based version. This wild mushroom soup is a foragers favorite!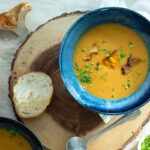 For the Best Soup- Make Mushroom Infused Oil!
This recipe starts out with you infusing oil with the lobster mushrooms- this really gives you a deep, concentrated lobster flavor.
The best part you will have some leftover infused oil!
This liquid gold is incredible in other recipes and can be stored indefinitely in your freezer! It truly is liquid gold in the sense the lobster mushrooms change the oil to a rich gold hue like saffron.
Add it to any dish that you want to have a lobster and truffle flavor, it is incredible in cream sauces like this pumpkin sage sauce. Try adding some to your pasta, risotto, any creamy recipe.

Another fantastic use for it is adding a tablespoon of it to lions mane crab cakes to really get a rich seafood flavor.
Lobster mushroom oil is even better than an infused truffle oil (in my humble opinion) where it adds that depth, umami, but it has a sweetness to it that reminds me of the flavors in shrimp scampi.
Celebrating the Flavor of Lobster Mushroom
This bisque doesn't have any artificial flavors to make it taste like lobster.
This is much, much better- this soup brings out the delicate, sweet, rich flavors of the lobster mushroom. The unique flavor of lobster mushroom is the star of this soup.
No, you cannot substitute the lobster mushroom in this recipe!

If you are a vegan and love sea food flavors- the Hypomyces lactifluorum (aka the lobster mushroom) is for you!
It does not taste like a traditional mushroom, instead the flavor is similar to lobster, or even shrimp.
There is nothing in nature quite like it.

Other recipes for lobster mushroom bisque call for a whole medley of vegetables to help create a creamy soup.
This recipe on the other hand is simple. It is very simple in the herbs and spices. It has no additional vegetables to compete with the delicate flavor.
Adding too many herbs, spices, and other vegetables drowns out the flavor, even a little too much can dampen it. The competing flavors of tomato, carrot, and celery can completely wipe out the flavor of the lobster mushroom, which is why they will often add kelp powder to regather the ocean flavor. While there is nothing wrong with a creamy, ocean-y, flavored soup, that is not the goal with this lobster mushroom bisque!

Lobster mushrooms cannot be grown and must be foraged, which makes them expensive. The prices range from $16-$30 per pound. If you bought them from your local farmers market, let's honor this gourmet mushroom by making it really shine as the star of the show.
The flavor of lobster mushroom is so delightful and unique- simple is better with this dish.
If you foraged a ton of lobster mushrooms and are looking for more recipes, try these.
Lobster mushroom wontons, vegan lobster roll, and stuffed shells are all fantastic ways to use lobster mushrooms.

Speaking from personal preference, the lobster mushroom bisque is my favorite way to prepare lobster mushrooms.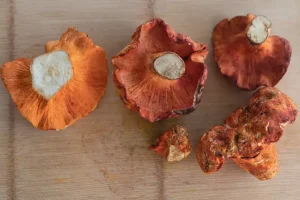 Ways to Customize Your Wild Mushroom Soup
This recipe calls for a vegetarian chicken broth – this is what I used. You can opt for a homemade vegetable broth. If you use a homemade vegetable broth consider simmering in some koji rice, or adding a tablespoon of nutritional yeast flakes, a teaspoon of toasted sesame oil, and a small sprinkle of nutmeg (or mace) to add that rich depth.

Update on the Perfect Broth (2023):
I've found when making homemade vegetable broth that if you substitute the water with aquafaba from a light variety of beans then simmering it with koji rice, onions, and garlic it can really elevate any soup.

Consider how chicken broth is made up of broken-down proteins that gives it a concentrated flavor. If you slow cook a protein rich liquid like aquafaba and use koji or miso, you can help break down the proteins to help create a concentrated flavor. It is a great way to get a richly flavored vegan broth!

Any light variety of bean will work well for this, think white beans, chickpeas, soybeans, ect. This is another reason why you should start cooking beans from dried- not just to save money or ingest less sodium, this way you can have more aquafaba to cook with!

The base of any good soup starts at your broth. A homemade, slow cooked vegetable is going to taste better and have more health benefits vs a store bought one. That being said, not everyone has access to that amount of time. This recipe was originally written with premade vegan broth and tastes amazing. However, it does taste even better with a homemade broth!


Looking for Other Lobster Mushroom Recipes?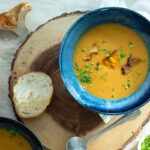 Vegan Lobster Mushroom Bisque
This vegan lobster bisque uses the wild lobster mushroom- the flavors of this soup is like truffles and lobster combined! This creamy, succulent soup tastes better than the animal-based version. This wild mushroom soup is a foragers favorite!
Print Recipe
Ingredients
Soup Base
1

lbs

Lobster Mushrooms

1

Small

Onion

2

Cloves

Garlic

4

Cups

Vegan Chicken Broth*

1/4

Cup

White Wine
Lobster Mushroom Oil
1/2

Cup

Coconut Oil, Plus another 2 tbs coconut oil reserved
Garnish
Sautéed slices of lobster mushrooms

Green Onion

Finely Chopped
Instructions
Lobster Butter Oil for Roux
Clean the lobster mushrooms by cutting off all black and browned bits, reserve them and cut off enough to measure about 1/2 cup worth of lobster mushroom scraps

In a small sauce pan add your coconut oil and add the lobster mushroom scraps on low heat- sprinkle a pinch of salt over it

Let the oil and mushrooms simmer over low heat for 1 hour

Chop the onion, crush and mince the garlic, dice the lobster mushroom
Preparation
Follow the directions grouping below depending on if you have an Instant Pot or if you prefer to use stove top
*Instant Pot Directions*
Add 2 tbs coconut oil, the onion, and garlic to the instant pot and turn on the sauté function for 10 minutes

Sauté until the onions start to become translucent and then add your lobster mushrooms and your Vegan Chicken Broth

Cook on high for 20 minutes

(Skip stove top directions if using Instant Pot)
*Stove Top Directions*
Add 2 tbs coconut oil, the onion, and garlic to a large pot and sauté on medium high heat for about 10 minutes, or until your onions become translucent

Add the lobster mushrooms and the broth and bring to a simmer, cooking for 1 hour.

Blend with either an immersion blender* or add to blender to make smooth
Lobster Mushroom Roux
In a small sauce pan add 1/3 cup of the infused lobster mushroom oil with 8tbs coconut milk (1/3 cup + 2tbs), whisk gently to mix on low heat

Slowly whisk in the 1/3 cup flour to combine

Add the Roux to the blended lobster mushrooms and broth along with the 1/4 cup white wine. Blend until smooth or mix well
Video
Notes
You can use 1 tbs No Chicken Bullion to 4 cups water for this broth, or you can use a vegetable broth for a similar experience. If using a vegetable broth taste as you go to ensure there is enough salt and umami. Consider adding a tsp of mushroom seasoning or a tsp of msg to get those savory pops of flavor
A hand held Immersion blender works great for bisques, however it will be tough to get to be ultra smooth like what a standard blender will do. Small bits of the lobster mushroom are tough to completely get smooth- however the texture is still very enjoyable.
Nutrition
Calories:

372

kcal

|

Carbohydrates:

19

g

|

Protein:

6

g

|

Fat:

32

g

|

Saturated Fat:

27

g

|

Polyunsaturated Fat:

1

g

|

Monounsaturated Fat:

2

g

|

Sodium:

11

mg

|

Potassium:

467

mg

|

Fiber:

3

g

|

Sugar:

5

g

|

Vitamin A:

0.5

IU

|

Vitamin C:

5

mg

|

Calcium:

17

mg

|

Iron:

1

mg

Hungry for more recipes?
Check out the latest recipes here:

By