Sriracha Lobster Mushroom Sushi Roll is spicy, crunchy, savory, and a visual delight.
This sushi roll uses wild lobster mushroom, Hypomyces lactifluorum, as the base.
This will become your new favorite way to enjoy sushi!
This lobster mushroom sushi is loaded with spicy sriracha mayo, crispy fried onions, pickled cabbage, all wrapped up in sushi rice.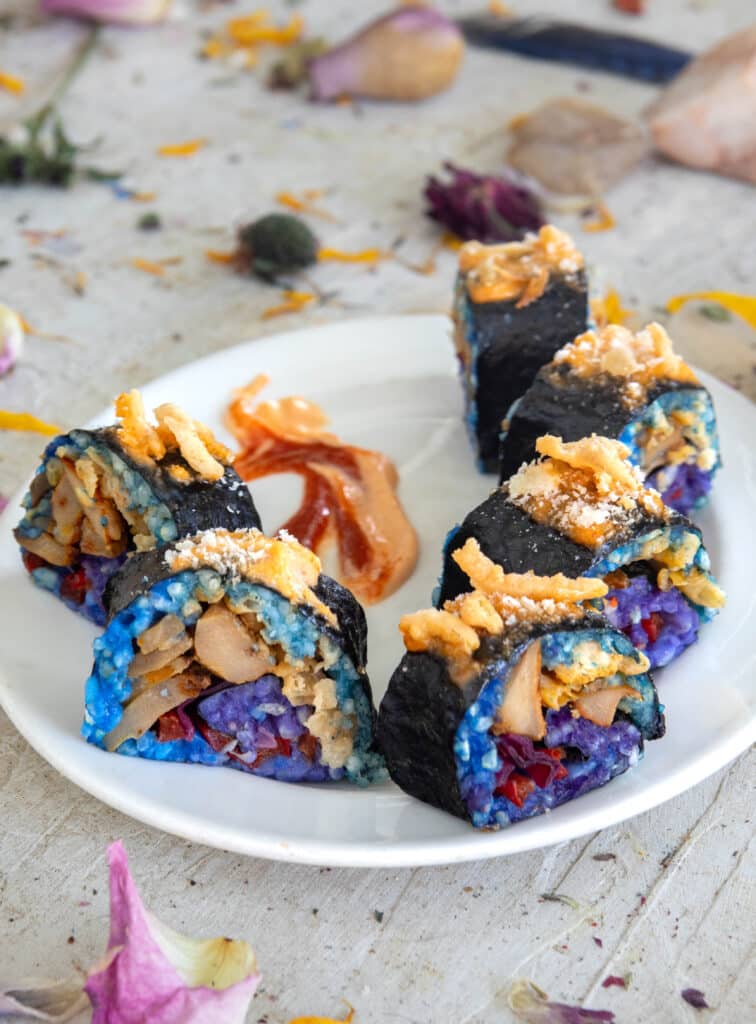 Inside this Vegan Lobster Sushi Roll
This sushi roll is made into plant-based sea food using the wild lobster mushroom. It is a wild mushroom that tastes and smells like lobster!

For a crunchy element this roll has pickled red cabbage and crispy fried onions to help balance the soft lobster mushroom center.
For extra pop of flavor there is a dollop of siracha mayo over the sushi rolls.
The sushi rice is made colorful for an extra wild and fun element! Adding a little bit of blue spirulina powder transforms the rice into a blue hue while adding anti-inflammatory health benefits.
Looking for Other Wild Vegan Mushroom Recipes?
Check out these Chicken of the Woods Recipes, if you are looking for another lobster mushroom recipe check out this Lobster Mushroom Bisque! This Lobster Mushroom Roll is another recipe that will fulfill your New England dreams.
Substitutions for this Vegan Sushi Roll
If you want to make Lobster Mushroom Sushi without using the difficult to find lobster mushroom there are options!
You could swap the lobster mushrooms with marinated soy curls, vegan shrimp (I love All Vegetarian Inc brand), marinated hearts of palm, or even fried tofu.

In a pinch you could use King Oyster Mushrooms, however, they tend to be softer when you cook them. It will be a tasty sushi roll but will not resemble sea food in any manner.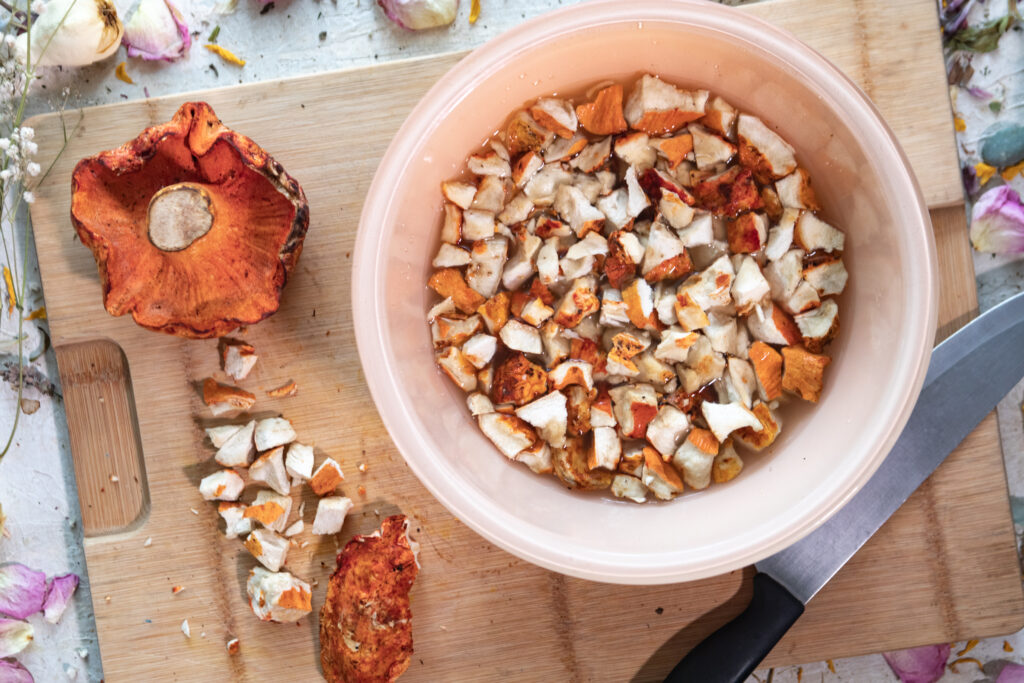 The Rice
Traditional Japanese sushi uses short grain white sticky rice. Learning their method of preparing rice translates to preparing other rice- and it can be a game changer for ultimate texture.

When my sister lived in Japan she told me the preparation of rice is the most important aspect of making sushi. They will presoak the rice in ice water for 1 hour, then rinse the rice until it runs clear. Other people will soak their rice overnight to help wash away the arsenic in the rice and wash way the outer layer of starch. Overnight soaking improves your health and gives your rice an incredible texture. However you can still gain those benefits from even 30 minutes of soaking.

The stickiness of the rice should come from the center grain itself, without the rice itself becoming mushy. You want each grain to be firm, fluffy, sticky rice. The best way to achieve this is using a rice maker or instant pot for the steaming effect. However you can still make a killer rice over the stove, but you'll need make make your lid air tight to keep that steam in. There is nothing more nice than fluffy rice!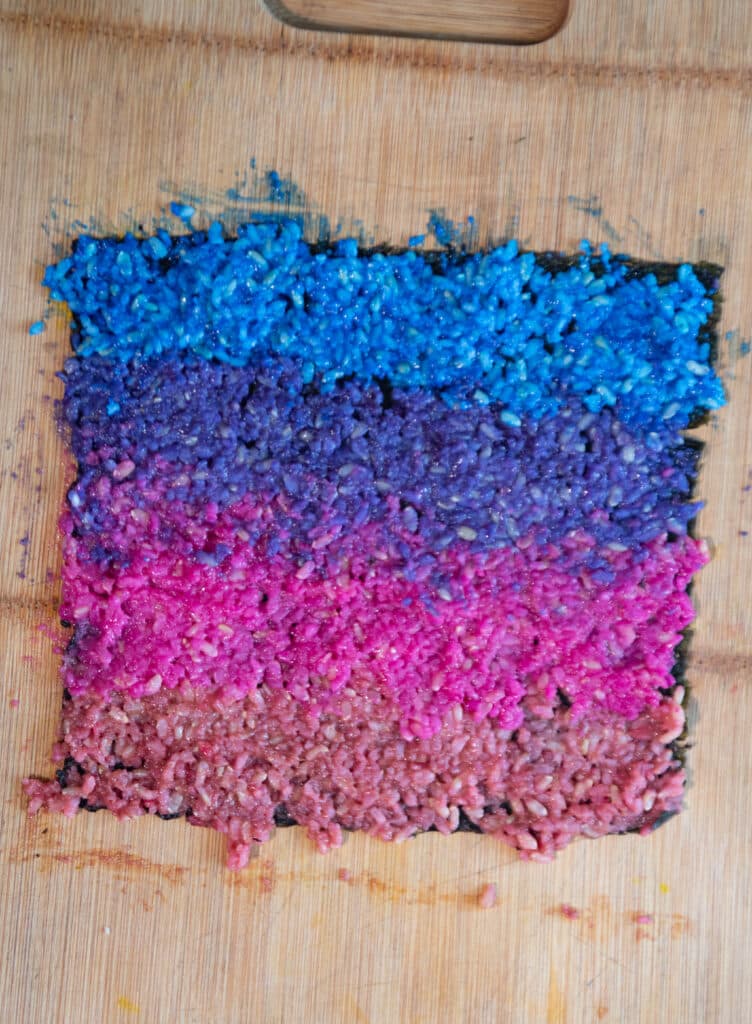 To Make Rainbow Rice
To make your rice colorful you'll want some plant based pigments. Blue spirulina, butterfly pea flower powder, pink pitaya powder, beet juice, and green spirulina are all superfoods that make your rice a gorgeous hue.

Spirulina (both blue and green) are incredibly anti-inflammatory. They can help improve allergies, reduce blood pressure, help prevent cancer, and reduce your cholesterol.

Try adding 1tsp of the one powder/juice to 2 cups rice. Add more for a darker, more intense color.

You will not see any of the colors if you choose to use short grain black rice; however, short grain brown rice has a purple hue to it so if you add white sushi rice the black rice it will have a purple color!

These powders have a very mild flavor and when used in small quantities it does not influence the overall flavor. The blue spirulina and butterfly pea flower powder have the most neutral flavors. The pink pitaya powder has a mild sweetness to it and the green spirulina has a mild green flavor.

They are a great addition to boost the nutrients in your sushi and they make your roll beautiful.
Life's too short to eat boring food! Eat beautiful, be beautiful, and lets have some fun!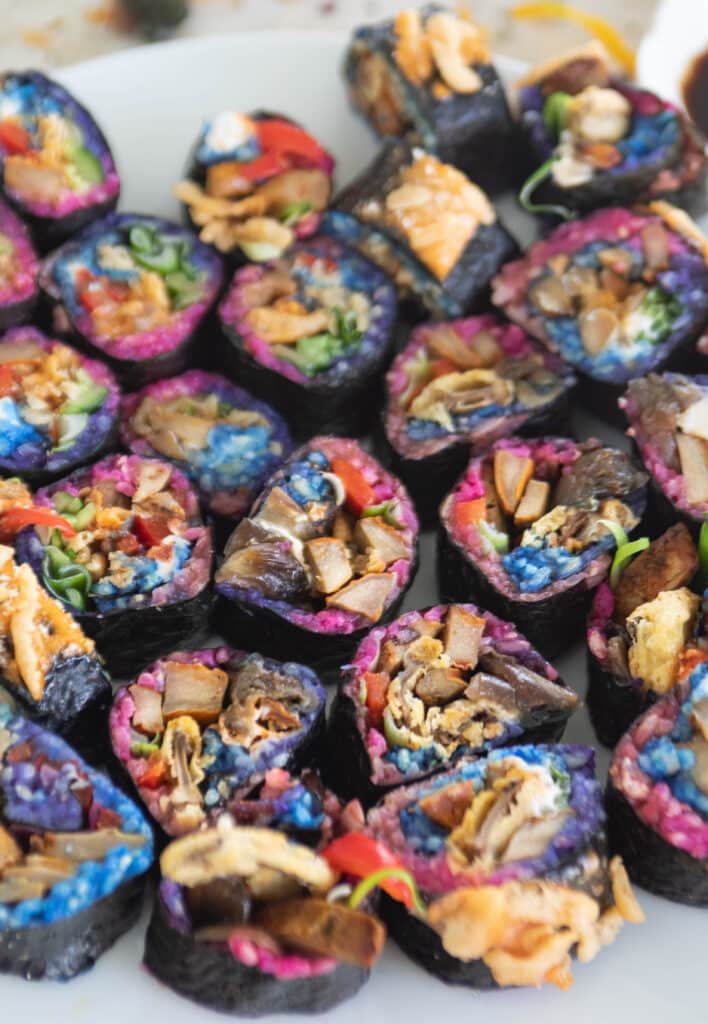 Other Veggies To Consider
The beauty of making sushi at home is being able to customize your roll for what is in season, what you have on hand, and to your individual preferences.

There are so many variations to try!

In this specific roll, you could add sprouts, cucumber, carrot, daikon, green onion, avocado, cream cheese.

Whenever you add in more veggies consider how the textures and flavors work with the other ingredients.
For example, if you are adding sprouts it could dry out the texture of the sushi roll. Simply dipping the sprouts in one of the sauces for the other veggies below is a quick remedy.

Treat each vegetable as its own dish that is destined to be combined with the other ingredients. This is what will separate great sushi from plain dry veggie rolls. Life is too short for bland cucumber and carrot sushi rolls.

Take the extra time to marinate your carrots, dip your cucumber in some rice vinegar- make your sushi mind blowing!
You deserve incredible sushi!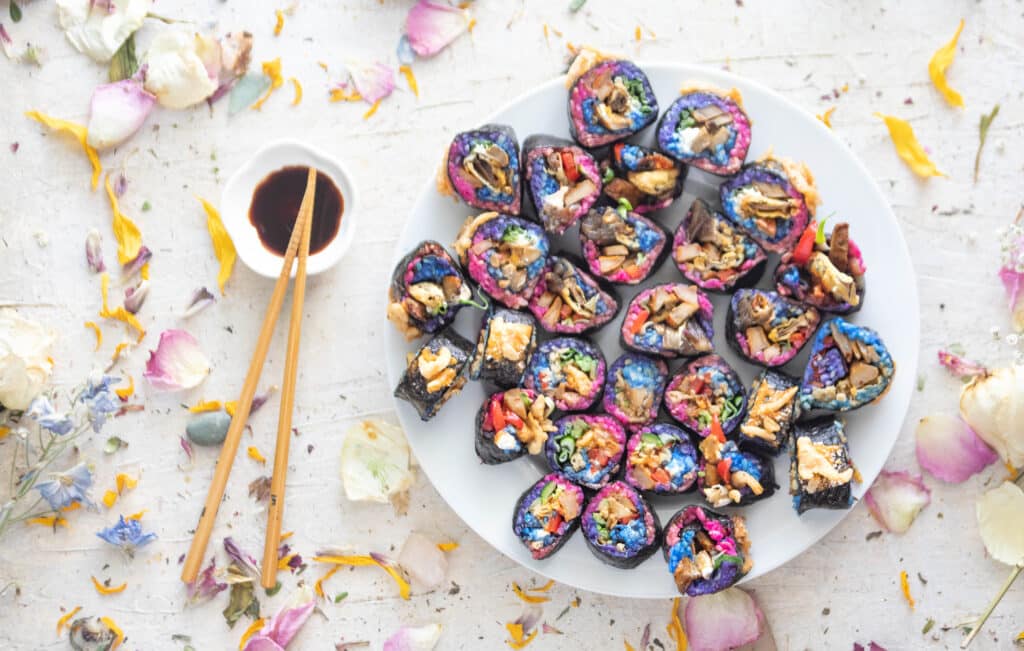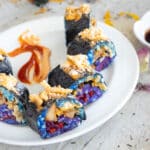 Lobster Mushroom Sushi
This lobster mushroom sushi is loaded with spicy sriracha mayo, crispy fried onions, pickled cabbage, all wrapped up in sushi rice.
Print Recipe
Ingredients
Ocean Broth
Pickled Red Cabbage
1/2

cup

Red Cabbage*

1/3

Cup

Water

1/4

Cup

Rice Vinegar

4

Tbs

Mirin

1

inch

Knob of Ginger, Crushed + Chopped

1-2

Cloves

Garlic, Crushed + Chopped
Sriracha Mayo
2

Tbs

Mayo

3

tsp

Sriaracha
Sweet+ Spicy Red Peppers
1/2

Whole

Red Pepper

2

tsp

Sriracha

2

tsp

Powdered Sugar
Other Sushi Fillings
Crispy Fried Onions

4

sheets

Nori
Instructions
Sushi Rice
Prepare your rice by soaking it for at least 30 minutes- overnight* Rinse the soaked rice until the water runs through clear.

You can prepare your rice in an Instapot, or over the stove. All methods work great! : For white sushi rice do a 1:1 proportion to water, on pressure for 7 mins- let steam for another 5 mins For brown or black short grain rice do 1:1.5 proportion to water, on pressure for 7 mins- let steam for another 5 mins *I like to do a 50/50 blend of white sushi rice and short grain brown rice – 1:1.25 rice to water ratio on pressure for 7 mins, and allow to steam for 5 minutes more.* For white sushi rice do a 1:1.5 proportion to water, cook for 20 minutes covered or water is absorbed over medium/low heat For brown or black short grain rice do a 1:2 proportion to water, cook for 30-35 minutes covered or until water is absorbed over medium/low heat

Mix the vinegar, sugar, and mirin together Add to your rice once it's been cooled

For colored rice divide your rice into three bowls, add 1 tsp of blue spirulina to one bowl, 1 tsp butterfly pea flower powder to another, and 1 tsp green spirulina to the last. Mix well.
Lobster Mushroom Prep
Mix together your Ocean Broth (see ingredients)

Slice half of your lobster mushrooms into long strips. Chop the other half into smaller pieces. Add to the Ocean Broth and let soak for 30 minutes

Remove lobster mushroom chunks from the broth and set aside while you heat up a pan with butter on medium/high heat Add lobster mushrooms and sauté for 10-15 minutes or until softened
Pickled Red Cabbage
Slice your red cabbage into thin slices

Crush and chop your ginger and garlic, add to your water, vinegar, mirin, and cabbage. Let marinate for at least 30 minutes, but this can last for weeks in the fridge. Use for more sushi rolls, spring rolls, burritos, and wraps. *spirulized daikon is also incredible in this marinade!*
Sriracha Mayo
Mix the sriracha and mayo together. For a deeper umami and less sweet experience, try adding in gochujang instead of sriracha Mix your chopped and precooked lobster mushroom in this sauce. Reserve some of the sauce for the topping

Thinly slice your red pepper into strips. Add your sugar and sriracha to coat them. Do this last so the peppers stay crisp as the sugar can soften them. *Thin slices of carrot is awesome in this sauce too!*
Assembling the Rolls
Press your rice onto your nori sheet into an even layer that completely covers your nori

Lay your ingredients out into long strips, next to each other, with some overlap.

Carefully roll your sushi roll, trying to keep the roll firm, yet being gentle so that it wont tear. If your roll tears you can grab a second nori sheet, wet it, and wrap it around the other roll. If it has a tear you will want to do this so it cuts easier.

Add a thin spread of sriracha mayo over your roll and sprinkle over crispy fried onions

Cut your roll into 1 inch segments

Serve with soy sauce, coconut aminos, wasabi, and pickled ginger, then enjoy!
Notes
Soak your rice for at least 30 minutes in cool water. This help soften the outer layer of starch and helps remove the arsenic from the rice. Soak the rice overnight for the best results, see the article above for more information.
The plant based fish sauce is optional. It adds a more savory, salty, depth to the sauce- but the sauce still tastes good without it. Try adding a tsp of mushroom seasoning or msg for more flavor depth.
Try swapping out the red cabbaged with spiralized daikon for another crunchy option
Soak your rice for at least 30 minutes in cool water. This help soften the outer layer of starch and helps remove the aersenic from the rice. Soak the rice overnight for the best results
Use white sushi rice for easiest digestibility and a more traditional sushi. Use a short grain brown or black sushi rice for an extra nutritional and fiber boost.
Nutrition
Calories:

488

kcal

|

Carbohydrates:

98

g

|

Protein:

8

g

|

Fat:

6

g

|

Saturated Fat:

1

g

|

Polyunsaturated Fat:

3

g

|

Monounsaturated Fat:

1

g

|

Trans Fat:

0.01

g

|

Cholesterol:

3

mg

|

Sodium:

3885

mg

|

Potassium:

267

mg

|

Fiber:

4

g

|

Sugar:

13

g

|

Vitamin A:

220

IU

|

Vitamin C:

12

mg

|

Calcium:

38

mg

|

Iron:

5

mg

Love This Recipe?
Check out The Latest Wild Recipes Below!

By