Chicken of the Woods is gourmet and wild plant-based treat!
There are so many fun ways to prepare this wild mushroom!
If you found lots of chicken of the woods you'll want to get cooking because these mushrooms do not have a long shelf life.
Below is a list of chicken of the woods recipes along with tips on foraging it, storing it, and other places to buy it.
Vegan Chicken of the Woods Recipes
(Scroll down past recipes for foraging and storing information!)
Below are 4 different recipes for Chicken of the Woods that you'll want to try!
There are a lot of possibilities with this mushroom- let's dig in!

Chicken of the Woods Wild Rice Soup
This creamy wild rice soup is one of the best ways to prepare chicken of the woods. It retains it's shreddy texture and is so similar to chicken that it is incredible in wild rice soup!

Fried Chicken of the Woods Wings
These breaded and fried chicken of the woods are fantastic as a side or served on their own as wings! Eat them right plain or coat them in hot sauce- these chicken-like wings taste incredible!
Chicken of the Woods Noodle Soup
This Chicken of the Woods Noodle Soup is just like the classic soup Americans grew up with! This recipe features how to make homemade noodles for your soup along with how to prepare your chicken of the woods for the ideal flavor and texture. Chicken of the Woods is a drier and more shreddy mushroom making it absolute perfection in soup!
Fried Chicken of the Woods Ranch Sandwich
Battered and fried chicken of the woods in a savory spice blend is absolute perfect sandwiched between two onion buns, plant based ranch, bread and butter pickles, and coleslaw.
This KFC inspired sandwich is made cool with wild mushrooms and vegan ingredients.
---
All about Chicken of the Woods!
Foraging for Laetiporus Sulphureus
Laetiporus sulphureus or Chicken of the Woods is easy to identify and the bright orange color that is hard to miss. As it ages the color fads from orange, to yellow, to white.

It's a polypore mushroom, which means the underside does not have gills- rather it has pores. That means when you look at its underside, it will look like hard foam with small holes. It won't have those frills (gills) that is on most mushrooms.

It grows on decaying hardwood- which means it is possible to grow! (With an inoculated log of course)

Often in nature it will be found high in a living/dying oak tree, but the parasitic nature of the fungi means the tree is being drained of it's nutrients. The also will grown on Eucalyptus trees, Cherry Wood trees, Willow trees, and Yew Trees.

It grows all through Washington, through Minnesota, all the way out to Florida in the United States. It doesn't commonly grow in Colorado, however many mushroom vendors will carry them in the summer when they are in season.
They are most common to find in late summer, but you can find them from late spring to early fall.

Try to forage after heavy rainfalls- all fungi love moisture. If you are having a dry summer it will be difficult to find mushrooms. Which is why so many mushroom foragers say 'pray for rain!'.
Where to Buy Chicken of the Woods
Since chicken of the woods is most often a foraged mushroom, it probably won't be found at most of your grocery stores. Check out your local farmers market and see if they have a mushroom vender. Many local mushroom vendors will also sell foraged mushrooms, or know of others in the community who sells and ships them.
In Colorado I bought chicken of the woods from a mushroom vendor called Mile High Fungi who would have them shipped in from Washington state.
Etsy is a another website where mushroom foragers can be connected to customers and can ship out fresh mushrooms!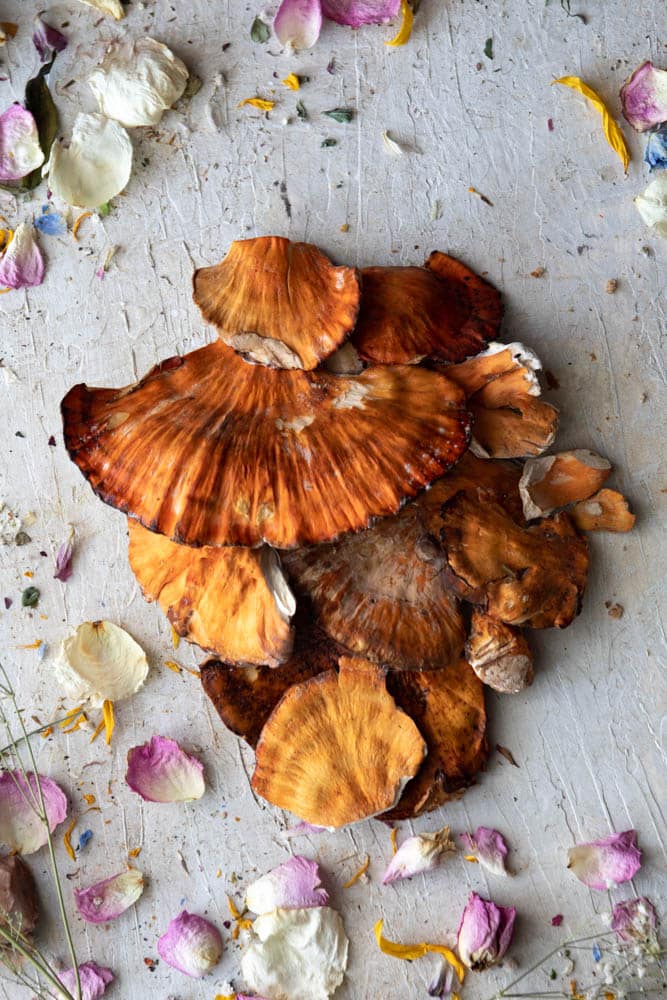 Recommended Reading/Resources For Foragers!
While Chicken of the Woods doesn't have too many look a likes there are a couple of mushrooms you want to avoid that are also oragne. Jack o Lantern mushrooms have gills and are often on the ground (but can grow up trees). They are also bright orange and are not edible- they will give you a very upset stomach.

Double check with identification groups on Facebook, your local chapter of the mycological society, INaturalist, and identification books. Never ever eat something you don't have 100% certainty on! When you first start foraging always get a second opinion.

If you live in the PNW 'All that Rain Promises and More' is a great identification book.
If you live in the Rockys "Mushrooms of the Rocky Mountains" is a great resource.
The main thing to remember is different mushrooms live in different parts of the country and there are hundreds of thousands different species of fungi. As with any foraging book- find something for your local, specific area over a generalist book.

Storing Chicken of the Woods
Storing Laetiporus sulphureus is similar to storing other wild mushrooms. To keep them fresh you want to keep them inside a paper bag, like a small paper lunch bag. This helps increase air circulation since you want to prevent mold.

You'll notice that mushrooms stored in plastic bags will get slimy and moldy. You can more than triple your mushrooms shelf like by storing it in a paper bag. Reusable fabric bags also work, however make sure there is enough air circulation to prevent mold.

Chicken of the Woods is one of those mushrooms that can make you sick if you wait too long to eat it. Try to eat it while it is fresh (within 7 days of being picked). The longer you wait, the more bitter the mushroom becomes.
Another option is to freeze your mushrooms until you are ready to pick them. This is a great method if you found a ton of them and can't eat them all in 7 days.

While it is possible to dehydrate chicken of the woods- it is not recommended. They do not rehydrate well and the texture will be very tough.

If you are consuming chicken of the woods for medicinal purposes and planning on making teas and tintures then go ahead and dehydrate them!


By