Chicken of the woods wings coated in a savory seasoning, fried up, and coated in sauce. This wild mushroom tastes just like chicken- making it the best plant based wings.
The recipe has three methods to cook your chicken of the woods. Whether you want them fried, baked, or air fried they all taste amazing.
These Chicken of the Woods Wings are breaded and fried pieces of chicken of the woods- then covered in sauce. These wings are a fantastic way to enjoy chicken of the woods!

Chicken of the Woods- the Wild Mushroom for the Haters
This is a mushroom for mushroom haters- because it's nothing like your typical fungi.
It has a shredded texture once it's cooked like chicken- and even has a meaty, chicken like flavor.
It's a dense, almost dry, mushroom in texture. It is very similar to white meat chicken. Since the mushroom can be dry, deep frying it really helps improve the texture of the mushroom! It's absolutely delightful!
Often the complaint with people who don't enjoy mushrooms is that they are too slimy. These mushrooms are the furthest from that where they shreddy and even slightly dry. But when breaded and deep fried they have a slightly juicy texture that is remarkably similar to chicken. This recipe is one of the best ways to prepare them!
If you were lucky enough to forage for some chicken of the woods you'll know that it's something you'll want to eat up right away! This is a fantastic go to recipe and is quick to make!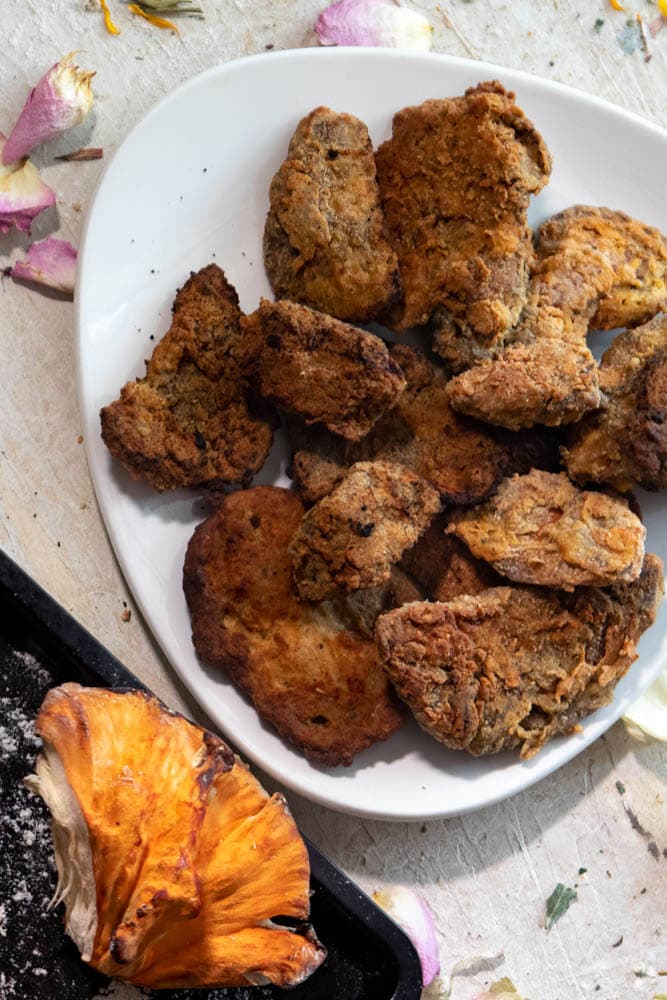 Variations on Making these Vegan Mushroom Wings
Ideally you will use all purpose flour for these wings, however, wheat or gluten free flour also works great!
The main difference between using all purpose flour and wheat flour is the color of the fried wings will be slightly darker than another.
Frying vs Air Frying vs Baking Mushrooms
Deep frying these wings will give you the best overall texture and flavor. You can air fry them or oven roast, however, they will be dried in texture. Consider coating the air fried or oven roasted chicken of the woods mushrooms in sauce before serving to help counter that.
Mushroom Alternatives
If you love these wings you might also like this Kentucky Fried Hen of Woods recipe. It features Hen of the Woods, otherwise known as Maitake. It is a frilly, meaty, and juicy mushroom that resembles dark chicken meat. The flavor is rich and buttery, and it is very medicinal. Maitake helps boost the immune system, prevent cancer, and helps with heart health. It's super tasty and ultra healthy!
Maitake can be foraged or found at heatlh food grocery stores and international grocery stores. It's a great substitution if you can't find chicken of the woods.
Oyster Mushrooms also work well in this recipe! They are very meaty, have frilled caps, and are very juicy. They are also very healthy where they can help boost your immune system and help with heart health. They can make fantastic mushroom wings!
Vegan Breading for the Mushrooms
This recipe calls for all purpose flour for the coating for simplicity. This recipe also tastes fantastic with whole wheat flour! The main difference is the wheat flour wings will be slightly darker and have a slightly nutty flavor. You could also use a gluten free flour as the breading as well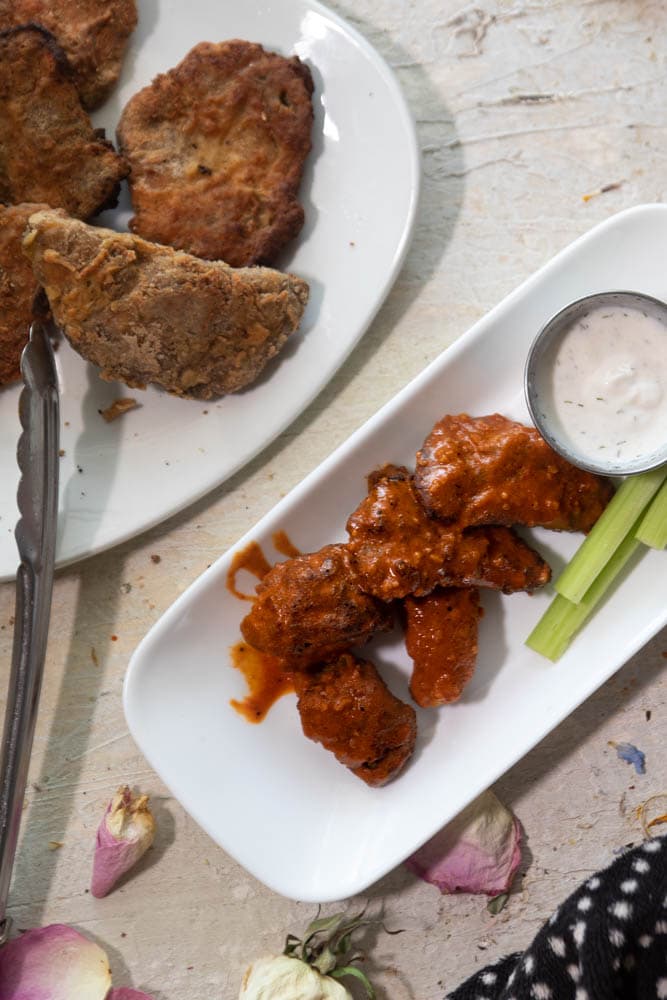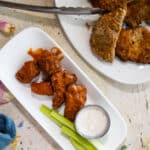 Chicken of the Woods Wings
These Chicken of the Woods Wings are breaded and fried pieces of chicken of the woods- then covered in sauce. These wings are a fantastic way to enjoy chicken of the woods!
Print Recipe
Ingredients
8

oz

Chicken of the Woods,
Dip Options* (Pick Below)
1

bottle

Just Egg

4

tbs

chickpea flour, plus 2 cups water whisked together

2

tbs

flax seed meal, 1 cup water whisked
Oil* Optional
Refined Coconut, Sunflower, Canola Oil
Instructions
Clean your mushrooms and break them up into wing shapes/sizes

In a medium/large bowl prepare or pour your Dip

In another large bowl add everything for your seasoned flour, mixing well

Dip your mushrooms in to your dip, then the flour, and repeat 2-3 times depending on desired breading. Repeat for all mushrooms,
Air Fry Directions
Take your breaded mushrooms and freeze for 20-30 minutes. This will help the breading staying in place

Brush or spray a bit of oil over the partially frozen wings, skip this step if you want an oil free option.

Place in air fryer with space between the wings- give them space, do not over crowd

Air fry at 370 for 20 minutes, flipping after 10 minutes
Pan Fry Directions
Fill a medium pan with at least 3-4 inches deep of oil, heat up to 350 F or until water sizzles if you add a drop of water

Drop in your wings, allowing space between them

Flip at 3-4 mintues or golden brown

Place on either parament paper or a clean towel to absorb excess oil

Either coat in sauce or serve as is
Video
Notes
-The Just Egg is the easiest option with the best flavor.
-My go to is the flax seed meal with water for extra omega 3s
-Chickpea flour with water also works great and is the best budget option.
All of these options offer similar results for coating the wings, use what makes the most sense for you.
Use your flour of choice.
I used all purpose flour and had great results. I also tried using whole wheat flour and tasted no difference and saw only a slight color change- no difference in flavor.
I've been told chickpea flour can work for a gluten free option, but I have not tried it myself yet.
I love the flavor of nutritional yeast flakes in this recipe, however I recognize that is is not a common seasoning in many kitchens.
I strongly encourage you to pick it up and try it since it adds depth and umami to this recipe.
However, this recipe still tastes incredible without it
Nutrition
Calories:

306

kcal

|

Carbohydrates:

58

g

|

Protein:

12

g

|

Fat:

3

g

|

Saturated Fat:

1

g

|

Polyunsaturated Fat:

2

g

|

Monounsaturated Fat:

1

g

|

Cholesterol:

1

mg

|

Sodium:

1177

mg

|

Potassium:

413

mg

|

Fiber:

5

g

|

Sugar:

2

g

|

Vitamin A:

49

IU

|

Vitamin C:

2

mg

|

Calcium:

44

mg

|

Iron:

4

mg

Like This Post?
Check more more recipes, eco friendly tips, foraging, and gardening posts below

By