This ultra creamy pumpkin sauce is the best way to get into the fall season!

It's sweet, savory, rich, and perfect for pasta. This vegan pumpkin sauce is nut free and soy free- the key to this sauces richness is full fat coconut milk and freshly roasted pumpkin.
Jump to Recipe
This is one of those sauces that I could straight up drink the flavors are so good! The flavors is this sauce is similar to what you would get with my roasted butternut squash recipe.
Its sweet, savory, slightly nutty- but this has a richness that you don't get from the roasted squash. This is a pumpkin sauce that is perfect for pasta!
Recipe Ideas for the Vegan Pumpkin Sauce
This pumpkin sauce can be used for a variety of meals and recipes- but really this pumpkin sauce is best with pasta.

My favorite homemade pasta is with Spooky Gnocchi!
It's a homemade gnocchi that is made with purple potatoes- it's my favorite Halloween meal.
The gnocchi is shaped like skulls and it's super easy to make while being the best comfort food; it just needs a spooky movie and a glass of wine.

The pumpkin sauce goes well with any pasta, consider pairing it with a high protein noodle with fresh spinach and pan fried mushrooms. Chickpea and lentil noodles are fantastic high protein noodles that can make the meal more complete.

An alternative pairing is adding some marinated soy curls and some plant based parmesan cheese with your pasta. Try rehydrating your soy curls in a vegan chicken bullion and experimenting with a homemade parmesan!

Another fun option is using the pumpkin sauce for lasagna!
Consider using layers of lemon tofu ricotta and a layer of seitan sage sausage to go with the pumpkin sauce.

One last pasta idea for the pumpkin sauce- try it with homemade ravioli! (Or store bought!)
A plant based cheese and spinach filling ravioli with the pumpkin sauce would be so delicious! The dream filling for ravioli would be chanterelles and plant based cheese with this pumpkin sauce…. Chanterelles and squash are incredible together! The sweet apricot flavor of chanterelles paired with pumpkin, delicata, butternut is something you need in your life. If you happen to have chanterelles and want to see what I'm talking about try out this Maple Miso Chanterelle Roast.

There are tons of possibilities with this sauce- comment down below and share how you used the creamy vegan pumpkin sauce!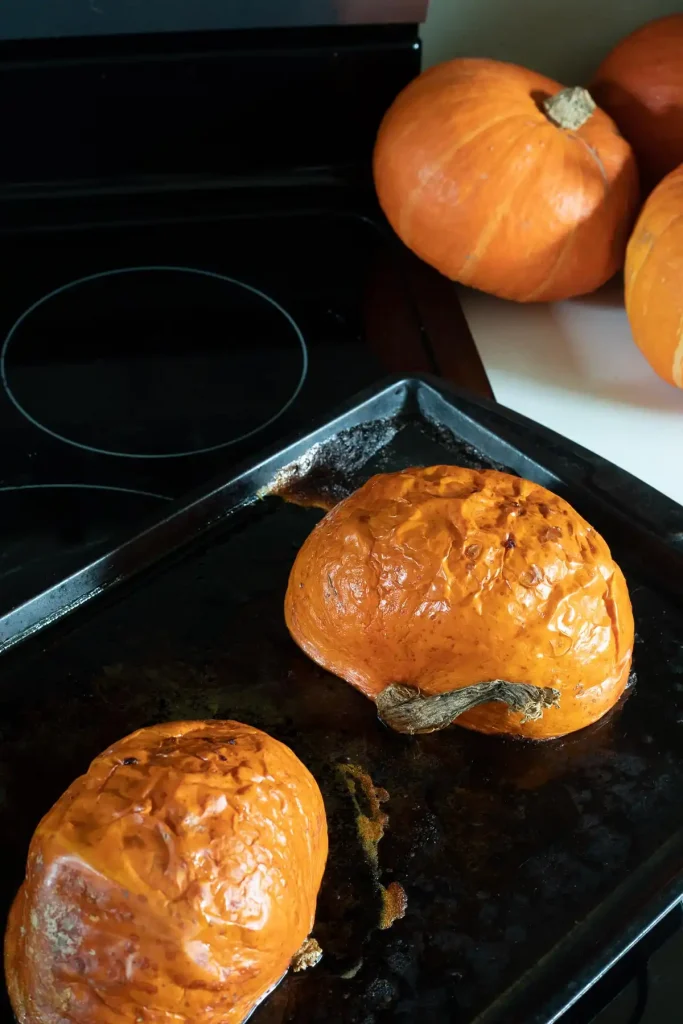 Roasting Your Squash… Aka Pumpkin!
The first step of making this sauce is to roast your squash of choice.
Pumpkin is a variety of squash and other types of squash taste fantastic in this sauce. Other types of squash that taste the best in this recipe is Sugar Pie Pumpkin, Green Kobocha or Red Kobocha, or Red Kuri– only using the flesh and none of the skin. (Save the skin for your soup broth!)
The Kobocha (aka Japanese Pumpkin) variety is my personal favorite with it's rich and powerful flavor. It gets very soft after you roast it where it makes the best sauces or soups!
While you can get away with using a can of pumpkin- you won't have as deep, rich flavor as freshly roasted.
Canned pumpkin can taste straight up bland and meek compared to what a freshly roasted kobocha.
Try it and do a taste comparison- you'll know exactly what I mean.

And consider that squash and pumpkins make the cutest edible decorations in the fall!

Make a day of it by going to a pumpkin patch and loading up on your favorite pumpkins and squash to decorate your home while feeding your family.
Another fun option is to visit your local farmers market and load up!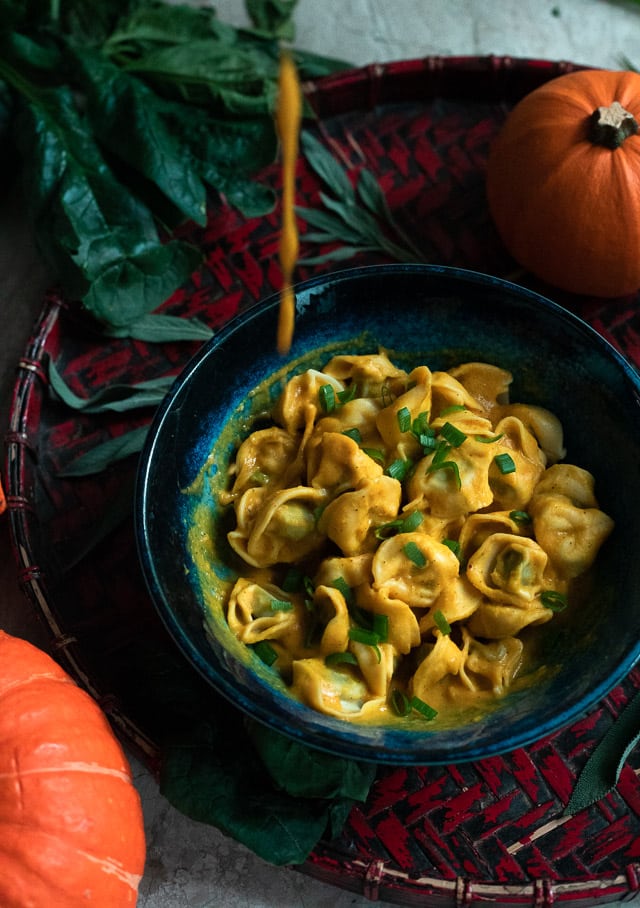 Mushroom Seasoning?
To help balance the coconut flavor from the full fat coconut milk you need mushroom seasoning. It cuts the flavor of coconut while preserving the pumpkin flavor. This is the mushroom seasoning I used, I bought it at H Market, but amazon also sells it.

I originally made this recipe using a tablespoon of lobster mushroom oil that was leftover the lobster mushroom bisque. That oil tastes like lobster and made this pumpkin sauce richer in a sweet way that played well with the coconut. I recognize that most people do not have access to lobster mushrooms and can't make lobster mushroom oil for this recipe. Try it if you can- it's absolutely incredible.
Truffle salt or truffle oil also has a similar effect in this sauce. Use a teaspoon of black truffle salt in place of the mushroom seasoning, or half a teaspoon of truffle oil.
With a quick search online I found this mushroom seasoning recipe which is something that is worth considering! I would incorporate more types of dried mushrooms and skip the other herbs and spices. If using her recipe try adding in some dried lobster mushrooms, dried chanterelles, dried morels, or lions mane.
The best mushroom seasoning uses a variety of mushrooms to really get that umami punch that kicks through and knocks out the coconut flavor.
In a pinch where you cannot use mushroom seasoning or truffle salt try adding a tablespoon of nutritional yeast flakes. It will help round off the flavor and cut the coconut flavor from the sauce. Add salt to taste.
Want to make it Cheesy?
To make the pumpkin sauce cheesy while remaining plant based there needs to be more depth, salt, and a hint of cultured sourness to it.

There are a few ways you can accomplish this. To add that depth add an additional tablespoon of nutritional yeast flakes. You can also get that depth by using a tablespoon of light miso or chickpea miso.

Add an additional teaspoon of salt, truffle salt, or msg to give it that extra saltiness it needs.

Cheese is cultured, or fermented which is why you need a sour element to make it really taste cheese like. Using two teaspoons of sauerkraut liquid/juice does this. It is naturally high in lactic acid and in combination with miso and salt it can create a cheddar like flavor! An alternative to sauerkraut is revjulac, lemon juice, or a small amount of apple cider vinegar.
The easiest way to make it cheesy? Add some plant based cheese to it! Brands like Follow Your Heart, Violife, Miyokos, and Dayia all work great in this sauce- whatever you prefer and have access to.
Looking for More Vegan Pumpkin and Winter Squash Recipes?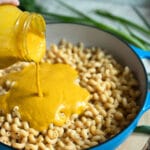 Vegan Pumpkin Sauce
This pumpkin sauce for pasta is ultra rich and creamy while being completely plant based! This healthy sauce is made rich with coconut milk and savory with the mushroom seasoning and sage. This easy sauce recipe is the perfect way to celebrate the fall season!
Print Recipe
Ingredients
2 1/2

Cups

Pumpkin

*or your favorite variety of winter squash

1

Can

Coconut Milk

1

Whole

Yellow Onion, Chopped

3

cloves

Garlic, Crushed and Chopped

1/2

tbs

Mushroom Seasoning

*Optional Or try Lobster Mushroom Oil

2

tbs

Fresh Sage, Chopped

2

tbs

Dry Hard Apple Cider/ White Wine
Instructions
Preheat oven to 400 F

Cut your Squash (or Pumpkin) of choice in half, gutting it and removing the seeds

Place your cleaned pumpkin face down on a baking sheet and add some water to the sheet, roast in the oven for 45-65 minutes or until soft. You can tell its cooked by poking the top center and if the skin leaves an indent it is fully cooked

Scoop out the flesh from the skin and put into the blender

Place a skillet on your stove and on medium heat add your onion and garlic, sauté until onions start to become clear

Add your cooked onion and garlic to the blender with the pumpkin Add the rest of the ingredients and blend until smooth

Serve with your favorite pasta!
Notes
Use either Green Kobocha or Red Kobocha, or Red Kuri for the best flavor.
If you choose to use pumpkin go for the sugar pie variety. If you use a canned pumpkin, know that it is often a mixture of winter squash!
Substitute mushroom seasoning with 1 tbs nutritional yeast flakes with salt to taste, or 1/2 tsp black truffle salt, or 1 tbs lobster mushroom oil
See the article above for more information
Nutrition
Calories:

222

kcal

|

Carbohydrates:

10

g

|

Protein:

3

g

|

Fat:

21

g

|

Saturated Fat:

18

g

|

Polyunsaturated Fat:

0.3

g

|

Monounsaturated Fat:

1

g

|

Sodium:

14

mg

|

Potassium:

487

mg

|

Fiber:

1

g

|

Sugar:

3

g

|

Vitamin A:

6172

IU

|

Vitamin C:

8

mg

|

Calcium:

57

mg

|

Iron:

4

mg

Hungry for more recipes?
Check out the latest posts here

By