This sweet yet savory roast is the perfect fall breakfast. This vegan chanterelle recipe features delicata, roasted apples, onions, plant based sausage, with fresh chanterelles in a maple miso sauce.
This umami packed roast is destined to become your favorite chanterelle recipe!

The sweet delicata adds body to the roast while the roasted apples and onions add a sweet savory tang to the whole dish. The plant based sausage adds a heartiness- and when you use a breakfast style sausage it helps round out the the sweet flavors into a more savory dish.
All these veggies help highlight the gorgeous and delicate flavors of the chanterelle- the real feature ingredient of this recipe.
Jump to Recipe
The Ultimate Fall Breakfast
This cozy breakfast roast is the perfect treat for a relaxing brunch or breakfast.
The maple miso chanterelle roast is healthy yet delicious dish that is perfect in a balanced meal. Consider serving this with biscuits and gravy, a plate of pancakes, or warming bowl of oatmeal.
Instead of eating these on the side try stuffing them in a burrito with a tofu scramble for an incredible breakfast burrito!
Consider pairing this roast with some fresh cranberry orange muffins!

My favorite way to enjoy this breakfast roast is with a cup of coffee with some coconut creamer and a slice of toast. It's filling enough to be it's own meal- but try pairing it with other sides if you're feeding a larger group.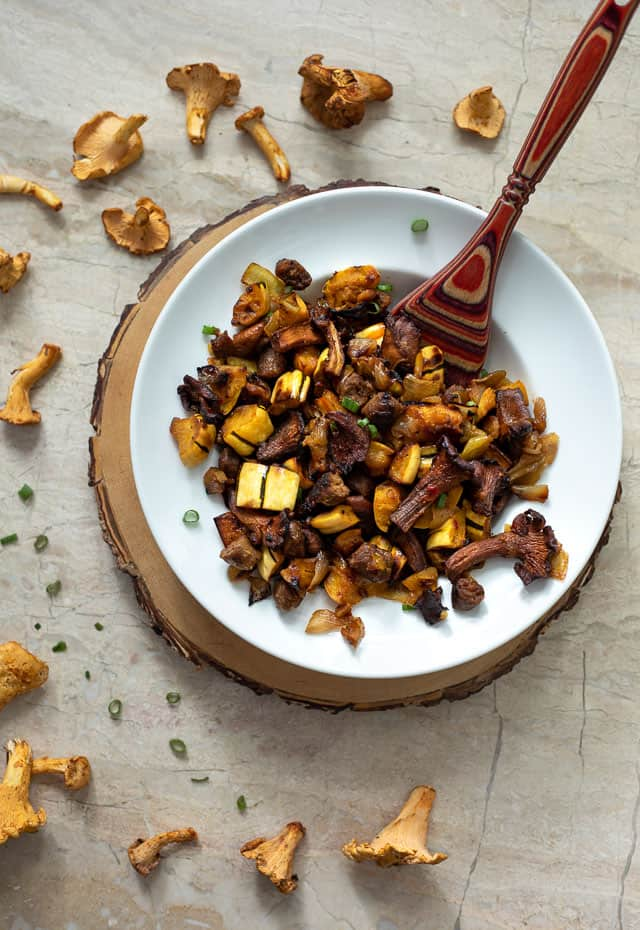 Speed This Recipe By Meal Prepping!
This is a fantastic meal to prep in advance to make your morning a little easier.
Prepare your delicata the night before by scooping out the seeds and guts, then chopping it up. Do this with all the required veggies and jar it up for the next day!
In another jar mix up the sauce for the maple miso and set aside.
The next morning simply toss your veggies with the maple miso sauce then roast in the oven!
Where do I find Chanterelles?
There are different varieties of chanterelles that will fruit in spring and many go late into fall. Chanterelles are a mushroom that are not grown but must be foraged, meaning you'll either want to head to your farmers market and find your local mushroom vendor or consider going to a hike to look for them!

When I lived near Denver, Colorado I went to multiple farmers markets and was able to find chanterelles from mushroom specific vendors like Mile High Fungi. They will often have the foraged mushrooms shipped in from locations where they are in season!
However now that I live in Seattle, Washington they are much easier to find. They sell chanterelles at Whole Foods, QFC, Pike Place Market, and many vendors at the farmers market. I was able to find some while foraging near Mineral, Washington as well; they are pretty plentiful in the Pacific Northwest! They also grow seasonally across the US near hardwood forests from Minnesota to Alabama. If you are curious about foraging consider picking up a mushroom guide book for your region for specific details!
Here is an article on foraging chanterelles by the non profit Forest Wild Life.
For this recipe you will want fresh chanterelles!
Chanterelles have a slight apricot smell and taste, where they blend between having a mild fruity yet mushroomy flavor. Since chanterelles have a slight sweetness to them- serving them in a sweet yet spicy roast brings out their unique flavor.
If you cannot find chanterelles anywhere but want to try this sweet, savory, spicy, salty vegan breakfast roast, there is one other mushroom that can give you a close result. The yellow oyster mushroom also has a slight fruity note, however it is more nutty and cashew-like in flavor.
Other varieties mushrooms are too earthy and woody to work with this recipe and would dramatically change the result. If you don't have the fresh chanterelle and can't make this vegan chanterelle recipe, try these other wild mushroom recipes!
Delicata or Kabocha
This recipe originally used kabocha, which is a delightfully sweet Japanese squash that pairs beautifully with the fruity notes in chanterelles. The only issue with the kabocha is that it is incredibly soft and doesn't hold it's shape very well. It tastes fantastic but is not the most visually appealing after you stir the roast together.
With that in mind, butternut or buttercup would also taste great in this. For a more hearty take on this breakfast roast you could try using sweet potatoes! Check on your veggies regularly in the oven to ensure they get the proper cooking times as the cook times will vary when you swap out the veggies.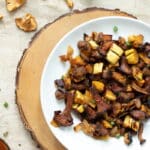 Maple Miso Chanterelle Roast
This sweet, savory, spicy, and salty vegan breakfast roast is made by featuring the fruity flavors of chanterelles. This flavor packed breakfast roast will be your favorite way to prepare chanterelle mushrooms.
Print Recipe
Ingredients
2

Cups

Chanterelles

1

Medium

Apple

2

Cups

Chopped Plant Based Sausage*

1

Medium

Delicta

1

Small

Onion
Miso Maple Sauce
1

tbs

Light Miso/ Chickpea Miso

2

tbs

Coconut Oil/ Sunflower Oil Chili Flakes/ Oil to taste

3

Tbs

Dark Maple Syrup
Instructions
Chop the delicata, apple, onion, and sausage into bit sized pieces. Cut the larger chanterelles in half, keep the smaller mushrooms whole

Preheat the oven to 450 F

Mix to combine with the miso maple sauce

Bring the delicata, apples, and onions to one bowl and pour over half of the sauce, mixing to combine

In another bowl add your sausage and chanterelles and pour over half of the sauce, mixing to combine

Pour the delicata, apple, onion mixture over oiled parchment paper on a baking sheet

Roast in the oven for 10 minutes, flip/ stir

Add the sausage and chanterelles to another oiled parchment lined baking sheet

Roast both sheets for another 15 minutes

Remove the sausage and chanterelle tray, then broil the tray of delicata for 5 minutes

Combine everything together in a large bowl and serve
Video
Notes
Either dried chili flakes, Calabrian chili oil, or whatever chili oil you have on hand will work.
You want a bit of heat to play with the sweetness of this roast.
I use 1/2 a tsp of chopped Calabrian chilis My favorite brands of plant based sausage are Beyond breakfast sausage and Field Roast apple sage sausage.
There are many fantastic recipes for plant based sausage out there that would be incredible with this as well! Instead of a Delicata try it with a Kabocha, but it's fabulous with either!
If you try it with a Butternut or Buttercup squash please report in the comments how it was. I imagine either of these would taste fantastic in this recipe
Nutrition
Calories:

397

kcal

|

Carbohydrates:

39

g

|

Protein:

26

g

|

Fat:

16

g

|

Saturated Fat:

7

g

|

Polyunsaturated Fat:

4

g

|

Monounsaturated Fat:

3

g

|

Sodium:

957

mg

|

Potassium:

781

mg

|

Fiber:

10

g

|

Sugar:

18

g

|

Vitamin A:

1577

IU

|

Vitamin C:

17

mg

|

Calcium:

61

mg

|

Iron:

28

mg

Hungry for more?
Below is the latest Wild and Seasonal Vegan Recipes

Be the first in the know!
Sign up for the Wild Vegan Flower Newsletter

By