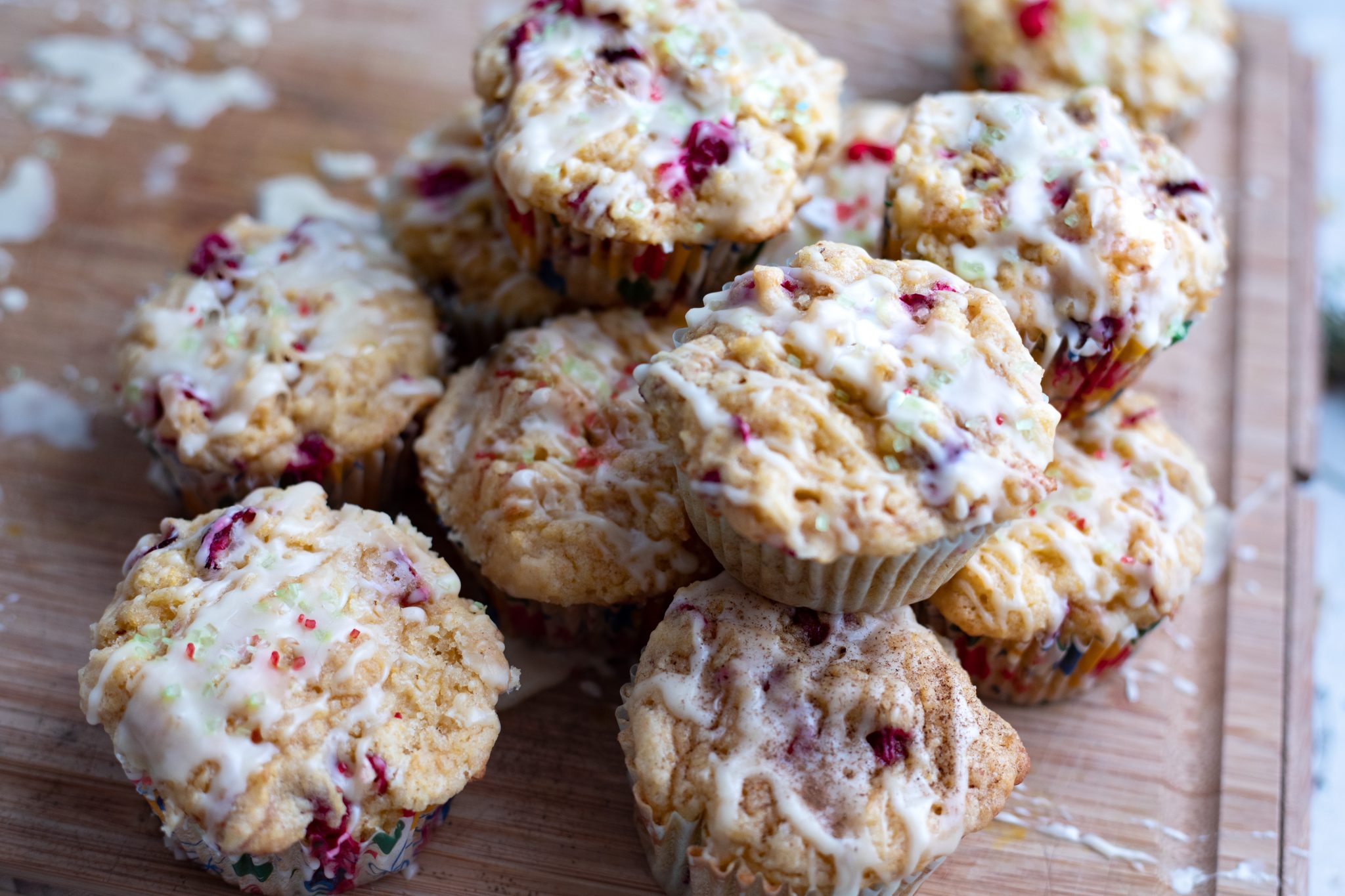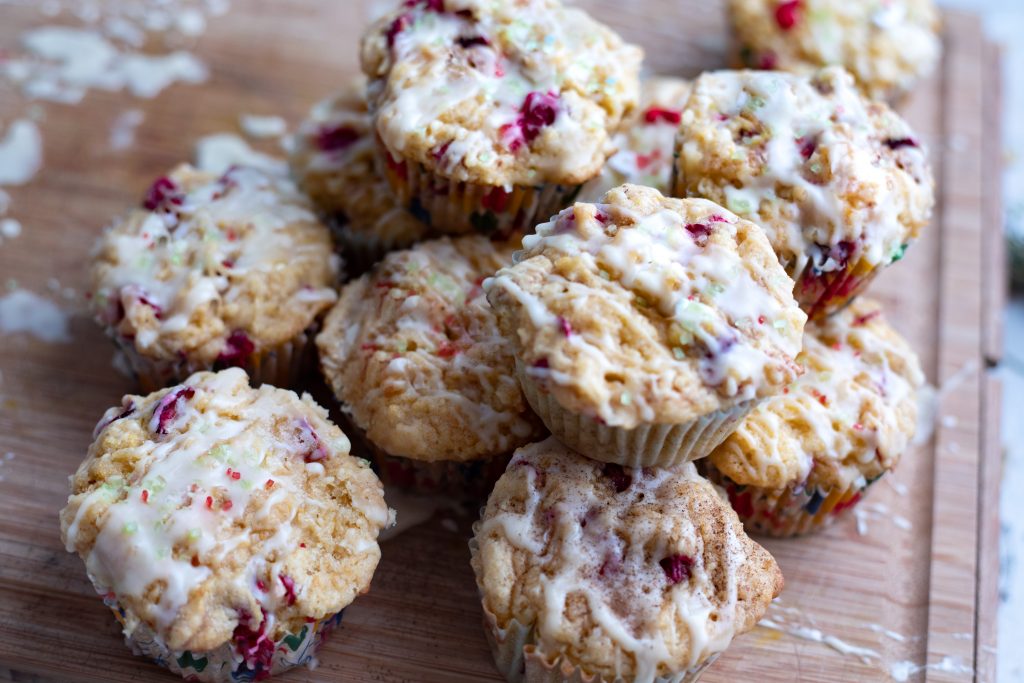 Cranberry Orange Pulp Muffins is a healthy breakfast recipe that uses fresh pulp, creating a flavorful, sweet, and fiber filled treat.
There is something so perfect about cranberry orange muffins with the sweet, tangy, and nutty flavors coming together.
Theses flavors remind me of the winter holidays, but this is a recipe you'll want to have year round.

I recently discovered how to juice without a juicer- by using a nut milk bag! Now that I can juice without expensive equipment, I wanted to reuse that pulp for the healthy, and ultra tasty recipe.
I used mandarin oranges for these cranberry orange pulp muffins, but go ahead and use navel oranges or the variety you have access to.
To Make Homemade Orange Juice- Without a Juicer
To make Cranberry Orange Pulp Muffins you need a blender, a nut milk bag (I've found the thin fabric bags bulk bags from Sprouts totally works as a nut milk bag!), some bowls, and a muffin tin.
You can also use a juicer if you have one!
Making the juice is easy, but since I used mandarin oranges, peeling them took a bit of time.
To make two glasses of orange juice it takes 12 mandarin oranges! That's a lot of peeling, but there is nothing better compared to freshly made orange juice.
You can use regular oranges, my best guess is that 5-6 would make about 2 cups pulp. It all depends on the size of your oranges you want to use.
If you try it out with another citrus fruit like grapefruit please comment below and share how it turned out!
To make your juice you simply add your peeling oranges to your high speed blender, add about a 1/2 of water, and blend for 5 mins. Then pour the mixture into a nut milk bag and strain over a large bowl to reduce mess.
This juice will be powerful in flavor, so powerful you could water it down. You could. I personally love the flavor punch this fresh juice offers and encourage you to try it before you water it down. Alternatively, you could use this fresh juice to make the best mimosas you've ever had.

Remember, not all wine is vegan. Many contains fish bladders, gelatin, and other weird add ins. Check out the app/website Barniovor to make sure your wine is cruelty free!
Now that will leave you with about 2 cups worth of orange pulp.
Fear not eco warriors, it is perfect to use in this sweet and tangy muffin recipe!
Waste not- and most importantly- it tastes amazing in these muffins!
You can make this using a traditional juicer. However add about 1/4 cup of your orange juice back to the pulp to ensure it isn't too dry.
Other Add Ins
This recipe is the best with fresh cranberries, it creates nice juicy spots in the muffins. In a pinch, dried cranberries can work, but they'll leave you with a less desirable texture. If you don't like cranberries try this recipe with chopped up strawberries or blueberries!
I would again, recommend you use fresh fruit.
One last fun option is to add white chocolate to this!
For decoration I added a simple glaze to these muffins. The sweet glaze adds a nice contrast to the sour cranberries, however it is still delightful without it. Another option would be to do a streusel topping for the muffins like in Peach Streusel Recipe.
If you are into being more eco friendly be sure to check out my post on how to eat seasonally in Colorado (or where ever you may be!)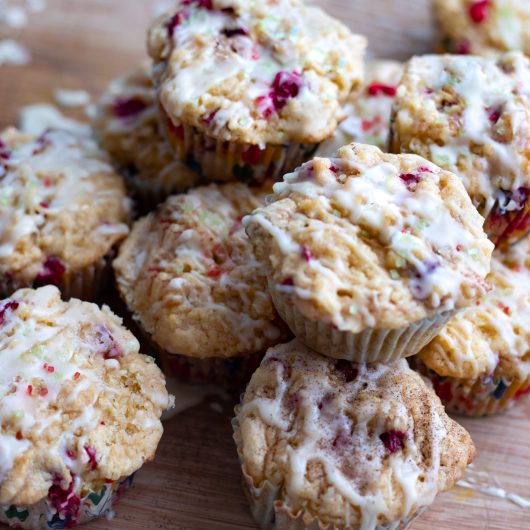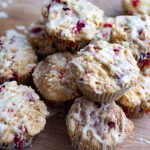 Cranberry Orange Pulp Muffins and Homemade Orange Juice- No Juicer Required!
Spiced cranberry orange muffins are the perfect winter treat for breakfast! What I love about this recipe is that it uses leftover orange pulp from when your homemade orange juice- so you can enjoy your OJ with your muffins- waste free! 
Print Recipe
Ingredients
2

cups

Orange Pulp*

1/2

cup

Vegan Butter

Or Coconut Oil

4

tbs

Aquafaba

1

tsp

Vanilla

2

cups

All Purpose Flour

1

cup

Sugar

1/2

tsp

Baking Powder

1/2

tsp

Salt

1/2

tsp

Cinnamon

1/4

tsp

Nutmeg

1/2

cup

Fresh Cranberries
Instructions
Preheat oven to 350 F

Cream your butter with sugar for 2 minutes using an electric mixer to make it light and fluffy

Add vanilla and aquafaba and cream for another minute 

Add orange pulp and cream for one minute- set aside

Add all your dry ingredients to a large bowl and mix well

Add your orange cream mixture and chopped cranberries to the dry ingredients and mix only to combine.

Over mixing will make muffins tough and ruin the texture! 

Bake for 18-20 mins, until a toothpick comes out clean of the center

Optional! Allow to cool fully and add your choice of glaze,

Try a mixture of 1/3 cup powdered sugar, 1 tbs orange juice, 1 tsp rum
Notes
To make orange pulp simply make homemade orange juice!
Peel 12 Mandarin Oranges, add to your juicer- then use the pulp!
Peel 12 Mandarin Oranges, add to a blender/food processer, then strain through a nut milk bag. Save the juice to drink and use the pulp for these healthy muffins!
Alternatively peel about 5-7 regular oranges to make 2 cups pulp, how many oranges depends on their size
Try using an oat flour for a more dense, gluten free version!
Or try using your favorite gluten free flour of choice
Nutrition
Calories:
197
kcal
|
Carbohydrates:
33
g
|
Protein:
2
g
|
Fat:
6
g
|
Saturated Fat:
2
g
|
Polyunsaturated Fat:
2
g
|
Monounsaturated Fat:
2
g
|
Trans Fat:
1
g
|
Sodium:
176
mg
|
Potassium:
26
mg
|
Fiber:
1
g
|
Sugar:
17
g
|
Vitamin A:
360
IU
|
Vitamin C:
1
mg
|
Calcium:
14
mg
|
Iron:
1
mg
See more recent posts…

Air Fryer Recipes Baking Recipes Breakfast Candy Recipes Chicken of the Woods Recipes Comfort Food Recipes Dip Recipes Drink Recipe Eco Friendly Lifestyle Fall Recipes Fried Recipes Gluten Free Recipes High Protein Recipes Instant Pot Recipes Late Summer Recipes Lobster Mushroom Recipes Low Calorie Maitake Recipes Mushroom Recipes Nut Free Oyster Mushroom Recipes Pasta Recipe Plant Based Seafood Recipes Sandwich Recipes Sauce Recipe sides snacks Soul Food Soup Soy Free Recipes Spring Recipes Stove Top Recipe Summer Recipe Sweet Recipe Tea Recipe Thanksgiving Vegan Recipes Winter Recipe

By