These blackberry muffins are sweet and tart with floral notes from dried lavender. These muffins are a fantastic breakfast that are a pure delight!
Blackberry season is approaching, and this is one of the best ways you can use these sweet and tart berries! These soft vegan blackberry muffins are perfect for a quick snack or quick breakfast on the go. They are tender, moist, fluffy, with just the right crumble.
If you are a lavender oat milk latte kind of girl- you need to make these muffins ASAP
Vegan Blackberry Muffins with lavender are the perfect fruity yet floral breakfast. These simple muffins are the perfect breakfast treat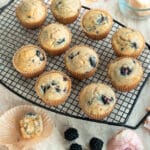 For The Perfect Plant Based Breakfast
While you can certainly enjoy these muffins on their own they would be more balanced with a healthy veggie filled breakfast like this Maple Miso Chanterelle Roast. Otherwise try pairing them with your favorite tofu scramble or maybe some yogurt and fresh fruit!

If you are looking for a healthier, high fiber muffin you'll want to try these Cranberry Orange Pulp Muffins. That recipe has you make homemade orange juice then you'll use that leftover pulp to make those muffins! It's zero waste, very delicious, and healthy!
Making Blackberry Lavender Muffins
Below is a step by step photo gallery so you can see how simple the process is to make these vegan blackberry muffins!

Start by mixing your soy milk, melted coconut milk, sugar and lavender together in a small bowl. If you use coconut oil you will want to heat up your milk a bit otherwise the oil will clump up. If you are using standard vegetable oil or a sunflower oil, you won't need to worry about heating up the milk. I personally prefer the flavor and health benefits of coconut oil over vegetable oil, but it does mean you'll need to heat up your milk for the recipe.

Since this recipe is egg free, the best plant based milk to use is a high protein soy milk or a pea milk. These types of milks are higher in protein, which helps create structure for the muffins to rise. This recipe will work with oat, almond, or any plant milk- however your results will be slightly denser and less fluffy.

In a large bowl sift your all purpose flour with the rest of the dry ingredients, pour in your wet mix, and gently fold it all together. Which at this point you'll add some chopped up blackberries and dried lavender. The dried lavender is totally optional for this recipe but it does add a delightful light floral taste. The two teaspoons of it is subtle and pairs nicely with the tart and sweet blackberries.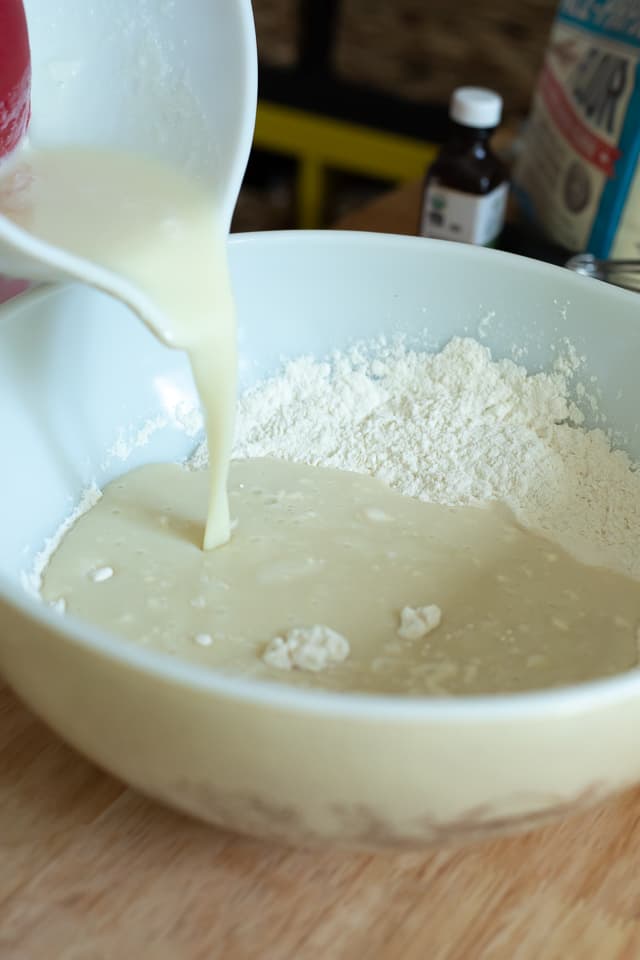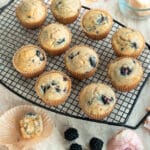 Vegan Blackberry Lavender Muffins
Vegan Blackberry Muffins with lavender are the perfect fruity yet floral breakfast. These simple muffins are the perfect breakfast treat
Print Recipe
Ingredients
Wet Mix
Mix Ins
1

Cup

Blackberries

2

tsp

Lavender Flowers

Optional
Instructions
Preheat oven to 350F

Cut the blackberries in half, set aside

In a large bowl measure out the flour, baking powder, soda, and salt

Stir to combine

In another smaller bowl measure out the sugar, milk, lemon juice, oil, and vanilla

Mix well

Pour the liquide mixture into the large bowl with the dry mix, gently fold to mix

Add in Blackberries and lavender and mix to combine

Pour the muffin batter into an oiled muffin tin or pour them into paper muffin liners

Let sit for 10-15 minutes to help them fluff up

Bake in the oven for 20-25 Minutes or until you poke it with a tooth pick and it comes out clean in the center
Nutrition
Calories:
179
kcal
|
Carbohydrates:
26
g
|
Protein:
3
g
|
Fat:
7
g
|
Saturated Fat:
1
g
|
Polyunsaturated Fat:
2
g
|
Monounsaturated Fat:
4
g
|
Trans Fat:
1
g
|
Sodium:
221
mg
|
Potassium:
72
mg
|
Fiber:
1
g
|
Sugar:
10
g
|
Vitamin A:
106
IU
|
Vitamin C:
5
mg
|
Calcium:
75
mg
|
Iron:
1
mg
Looking for more vegan recipes to try?
Here's the latest by Jess Flowers
By