The Peach Streusel Coffee Cake is perfect late summer dessert with a tender, fluffy and moist cake base and a delicious streusel topping. In between you find scattered peach pieces – so refreshing and yum!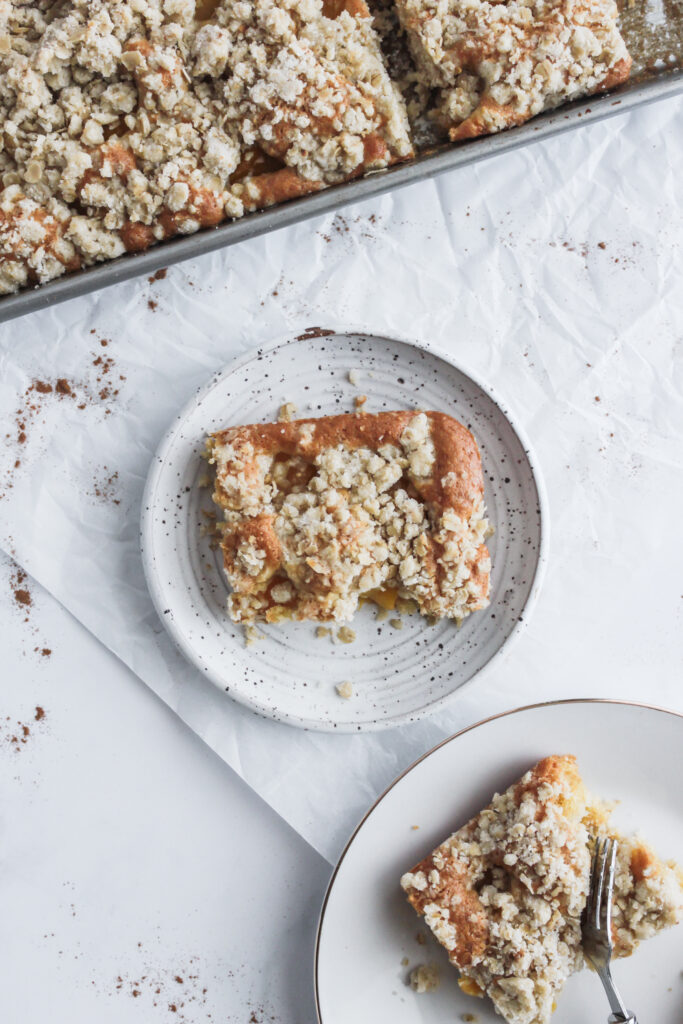 This is a guest post- let me introduce you to Jacqui of The Simple Sprinkle!
I met Jacqui on Instagram– and fell in love with her sweet German treats! She is a vegan who is originally from Germany, living in Utah with her new husband now. She also has a youtube channel that dives into vegan recipes and shares her experience having a long distance relationship.
I love her European influenced recipes that are based off her travels and upbringing.
Another thing to love is she also uses seasonal and local ingredients– with sustainability in mind.
Perfect for fall, enjoy this Peach Streusel Coffee Cake Recipe!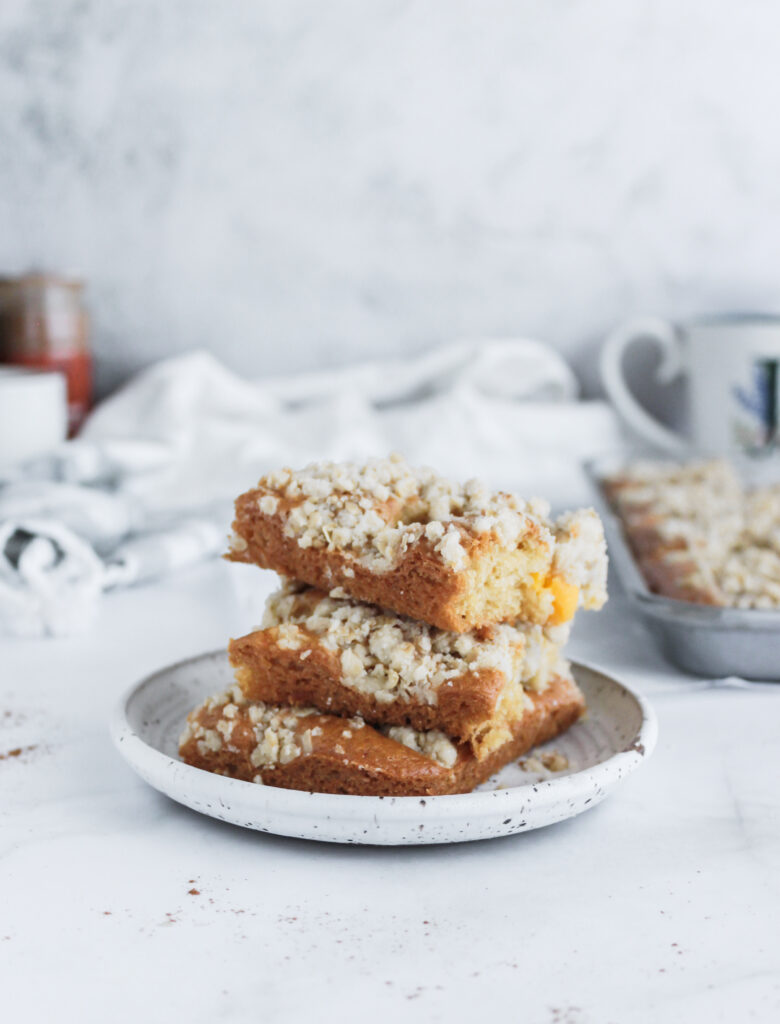 This Peach Streusel Coffee Cake is one of those easy dessert ideas that you'll return to time and time again. Peach season is slowly coming to an end and you may still have some leftover peaches to get rid of!
Peaches are not in season for you anymore? No problem! Use canned peaches or switch it up by replacing them with other seasonal fruit.
German Coffee Cake
Since I'm from Germany, growing up the afternoon time usually meant "Cake & Coffee". Between 3 and 4 pm millions of Germans stop for a coffee break, and usually enjoy it with a piece of crumb cake (Streuselkuchen) or flan (Teilchen). On weekends it can get "fancier" and Germans often enjoy this time of a day with layer cakes or a traditional buttercream torte.
Germany has lots and lots of bakeries and cafés (you can find one at every corner, it feels like), where a wide range of cakes, flans, sweet buns and many different kinds of bread are offered. So even when you're not the best baker or simply don't find the time, you can go there to get some treat! In fact, you often see fashionable older ladies sitting in cafés and bakeries, having a chat, but young folks love their afternoon coffee time just as much. (The price for piece of cake in a German bakery varies between 1,50€ and 3€ by the way.)
Reasons to eat peaches
Did you know that Peaches are high in fiber, vitamins, and minerals? They also contain beneficial plant compounds like antioxidants, which can help protect your body from aging and disease! Already a lot of reasons to enjoy some peaches on your next cake, right? There is more! 🙂
Research showed compounds in peaches help keep your skin healthy by maintaining moisture and protecting your skin against sun damage.
I made this recipe with apples from the farmers market since they are super abundant right now. It was amazing- I can't wait to try this recipe with peaches in the future.
To make it with apples, follow all the same instructions, but you'll want to precook the apples.
I sautéed the apples in coconut oil, maple syrup, vanilla, cinnamon, nutmeg, and all spice until they where soft.
Do this before mixing the cake batter so the cooked apples are cooled by the time you layer them over the batter.
You've got to try this with a glass of hot chia tea!

Jess, The Wild Vegan Flower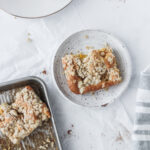 Peach Streusel Coffee Cake
An easy dessert recipe, that you'll become addicted too! Scattered peach pieces on a tender, fluffy and moist cake, topped delicious crumb topping.
Recommended Metric Directions
Print Recipe
Ingredients
150

g

All Purpose Flour (unbleached)

1

tsp

Baking Powder

2

tsp

Cornstarch

1/2

tsp

Baking Soda

90

g

Cane Sugar

60

ml

Olive Oil

50

ml

Plant-Based Milk (Almond Milk)

115

ml

100% Mango Juice

1

tsp

Vanilla Extract

200

g

Peaches – around 2 medium sized peaches
Streusel
60

g

Quick Oats

60

g

Sugar (Granulated or cane Sugar)

110

g

All Purpose Flour (unbleached)

55

g

Oil (vegetable or olive) or melted vegan Butter
Instructions
Prep Work
If using fresh peaches, cut into small cubes, cover and set aside.

Gather all ingredients. Grease and flour baking sheet. Preheat oven to 180°C (355°F) .
Making the Batter
In a mixing bowl, add all dry ingredients (flour, baking powder, cornstarch, baking soda, cane sugar and salt). Mix together until well combined.

In a different bowl whisk together olive oil, milk and mango juice.

Add wet ingredients to dry ingredients while mixing with an electric stand or hand mixer. Go slowly from low to high speed while mixing. Mix until well combined, but don't over mix! You'll end up with a rather "thin" batter, it shouldn't be too thin though! Set aside.

Add all dry ingredients (quick oats, sugar, flour) for the streusel into one bowl and mix roughly.

Then slowly pour oil (or melted butter) into the dry ingredients and with a fork. Mix until you got a nice crumble.

Pour batter into prepared baking sheet and smooth down if necessary.

Scatter peach pieces all over the batter. Try to work quick, so the pieces won't sink into the batter too much. Then crumble the streusel on top of everything.

Bake in preheated oven for around 30 minutes. (Bake a bit longer if necessary)

Take cake out of the oven and let it cool down entirely in the baking sheet before cutting it into pieces. It is a very moist and tender cake, so cutting it when still warm may lead to pieces that fall apart. Enjoy with freshly brewed coffee or !
Nutrition
Equipment: A quarter Sheet Pan: 12 1/2″ x 9″ x 1″ high — 32 cm x 23 cm x 2,5 cm high.
I used the USA Pan Quarter Sheet Pan:
https://www.surlatable.com/usa-pans-quarter-sheet-pan/2816908.html?mrkgadid=1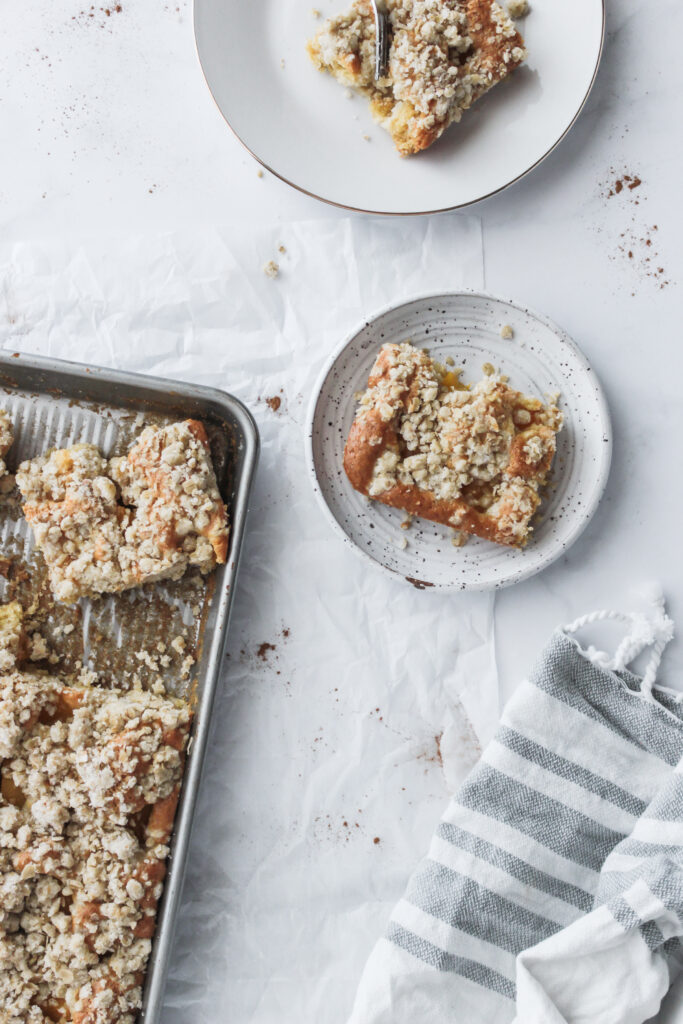 Another special thank you to Jacqui of the Simple Sprinkle for sharing this delightful recipe!

Be sure to check out these Recipes and Eco Tips Below from Jess at The Wild Vegan Flower!
By