This easy vegan roasted butternut squash is a delicious and healthy side that is a Fall staple!
This recipe gives you crispy yet soft bites of a savory, sweet, with a hint of spice roasted butternut squash.
And it just happens to be totally plant based and vegan!
Make this roasted butternut squash in the air fryer or oven- there's directions for both!
This roasted butternut squash is soft with crispy edges, savory with a hint of spice. The squash is pan fried before it's roasted to ensure an even coating that not only improves the flavor, but it dramatically improves the texture.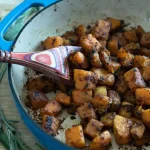 Roasted Butternut Squash is an ultra-healthy comfort food!
This easy vegan recipe makes a perfect side dish or topping for your salads or buddha bowls.

This recipe stands apart from the rest with the process of pan frying the squash before you roast it in the oven (or air fryer). This helps caramelize the edges of the butternut squash and really improves the overall texture. You can expect crispy yet chewy edges with a soft melt in your mouth center.

Other Recipes to Pair With Oven Roasted Butternut Squash
Any of these recipes would be great with the roasted butternut squash. You could consider this recipe a 'meal prep' and use it for filling enchiladas, burritos, topping over a salad, or even over a creamy ramen.
Spices and Herbs
The spice and herb blend in this recipe gives you a bit of savory and spicy elements. Butternut squash is sweet on it's own, the sweetness is deepened with a bit of cinnamon. If you love the sweetness of roasted squash considering adding nutmeg, cloves, and all spice in addition to your cinnamon.

The savory elements that help tone down the sweetness is fresh sage. You can get away with dried sage but the flavor will be more impactful with it being fresh. Summer Savory is also used in this roasted butternut squash recipe as it adds a perfumed herbal flavor that pairs well with the fresh sage.
If you want your butternut squash to taste more herbal consider adding thyme or a herb infused olive. I always find the most fun infused oils at my local farmers market- it's a great way to make flavors pop.

To help contrast the sweet and savory flavors a touch of spice really helps make this dish mouth watering. This recipe calls for a dash of chili flakes, however it works beautifully with Calabrian chilies. A bit of black pepper also helps further the spice, where a smoked black pepper really compliments the whole dish.
New to plant based cooking and don't know what kind of butter to use?
Try using Earth Balance, Miyokos, or even using coconut oil in place of the butter. If you love making everything from scratch I like One Green Planet's round up of vegan butter recipes for some free recipes. Otherwise I use Miyokos Vegan Pantry cookbook to make homemade butter if I'm feeling extra.
I was inspired to create this recipe that is based off of a recipe I was given by Somebody People in Denver.
They offer a recipe every week with their market box- and this recipe got me to love squash. I used to think I hated squash, but love this restaurant and never had a bad meal from them. Their butternut squash recipe was so good that it got me to adore the flavor of squash. I've made this recipe dozens of times since- but made a few improvements.
Their version of this recipe is much simpler- with only sage, cinnamon, black pepper, and salt to season the roasted butternut squash. Which is great- but lets add some more spice.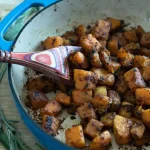 Roasted Butternut Squash
This roasted butternut squash is soft with crispy edges, savory with a hint of spice. The squash is pan fried before it's roasted to ensure an even coating that not only improves the flavor, but it dramatically improves the texture.
Print Recipe
Ingredients
1/2

Large

Large Butternut Squash

4

Tbs

Butter of Choice*

1/2

tbs

Cinnamon

1

tbs

Chopped Fresh Sage

1

tbs

Summer Savory *Optional*

Or another herb like thyme, oregano, rosemary, bee balm, ect

1/2

tsp

Black Pepper

1/2

tsp

Red Chili Flakes

1/2

tsp

Sea Salt
Instructions
Preheat oven to 400 degrees F (if using oven and not air fryer)

Peel the Butternut Squash and dice into bite sized pieces

Bring a large pan to the stove and bring to medium/high heat. Add butter to the pan and the diced Butternut Squash

Cook for 15-20 minutes or golden brown on the edges

Add your herbs and spices to the pan, mix to combine, then take pan off heat
Oven Directions
Add your seasoned Butternut Squash to the oven and roast for 15 minutes- or soft through the center
Air Fryer Directions
Add your squash to your air fryer and cook at its highest setting for 10 minutes, flipping it halfway through so it cooks evenly.
Notes
This recipe tastes great either oven roasted or air fried. I personally prefer it roasted as the coating holds the flavor better than when it was air fried. The texture of the air fried squash made it crispy on dry on the outsides yet very soft in the center.
To see plant based butter suggestions and recipes please refer to the article above
Nutrition
Calories:
140
kcal
|
Carbohydrates:
15
g
|
Protein:
1
g
|
Fat:
9
g
|
Saturated Fat:
3
g
|
Polyunsaturated Fat:
3
g
|
Monounsaturated Fat:
4
g
|
Trans Fat:
1
g
|
Sodium:
390
mg
|
Potassium:
392
mg
|
Fiber:
4
g
|
Sugar:
2
g
|
Vitamin A:
10768
IU
|
Vitamin C:
22
mg
|
Calcium:
146
mg
|
Iron:
2
mg
Looking for more plant-based recipes?
Here's the latest:
By