Air fried shredded mushrooms are a fantastic addition to any recipe, and a great snack on their own.
This is a recipe to convert mushroom haters or the pickiest of eaters; this is my favorite mushroom recipe of all time!
If you have a mushroom hating family member get them to try this easy dish.
Crispy Air Fried Shredded Mushrooms are a crunchy flavor bomb. They are a great snack or a flavorful addition to other recipes. These crunchy, meaty, salty, umami packed mushrooms will win over the fussiest of eaters.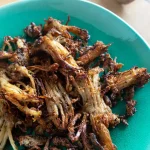 Pleurotus Eryngii or King Oyster Mushroom
Air fried shredded mushrooms works the best with Royal Trumpet, King Oyster, or Pleurotus Eryngii (all different names for the same mushroom). You need this mushroom's thick stem to shred, other varieties will not shred into long strips like this, other varieties will simply crumble. That will still taste good, but isn't the ideal texture you want.
That being said- I've gotten it to work with other varieties of oyster mushrooms!

You can find this mushroom at Whole Foods, Natural Grocers, many more health food grocery stores, and international/ Asian Markets. You can also find them at the farmers market from your local mushroom vendor! Another fun option is to grow them, oyster mushrooms are one of the easiest varities to grow, especially from a grow kit!
This recipe can also work with any type of oyster mushroom, although it will be more crumbly.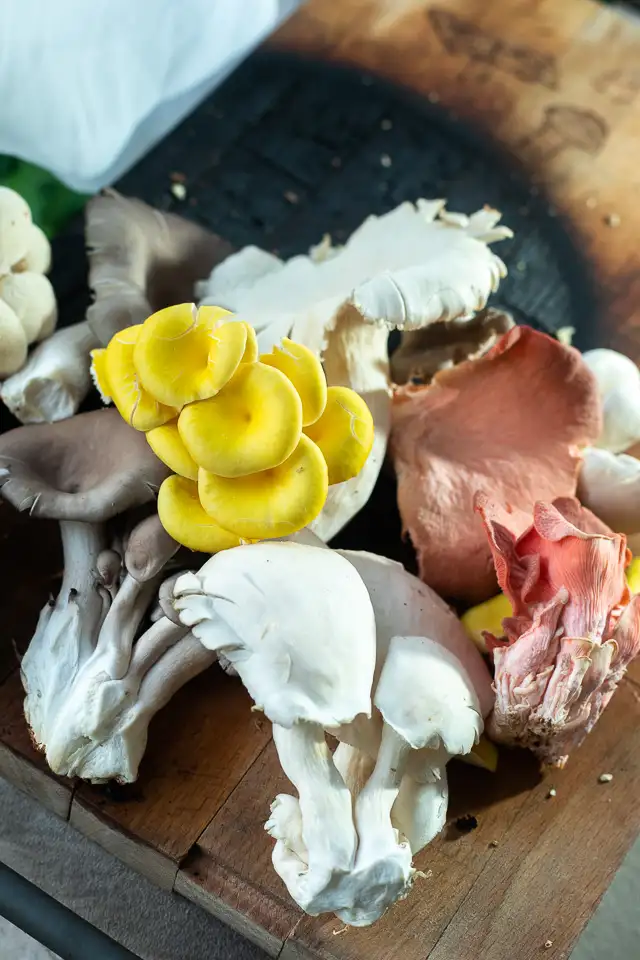 Ways to Serve it
These crispy mushrooms taste fantastic on their own, and work as a quick snack!
They are also fantastic incorporated into other dishes. Try them in a wrap, burrito, toss them in enchiladas, in tacos, over a salad, over a buddha bowl, over some pasta, or anything you want to have a salty, crunchy umami flavor bomb.

This recipe is a staple, so you can easily meal prep them and save them in the fridge for when you want a quick wrap or taco. Simply reheat them in the air fryer!
If you are meal prepping this recipe to eat later in the week, under-cook them so when you reheat them they don't get dried out. Instead of air frying them for the full 10 minutes, cook them for 7 minutes. Then when you reheat it, cook for 3 minutes. They will last in the fridge for up to 5 days.
Fuss Free
This recipe is not only my all-time favorite mushroom recipe- it got my mushroom hating husband to love mushrooms. Many people hate the slimy, chewy texture of common Agaricus bisporus or the button mushroom, cremini, or portabella, which are all in agaricus family of mushrooms. These are the common mushrooms you'll find at any grocery store.
Many people will cook these bland mushrooms in too much oil or water. Or worse, they'll use canned Agaricus mushrooms! There is nothing really wrong with the common button mushrooms at the store. They have a different flavor and texture from many other mushrooms. Some people like them, however many people do not.

Unfortunately too many people only eat this variety and decide they hate mushrooms. I personally don't care for button or portabella mushrooms. I'll still eat them on occasion, but I prefer other mushrooms. I find the flavor metallic and bland in the agaricus species. However, I will eat pounds of other mushrooms (check out my favorite mushroom recipes here). There are thousands of species of mushrooms with different flavors and textures.
Every single time I prepare the trumpet mushroom this way, everyone loves it!
This really is the mushroom recipe to convert mushroom haters.

My husband would pick out the mushrooms out of the food, but when I made these air fried shredded mushrooms he ate the whole plate of them and begged me to make him more. Since he discovered one mushroom dish he loves, now he has tried more recipes with them in it. And now he really enjoys it!

Be warned, it can be difficult to not eat these straight out of the air fryer when you want to add them to another recipe. Because of this I always make extra.
Looking for Other Vegan Mushroom Recipes?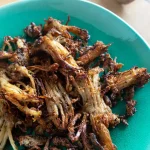 Air Fried Shredded Mushrooms
Crispy Air Fried Shredded Mushrooms are a crunchy flavor bomb. They are a great snack or a flavorful addition to other recipes. These crunchy, meaty, salty, umami packed mushrooms will win over the fussiest of eaters.
Print Recipe
Instructions
Shred the king oyster mushrooms vertically with a fork. Stab holes completely over the cap to keep it together instead of shredding the cap like the stem, this way it makes the same "shreds" without crumbling since the cap is a different density.

In large bowl mix your oil with all the spices

Add your shredded mushrooms in your seasoned oil, mix well so they are evenly coated

Put it in air fryer basket for 10-13 minutes at 450 F flipping halfway through. Cook them to desired crispness. 10 minutes will give you crispy edges with a soft meaty center, 13-14 minutes can make it crunchy all the way through.
Video
Notes
While this recipe works the best with king oyster mushrooms it will still work with other varieties. The other varieties will be crumblier rather than shredded but will still have that great meaty flavor. 
Nutrition
Calories:

175

kcal

|

Carbohydrates:

10

g

|

Protein:

5

g

|

Fat:

15

g

|

Saturated Fat:

2

g

|

Polyunsaturated Fat:

6

g

|

Monounsaturated Fat:

6

g

|

Sodium:

604

mg

|

Potassium:

531

mg

|

Fiber:

3

g

|

Sugar:

1

g

|

Vitamin A:

57

IU

|

Vitamin C:

0.3

mg

|

Calcium:

11

mg

|

Iron:

2

mg

Did you make this recipe?
Please take a moment to rate it!

Ready for more plant based recipes?
Check out these recent posts

By