This Oyster Mushroom Ramen Recipe is for the die-hard ramen fans! This ramen recipe is next-level and packed with deep, full-bodied flavors! This recipe has been developed using techniques incorporated from ramen masters like Chris Gantan of vegan.tanmen on Instagram and Miwa of Miwa's Japanese Cooking via Youtube.
Ramen is a love language, it's warming, comforting, satisfying, and the perfect meal whenever you need to warm up. Oyster Mushrooms add that meaty depth to this ramen to give it that hearty body you crave! This recipe works with any variety of oyster mushroom.
This oyster mushroom ramen has you create a homemade mushroom vegetable broth, a flavorful shoyu tare made from dashi, with lots of options for toppings! This is the gourmet bowl of ramen you've been waiting for- this recipe is for the ramen obsessed!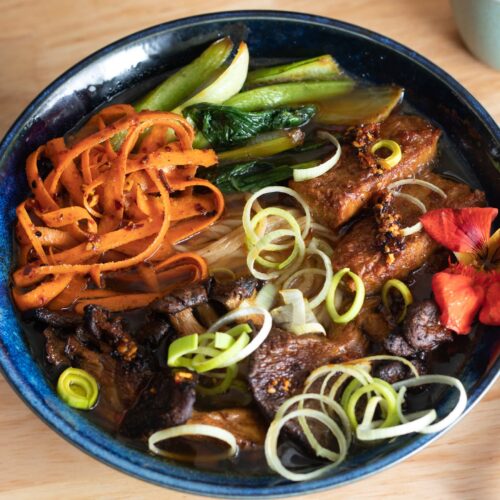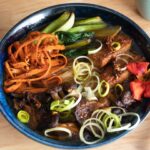 Japanese recipes have a special place in my heart since it was something I ate a lot of growing up. My older sister loves anime and studied abroad in Japan when I was pretty young. She was like a mother to me and helped prepare most of my dinners when I was small. We ended up eating a lot of homemade ramen, miso soup, seaweed salads, and sushi. We didn't have a lot of money so our ramen was the instant packets that we would then doctor up with different toppings.

Making a fancy ramen like this is almost therapeutic, as this is nothing like the instant cup of ramen I grew up with. There are no dehydrated instant noodles with sodium packed broth powder here!

Instead, this recipe has you make a mushroom vegetable broth from freshly roasted ingredients, slow cooked into a flavorful and nutrient dense broth.

Each serving bowl is shown love with a generous serving of flavorful tare made with a dashi base to make each bowl of ramen a real flavor experience.
Using fresh ramen noodles adds an extra layer of decadence to this soup- really making this a gourmet experience.
Then considering the possibilities of fresh toppings to go over this ramen, it's a showstopper!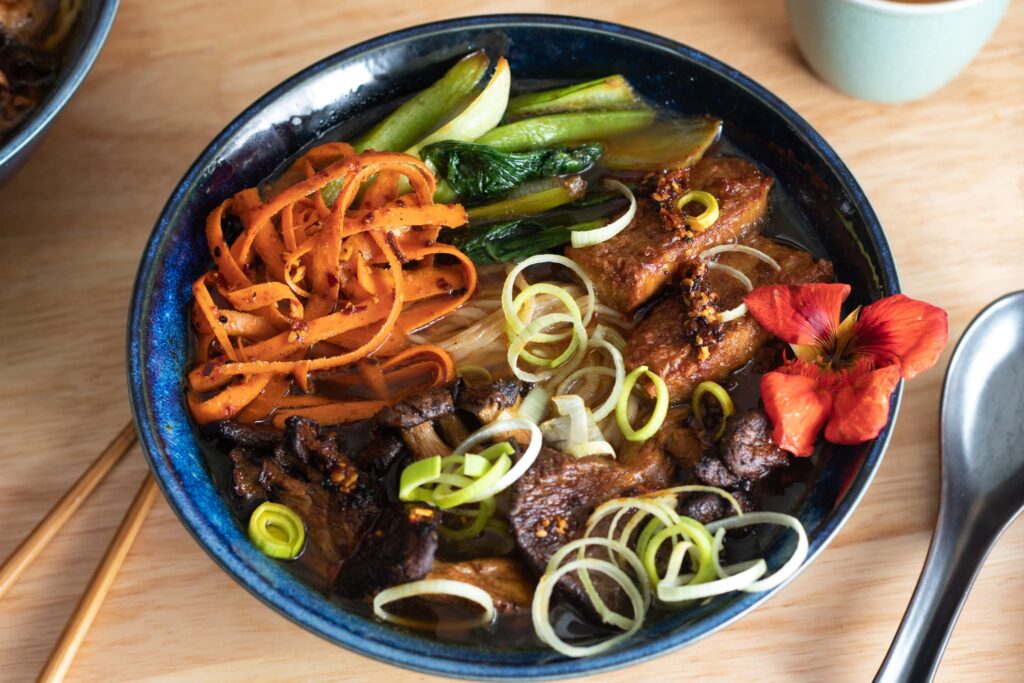 How to Make Mushroom Ramen
To make a proper bowl of ramen you need to consider 3 components: your tare, your broth, and an oil.

When making ramen the amount of tare you use can vary.
Think of tare as a soup sauce- it's meant to be served into your serving bowls individually depending on how salty you prefer your ramen to be. The homemade broth is low sodium, loaded with vitamins and minerals. Unlike instant ramen's broth, this broth is a healthful addition to your soup. It's worth just drinking on its own!
The tare adds extra flavor and salt to the broth, making it less healthful. Including some of the tare is very important for the overall flavor. However, the more you add the more you increase the sodium content of your dish.

This is why your tare is added separately from your broth so it can be adjusted to taste for each person enjoying ramen. Some people will want it saltier than others!

This recipe has you top your ramen with either chili crisp or chili oil to help round everything off. I prefer chili crisp over chili oil since chili crisp has many add ins that make it less spicy than chili oil. A small amount of heat helps this ramen get to perfection. Even if you don't like spicy food, I encourage you to try a small amount of spice to help bring out the other flavors.
Making Dashi and Tare
To make our ultra-flavorful tare you will start by making dashi.
Dashi is like a savory broth that is made up of various sea vegetables, dried shitake mushrooms, and sundried tomatoes. Sea vegetables like kombu add lots of umami and depth of flavor. Smoked dulse also adds a savory, hearty flavor, and it is a healthy ingredient. Same can be said for the dried shitake mushrooms and the sundried tomatoes!

You want to let these ingredients soak for a few days to get the most flavor. However, you can still get a flavorful dashi by letting it soak overnight. The more potent your dashi, the more flavorful your tare will be! And the more flavorful your ramen will be!

To make the tare from the dashi you simply strain out the soaking liquid and boil it with your soy sauce and other ingredients. Cooking the sauce down makes it thicker, more flavorful, and ultra-potent. You will be left with leftover tare from making this ramen recipe. You can use it as a base for other sauces or use it to flavor more bowls of soup!


Making Mushroom Vegetable Broth
To make the broth for the ramen you'll start by chopping up oyster mushrooms, an onion, carrots, an apple, celery, and crushing some garlic. This whole mixture gets roasted in the oven to caramelize or go under the Maillard effect to sweeten and add body to the overall flavor.

When you are making this vegan oyster mushroom recipe the type of oyster mushrooms doesn't matter too much. All of the varieties of oyster mushrooms are very flavorful! This recipe has been made with blue oyster mushrooms, queen oyster mushrooms, trumpet oyster mushrooms, and wild oyster mushrooms.
If you were to use a pink oyster mushroom this recipe would be very similar to a vegan tonkotsu, as pink oyster mushroom has a flavor similar to bacon.
Aquafaba in Broth?
After everything is roasted, you'll cook that with aquafaba and water.
Aquafaba is a game changer when it comes to awesome broth! The mouthfeel of aquafaba is thicker than water and has a round flavor. This is because when you cook beans in water the nutrients from the beans (minerals and amino acids) get cooked into the water. It not only improves the mouthfeel of the broth, but it also improves the flavor and nutritional content of your broth!

One consideration you need to make is some aquafaba's are less visually appealing than others. Black bean aquafaba in particular is very dark brown and may not look great in this recipe. The flavor and nutrients in it are fabulous but it won't look as great as it tastes.

Chickpea, white bean, soybean, and pinto bean aquafaba are the most visually appealing and are ideal for this recipe!
While you can use aquafaba from canned beans, you will have a better result with homemade aquafaba. The benefit of cooking dried beans and saving that cooking water is that it will be lower in sodium, it will be more economical, and buying bulk beans is more environmentally friendly!

Cooking beans from dried is very easy.
In an instant pot you can cook dried beans in 1 hour under high pressure. Otherwise, you can cook beans from dried overnight in a slow cooker.
You don't need to soak your beans for either of these methods! Just make sure there is about 3-4 inches of water above the beans, so they have room to expand while staying covered. Now you'll be left with cooked beans and lots of aquafaba!
Can I use a Premade Broth for this Ramen Recipe?
Yes!
If you are short on time, you can totally use a premade mushroom broth or vegetable broth for this recipe. Ideally a mushroom broth since this is an oyster mushroom recipe!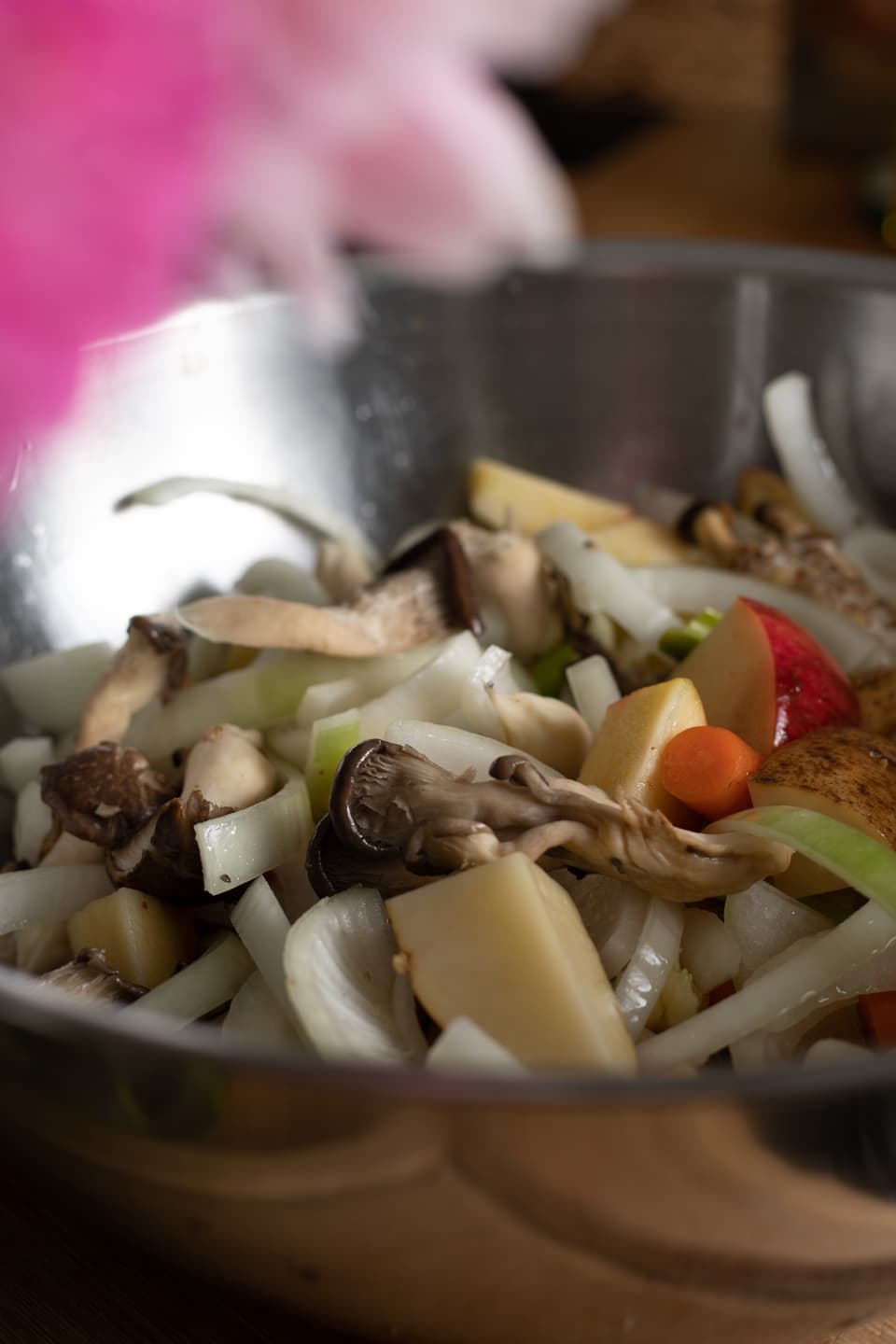 Ramen Toppings
You can have a lot of fun with the toppings for your ramen.
You can go as complex or as simple as you prefer.
I recommend using what is seasonal and local if possible! Not only will your food taste better when you use local ingredients (closer means fresher!), but it is beneficial to our planet to eat this way.

For this reason, I made the toppings for this recipe to be optional and up to your preference!

Oyster mushrooms are often grown indoors, making them available year-round. If you are a forager, you may be finding some wild oysters in the spring through fall (depending on your location!).
This recipe can be made with dried oyster mushrooms that have been rehydrated. Which is another great way to make this recipe year-round!
Here are some Seasonal Ramen Topping Ideas!
Many of these vegetables grow in multiple seasons depending on your location- this list is to help you brainstorm what could be available to you.
Spring:
Fresh Spinach
Fresh Arugula
Green Onions
Sunflower Sprouts
Spiralized Carrots in Chili Crisp Sauce
Grilled Asparagus
Sticky Baked Cauliflower
Summer:
Roasted Red Pepper
Roasted Tomatoes
Grilled Zucchini
Grilled Green Beans
Miso Roasted Eggplant
Fall:
Roasted Butternut Squash
Roasted Corn
Roasted Sweet Potato
Roasted Carrots with Black Garlic
Grilled Delicata Squash
Winter:
Roasted Brussels Sprouts
Roasted Beets in Garlic
Roasted Turnips
Roasted Cabbage
Kimchi
Year-Round Ramen Toppings:
Roasted mushrooms
Air fried mushrooms
Deep fried mushrooms
Fried seitan
Wontons
Puffed Tofu
Pan Fried Tofu
Soy Curls


Don't start your noodles until you've finished preparing your toppings.
You don't want to prepare the noodles too soon as they tend to stick together and are best served immediately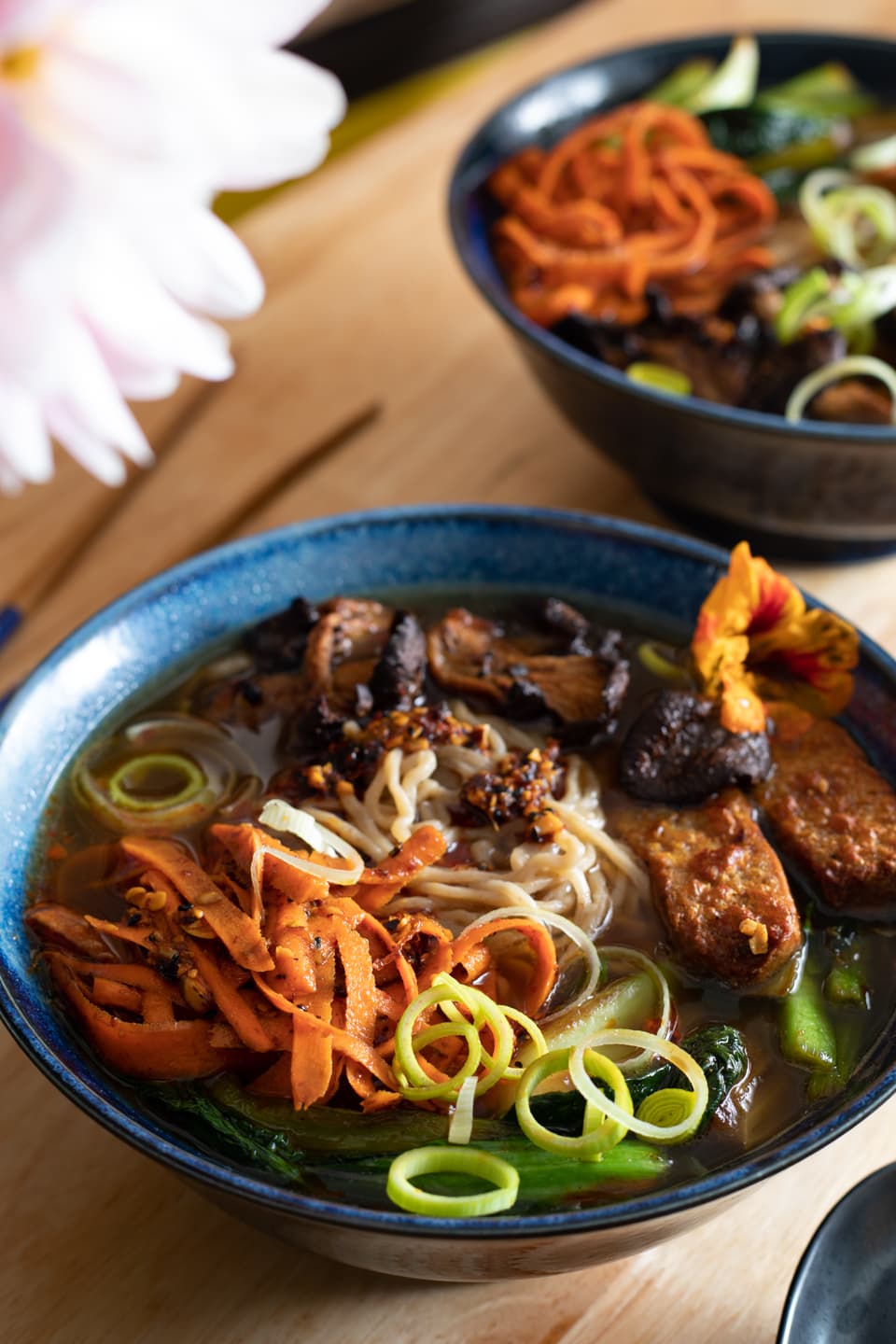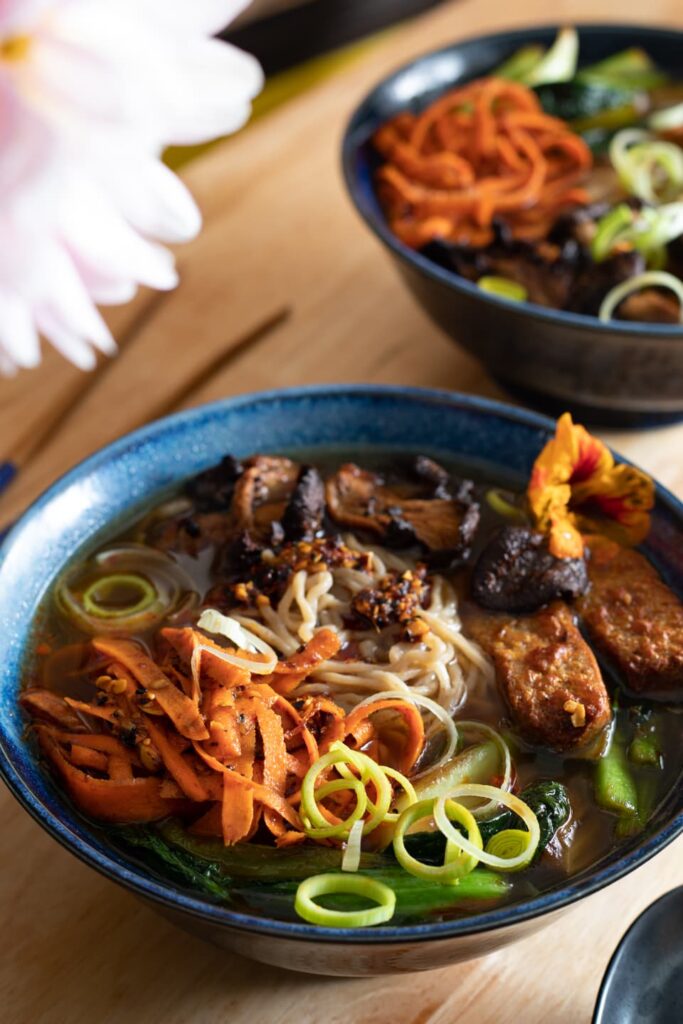 Assembling Your Bowl of Ramen
When assembling your bowl of ramen start by adding your tare to each bowl. Then add your broth and taste. Is it salty enough? Add more tare to your preference!
Now add your cooked ramen noodles and your chosen toppings. Do a drizzle of your chili crisp or chili oil after everything has been assembled. The camera eats first so take a picture and tag @wildveganflower on Instagram after you assemble it to show off your work of art!
Looking for More Vegan Mushroom Soup Recipes?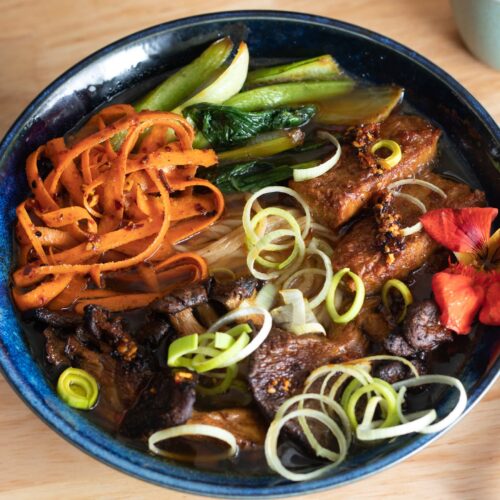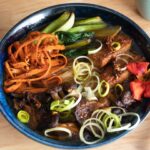 Oyster Mushroom Ramen
This oyster mushroom ramen has you create a homemade mushroom vegetable broth, a flavorful shoyu tare made from dashi, with lots of options for toppings! This is the gourmet bowl of ramen you've been waiting for- this recipe is for the ramen obsessed!
Print Recipe
Ingredients
Instructions
Prepare Dashi for the Tare
Soak Kombu, shitake mushrooms, and the sundried tomatoes in 4 cups of water overnight in the refrigerator (ideally 24-48 hours of soaking but overnight will do)
Mushroom Broth
Preheat oven to 350F

Add all the chopped ingredients from the mushroom broth section to a large bowl- toss in oil

Pour everything onto a baking sheet

Bake in the oven for 1 hour, stirring/flipping the veggies halfway through

Add your aquafaba and water to a large stockpot (or instant pot) and add your baked ingredients. Bring to a boil then leave to simmer for 65 minutes.

If using an instant pot set to 60 minutes on high- while this is cooking prepare your tare
Prepare Tare
Strain the dashi and pour the liquid into a saucepan- discard the solids*

Add all the ingredients for the Tare to the dashi and bring to medium high heat. Let boil/Simmer for 1 minute

Pour into a jar and set aside- this is your prepared tare and will store for up to a month
Prepare the Toppings
While your broth is cooking prepare your desired toppings… You can get creative here.

Some topping ideas are roasted mushrooms, air fried mushrooms, deep fried mushrooms, roasted vegetables, fried seitan, or even wontons.

Other ideas are pan fried tofu, puffed tofu, steamed broccoli, stir fried bok choy, julienned carrots, or your favorite prepared proteins. Slice up some green onions or leeks for

When your broth is almost done cooking start your noodles. You don't want to prepare the noodles too soon as they tend to stick together and are best served immediately
Assembling the Mushroom Ramen
Add ¼ cup of your prepared tare to each of your serving bowls.

Strain in about 2 cups of the mushroom broth into your serving bowls- discard the solids (see notes)

Add your noodles

Add your chosen toppings- drizzle with chili crisp or chili oil
Video
Notes
Aquafaba 

Use Chickpea, White Bean, or Pinto Bean Aquafaba for this recipe. Aquafaba is the liquid that beans have cooked in. A huge benefit of cooking beans from dried is the leftover aquafaba. During the process of cooking the beans some of the vitamins and minerals get leached into the water creating the aquafaba that we love. While you can get aquafaba from canned beans (the liquid the beans are soaking in) it often is high in salt, is less sustainable, and less budget friendly. Consider purchasing your dried beans in bulk to save money, help the environment, and get the added health benefits. You can slow cook your dried beans overnight in a slow cooker or in an instant pot. 
Replace with equal parts water if you choose to skip this ingredient. On the other hand, feel free to replace any water in this recipe with aquafaba! If you have 8 cups of aquafaba on hand- use it! It will add considerable nutrients and flavor to your broth. 
---
Discarding the Broth Solids 
When you discard the solids to make the dashi and the mushroom broth consider saving them to reuse for another vegetable broth. Add the strained mushrooms and vegetables to a glass jar and place in the freezer and refill with other vegetable scraps like potato peels, apple cores, carrot ends, ect. This is a great way to make a healthy broth in an economical way and environmentally friendly way! 
Another option is to pick out some of the mushrooms that cooked into the broth and then either oven roast or air fry them for additional ramen toppings. 
If you aren't into reusing the solids to make more broth and don't want to cook them any further for ramen toppings please consider composting them rather than adding them to the landfill. 
Nutrition
Calories:

952

kcal

|

Carbohydrates:

135

g

|

Protein:

21

g

|

Fat:

39

g

|

Saturated Fat:

10

g

|

Polyunsaturated Fat:

6

g

|

Monounsaturated Fat:

22

g

|

Sodium:

3567

mg

|

Potassium:

1582

mg

|

Fiber:

12

g

|

Sugar:

40

g

|

Vitamin A:

6257

IU

|

Vitamin C:

17

mg

|

Calcium:

139

mg

|

Iron:

8

mg

Did you try this recipe? Please let us know how it went and leave a review!

Looking for more recipe inspiration? Here's the latest recipes!

By