Roasting hen of the woods or maitake is very simple and extra crispy in the air fryer or the oven!
This maitake recipe is quick to make and is healthy snack on its own or perfect topping for a buddha bowl, salad, ramen, or even added to your favorite burrito or wrap!
Jump to Recipe
How to Cook Maitake Mushroom
Maitake or hen of the woods is a frilly mushroom with a rich meaty flavor. The flavor of maitake is similar to oyster mushrooms, where some people describe the flavor as chicken like. It is juicer than an oyster mushroom, but since it has so much frills and is easy to shred you can get a very crispy texture.
While this is my favorite way to easily and quickly prepare hen of the woods, my overall favorite recipe is making them into Kentucky Fried Hen of the Woods. The way the batter gets into the frills is texturally wonder and the flavor of it is very chicken like.
These mushrooms taste very different from your standard portabella mushroom and also offer different health benefits- give this variety a try! For flavor and texture is my favorite variety of mushroom of all time!
To roast these hen of the woods mushrooms simply coat lightly in oil, seasoning, and either oven roast or in your air fryer.
If you love foraging and wild mushrooms check out more recipes here!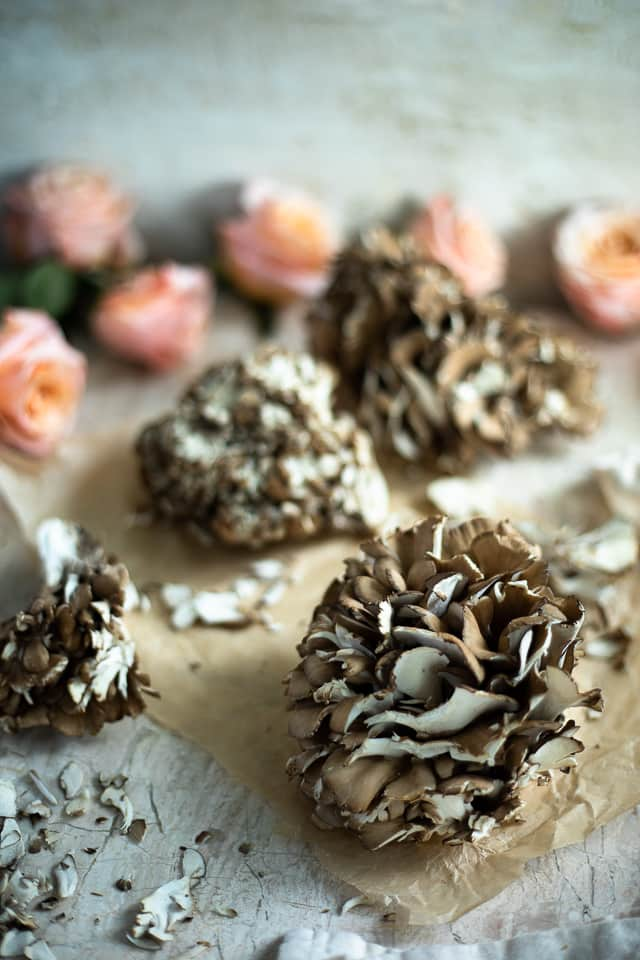 Where to Find Maitake Mushrooms
While hen of the woods is a fantastic mushroom to forage off of hardwood trees, not everyone wants to go for a hike in the woods to find them. Many health food grocery stores carry maitake mushrooms, some examples are Whole Foods and Natural Grocers. Most commonly you will find them at an international grocery store or Asian grocery store like H Mark, Uwajimaya, Pacific Ocean Market Place, and District H are all examples.
Your local farmers market may also carry hen of the woods mushrooms! Check to see if your market has a specific mushroom vendor, it is a common mushroom in the fungi world and they will often carry it.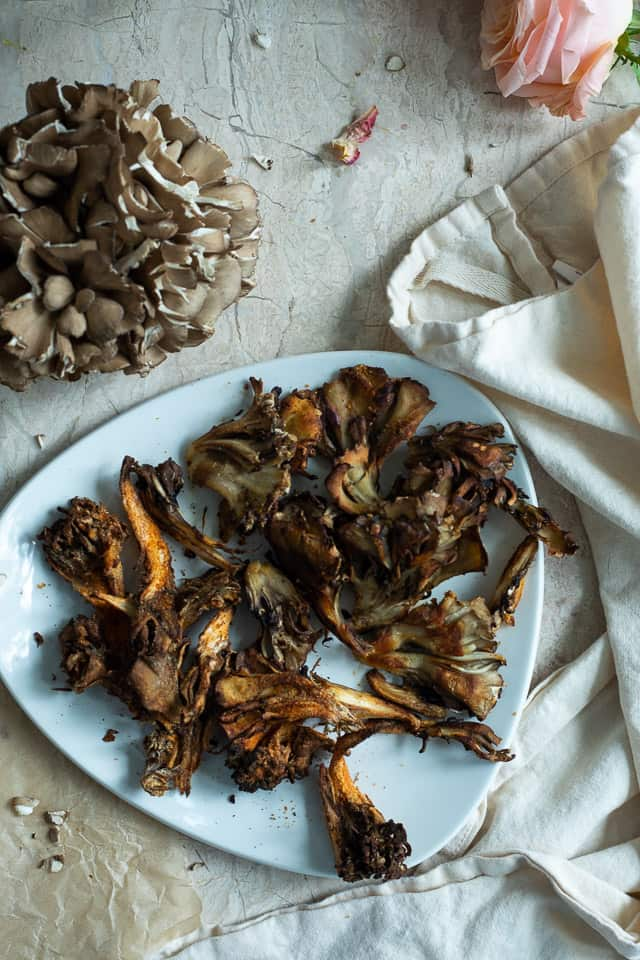 Oven Roasting Hen of the Woods Verse Air Frying
These hen of the woods mushrooms are delicious roasted in the oven and air fried. The different cooking methods will give you slightly different results where oven roasted will be juicer and the air fried will be extra crispy.

The air circulation in the air frier (or convention oven!) helps dry out the mushrooms, giving you an extra crispy result without excess use of oil. Depending on the size of your air fryer basket you may want to adjust the cook time so it doesn't completely dry out and you still have a moist center. If you increase the cook time by 2-5 more minutes the mushroom will be a complete crisp. This makes an ideal topping for fried rice, over salads, or even sprinkled over soups. Anywhere where you would want to add a savory crunchy element. Or if you simply want a salty crunchy snack that is significantly healthier than chips! If you love air fried mushrooms try it with oyster mushrooms too!

When oven roasting it in a standard oven the result will be juicer. Flipping the mushrooms helps give you a crispier result, but you will still have a meaty and juicy experience under the frills of the mushroom. Mushrooms cooked like this gives you the ideal meat replacement in many recipes. These juicy, meaty mushrooms are fantastic over ramen, inside of buddha bowls, inside of sandwiches, tacos, burritos, inside of wraps. It works anywhere where you would traditionally use meat!

With either cooking method you can adjust the seasonings to your preference. The blend of onion, garlic, pepper, and paprika is a very basic blend that enhances that meaty flavor. Adding in a tsp of cumin or chipotle seasoning is fantastic for southwest cooking. A tsp of toasted sesame oil and a splash of soy sauce with these mushrooms is incredible with ramen or pho!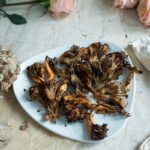 Roasted Maitakes
Seasoned and roasted (or air fryed!) maitake mushrooms are crispy, meaty, and savory.
These crispy mushrooms are a healthy snack/side that are so good on their own! They can also be used as a salad topping, burrito filling, or as a component in a buddha bowl!
The seasonings can be adjusted to fit your personal preferences or to pair with another recipe. This is a great seasoning blend
Print Recipe
Instructions
Break up Maitake into large bite sized pieces, about 2 inch chunks

Place in a bowl and drizzle over oil

Add the seasoning and toss the mushrooms to evenly coat
Oven Directions
Bake in oven at 450 for 15 minutes, flip over, roast for another 3 minutes
Air Fryer Directions
Put in air fryer basket and cook at 450 for 10 minutes
Nutrition
Calories:

171

kcal

|

Carbohydrates:

9

g

|

Protein:

4

g

|

Fat:

15

g

|

Saturated Fat:

2

g

|

Polyunsaturated Fat:

2

g

|

Monounsaturated Fat:

10

g

|

Sodium:

23

mg

|

Potassium:

516

mg

|

Fiber:

3

g

|

Sugar:

1

g

|

Vitamin A:

301

IU

|

Vitamin C:

1

mg

|

Calcium:

10

mg

|

Iron:

2

mg

Check out the latest recipes by Jess Flowers here:

By