This insanely quick and easy pho recipe will leave you addicted!
It's comforting and warm while being fresh and healthy- and it takes only 20 minutes to prepare.
Pho is the ultimate soup for a quick healthy meal that tastes comforting yet fresh. This is the soup to load up with healthy greens, herbs, and lean protein like tofu and seitan.
Jump to Recipe
This recipe uses this Vegan Beef Broth then it is simmered in spices- leaving you with a flavorful yet simple pho broth. Pho is traditionally made with bone broth or beef broth, which makes it a perfect candidate to use with vegetarian beef broth. If you don't have vegan broth ready to go (or you can't be bothered to make it) simply use vegan beef bouillon to create your vegetarian beef broth.
This recipe also pairs beautifully with Wash The Flour Succulent Steak where you can reuse the beefy simmer broth for the base as this soup and then you can top your pho with the seitan steak. It's incredible together- and all of it stores well for future meal prep.
Turning Vegan Beef Broth into Pho Broth
Turning your beef flavored broth into pho is as simple as simmering in the spices along with some toasted ginger. To start, you will need to crush an inch of ginger and then toast it in your pan. Toasting the ginger adds a smokey element that helps mellow out the ginger flavor so the spices really shine.
Dry saute the ginger on a high heat for 5-10 minutes to toast it so it looks like the image below.
After you toast the ginger you need to bring your beefy broth to a boil. While you are heating up the broth, it's a great time to start chopping up your herbs and greens for topping!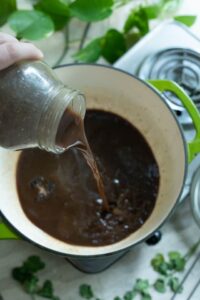 Once your broth is at a boil reduce the heat to a simmer and add your spices. You have the option to add the spices directly to the pot and then straining the whole broth or you can put your spices in a tea strainer and simply remove the strainer.
Both methods work great- there's even an option to make this broth if you only have powder spices. While the flavors are more controlable with the whole spices using the powder spices is possible. You will need about 1/4 tsp of each spice- however that can be a bit strong. The results are consistent with using whole spices then straining them.
The toppings for pho are a combination of fresh herbs, greens, and your protein of choice.
The traditional toppings are cilantro, Thai basil, mint, mung bean sprouts, carrots, jalapeño, and lime. There is some flexibility with the greens can use in combination with your fresh herbs, Bok Choy, spinach, watercress, sprouts, and any seasonal greens work great in this recipe.
This is meant to be a nourishing recipe- load up on your greens!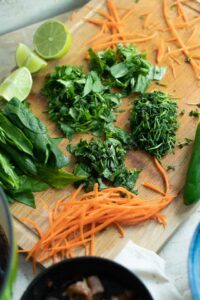 Once your broth is almost done simmering is a great time to start preparing your rice noodles. Fresh rice noodles have an incredible texture compared to standard dried rice noodles.
Try going to your local Asian market to find fresh rice noodles for your pho- the difference in texture and flavor is mind-blowing!
H Mart, Uwajimaya, 99 Ranch Market, or Pacific Ocean Marketplace are all fantastic international grocery stores that not only have a large selection of fresh rice noodles- but they all have fantastic tofu options as well! When I say tofu options I mean in all kinds of textures, shapes, and flavors. Yuba, puffed tofu, and soy sheets are some of my favorite variations. International grocery stores also tend to have a huge vegetarian section where they will have all kinds of vegan fish and meat. In the ingredients I linked to the same brand I found at Uwajimaya, but I could only find the huge variety pack to link to. Which could be perfect if you are a seafood lover and eat a plant-based diet!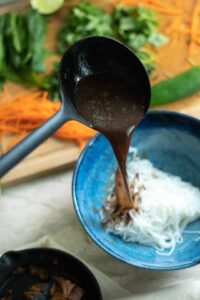 Topping your pho is the best part!

Do a heavy layer of the fresh greens and herbs and veggies.
Then add your protein of choice, I personally love fried tofu, seitan steak, vegan shrimp, and beyond sausage over my pho.
After you've added your veggies and protien do a drizzle of hoisen sauce and sriacha to taste- focusing the sauces over the fresh veggies. Having a bit of spice and sauce helps you digest raw veggies easier- no one likes that fiber bloat!
Give everything a squeeze of fresh lime juice before eating for some extra freshness.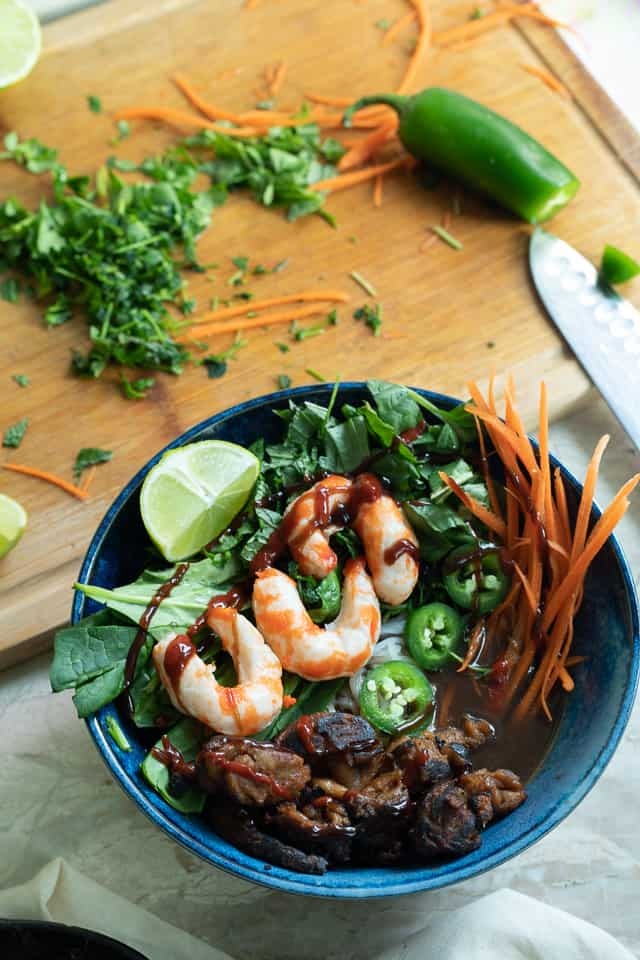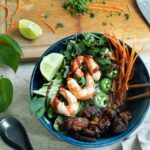 Easy Vegan Pho Recipe
This vegan pho is made with a plant based beefy broth that is simmered with warming spices.
It's filled with rice noodles, topped with plant based seitan beef, herbs, greens, sprouts.
Pho is the best comfort food that is yet light and healthy!
Print Recipe
Ingredients
Toppings/ Fillings
1/2

Package

Rice Noodles

8

ounces

Seitan Steak

See Succulent Seitan Steak Recie

8

ounces

Tofu

Puffed, Fried, Seared, Silken- however you prefer

3

Vegan Shrimp

Optional

2

Sprigs

Fresh Basil

2

Springs

Fresh Mint

2

Sprigs

Fresh Cilantro

1

tbs

Chopped Green Onion

1/3

cup

Sprouts

Mung Bean, Sunflower, Alfalfa, ect

1

Small

Jalapeno

Sliced thin

1

tsp

Hoisin Sauce

1

tsp

Sriacha

Lime
Instructions
Pho Broth
Bring a large stock pot to a high heat, add in your ginger and toast for 5 minutes. You want to really char the exterior

Add your beefy broth to a stock pot and bring to a boil

Add all your spices and reduce to a simmer for 15 minutes

Strain the broth to remove the spices, set aside
Prepare the Toppings
On medium/high heat pan fry your seitan steak with some sesame oil for 3-4 minutes to lightly crisp the edges

Chop up all the herbs and set aside

Slice your jalapeño into small slices
Noodles
Bring a pot of water to boil

Add your rice noodles and cook them according to your package directions.

If using fresh rice noodles (recommended) it should only take 15-20 seconds

Strain Noodles and put into serving bowls
Assembly
Add your noodles to your bowl then pour over your broth, then add your plant based meats and tofu, sprouts, herbs, green onion, then drizzle over a bit of hoisen sauce with sriacha.

Squeeze over a lime before serving
Notes
You can either compost the boiled cabbage leaves or cook with them!
An idea to cook with them is to pan fry them in oil and gochujang sauce- then top your pho with it! 
If you only have powdered seasoning use up to 1/4 tsp of each spice. The powdered version of the spices can be very overpowering and isn't recommended. It is still possible if you taste as you go and add in very small quantities s at a time. 
Nutrition
Calories:

470

kcal

|

Carbohydrates:

66

g

|

Protein:

38

g

|

Fat:

7

g

|

Saturated Fat:

1

g

|

Polyunsaturated Fat:

3

g

|

Monounsaturated Fat:

2

g

|

Cholesterol:

1

mg

|

Sodium:

710

mg

|

Potassium:

181

mg

|

Fiber:

8

g

|

Sugar:

4

g

|

Vitamin A:

652

IU

|

Vitamin C:

26

mg

|

Calcium:

187

mg

|

Iron:

4

mg

Hungry for more?
Check out the latest wild vegan recipes here

By