Vegetarian Beef Broth is a staple recipe for all your soup and simmering needs!
This vegan broth is full of iron rich depth that you are looking for in a beefy broth.
After making homemade broth over the years to reduce my sodium intake, this recipe came from trying and testing numerous vegan beef broths recipes. This recipe uses gets it's depth from caramelized aromatics, dried shitake mushrooms, red wine, and a bit of coco.
If I'm going to take the effort to make homemade beefy seitan or pho at home- I want the most incredible flavors to simmer it in.
Why Make Vegan Beef Stock at Home?
Store bought broths are full of preservatives and are packed with sodium- along with ingredients like Maltodextrin that can trigger those with gut health issues. When making soup you want to feel healthier after eating it- not all sluggish and bloated. Making your own broth at home is really the best way to show your body some love!
Another reason to make vegetarian beef stock at home is to help reduce your environmental impact. Most brands of broth at the store are in non recyclable boxes- or is plastic wrapped around cardboard. Which is not very sustainable considering plastic doesn't degrade and turns into microplastics. How cool is it to fight plastic production by making better tasting and healthier broth at home?!

This recipe is fantastic if you include a jar of frozen veggie scraps, things like potato peels, carrot butts, squash guts, and onion peels- things that you would often just compost!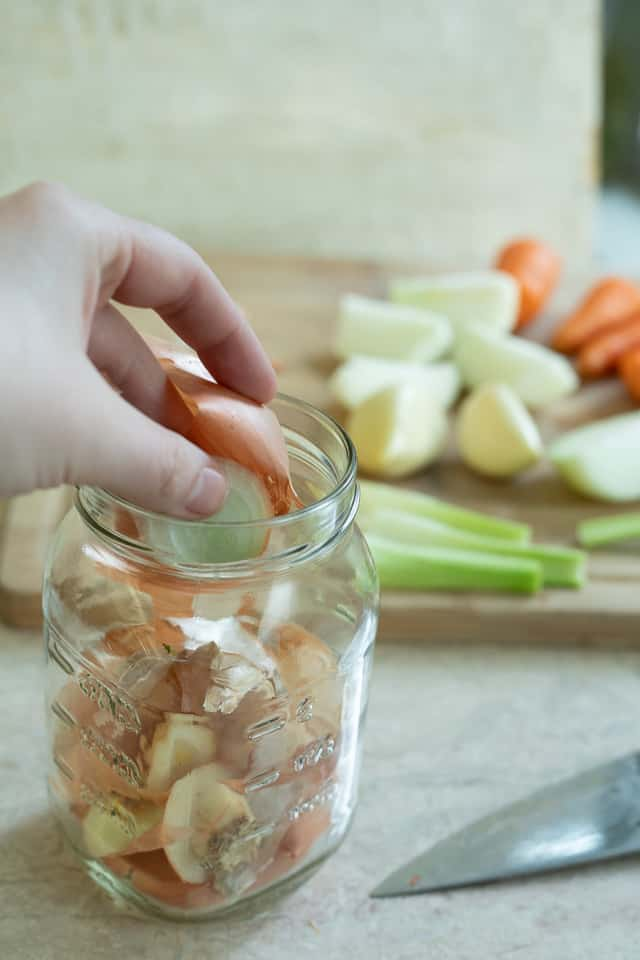 If you are looking for a basic vegetable broth recipe using veggie scraps try this recipe!
That vegetable broth is a staple to keep on hand- I always have a few jars of it in my freezer for when I'm going to make soup!
How to Make Vegan Beef Broth
The overall process to make this vegetarian beef broth is pretty simple. You need iron rich ingredients with caramelized aromatics to get that deep beefy flavor.
Prepare the Shitakes
The initial step to make this broth is to soak dried shitake mushrooms.
The longer you can let these mushrooms soak the more flavor will come through. Shitake has a meaty flavor that helps round off the overall flavor. It will not be flavorful enough to use fresh shitakes- you'll need dried shitakes.

If you forgot to soak them you can get away with microwaving the mushrooms with some water- cook them for 6 minutes and they'll be mostly rehydrated. Microwaving the mushrooms in water isn't ideal. However, it works if you need to make a vegan beef broth and you forgot to presoak your shrooms. Sometimes you gotta make it work!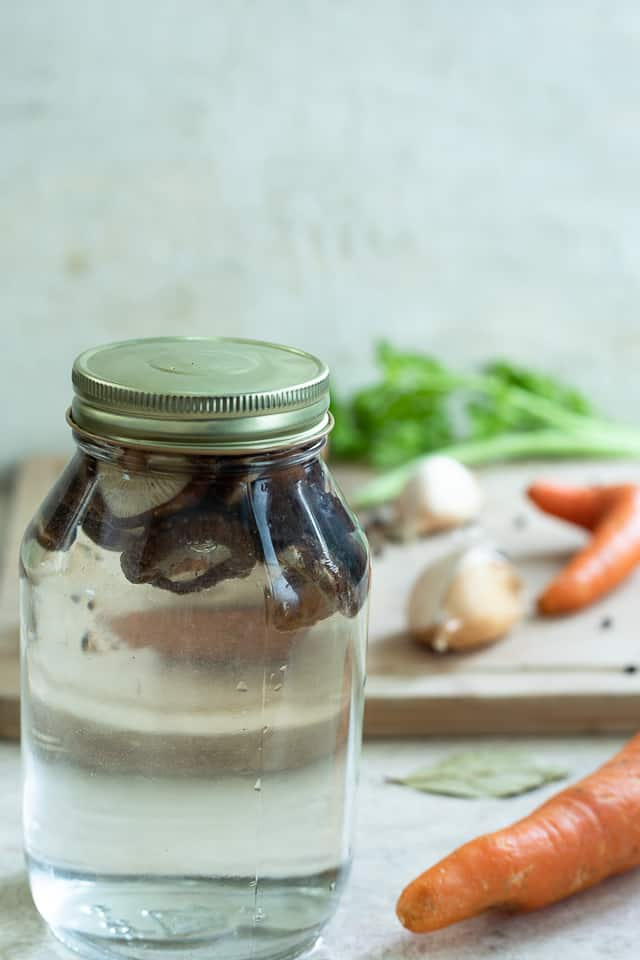 Roughly Chop Your Veggies
The vegetables in this broth are cut into large chunks compared to small pieces that is common in soup. The large chunks of vegetables work better because they are much easier to strain. They are less likely to break down in the broth. While you want a rich broth, you do not want it to be too cloudy or a puree of vegetables.
Caramelize Everything
Caramelizing the veggies is crucial- that slightly sweet yet burnt flavor adds a much needed depth. The initial caramelization stage takes about 30-40 minutes on a high heat where you will need to stir it consistently.
From there you'll add some red wine and reduce it into a sticky caramel. The red wine continues to add more depth and body to the overall flavor of the broth. The alcohol will get cooked out as it reduces into a syrup. It will quickly become a sticky syrup when on a high heat with the other veggies.
A small amount of balsamic vinegar can work as a substitution in a pinch- however it does add a slightly sour and bitter note to the broth compared to the red wine. Which is why you will also want to add a teaspoon of dark maple syrup to help balance that bitterness.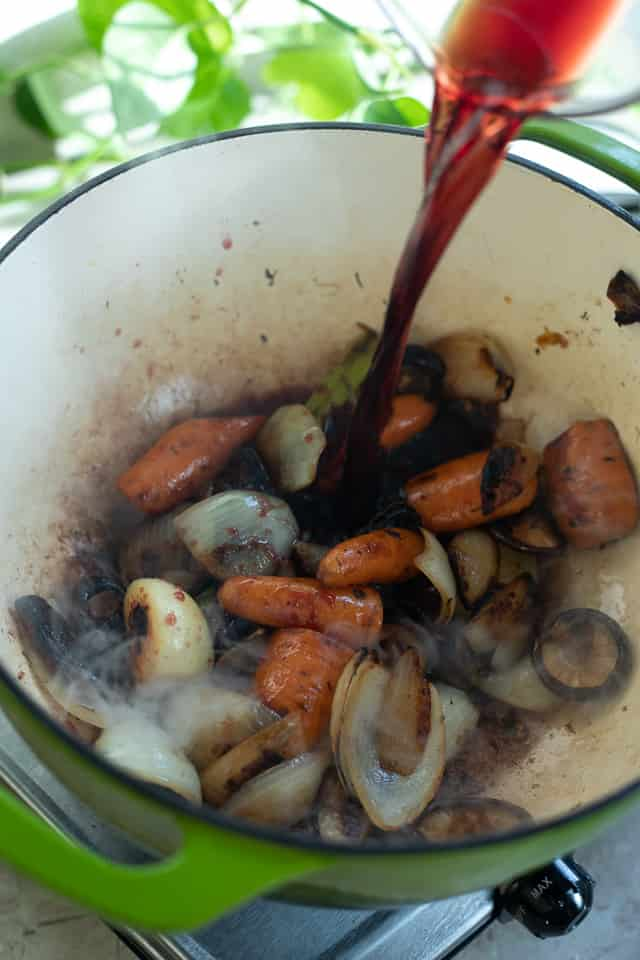 Add in the Rest of the Seasonings
The other add ins are iron rich that help make this broth taste more beefy.
Black Strap Molasses is iron rich with a slightly earthy, yet sweet flavor. It really helps create a 'bloody' and 'beefy' flavor in combination with the other vegetables. That being said, adding a few drops of pure liquid iron also does the trick. A food scientist recreated the impossible burger and used liquid iron to help get the burger that beef flavor.
It really does add a beefy and bloody flavor.
The best place to find liquid iron is at a health food store or to order it online- you won't find it at your regular grocery store. It's a game changing ingredient when you want a beefy flavor without the meat!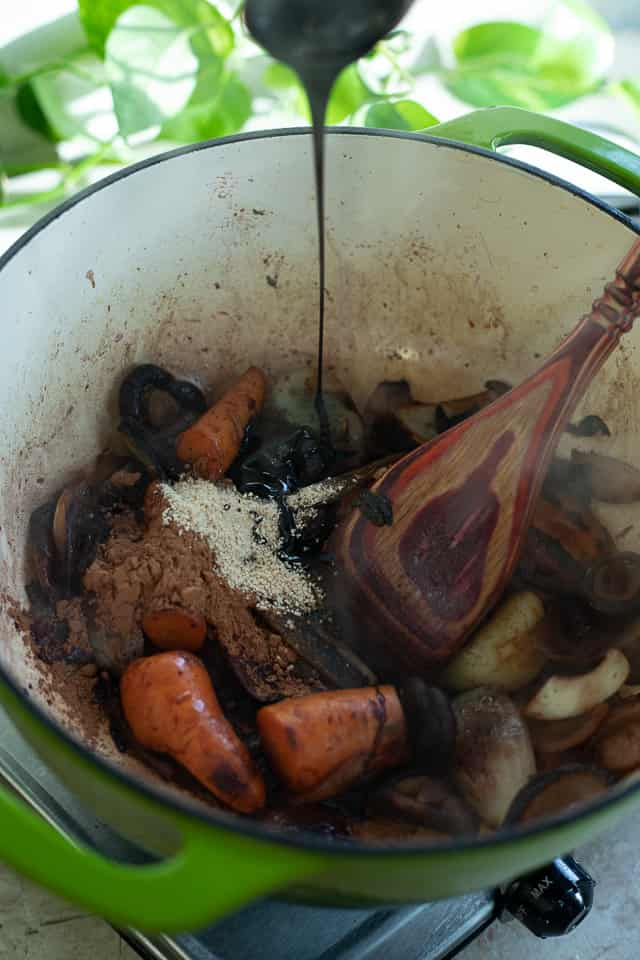 Mushroom Seasoning and Beet Stems
The other add ins to make this vegan beef broth perfect is some mushroom seasoning and coco powder. The mushroom seasoning can be found at any international grocery store and works as a substitute to MSG. It help adds a meaty yet salty flavor that complements the broth. If you don't have mushroom seasoning on hand no worries- you can add a tbs of dried mushroom powder with a tsp of sea salt to get a similar effect.

You'll add these additional ingredients after the wine has reduced into a syrup, you stir it to mix then add your liquids. This is where you add the water you saved from the dried mushrooms with your additional water.

This is where you add beet stems to the broth if you are looking for an extra redish hue. Whenever I buy whole beets I save the beet stems in the freezer for when I make beefy broth- it's a great way to use the whole vegetable. The beet stems are an optional add in to your vegan beef broth that does add a slight earthness to it that is delicate in flavor. Overall the beet stems don't have much of an impact on the overall flavor but it does give you a more realistic looking beef broth.

Let that simmer for at least an hour- up to 3 hours if desired. Then you strain the broth and it's ready to go!
Storing Vegan Beef Broth
Try freezing a jar of your vegan beef broth!
Here's how to do it without breaking your glass jar.
To store your beefy broth fill a glass jar 3/4s full, then refrigerate.
After it's been refrigerated overnight and is completely cooled you can freeze the jar. As long as the broth has room to expand and is completely cooled it will not break in the freezer!
The broth will keep indefinitely frozen in a sealed jar. Freezing your broth is a great way to meal prep for the next time you want to make pho, soup, or need some broth to simmer some seitan.
Vegan Beef Broth
How to Make a Beefy Flavored Broth Using Plant Based Ingredients.
Use this vegetarian beef broth use as a base for vegan pho, vegan beefy stew, or to simmer beefy seitan steaks in!
This Iron Rich Vegan Beef Broth Recipe Makes 8 Cups of Broth.
Print Recipe
Instructions
The night before making broth, add dried shitake mushrooms to 2 cups of water

Quarter and peel onions, chop carrots and celery into 3 inch sections, and crush garlic

Add the 1 tbs of sesame oil and the 1 tbs of olive oil to your pot, set to sauté put pot on medium high heat

Add in black pepper, onions, carrots, celery, soaked shitake mushrooms and sauté for 30 minutes to caramelize. (Keep the water the mushrooms soaked in)

Once the bottom of the pan is sticky add in the red wine to deglaze along with the two cloves of crushed garlic sauté until the wine evaporates and everything gets very sticky

Add in black strap molasses, coco powder, mushrooms seasoning, sesame oil, sea salt, and beet stems if using – stirring everything together.

Add the water the shitakes where soaking in and add in the additional six cups of water

Pressure cook for 30 minutes or 45-50 minutes on a stove top

Strain the broth with a colander, then again through a fine mesh strainer for a smooth broth
Notes
Beet Stems are a great way to add in a red hue to your beefy broth- they add the slightly earthy flavor, but are much more mild than a beet root.
This recipe is a fantastic way to use your beet stems if you buy the whole beet!
Keep some beet stems in your freezer for your next beefy broth
If you aren't able to soak the shitakes over night try to let them soak for as long as possible- at least 2 hours
If you want to dive into making this broth with zero prep you can microwave your mushrooms for 5 minutes- let it soak when you chop up your other veggies
Consider adding a jar of veggie scraps to this with equal parts water 
Can't get your hands on red wine? Substitute it with a tablespoon of balsamic vinegar and one teaspoon of dark maple syrup
Nutrition
Calories:

199

kcal

|

Carbohydrates:

22

g

|

Protein:

3

g

|

Fat:

10

g

|

Saturated Fat:

1

g

|

Polyunsaturated Fat:

3

g

|

Monounsaturated Fat:

5

g

|

Sodium:

1275

mg

|

Potassium:

674

mg

|

Fiber:

5

g

|

Sugar:

12

g

|

Vitamin A:

6098

IU

|

Vitamin C:

9

mg

|

Calcium:

71

mg

|

Iron:

2

mg

Hungry for more?
Check out the latest Wild and Vegan Recipes here

By