How to make vegetable broth from leftover scraps is easy, zero waste, a great way to reduce sodium, and will help you save money!
Not only is this recipe practical- it also tastes great and will help enhance all your future recipes.
Vegetables to Use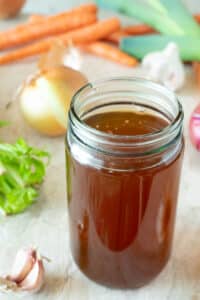 To make this veggie broth you'll need to start collecting your vegetable scraps. However, not all veggie scraps are created equal when it comes to flavor.
The types of scraps you want are onion, garlic, and potato peels. Herb and mushroom stems also help enhance the flavor. Be cautious when adding turmeric to your broth where too much will result in a bitter broth.

Try using the scraped out bits of squash and pumpkin to add a sweet depth to your broth. Squash guts in your vegetable broth add a sweetness that is amazing in curries!

The main thing to consider is saving vegetable scraps that do not get bitter. Greens and any cruciferous vegetables do not work in vegetable broth!
They will make your broth bitter and unusable.
Consider having a few jars saved for different varieties of vegetable broth. For example, if you have one jar that is very full of thyme stems and garlic skins try to use that vegetable broth for a lighter veggie broth. It would be perfect to use in Creamy Wild Rice Soup!
If you have a jar that is very full of squash scraps, ginger ends, sweet potato skins, or other sweeter vegetables try it in curry like Purple Potato Dahl.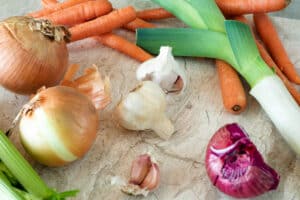 Salts and Spices
For ultimate depth of flavor in your broth try to use multiple kinds of salt and various herbs. For salt try a mixture of sea salt, black salt, and an infused salt. Black truffle salt or smoked salt are wonderful infused salts that can really enhance your broth.
After reading that MSG is not bad for your health and is naturally occurring in many foods- I started using it and really enjoy it in my soup broths. When I tasted it for the first time, instant ramen came to mind. It tastes just like instant ramen flavor packets (it's most likely the main ingredient). If you do add it make you use less salt because it also contains sodium.
Consider playing with different spices in your broth by considering what you are using your broth for.

To make soups with the broth like wild rice soup, or noodle soup consider adding more thyme, fennel, black pepper- ingredients you would use to season your soup.

For a vegetable broth that is for a ramen or an Asian inspired soup try adding some coconut aminos or soy sauce. Extra dried mushrooms and garlic are also great options to add to your veggie stock.

For a vegetable broth that is going into a curry try adding more fennel, a cinnamon stick, cloves, sage, black pepper, ginger, ect. Consider looking up your curry recipe and use those same spices to flavor your broth. This will add extra depth to your curry.
To make a 'beef' vegetable broth try using black bean aquafaba, beet scraps, a few drops of liquid iron, vegemite, maramite, red wine reduction, and some rosemary.

All of the vegetable broths you can make will benefit from a couple of bay leaves added to it as well.
Another option for your vegetable broth is incorporating aquafaba to it in place of water. Aquafaba is the liquid that is leftover from when you cook dried beans. Or the liquid in a can of beans.
The aquafaba adds extra minerals to the broth and can really add more depth to it. If you choose to add aquafaba to your broth sub out 50% of your water for it.
Storing Everything
Try storing your vegetable scraps in glass jars in the freezer until you are ready to make your broth. The proportions to make the broth is 1:2 of scraps to water. If some of your scraps freeze inside the jar rendering difficult to get out of the jar, simply pour some hot boiling water to help loosen it up. Otherwise you should have no issue scraping it out with a fork!

If you are making extra broth for later you can refreeze your broth in a wide mouthed jar. Leave at least a couple of inches at the top so there is room for the broth to expand as it freezes.
Unfortunately freezing a glass jar that is domed at the top is more likely to break, so try to stick with wide mouthed jars.
I do not recommend plastic storage since plastic is not a sustainable material and is damaging our climate.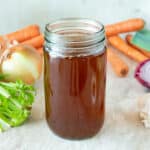 How to Make Vegetable Broth from Leftover Scraps
How to make a flavorful vegetable broth at home- easily! Once you have a jar worth of onion butts, garlic skins, carrot tops, and veggie peelings add in some water and cook out all that wonderful flavor into a broth!
Print Recipe
Ingredients
4

cups

Vegetable Scraps*

Onion Ends, Garlic Peels, Potato Peels, Winter Squash Peels, Squash Inner Flesh, Mushroom Stems, ect

8

cups

Filtered Water

1-2

tbs

Salt*

to taste

1

tsp

Black Pepper

2

tsp

Fennel

4

Whole

Dried Shitakes

Optional, Adds some depth
Instructions
Add everything to your instant pot and stir.

Cover and cook on high for 30 minutes.

Strain with colander, then strain again in a finer mesh strainer or nut milk bag.

Store your broth or use your broth, compost your leftover scraps

Use your broth within 4 days or freeze in a wide mouthed jar with at least 2 inches of space at the top.
Video
Notes
Don't have enough veggie scraps but need some broth?
Chop up a mixture of carrots, celery, onions, garlic, potatoes, and add what fresh herbs you have on hand in place your veggie scraps.

See the article above for flavor ideas to create the prefect broth for any dish
Try to experiment with different salts.
Black salt (kala namak), truffle salt, and smoked salt all add extra depth and amazing flavor.
Substitute the salt for soy sauce, aminos, or miso for more variations!
Consider what you are making this broth for when you add extra spices.
If you want to make a creamy wild rice soup with it check out what ingredients are in the soup recipe already- add those same spices to your broth.
The same goes for curries, casseroles, or whatever soup you want to make.
Just duplicate the spices the recipe calls for in the broth!
Nutrition
Stay updated with the lastest posts!

Here are more of the latest recipes

By