Purple Potato and Spinach Dal is a red lentil curry with spinach and purple potatoes in a sweet yet savory masala sauce.
This is the perfect balance of healthy, delicious, and comforting.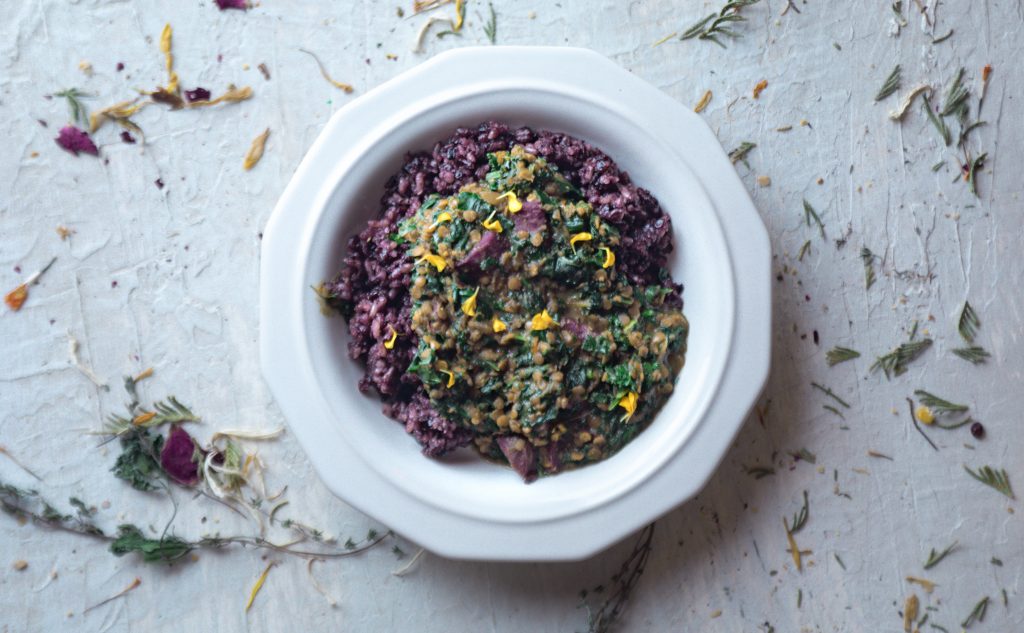 Customize Your Veggies and Herbs
In this Purple Potato and Spinach Dal there are so many ways to potentially customize!
You could skip the sweet purple potatoes and use other roots like russet potatoes, golden beets yams, or carrots. I've found red beets have do flavor it too intensely, if you want to add some add in a small amount.
Instead of spinach and kale you could swap in a variety of vegetables and herbs. Any variety of mushrooms, beet greens, turnip greens, dandelion greens, stinging nettles. For herbs fresh basil, bergamot, mint are all great additions. Whatever you have growing near you and that is in season is fair game!
If you need to swap out the red lentils for the green lentils then simply increase the cooking time of the lentils to 40-50 minutes (instead of 25!) depending on desired tenderness.
Playing With Spices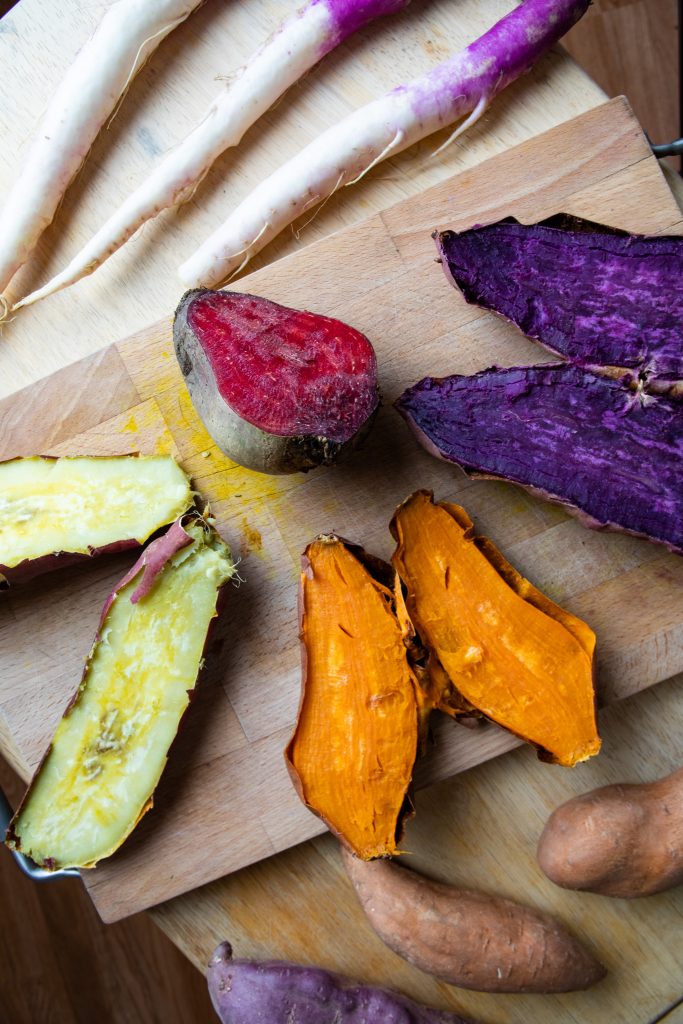 Other variations I like to play with are the spice combinations. If you don't have many of the spices recommended you could always use a premixed Gram Masala spice mix or a general curry mix. Gram Masala has a nutty, savory, yet sweet flavor. Most general Indian curry spice mixes will be more savory, spicy, without any nuttiness.

The main difference between the premade spice blend is that it will include fennel, anise, fenugreek, bay leaves, and chili, along with the spices I include with my recipe below. Feel free to add a teaspoon of any those spices to your curry if you are looking for a more savory and spicy curry. Especially if you are like me where you fall in love with how good you feel after eating curry and start making it weekly – variations are key! Which is another reason to try to eat seasonally- it helps mix up your recipes.

The spices below create garam masala blend – sweet, nutty, savory, with a hint of spice. With that in mind, you can pick up a bottle of garam masala spice to speed things up too! I find that it is more cost-effective to add the individual spices to create that spice combination than buying premade spice mixes despite the time it can save to use a tablespoon of that instead of the other spices.
When Healthy Tastes Amazing
Use fresh turmeric and ginger if possible for a richer flavor too!
You can save the skins from the turmeric and ginger and make golden milk. It is a warming treat that helps your skin glow and helps reduce body pain and aches. Both ginger and turmeric are famous for their anti inflammatory properties, which is another reason why I'm addicted to this curry.
My fiancé has joint pain from lymes arthritis, where he has less cartilage than most people. Making him curry, golden milk, or anything with lots of turmeric and ginger helps relieve his joint pain. As he puts it,
"I feel like I have more energy the day after I eat curry or golden milk".
Turmeric is considered a natural pain reliever and is incredibly anti-inflammatory like how ginger is. Try to make some curry like this recipe or golden milk if you have aches and pains, from a cold, to cramps, or maybe even a hangover.
Serve it up!
Serve this Purple Potato and Spinach Dal over your choice of black rice, brown rice, quinoa, or a more traditional basmati rice. Sometimes I'll eat in in a bowl without any grains and I'll eat it with a spoon and scoop it up with naan (or whatever toasted bread, tortillas, or crackers I have on hand.)
The photos I have for the curry have a rice blend of black and brown rice- creating that purple hue. It will taste amazing with all those grains, and if you're feeling extra creative, try it in a jacket sweet potato!
To Make it Oil Free
If you are looking for an oil free/low fat version of this recipe, substitute your oil for vegetable broth or aquafaba when you are sautéing your onions and spices. You can also use a can of light coconut milk, or 1 cup milk (of your choice), instead of the full fat canned coconut milk. Keep it mind that will loose the rich, creamy quality that the whole fat canned coconut milk will offer.
Consider that this is already fairly low in fat since the recipe is legumes, vegetables, and spices, and that this recipe has 6-8 servings depending your portion size. Even with the full fat coconut milk and the 1 tbs of oil, this recipe is loaded with protein and fiber. Making this recipe ideal for weight management.
So Much Potential Customizations…
When you look at the notes part of this recipe, don't get overwhelmed!
I want you to be able to customize this recipe for what you have on hand, and to your ideal flavor. You can add things to taste, ensuring a perfect curry each time.
I want this to become a staple recipe in your home- this recipe is a delicious and comforting way to really nourish your body.
This recipe can fit any budget, and you can even add foraged greens and herbs and it will taste fantastic. The powerful flavors in the curry neutralize any bitter flavors, making it ideal to experiment with dandelion greens, beet greens, nettles, and mustard greens. (All of these are considered more nutritious than kale!). I love adding my homemade chicken style seitan to this recipe to make it high protein too.
*Please note that if you are using foraged greens that you harvest from a location that has not been exposed to pesticides!*
I know you'll love this dish. Reach out to me and let me know how it goes!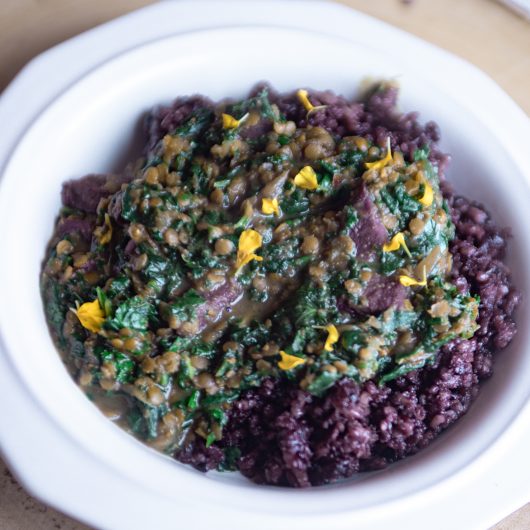 Purple Potato and Spinach Dal
Purple Potato and Spinach Dal is a healthy, hearty, plant based meal that is loaded with protein! This is a great meal to help you manage your weight, boost your immune system, and happens to be vegan!
Print Recipe
Ingredients
1

Can

Whole Coconut Milk

1

Cup

Vegetable Broth or 1 Cup Aquafaba***

1

Package

Frozen Spinach De-Thawed or 4 cups Chopped Fresh Spinach

1

large

Purple Potato

1

cup

Chopped Kale or Other Desired Green***

1

Medium

Red Onion

1/2

cup

Red Lentils

2

Tbs

Grated Turmeric

1

Tbs

Coconut Oil or Toasted Sesame Oil***

2

tsp

Garam Masala

1

Tbs

Grated Ginger

1

clove

Garlic or 1 tsp Garlic Powder

1

tsp

or 1 tsp Truffle Salt***

1

tsp

Whole Cumin Seeds

1

tsp

Coriander

1

tsp

Red Pepper Flakes

1/2

tsp

Allspice
Instructions
Roughly chop the red onion

Chop the purple potato into small cubes

Add your oil to a large stock pot and put on medium/high heat

Sauté onions in stock pot and add your cumin, coriander, red pepper flakes, salt, all spice, garam masala, turmeric, ginger, and garlic. Sauté everything together until onions are soft

Add the onions and spices to the blender on medium speed for 30 seconds and puree into a paste

Add your chopped purple potatoes back to the stock pot along with the curry paste from the blender with your vegetable broth

Stir well and then add your red lentils.

Cook everything on low/medium heat (at a simmer) for 20-25 minutes, stirring it every few minutes to prevent sticking

Once your lentils are cooked through add your kale and cook for one minute

Remove pot from heat, add your spinach and your coconut milk, then stir well

Serve in a bowl with your choice of rice, quinoa, naan, or right out of the bowl!
Video
Notes
If you do not have time to de-thaw your spinach add it at the same time as the kale at the end.
You don't want to cook your spinach with the heat on unless it's frozen- otherwise you are cooking out valuable nutrients.
The heat from the curry will wilt and cook the spinach, so do not cook on stove heat unless it is frozen!
Black salt adds a savory umami flavor. The sulfur smell will not carry through the curry but will instead add this savory quality that you can't get with sea salt.
Truffle salt has a similar effect, but it will carry a more earthy, nutty flavor alongside the umami flavor.
Both are fantastic in this recipe, I love using a 50/50 mix if I have both on hand.
If you don't have either black salt or truffle salt (you are really missing out), you can use smoked salt for a close result.
If you don't have a smoked salt since it is a specialty cooking ingredient, you can instead add 3-4 drops liquid smoke or 2 tsp mushroom powder with your plain sea salt.
To make mushroom powder simply blend up dried mushrooms into a powder to add a savory taste to your recipes.
Coconut oil and toasted sesame oil are both fantastic in this recipe. Using a coconut oil will enhance the sweetness in the coconut milk, making this curry sweet and savory, while really bringing out the lightness.
The toasted sesame oil pairs amazingly with the black salt, creates more depth in the savory flavors, and makes this dish feel extra comforting.
I've found that both plain aquafaba and vegetable broth work great in this recipe. I prefer using aquafaba over vegetable broth since it is low sodium, adds umami depth, and is extremely economical. I tend to have many jars of aquafaba leftover in my fridge since I make beans from dried in my pressure cooker or crock pot multiple times a week. It is a fantastic base for curries, soups, or any dish you would use vegetable broth with.
Since many people don't cook beans regularly and may not have aquafaba on hand, vegetable broth will work too.
Try to opt for low sodium if you can for better heart health. If you don't have low sodium vegetable broth then skip the salt in this recipe.
The kale (or additional greens) in this recipe is also optional.
I love that kale is loaded with vitamins A and K, so it is fantastic for eye and skin health. Dandelion greens work great in place of it and are considered even more nutritious than kale. The sweet and savory flavors completely cover up the bitter leaves, making it a delicious and affordable addition to this curry.
You've got to try it, dandelion greens in this curry got me to start growing dandelions on purpose in my yard! There isn't anything more affordable than foraging.
Beet greens, turnip greens, mustard greens, winter cress, and nettles would all be great additions to this recipe.
Nutrition
Love this recipe? You might like these…

Air Fryer Recipes Baking Recipes Bread Recipes Breakfast Candy Recipes Chanterelle Recipes Chicken of the Woods Recipes Comfort Food Recipes Dip Recipes Drink Recipe Eco Friendly Lifestyle Fall Recipes Fried Recipes Gluten Free Recipes High Protein Recipes Instant Pot Recipes Late Summer Recipes Lobster Mushroom Recipes Low Calorie Maitake Recipes Morel Recipes Muffins Recipe Mushroom Recipes Nut Free Oyster Mushroom Recipes Pasta Recipe Pizza Recipe Plant Based Seafood Recipes Sandwich Recipes Seitan sides snacks Soul Food Soup sourdough Soy Free Recipes Spring Recipes Stove Top Recipe Summer Recipe Sweet Recipe Tea Recipe Thanksgiving Vegan Recipes Winter Recipe Winter Recipes

By