Chicken Style Seitan- Made in the Oven
Juicy, tender, and chewy- this is the best seitan chicken recipe you'll find on the internet.
It makes the perfect base for many recipes and is much healthier than the over-processed frozen 'mock chicken' you'll find at the grocery store.
Make extra to keep on-hand in the freezer; you'll want it!
Seitan is my favorite protein source- it's tastes soooo good!
You know that 'mock duck' you would find at some Asian restaurants? That's seitan!
Buddhist monks would create what they called 'wheat meat' as a meat replacement, in addition to tofu. This is an age old food that has been created for thousands of years- a delicious protein source that really satisfies. Just like tofu, that's where seitan originated from.
But what about wheat gluten? Did you know that you can make it yourself? I haven't tried this method myself- but I want to show you what a natural and healthy ingredient it can be!

The main ingredient, vital wheat gluten, is a controversial ingredient due to the new gluten-free craze. I understand why many people try to avoid gluten; non-gmo wheat could increase your inflammation!
This is often because farmers will use heavy pesticides on wheat and those pesticides can cause inflammation in your body. Yes, even products labeled non-gmo will likely use high amounts of pesticides, and you should always look for the actual word, "organic".
Glyphosate is the main culprit of this- it increases inflammation in your body, can cause nausea, rashes, reproductive issues, and even depression. Glyphosate is the most common pesticide used on wheat and exposure to it will mimic a wheat allergy.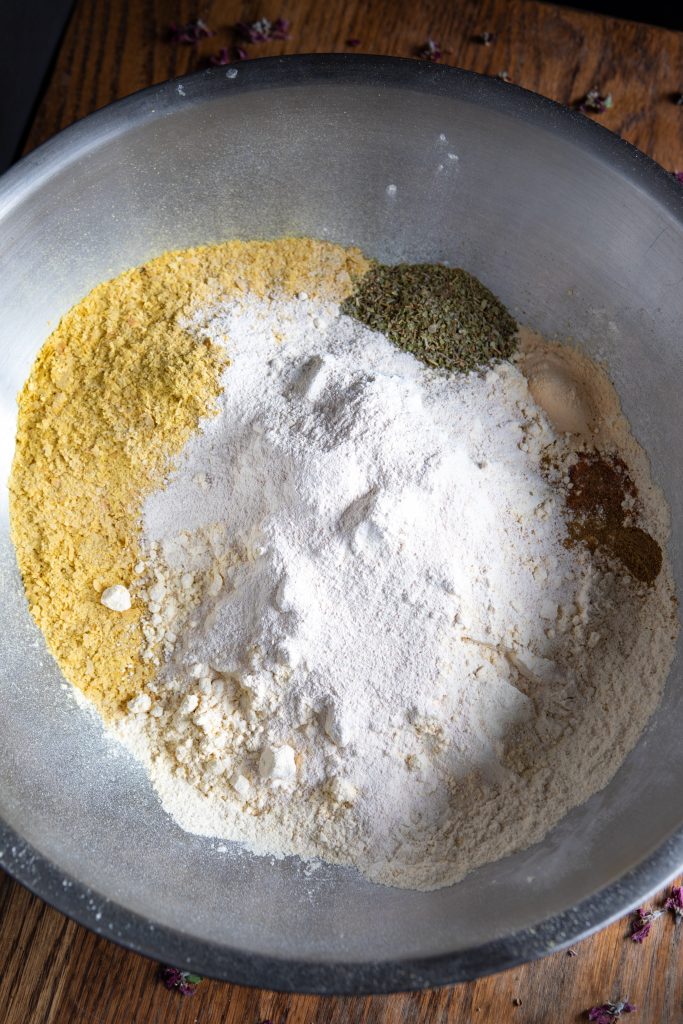 This is why I urge you to get organic wheat products if you are going to consume them!
I will only use organic vital wheat gluten because I can feel a physical difference when I do. The difference in price, and convenience is not worth my joint pain, upset stomach, and feeling unwell.
I used to buy Bob's Red Mill Vital Wheat Gluten, but I never will again until they make an organic version of it. When I used Bob's Red Mill I felt joint pain, I felt achy, sick to my stomach, and unwell. Not only did I have a bad time with Bob's Red Mill, but I also had zero negative effects when I switched to organic! It was so tasty, healthy, and made me feel great. Finding organic wheat gluten wasn't easy for me either. None of my local grocery stores carried it, and if anything, vital wheat gluten is being sold less and less because of the new Gluten-free craze.
After some searching, I was able to find it online and ordered it to my house! *I'm not being sponsored by affiliated with Azure Market- they are simply the most affordable, high-quality ingredients I've been able to find. Amazon's stuff was much more expensive for this- weird right?
Let me know if you find anything other organic vital wheat gluten you love!* Enough ranting- you've got to try this tasty AF mock chicken.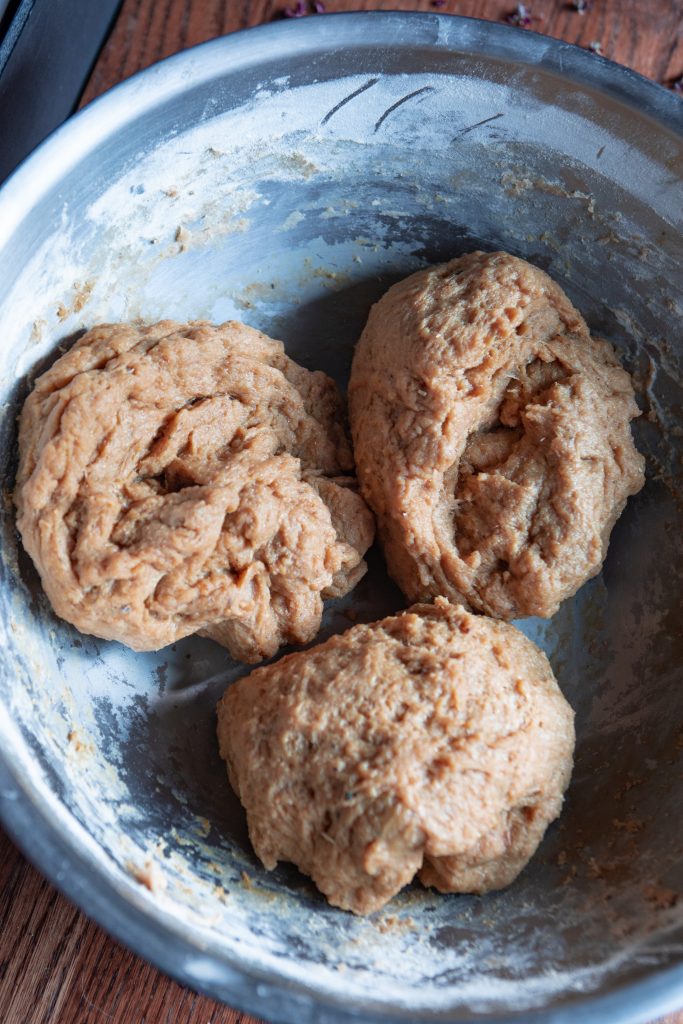 I love my seitan pan-fried after baking it, however the texture will be the best if you let it rest overnight.
When shaping dough into loaves, try it in patty portions for sammies, or break it into small chunks for nugs!
Try to keep the top half out of broth or it could get too soft and mushy, and remember to flip it halfway through cooking.
To store, I simply wrap it up in parchment paper and freeze it!
It will taste fantastic for up to 6 months, after that it starts to taste like freezer.
After that, its your call if its still good but I can't guarantee anything past that. To reheat after freezing I would completely allow it to defrost in the fridge before cooking it- otherwise you might get a cold center.
You seriously have to try it breaded and pan-fried – it makes the best chix parm or chix nuggets. I know you'll enjoy!
Try out the Seitan Chicken Recipe with this vegan chicken alfredo pizza, in place of the eggplant in the eggplant parmesan sandwich, in this Sweet Potato Spinach Dal, or in the place of hen of the woods to make wings!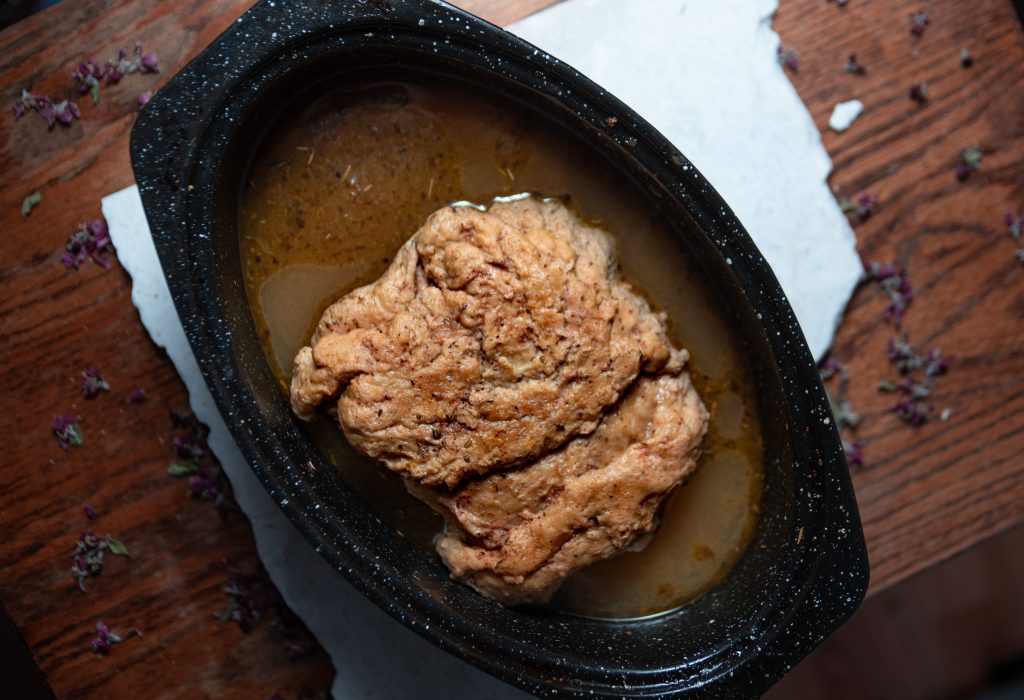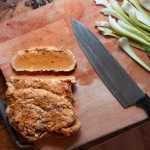 Mother- Clucking Seitan
This makes 3 Chicken Style Seitan loaves
Print Recipe
Instructions
Mix all your dry ingredients together

Add all the wet ingredients, reserving the additional to cups of broth

Mix well, and divide into three sections, kneading each section for at least twenty minutes* or Do not knead, mix the dough until combined and let rest overnight

Preheat your oven to 350 Add two cups of vegetable broth to a dutch oven

Place your loaf into the pan with broth, and rub oil over any of the exposed loaf

Lightly dust the oiled loaf with more poultry seasoning and a bit of nutmeg

Bake for 40 minutes, checking on it half way through, spoon some of vegetable broth over the exposed part to help keep it moist

Flip it, coat the exposed loaf in more oil, and add more seasonings

Bake for an additional 15 minutes

Repeat steps 6-10 for each loaf, reusing the vegetable broth, adding more as needed
Notes
The longer you knead your dough the chewier, more ribbon filled, and elastic it will be
If you let your dough rest overnight you do not need to knead it and it will get ribbon filled
Try to use black salt if possible, however truffle salt will also add a similar depth, MSG also works here.
To make it even more 'chicken like' add an additional 1/3 cup of coconut oil- this will make the loaf more juicy.
Alternatively, you can make this recipe oil free. If you do this, every ten minutes splash your roasting seitan with more vegetable broth to help keep it from drying out.
Instead of breaking up the loaf into 3, try breaking it into 9 or 12 for seitan patties- perfect for sandwiches!
Reduce your cooking time to 30 mins, then flip and cook for another 10 mins
Try breaking up your loaf into small nuggets. Reduce cooking time to 25 mins before flipping, then cook for another 5-7 mins
Then bread them and fry them for chicken style seitan nuggets!
Nutrition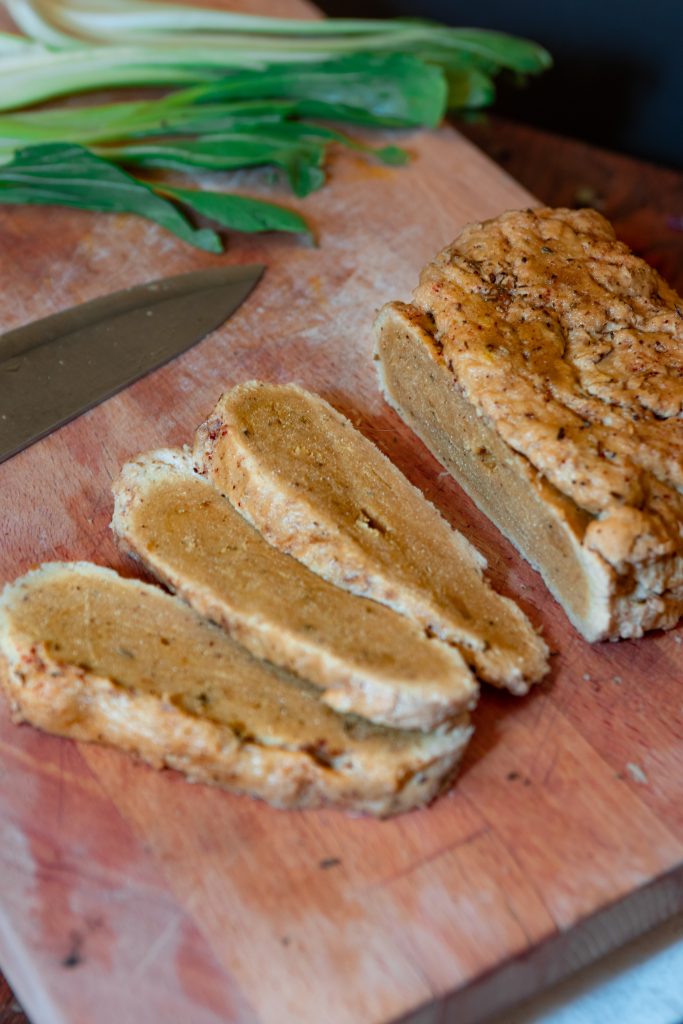 You might also like these recent recipes and posts…

By