Pan Fried Vegan Eggplant Parmesan encrusted in Italian Herbs with Breading, Layered inside Focaccia Bread with Almond Ricotta Cheese, Fresh Basil, with Thick Tomato Sauce.
This sandwich is pure comfort, and completely plant based. It is the perfect way to use up your end of summer veggies!
If you are a regular at a famers market in the summer, a gardener, homesteader, aspiring or otherwise, this is the recipe to make especially at the end of August.
Eggplants, peppers, tomatoes, and basil are all bountiful this time of year. Consider making a fresh tomato sauce to go on this sandwich as well, since it's a great way to use up summer veggies!
I didn't include a red sauce recipe for this Vegan Eggplant Parmesan since you only need a few spoonfuls to make it possible.

A simple way you can make a fresh red sauce is cook down your tomatoes in a little red wine, add some onion, garlic, and whatever fresh herbs you have access to. I used a combination of fresh bergamot, anise hyssop, basil, and cat mint that I grew in my garden. Check out how to grow your own perianal herb garden!
Adding traditional herbs like oregano and thyme is also perfect in your red sauce, but be sure to salt it! As always, taste as you go, and trust your instincts.

That being said, this is also a perfect recipe to make in the middle of winter for ultimate comfort food. Try pairing it with minestrone or tomato soup for a full comfort food experience. For a fresher experience serve it with a balsamic summer salad! I love using spinach, red onion, olives, and whatever is plentiful in my garden for a salad to pair.

The purple pepper in this is optional. I enjoy the crisp it adds to the sandwich and plays into the summer vegetable vibe. A roasted red pepper, sundried tomatoes, peperoncini piccanti de calabria, or capers would all be wonderful additions as well.
That being said this sandwich will still be incredible without peppers, or if you wanted to use fire roasted peppers in their place. Sundried tomatoes would also taste incredible with this sandwich as well.
Another fun option is adding pickled red onion to it!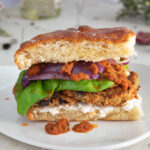 Eggplant Parmesan Sandwich
Everything you love about eggplant parmesan- but in a handheld form
Print Recipe
Ingredients
1/2

whole

Eggplant

4

Slices

Focaccia

4

tbs

Almond Ricotta

4

Fresh Basil Leaves

4

slices

Bell Pepper

4

tbs

Red Sauce
Flax Eggs
2

tbs

Flax Seed Powder/Chia Seed Powder

6

tbs

Water (1/3 cup plus 1tbs)
Eggplant Parmesan Breading
Instructions
Create your flax egg by whisking the flax seed powder to water, then set aside

Mix together everything you need for the Eggplant Parmesan Breading, set aside

Thinly slice your eggplant, then dip in your flax egg, then dip in the breading, repeat once more and set aside, then repeat this process with each slice

Alternatively you can fry them in a pan with a generous amount of oil on medium high heat, cooking for 5 minutes then flipping it. Place your fried eggplant on a clean tea towel to absorb excess oil – Or for an oil free option…. Place in the air fryer at 400F for 10 minutes, flipping once*

Spread your ricotta over your bread then place your eggplant over it. Top with your fresh basil, bell pepper, then your red sauce- top it with another slice of bread
Notes
In place of a fresh bell pepper try using a fire roasted pepper
If you do not have an air fryer and want to keep this recipe oil free bake in the oven at 400 for 15-20 minutes or golden brown, flipping it halfway through
Try this on a ciabatta bun instead of sliced focaccia
Don't have any nutritional yeast flakes? Try using a plant based parmesan instead! There are lots of great brands out there and recipes you can find.
Another option is to add 1 tsp of smoked paprika and some black truffle salt- the key here is to get that umami flavor.
Nutrition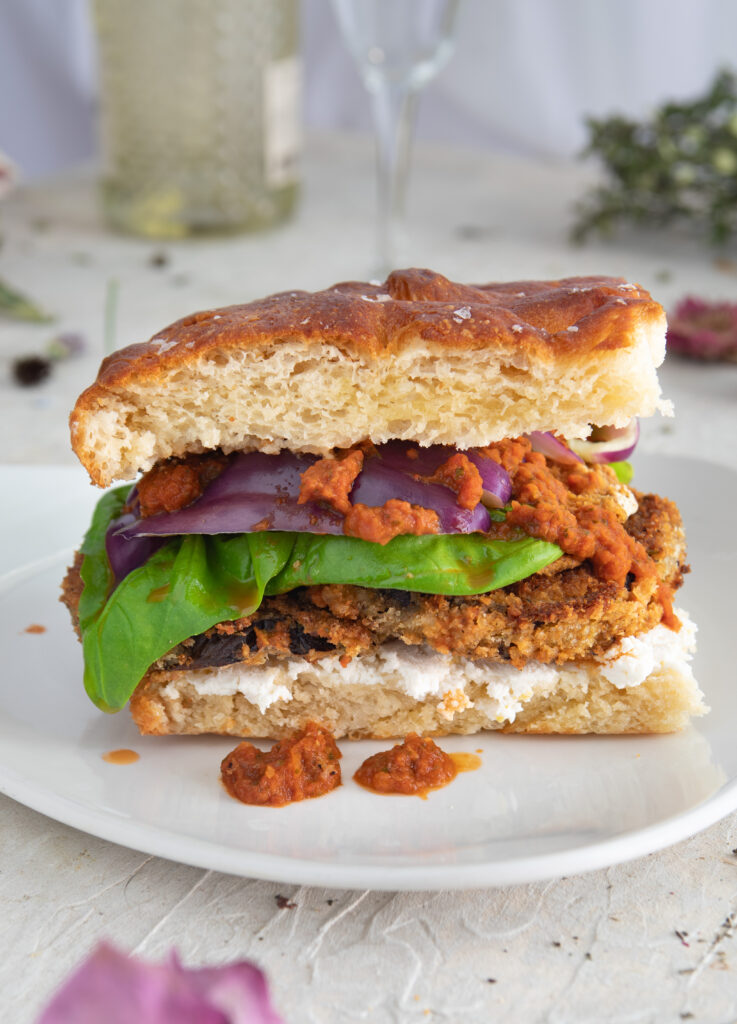 Like this recipe?
Try out this Vegan Chicken Alfredo Pizza!
Want to see more recipes?
By