This oyster mushroom jerky has all the savory, meaty flavors while delivering that chewy and hearty bite; this oyster mushroom jerky is just addicting! This recipe is super simple for creating a healthy yet meaty snack!
These oyster mushrooms are soaked in sauce then dehydrated into a chewy and meaty jerky.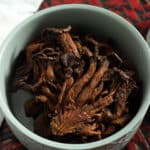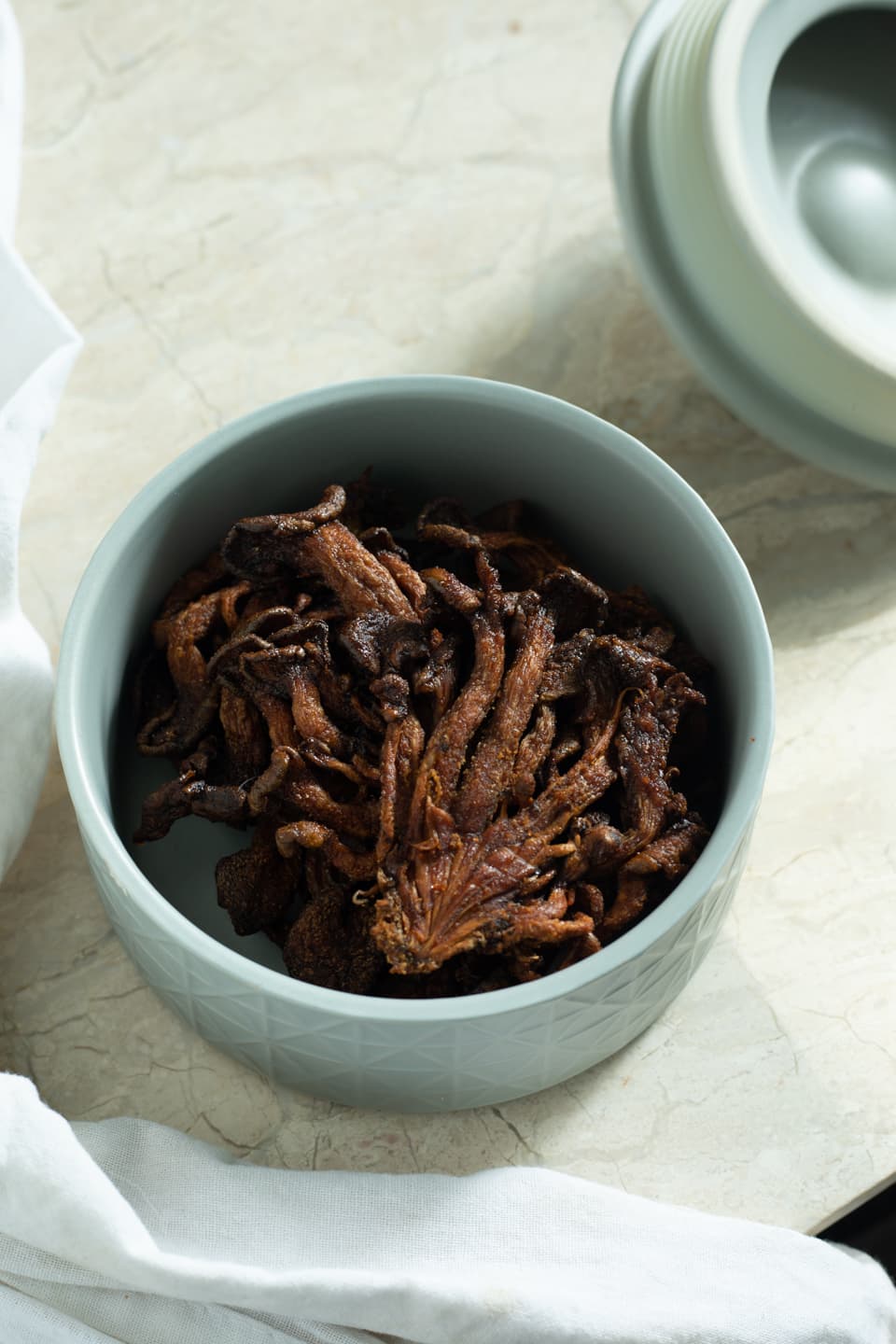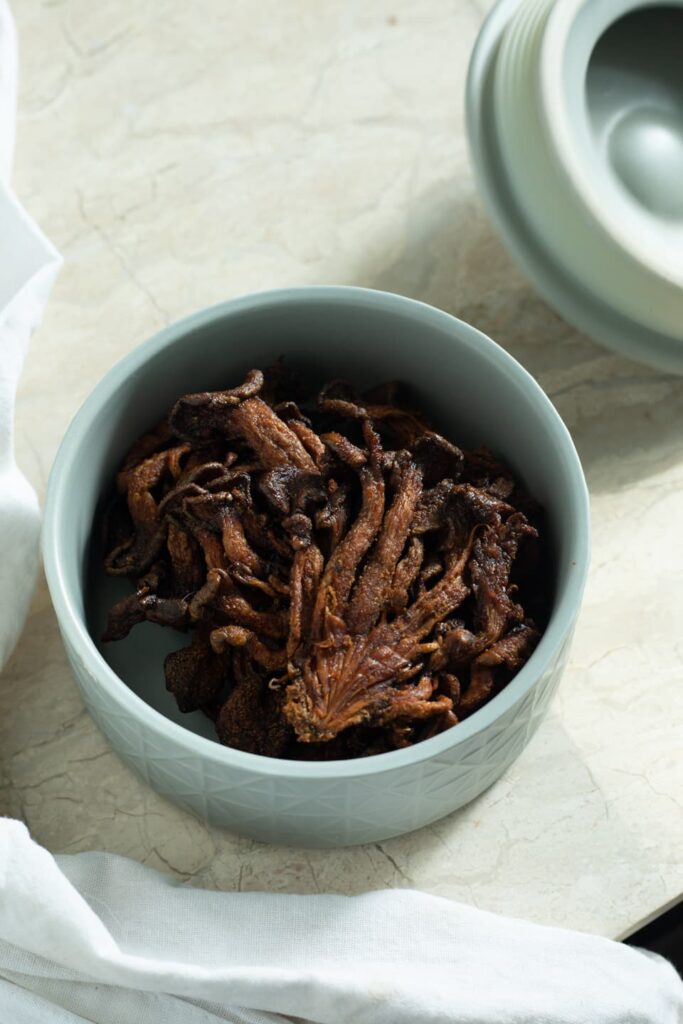 Where to Find Oyster Mushrooms
Buy Them
You can find Oyster Mushrooms in the produce section of your local grocery store. Most grocery stores carry them, but particularly places like Whole Foods, PCC, Natural Grocers, or really any upscale grocery store. International grocery stores like H-Mart, Pacific Ocean Market Place, Uwajimaya. The best prices for oyster mushrooms are often found at the farmer's market.

Grow Them
Oyster Mushrooms are a simple mushroom to grow and there are tons of oyster mushroom grow kits out there, but there are also lots of guides on DIY growing your own oyster mushrooms from spawn out there.
Oyster mushrooms are regarded as one of the easiest mushrooms to grow at home!

There are many, many ways you can grow oyster mushrooms. You can inoculate a log with plugs filled with oyster mushroom mycelium. You can add wood chips and coffee grounds to oyster mushroom spawn inside of a bucket with holes. The book Growing Gourmet and Medicinal Mushrooms is a great resource to get started. Otherwise, Facebook has numerous mushroom growing groups that are very helpful as well.
Another great resource is your local chapter of the Mycological Society! Many of them will hold mushroom growing events or will have other people with information on how to grow them. There are many experts who have fantastic classes on this subject!

Forage Them
Oyster mushrooms are a great mushroom to forage!
They grow all across the globe, from North America to Asia. They like to grow on dying or recently dead hardwood trees. Like most mushrooms, they love rain! They tend to fruit in rainy seasons like spring, fall, and winter in some locations. iNaturalist is a great resource to use when foraging to see when (or if) they fruit in your area. It's a website and an app developed by Biologists to help track what is growing in our environment. Many Mycological Societies promote it and encourage its members to help log mushroom findings!

If you are interested in foraging be sure to check out your local chapter of the Mycological Society.
When I lived in Denver, I loved meeting the members of the Denver Mycological Society. In Seattle the Puget Sound Mycological Society also has a lot of helpful resources and information that makes foraging fungi safe!
They are all around the country!
Mycological Societies will have ID clinics to help you properly identify your mushrooms and will often have foraging field trips, as well.

Please do not eat any mushrooms of which you are not 100% confident in its identification!
Oyster mushrooms do have one similar look-a-like – angel wings. They are white and do not grow in clusters like oyster mushrooms. They can cause stomach upset and GI issues. Confirm your mushroom with ID books, ask ID groups online, or bring it in to an ID workshop hosted by your local mycological society!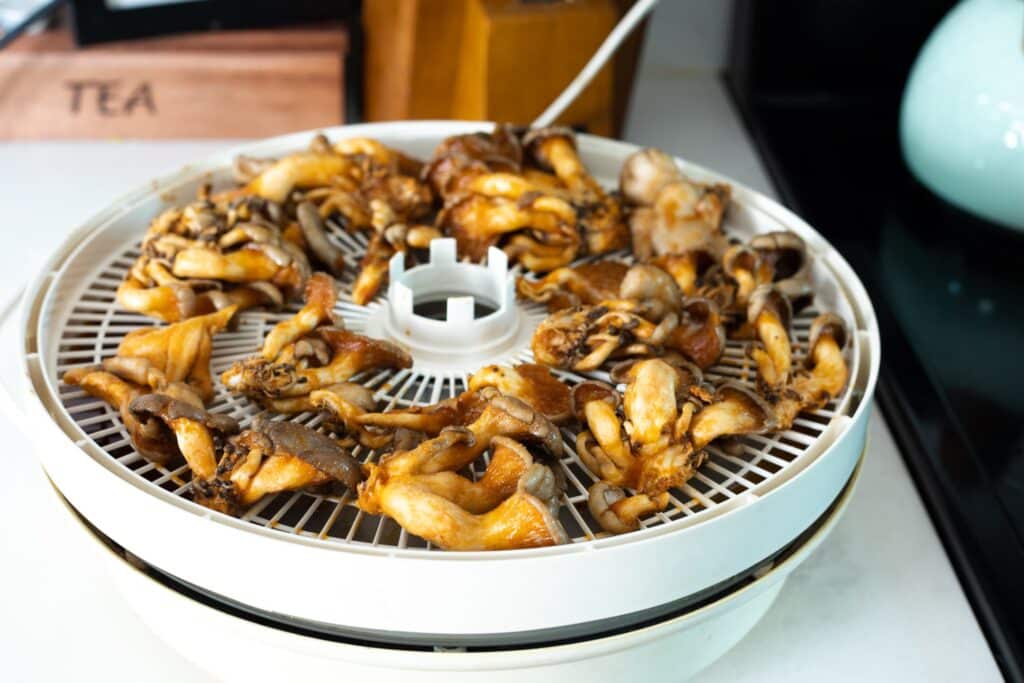 Making the Mushroom Jerky
To make these all you need to do is dip the mushrooms in sauce and add to a dehydrator- that's it!
This jerky is fantastic with any variety of oyster mushroom.
They are fantastic with blue oysters but will also work with queen oysters, king oysters, yellow oysters, or pink oyster mushrooms are also great choices!
The sauce for making this jerky uses a blend of savory, salty, and slightly sweet ingredients. All of this helps give the chewy and meaty jerky a punchy flavor.
Coconut Aminos is widely known as a 'soy sauce replacement'. However, it is much more than that, as it has its own distinct flavor profile. It is salty like soy sauce, but it has a sweetness and a lightness to it. It's fantastic mixed with soy sauce! Soy sauce has a very pungent flavor that often can be overpowering yet gives these mushrooms a depth that really help make them extra meaty tasting, which is why a combination of both coconut aminos and soy sauce creates the perfect marinade for these mushrooms!
The Gochujang is optional; it helps adds a spicy yet savory element that really helps complete this jerky. If you don't want any spice in this jerky, try substituting it for red or barley miso (any miso works).
When adding the maple syrup opt for a dark grade variety so it adds that molasses-like flavor. Black strap molasses also works great here and adds that iron flavor that really gives theses mushrooms a bloody taste.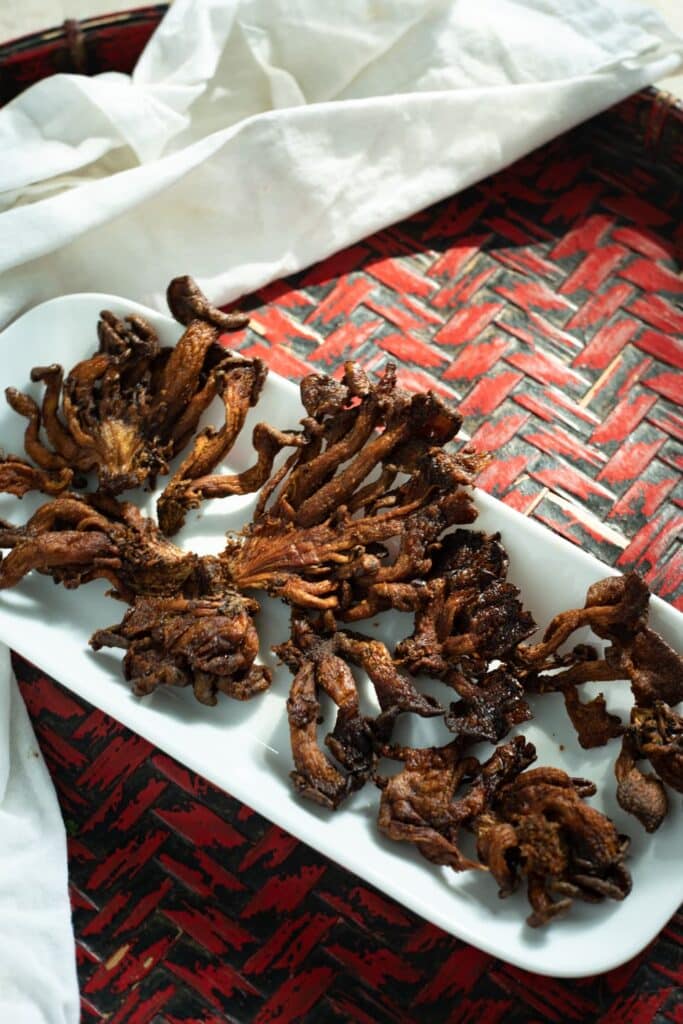 Looking for Other Vegan Wild Mushroom Recipes?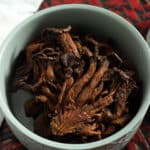 Oyster Mushroom Jerky
These oyster mushrooms are soaked in sauce then dehydrated into a chewy and meaty jerky.
Print Recipe
Instructions
Mix the marinade together and coat the mushrooms in your

Place in dehydrator at 135F overnight or for about 15 hours
Notes
Other flavoring options:
1 tbs Nutritional Yeast Flakes
1 tsp Mushroom Seasoning
1 tsp Red Miso
2 tsp Chili Crisp
Completely replace these seasonings and use your favorite BBQ Sauce
Coconut Amnios and Soy Sauce?

Both of these flavorful sauces are fantastic with the mushroom jerky. Soy Sauce is much saltier and powerful in taste where coconut aminos adds a salty sweetness that really helps round out the flavors. Both of these sauces taste fantastic together! That being said, you can replace one with the other. While it is recommended you use both, this recipe will still taste great if you just pick one to use too. 
Nutrition
Calories:

213

kcal

|

Carbohydrates:

20

g

|

Protein:

4

g

|

Fat:

14

g

|

Saturated Fat:

7

g

|

Polyunsaturated Fat:

3

g

|

Monounsaturated Fat:

3

g

|

Sodium:

189

mg

|

Potassium:

522

mg

|

Fiber:

3

g

|

Sugar:

11

g

|

Vitamin A:

54

IU

|

Vitamin C:

0.1

mg

|

Calcium:

18

mg

|

Iron:

2

mg

Try this recipe?
Please give it a rating and let us know how it went!

Looking for more recipe inspiration?
Here's the latest content:

By