This creamy chanterelle pasta is vegan with straight forward ingredients! Chanterelles are a fruity, yet musky mushroom that is incredible in a creamy sauce that is brightened with a bit of lemon zest. With wide tagliatelle noodles, the pasta is garnished with thyme and more chanterelles.
This recipe has you dry sauté the chanterelle mushrooms to crisp the edges and give them a proper bite. Then they are tossed in a citrus infused olive with fresh thyme- this really brings out the fruity nature of the wild chanterelle mushrooms.
This chanterelle pasta uses tangeli noodles in cashew cream sauce with lemon zest.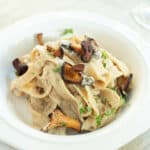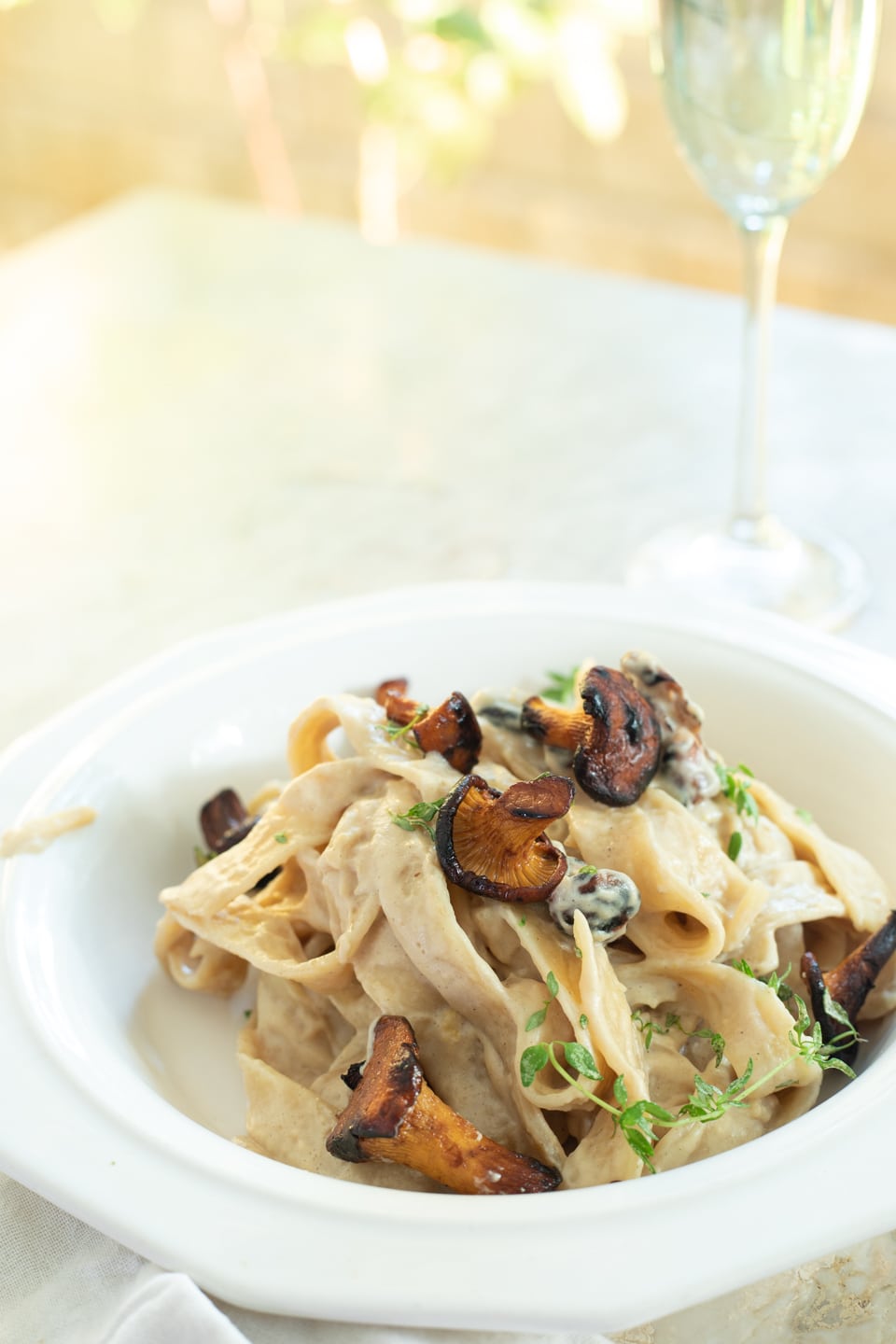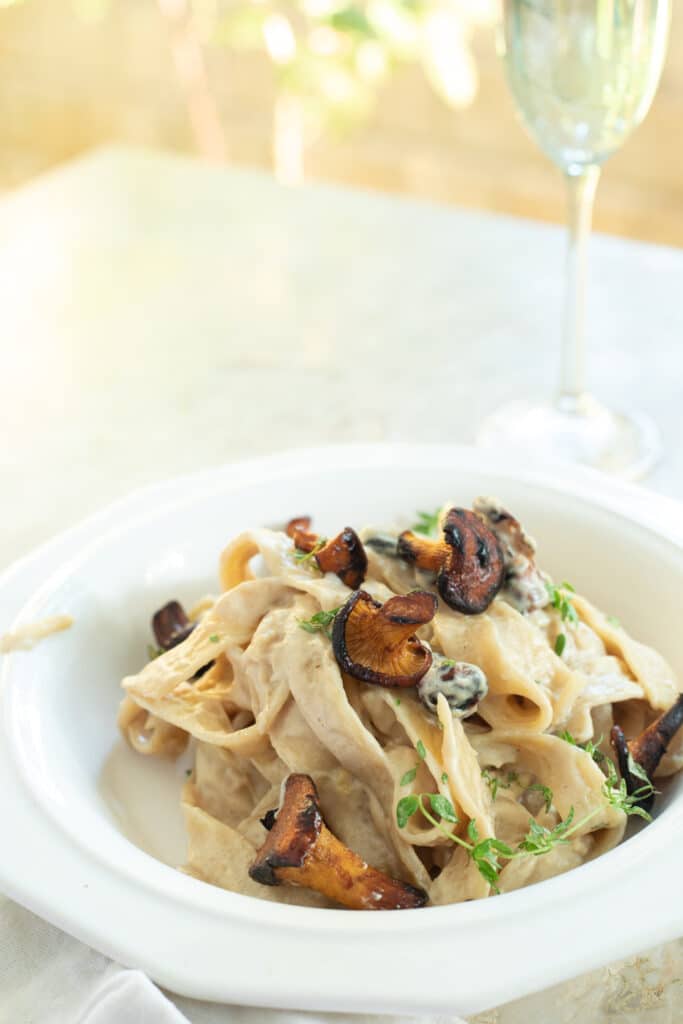 Chanterelle Mushroom Tagliatelle
The best noodles to use for this pasta is tagliatelle!
The long and wide noodles wrap around the plump chanterelles giving you a creamy, yet meaty bite, with the layers of noodles. An alternative tagliatelle to noodles are linguini noodles, another long noodle with a thick base.
Cream Sauce for the Chanterelle Pasta
Chanterelles are a fruity yet musky tasty mushroom- which pairs well with citrus and cream. The lemon zest in this cashew cream sauce brightens the pasta while bringing out those fruity flavors in the mushrooms. The soft and rich cashew cream sauce is rich, buttery, savory, yet bright with the lemon zest.
Cashew vs Coconut Cream
Raw cashews are recommended for this sauce since they have neutral flavor that blends into a rich cream. High powered blenders like a Vitamix can blend up roasted cashews into a smooth cream. When using a high powered blender, you can use roasted cashews which, otherwise only use raw cashews for this recipe.

However, if you have an allergy, you can substitute cashews with Coconut Cream. Do not use coconut milk as that will make the sauce too thin, but the semi solid coconut cream works great here.
Soy Milk
Soy milk is recommended as it is a neutral flavored milk that is high in protein. It reduces nicely and emulsifies with the cream and oil well that makes a delightful texture. If you have a soy allergy you can use another type of milk, however it may affect the overall texture of the sauce. The soy milk makes the cream sauce almost frothy- which is difficult to achieve with other lower protein milks. That doesn't mean that using other milks is off the table! Try using an oat milk, almond milk, or even a hemp milk for this pasta if you need!
Mushroom Broth
A mushroom broth adds the saltiness, depth, and helps cut the sweetness from the sauce. While you want a bright citrus note, the sauce should be creamy and savory. The mushroom seasoning is especially important if you substitute the cashews for coconut cream. The flavor of the mushroom broth masks the sweetness of the coconut, leaving you with a rich, creamy, slightly salty sauce that is full of flavor.
The simplest way to achieve this is to add a tablespoon of mushroom seasoning to one cup of water. That mushroom seasoning can be used as a flavor booster and is a fantastic seasoning. It is a staple in my pantry, and I highly recommend it.
Otherwise, a premade mushroom broth like this will also do the trick.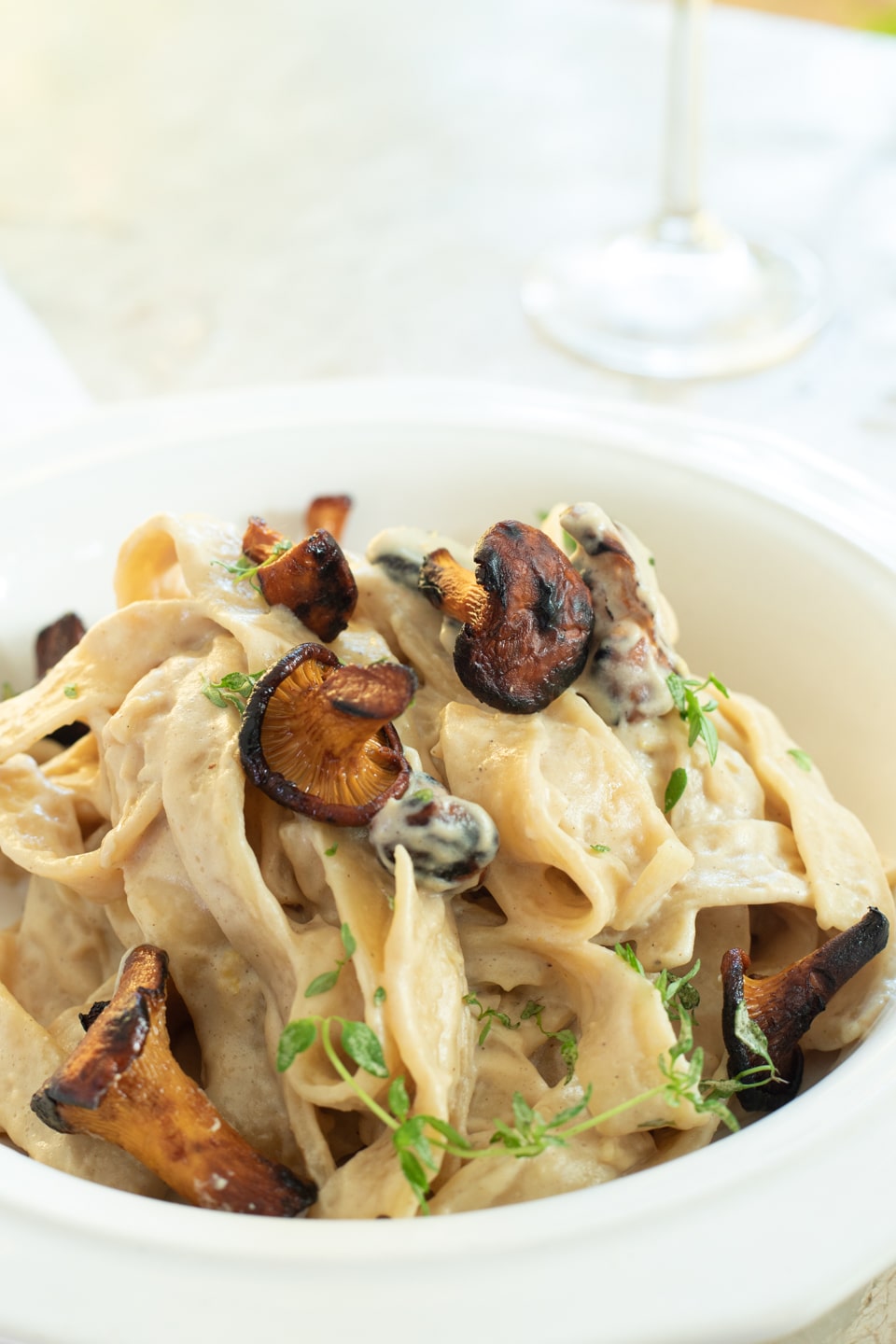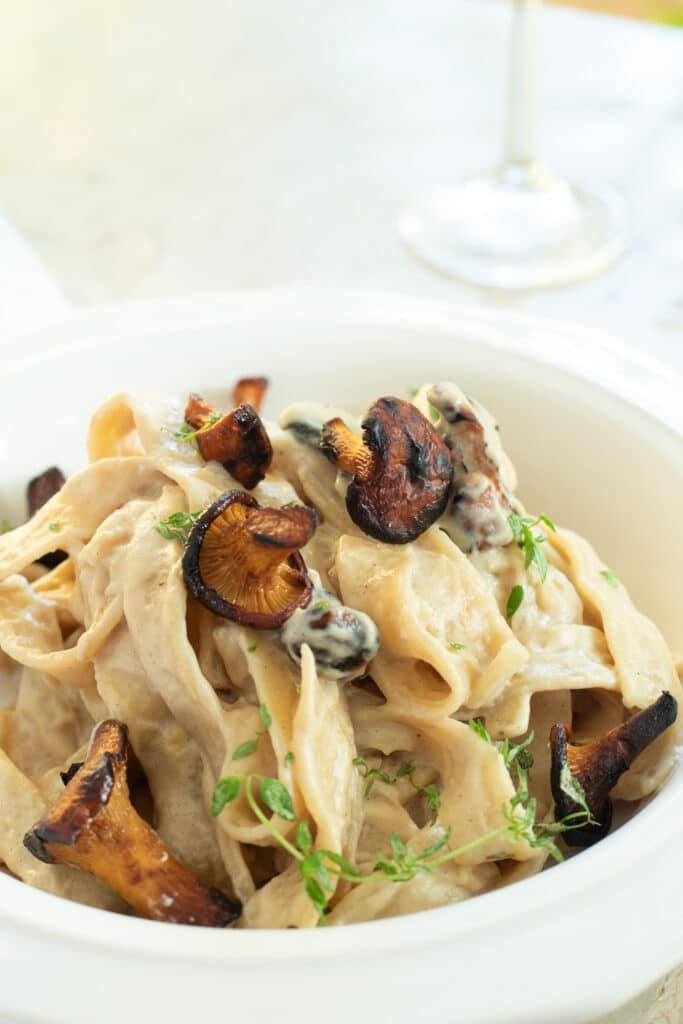 Chanterelle Mushrooms
The chanterelles are dry sautéed then tossed in an infused oil after they are cooked. The dry sauté removes excess moisture and gives you crispy edges. It is an important step that really makes these mushrooms an enjoyable experience! After they are crispy on the edges you toss them in a citrus infused olive oil. An orange infused or lemon infused olive oil is incredible with these mushrooms. However, if you do not have an infused oil you can use regular olive oil and add a small squeeze of lemon juice over the mushrooms.
To use dried chanterelles simply soak half an ounce of them in cold water for 20 minutes.
Then dry sauté them like you normally would.
If you want to substitute the chanterelles all together wild honey mushrooms are a great alternative! If you are curious if honey mushrooms grow in your area check out the map on INaturalist– it's a great resource for foragers!
Looking for More Wild Mushroom Recipes?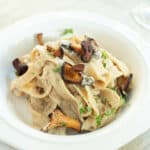 Chanterelle Pasta
This chanterelle pasta uses tangeli noodles in cashew cream sauce with lemon zest.
Print Recipe
Ingredients
Chanterelles
1½

Cup

Chanterelles

Fresh (3 oz or 90 grams)

1

tsp

Thyme

2

tsp

Olive Oil Try infused orange or Lemon Olive Oil

Black Pepper
Instructions
Pour hot boiling water over the cashews, set aside

On low/medium heat add 3 tbs coconut oil, 1/2 of minced white onion, the 3 cloves garlic, and the 1/2 tsp sea salt

Stir to evenly coat, place lid over the pot and let cook for 15 minutes

Remove lid and bring to medium high heat

Add 1 tsp white wine vinegar, 1 cup milk, and 1 cup mushroom broth

Bring to a boil then remove from heat.

Pour the mixture into a blender, strain the cashews and add them to the blender with everything else

Blend on high for 3 minutes or until smooth

Fill a pot with salted water to cook your pasta

Bring a frying pan up to high heat

Add the chanterelles and cook for 4-6 minutes or until the edges start to get crispy

Add 2 tsp of infused olive oil, and the 1 tsp of thyme

Remove from heat

Add a pinch of salt and pepper

In a large pot add your cooked pasta and pour over the sauce, bring to low heat

Once it starts to bubble remove from heat

Zest 1 large lemon and add it to the pasta, stir in half of the chanterelles

Serve pasta with the leftover chanterelles over top of each plate

Garnish with fresh thyme
Notes
To make a quick mushroom broth add 1 tbs of mushroom seasoning to 1 cup water. 
Otherwise use your favorite recipe to make homemade mushroom broth or use store bought. 
If you are using a high speed blender like a Vitamix you can use roasted cashews in place of raw. Blenders like Vitamix will blend the roasted cashews into a smooth cream regardless of whether it's raw or not. Still follow the steps where you soak the cashews in hot boiling water. 
If you are unsure about your blenders power, stick with raw cashews. 
Nutrition
Calories:
502
kcal
|
Carbohydrates:
64
g
|
Protein:
15
g
|
Fat:
22
g
|
Saturated Fat:
11
g
|
Polyunsaturated Fat:
3
g
|
Monounsaturated Fat:
6
g
|
Sodium:
330
mg
|
Potassium:
487
mg
|
Fiber:
4
g
|
Sugar:
6
g
|
Vitamin A:
261
IU
|
Vitamin C:
7
mg
|
Calcium:
117
mg
|
Iron:
3
mg
Did you try this recipe?
Please scroll down to rate it and share how it went!
Looking for more recipe inspiration?
Here is the latest!
By