This is the best morel pasta recipe – and its completely plant based! This decadent pasta uses shallots, garlic, and thyme cooked into butter sauce. That simple sauce is cooked into the wild morel mushrooms; the pasta is topped with these, and plant-based parmesan.
This morel garlic pasta is made with a simple butter garlic sauce infused with thyme. It is then garnished with plant-based parmesan and edible flowers to create the best morel pasta recipe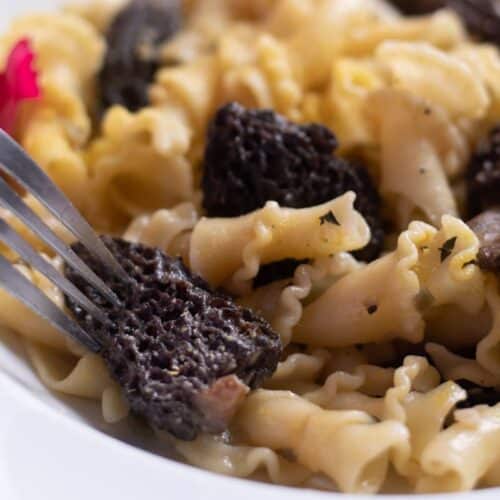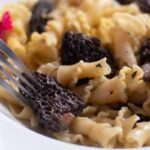 Vegan Wild Mushroom Pasta
Morels are the perfect wild mushroom to add to this simple pasta!
Morels are a very porous mushroom that makes them ideal for flavorful sauces. The morel has a very hearty, deep flavor with a light and delicate texture. With their porous texture they make ideal little 'sponges' to pick up all the subtle flavors of the sauce.
A simple butter-garlic sauce is created with shallot and thyme to flavor the pasta. It's simple, subtle, and lets the delicate flavors of the morels shine through. When the pasta is garnished, it is dusted with plant-based parmesan and edible flowers.

It's very simple, but oh, so lovely.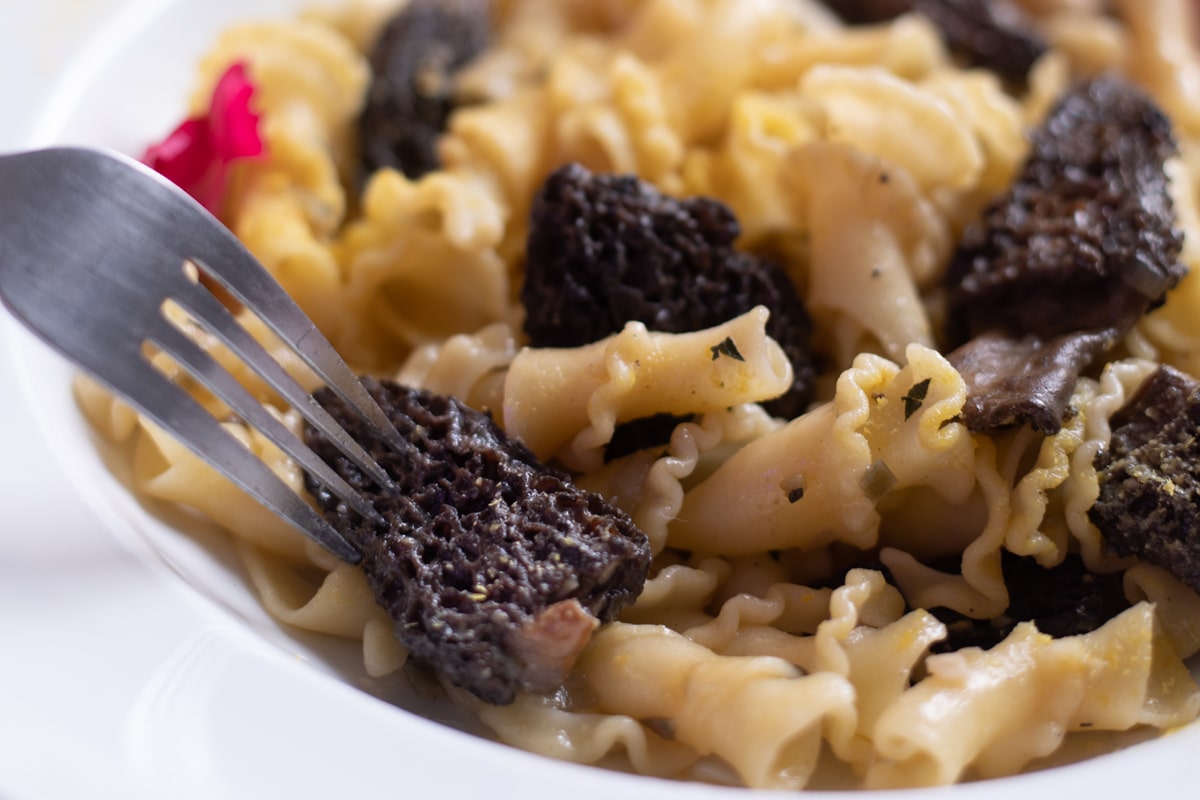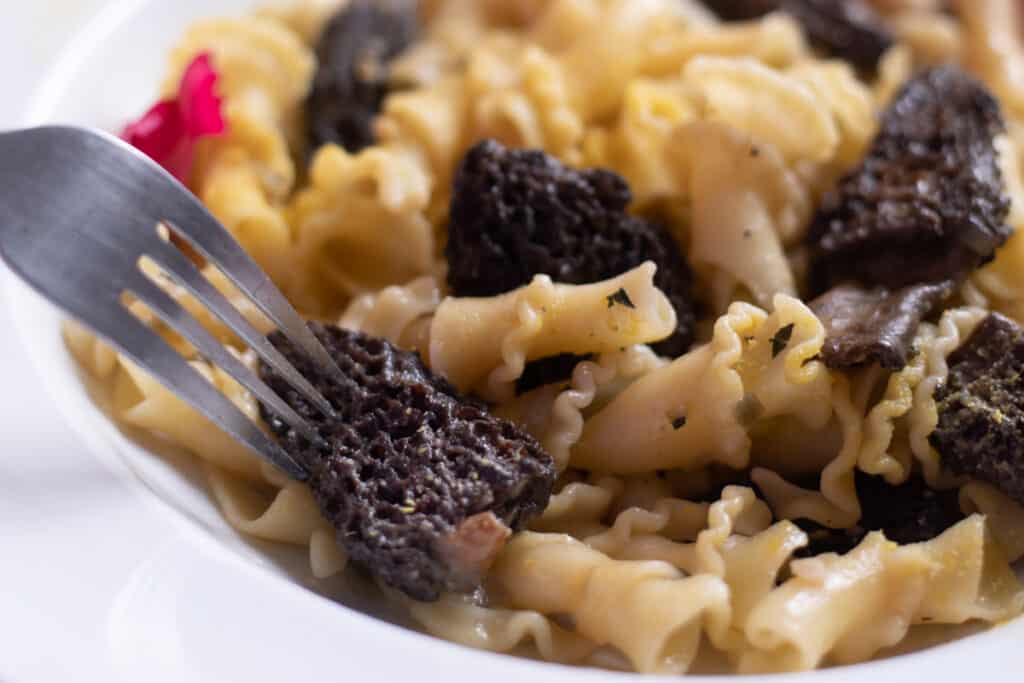 To Make the Best Morel Pasta
To start you'll want to clean your morel mushrooms.
Both dried and fresh morels need a quick soak to help release any dirt and potential bugs.

Fresh morels need a quick soak in cold water, with 7-10 rinses to ensure all dirt is removed.
If using dried morels soak in warm water for 15-20 minutes to rehydrate, then rinse until dirt is removed.
Don't soak for longer than 20 minutes or it will make the morels lose their flavor. You want the mushrooms to be clean, but over soaking them can leave them bland.

Then you'll mince garlic and half a shallot and cook these in butter. The garlic and shallot flavor the butter, then you'll cook the morel mushrooms that butter sauce. The morels will help flavor the sauce and will absorb some of the butter.

Cook up your pasta in salted water, then strain, reserving 3 tbs of the salted pasta water. The salted pasta water not only helps salt the sauce but helps everything meld together.
Frequently Asked Questions About Morel Pasta
Yes!
You can use either dried or fresh morels for this recipe. To rehydrate the dried morels simply soak them in warm water (not hot or boiling) for 20-25 minutes. Rinse them to clean.
What is the Best Pasta To use?
You can use whatever noodle shape or type you prefer. In the video I used Fiorelli noodles, but Angel Hair, Orecchiette, Shells, or even Orzo would all be awesome pastas to use.
Can this be made Gluten Free?
Yes!
Use your favorite kind of gluten free noodle here. Rice Noodles could be a good option since they are neutral in flavor and have a lovely texture! Try not to use a noodle that has too nutty of a flavor. Chickpea noodles have a nutty flavor that can overpower the delicate flavors of this pasta.
Can I substitute the Morels for another mushroom in this pasta?
Yes!
Other mushrooms that are great in this recipe are chanterelles, maitake, chicken of the woods, lobster of the woods, or puff balls.
The best mushrooms for this recipe are drier mushrooms like the ones listed.
Unfortunately mushrooms like portabellas, white caps, shiitake, or oyster can get soggy in this recipe. Those mushrooms are best prepared in a drier recipe that roasts them, or dry sautés them. The butter in this recipe will drown them, making them rubbery.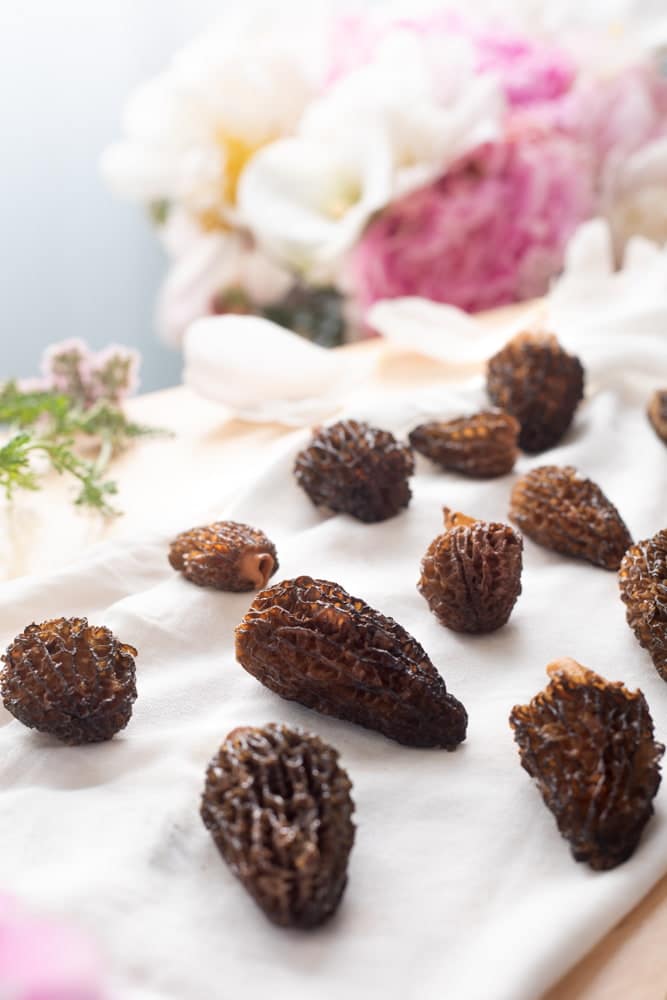 Other Recipes with Morel Mushrooms
Were you able to forage a ton of morels this season?
Or maybe your local farmers market is selling them, and you are addicted?!
Check out these other ways to prepare wild morel mushrooms!
Lemon Ricotta Stuffed and Fried Morels are the perfect recipe for large morels!
The savory morels pair beautifully with a lemon infused plant-based ricotta with minced green onion. Then the stuffed mushroom is breaded in garlicy panko breadcrumbs then fried up. There are directions for Air Fried and Deep Fried, whatever you prefer!
Creamy Garlic Morel Pizza is one of the best ways to prepare morels!
This pizza has a vegan garlic cream sauce, topped with vegan mozzarella, garlic morels, sun dried tomatoes, and vegan feta. After it's been oven roasted and gets nice and crispy, it is garnished with fresh green onion and edible flower petals. This creamy and garlicy pizza really showcases the light and airy texture of the morels – it's fantastic!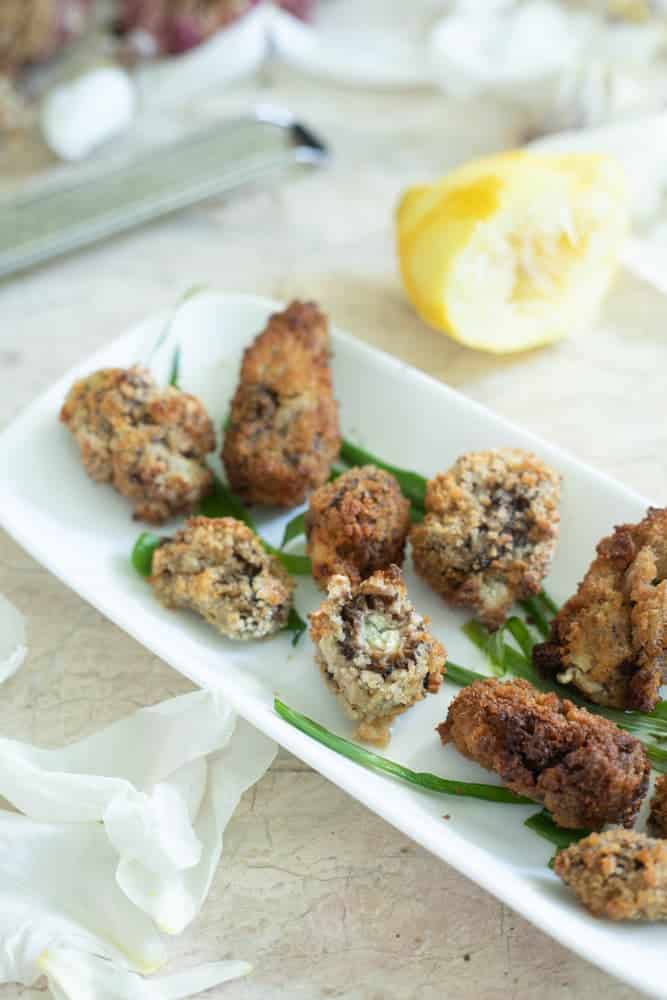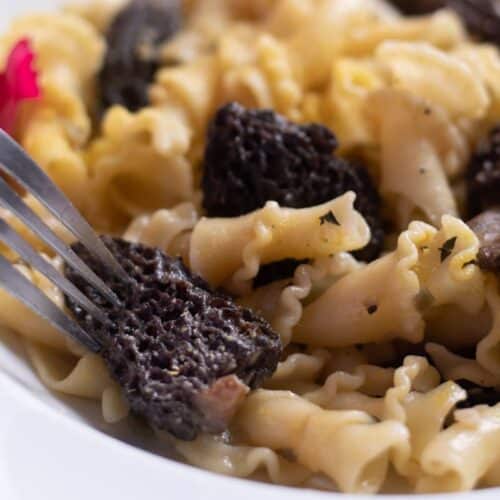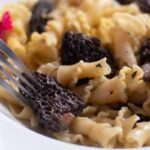 Vegan Morel Pasta
This morel garlic pasta is made with a simple butter garlic sauce infused with thyme. It is then garnished with plant-based parmesan and edible flowers to create the best morel pasta recipe
Print Recipe
Ingredients
Instructions
Soak your morels in heavily salted water for 20 minutes, rinse until the water is clear, then gently pat dry

While your morels are soaking, crush and mince your garlic, mince your shallot

Slice large morels in half so they are bite sized

On medium heat add olive oil, garlic, shallots, and morels, then sauté for 5-7 minutes to create your sauce

Cook pasta until al dente in salted water

Add about 2 tbs of the salted pasta water to the cooked garlic and morels

Toss the sauce with the drained cooked pasta
Video
Notes
Optional Garnishes:
Grated plant-based parmesan cheese 
A sprinkle of Nutrional Yeast Flakes for a hint of cheesiness
Edible Flowers like Snapdragons, Nasturtiums, Honey Suckle, ect 
Chopped fresh Oregano
Nutrition
Calories:
432
kcal
|
Carbohydrates:
60
g
|
Protein:
11
g
|
Fat:
17
g
|
Saturated Fat:
10
g
|
Polyunsaturated Fat:
1
g
|
Monounsaturated Fat:
4
g
|
Trans Fat:
1
g
|
Cholesterol:
40
mg
|
Sodium:
133
mg
|
Potassium:
355
mg
|
Fiber:
4
g
|
Sugar:
3
g
|
Vitamin A:
478
IU
|
Vitamin C:
1
mg
|
Calcium:
51
mg
|
Iron:
6
mg
Looking for More Vegan Pasta Recipes?
Try out this Vegan Pumpkin Pasta Bake! This baked pumpkin pasta recipe is creamy, cheesy, and savory, with a hint of sweetness.
This Carrot Top Pesto is another vegan pasta recipe that is light, herby, and slightly nutty. It's a quick recipe that tastes great!
Looking for more Vegan Recipes?
Here's the latest:
By