This is the ultimate cozy weather meal- creamy pumpkin pasta sauce baked with plant based cheese, chanterelles, spinach, sage, high protein pasta, with bread crumbs on top.
This decadent pumpkin pasta bake is a balanced meal that will leave you feeling all the comfort.
Easy Pumpkin Pasta Bake Made Allergy Friendly
This healthy pasta casserole is nut free and can be made gluten free and soy free!
To make this pasta bake gluten free simply use chickpea or lentil noodles- this makes the pasta higher in proteins to help make it a complete meal.
The high protein gluten free chickpea noodles pair wonderfully with the rich sauce and gets baked into perfection.
The pumpkin cream sauce is soy free where the creaminess of the sauce comes from a can of coconut milk. This pasta doesn't pick up any of the coconut flavor yet has all the richness that you are craving.
Try making this pumpkin pasta bake as a side for Thanksgiving or bake a big batch of it for meal prep- it freezes and stores well!
Baked pasta like this is the best way to beat the cold weather and bring some warmth!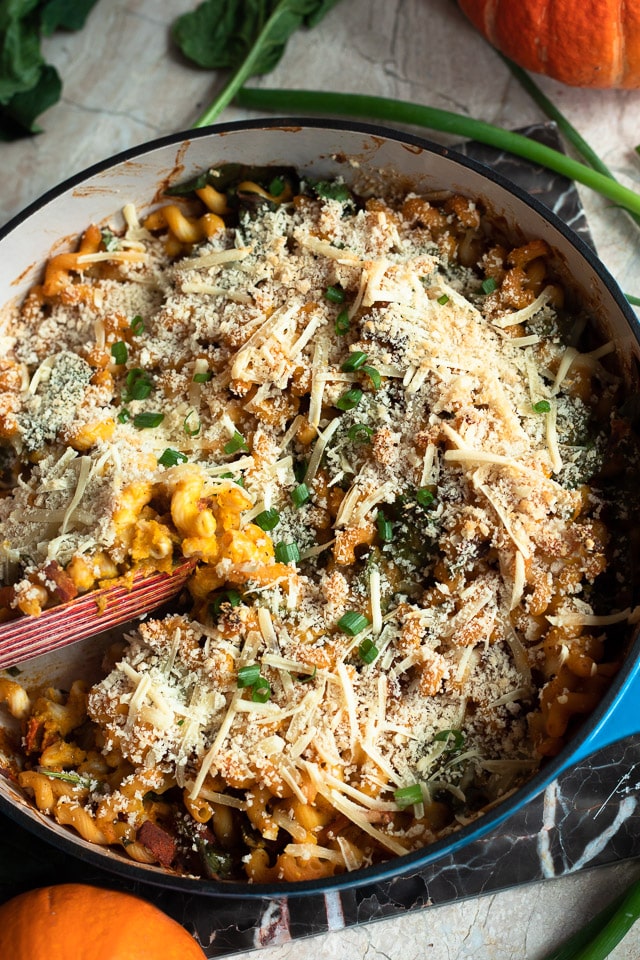 The Pumpkin Pasta Sauce
The base of this recipe uses the pumpkin pasta sauce recipe.
This sauce is so rich and spectacular there's a whole post dedicated to it!
The recipe is as easy as roasting a pumpkin, blending it with caramelized onions and garlic. Then adding some spices and coconut cream to a blender for a smooth rich sauce. Check out the post for more detailed customizations to the sauce.
The biggest customizations are the type of pumpkin/squash you want to use (or canned!) and whether if you use a mushroom powder or a truffle salt/oil. This sauce is a fall staple and is required for this pasta bake!
To save on time you can use canned pumpkin (not pumpkin pie mix) and add the other ingredients to the blender. Meal prepping by preparing the pumpkin the day (roasting it) before is a great option!

To help save on time, try making a double batch of the pumpkin pasta sauce and freezing it for an easy meal in the cold winter months. This helps preserve those pumpkins and is meal prep for those no bones days.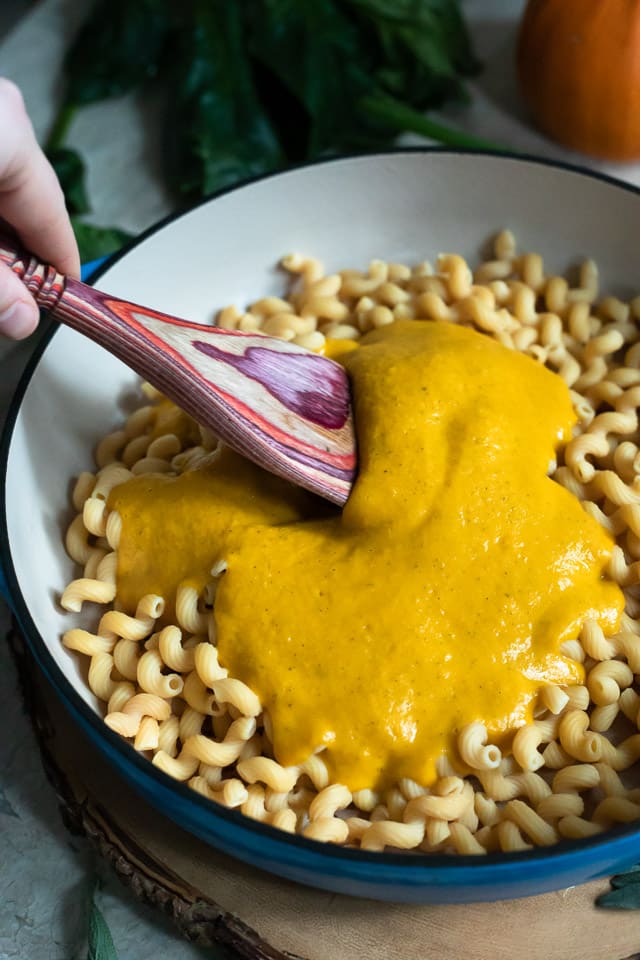 What to Mix into Your Pumpkin Pasta Bake
This vegan casserole is the ultimate comfort food- you can add plant based bacon, sautéed mushrooms, and spinach to help make it a more balanced meal. To make the pasta higher in protein and to make it gluten free consider trying a chickpea or lentil based noodles.
Vegan Bacon
When making this pasta I used a store bought seitan bacon. There are tons of recipes to make vegan bacon if you don't want store bought. Try using a coconut flake bacon, tofu based bacon, a rice paper bacon, eggplant bacon, or a daikon bacon!

I personally prefer the seitan bacon since it is the most meaty and chewy in texture- however all of those other bacon recipes are fantastic!
Just keep in mind that it will not be 'just like' bacon- however the flavors are very similar.
In this pasta the coconut bacon would taste the best if you are keeping this gluten free. What's awesome is most grocery stores carry vegan coconut bacon flakes so you don't have to make it! They are often in the salad isle and sometimes with the spices.
Meaty Mushrooms
To add more body to this pumpkin pasta bake add some mushrooms to it. Chanterelles have the best flavor with pumpkin or any kind of squash. However they are expensive if you aren't foraging them. A great alternative is oyster mushrooms, maitake, or even shiitake!
I found this recipe for shiitake bacon that would be incredible in this! Can you tell I'm obsessed with vegan bacon in this pumpkin casserole? The flavors work so well together!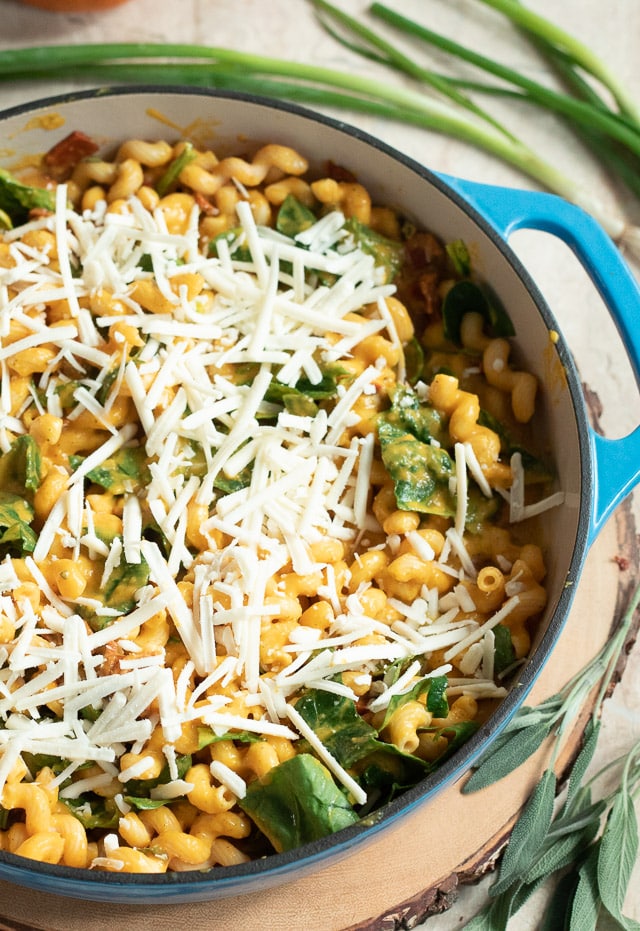 Healthy Greens
The go-to for this pasta bake is using fresh spinach. That being said, if you defrost and remove the excess liquid frozen spinach also works great in this.
Another healthy alternative is to use kale! The kale cooks well in the oven with the pumpkin sauce and isn't over powering in flavor- it makes a fantastic option.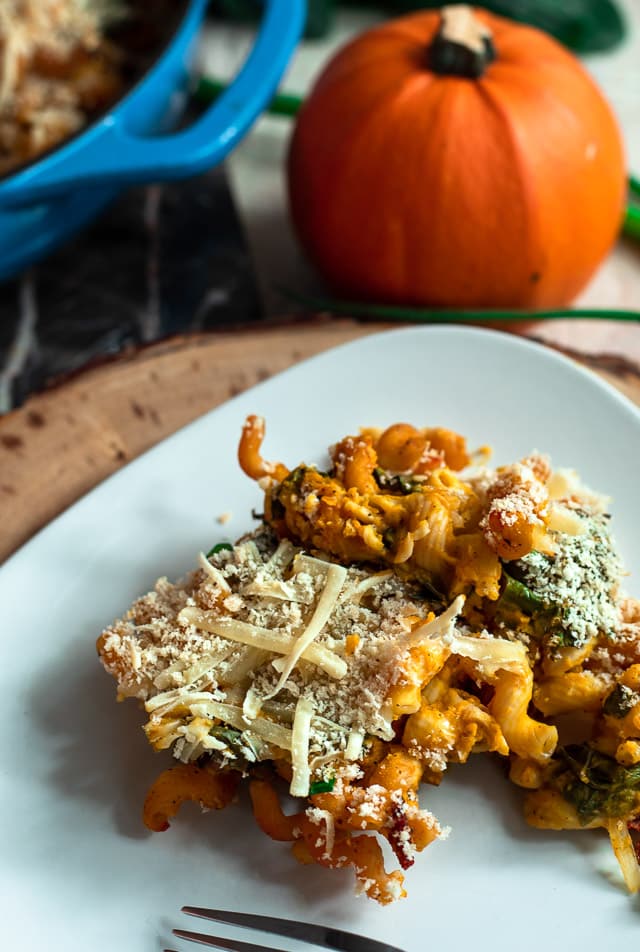 Storing the Baked Pasta
Growing up in Minnesota, baked pasta and casserole is a winter staple for keeping warm. Not only does it help heat up the house and create wonderful comfort food- it stores well.

Often in the winter months I want a lazy meal but don't want to resort to freezer pizza or spending the money on eating out.
Meal prepping by freezing leftovers (or premade sauces) has been the best solution!

This Vegan Pumpkin Pasta Bake is no different- it freezes and stores wonderfully.
One thing to keep in mind is you will want to make sure you don't over cook your noodles when you are boiling them. Only cook them to el dente. This is especially important for the high protein chickpea pasta!
The pasta bake will store in the freezer for up to 3 months, after that the flavor start to get lost. If you have it in a well sealed contained it could be stored for longer. You really don't want that freezer taste getting into your food.

One option for storing it is to put it in a small casserole dish unbaked- then when you take it out of the freezer bake it to reheat it. The other option is to store it in glass jars (or Tupperware) and microwave it to warm it up!

If meal prepping is your jam try bulk making the pumpkin sauce in advance and making this casserole with the sauce.
It really speeds up the whole process!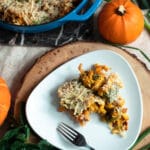 Vegan Pumpkin Pasta Bake
This Pumpkin Pasta Bake is made with a creamy yet savory pumpkin sauce, plant based bacon, sautéed mushrooms, and fresh spinach. Try using high protein chickpea noodles to make this pasta high protein and gluten free!
Print Recipe
Ingredients
Pumpkin Sage Pasta Sauce
1 1/2

Cups*

Winter Squash*/ Pumpkin Roasted (or 1/2 can pumpkin puree)

1/2

Can

Coconut Milk

1/2

Whole

Yellow Onion, Chopped

1

clove

Garlic, Crushed and Chopped

2

tsp

*

1

tsp

Fresh Sage, Chopped

1

tbs

Apple cider/ white wine
Pasta Mix Ins
1

8 ounce box

Pasta of Choice (try chickpea or lentil for high protein and gluten free)

1

cup

Sliced Chanterelles *optional*

3-4

slices

Vegan Bacon, Chopped *Optional*

1

cup

Chopped Spinach

1

tbs

Fresh Sage

1

cup

Vegan Mozzarella*

1/2

cup

Panko Bread Crumbs
Instructions
Roasting Pumpkin Directions
Preheat oven to 400 F

Cut your Squash (or Pumpkin) of choice in half, gutting it and removing the seeds

Place your cleaned pumpkin face down on a baking sheet and add some water to the sheet, roast in the oven for 45-65 minutes or until soft. You can tell its cooked by poking the top center and if the skin leaves an indent it is fully cooked
Pumpkin Sauce Directions
Scoop out 1 1/2 cups of the flesh from the skin and put into the blender

Place a skillet on your stove and on medium heat add your onion and garlic, sauté until onions start to become clear

Add your cooked onion and garlic to the blender with the pumpkin Add the rest of the ingredients and blend until smooth
Pasta Directions
Cook your pasta until el dente, drain, and place in a casserole dish

Dry sauté 1 cup of chanterelles for 5-6 minutes, until they let go of some of it's moisture

Add 1 cup fresh spinach, chopped seitan bacon (1/3-1/2 cup), cooked chanterelles to the pasta, then pour over your pumpkin sauce and mix well

Top the mixed pasta with plant based cheese and panko bread crumbs

Bake at 350 for 35 minutes or until cheese is melted and the panko bread crumbs are golden brown Garnish with Green Onions when you are ready to serve
Notes
Skip Steps 1-3 if using a can of pumpkin!
Use either Green Kobocha or Red Kobocha, or Red Kuri for the best flavor.
If you choose to use pumpkin go for the sugar pie variety.
Substitute mushroom seasoning with:
1 tbs nutritional yeast flakes with salt to taste,
or 1/2 tsp black truffle salt,
or 1/2 tsp truffle oil
or 1 tbs infused lobster mushroom oil

See the article above for more information!
Don't have Chanterelles?
Try this recipe with maitake or oyster mushrooms instead!
Nutrition
By