Carrot Top Pesto Pasta is a zero waste recipe that uses fresh carrot greens, herbs, and seeds.
Carrot top pesto is packed with plant based flavor using fresh herbs with the carrot tops. Hemp seeds and walnuts add a buttery crumble that adds dynamic texture while adding Omega 3 fatty acids to your diet.
This recipe has the perfect balance of tasting incredible while being incredibly healthy!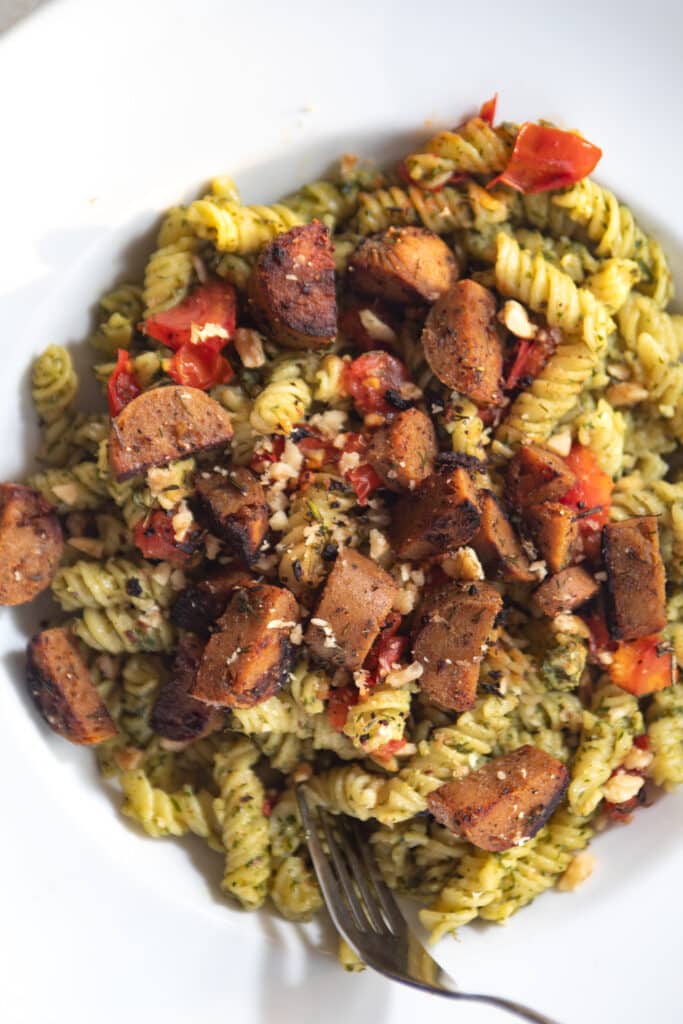 About this Healthy Plant Based Pesto
This carrot top pesto is also 100% plant based and is very healthy for you .
Since it uses walnuts and hemp seeds rather than cheese it is loaded with healthy fats. This is great for optimal heart health, skin health, and reducing inflammation in the body!
The fresh herbs are also loaded with vitamin A, C, folate, Iron, and many other vitamins and minerals. That translates into a nutritious pesto that helps your immune system and keeps you looking your best.
While it's healthy- it tastes incredible! This is the best vegan pesto when it comes to a rich flavor.
The flavor packs a punch- a little goes a long way with this stuff. That being said, it's so tasty that this batch of pesto is always gone within a day at my house. I've purchased many different pesto's from restaurants and grocery stores- nothing can compete with these intense flavors.
The Texture
The texture is thick like a herb butter, it spreads wonderfully on bread, crackers, or melted on top of pasta.
I love this pesto over a bagel or toast in the morning, but my favorite way to prepare it is in this pasta with plant based Italian sausages.
Since the pesto is so thick you'll want to add additional olive oil or plant milk to help it spread to coat your pasta better. Under heat and with stiring it will coat your pasta, but it will take patience to get an even coating. Do not overcook your pasta, the pasta could otherwise break when you are stirring the pesto in otherwise.
The Herbs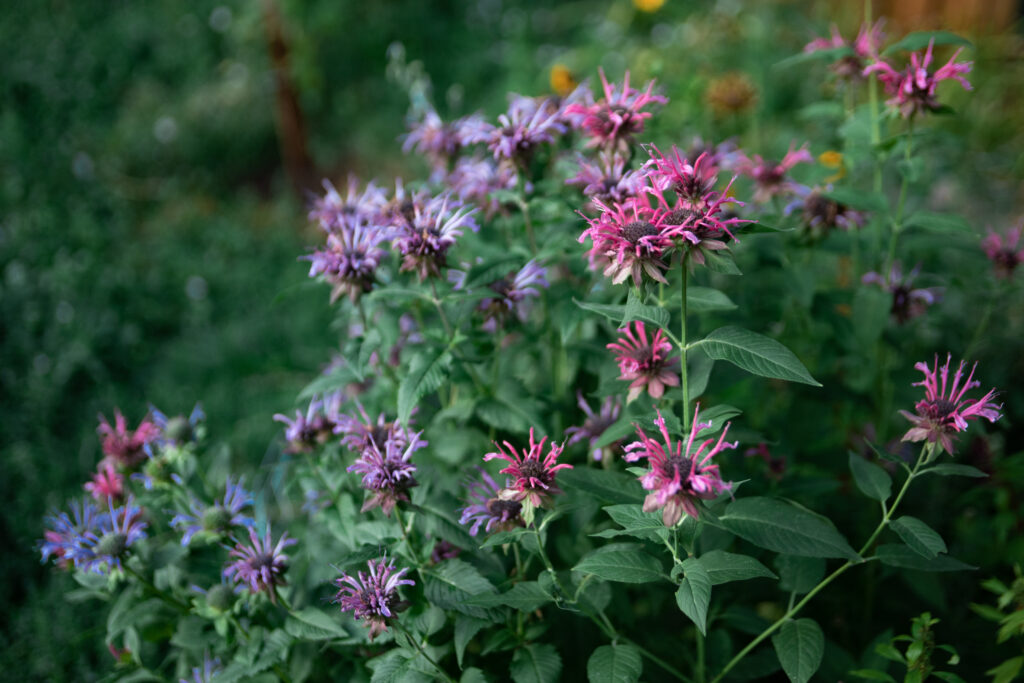 You'll notice that the carrot top pesto recipe calls for 1/2 cup of fresh herbs. In my post about growing a perianal garden I talk about some of herbs I grow.
My favorites to use in this recipe are bee balm, anise hyssop, and cat mint. I like to add some annual herbs like holy or Thai basil as well. Use what herbs you have or play it safe and pick up some basil! Consider the freshier your produce is, the more nutrients are available. Nutrients degrade with age, freshly picked produce that is eaten right away will have more nutrients than plants picked days ago.
The flavors will alter with different herbs you choose. I try to do mainly basil and then a mosh posh of other herbs I'm growing. I wouldn't use rosemary or sage for this pesto, but stick with the others I listed above.
The walnuts in this recipe taste fantastic and I would strongly recommend using them. That being said, brazil nuts or pecans will work in its place. The nuts add an extra depth and improves the texture. Don't skip on them!
The hemp seeds could be replaced with sunflower seeds or flax seeds, but it will have a more earthy nutty flavor then.
I love that this pesto uses carrot tops- it's a flavorful and healthy way to use them!
Otherwise I save my carrot tops for making homemade broth. When making this carrot top pesto try to only use the soft frilly bits of the carrot top if possible. Save the thick hard stems for a future broth! Store your veggie scraps like your garlic peels and carrot top stems in the freezer in a jar for when you are ready to make broth.
Pasta Variations
The sausage used in this pasta is Tofurky Italian Sausage, but Field Roast, Beyond, and Sweet Earth also have great plant based sausages. A spicy Italian sausage pairs well with this sweet, herby, pesto. It adds a balance to this pasta that really makes it stand out.
For a whole foods proteins (WFPB) option you could add herbed chickpeas or roasted and Italian seasoned tofu.
This pasta would also be incredible with fresh spinach, bell peppers, mushrooms. or artichokes. Chicken of the woods, or hen of the woods would be incredible with this pasta!
With that said, this pesto is incredible over toast, over a bagel, baked into bread, on pizza- anywhere you would use pesto.
Be sure to save this recipe, it's destined to become an instant favorite.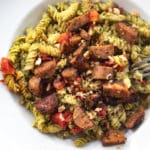 Carrot Top Pesto Pasta
A tasty pesto recipe that has about 5 servings with a pasta recipe to serve it with! This pesto is also amazing over toast, potatoes, and gnocchi.
This pesto will be thick like a paste, spreads like butter, and is packed with flavor.
Print Recipe
Ingredients
Pasta
3

cups

Pasta of Choice

2

links

Italian Sausage*

1/2

cup

Chopped Tomatoes

3

Tbs

Olive oil
Instructions
Place all your ingredients for the pesto into a blend and blend into a thick paste. Set aside

Prepare your pasta according to package directions, set aside

* Slice your sausage and pan fry with a little bit of oil until golden crispy at edges (4-5 minutes on medium/high)

Once your sausages are browned, add your tomato and cook for 1-2 minutes, set aside

Add your pasta, olive oil, 2-3 Tbs of your pesto, and your sausage to the pot on low heat. Stir until the pesto evenly coats the pasta and sausage

*Optional* Add a tbs of non dairy parmesan cheese

Serve with a green salad, glass of white wine, or bowl of minestrone
Notes
Use whatever brand of Italian Sausage you prefer or swap it with your favorite mushroom.
Morels, Chanterelles, Porcini, or Buttons are all great options for mushrooms
When you are pan frying your sausage you can add 1 tsp thyme, oregano, and black pepper if you want your sausage to be extra flavorful
To make this recipe gluten free use your favorite gluten free noodles and gluten free sausage of choice. Beyond Sausage is gluten free, otherwise Cooked chickpeas are a great gluten free protein option
Nutrition
Love this recipe? Check out more plant based recipes that uses local, foraged, and home grown ingredients.
With sustainability tips of course!

Air Fryer Recipes Baking Recipes Bread Recipes Breakfast Cakes Candy Recipes Chanterelle Recipes Chicken of the Woods Recipes Comfort Food Recipes Dip Recipes Drink Recipe Eco Friendly Lifestyle Fall Recipes Fried Recipes Gluten Free Recipes High Protein Recipes Instant Pot Recipes Late Summer Recipes Lobster Mushroom Recipes Maitake Recipes Morel Recipes Muffins Recipe Mushroom Recipes Nut Free Oyster Mushroom Recipes Pasta Recipe Pizza Recipe Plant Based Seafood Recipes Sandwich Recipes Seitan sides snacks Soul Food Soup sourdough Soy Free Recipes Spring Recipes Stove Top Recipe Summer Recipe Sweet Recipe Tea Recipe Thanksgiving Vegan Cheese Vegan Recipes Winter Recipe

By