This vegan morel pizza has a creamy garlic base, a mixture of plant-based mozzarella and feta, with garlicy morels. After the pizza baked it is garnished with fresh green onions and edible flowers- creating the perfect wild floral pizza.
This vegan morel pizza has a creamy garlic base, topped with dairy free cheese, seasoned morels, sundried tomatoes, and garnished with edible flowers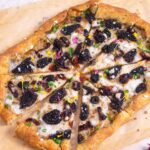 Morel Mushroom Pizza
This garlicy and creamy pizza is perfect with fresh morel mushrooms!
This vegan morel mushroom recipe is very simple and is one of the best ways to enjoy morels!

The creamy garlic sauce that is the base for the pizza helps counter the earthy and meaty flavors of the morel mushrooms. The morel mushrooms develop a lighter texture when roasted over this pizza- soaking in all the garlicy flavors!

Vegan Morel Recipe
If you are looking for other vegan morel recipes, be sure to try these lemon ricotta stuffed and breaded morel mushrooms!
They are stuffed with a dairy free almond ricotta that is blended with lemon zest and minced green onion, then dipped in a garlicy breading to then be fried. The recipe has both deep fried and air fried directions!

Morel pasta is a very simple yet delicious way to enjoy morels! It's a simple pasta made of garlic butter, shallots, thyme, and morels- giving you rich, buttery bites of morels.
If you are craving pizza and want more vegan recipe inspiration- check out this Vegan Chicken Alfredo Pizza!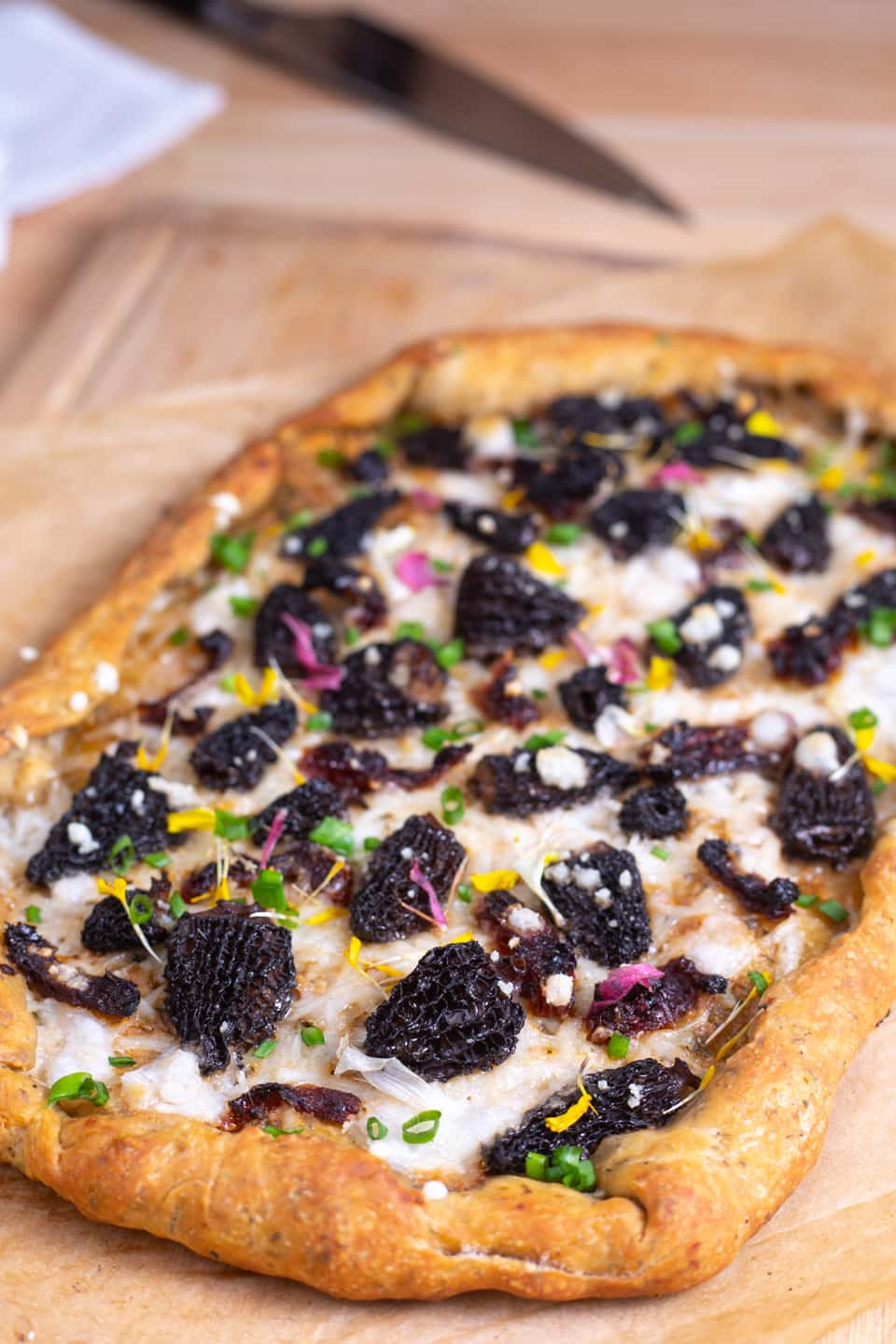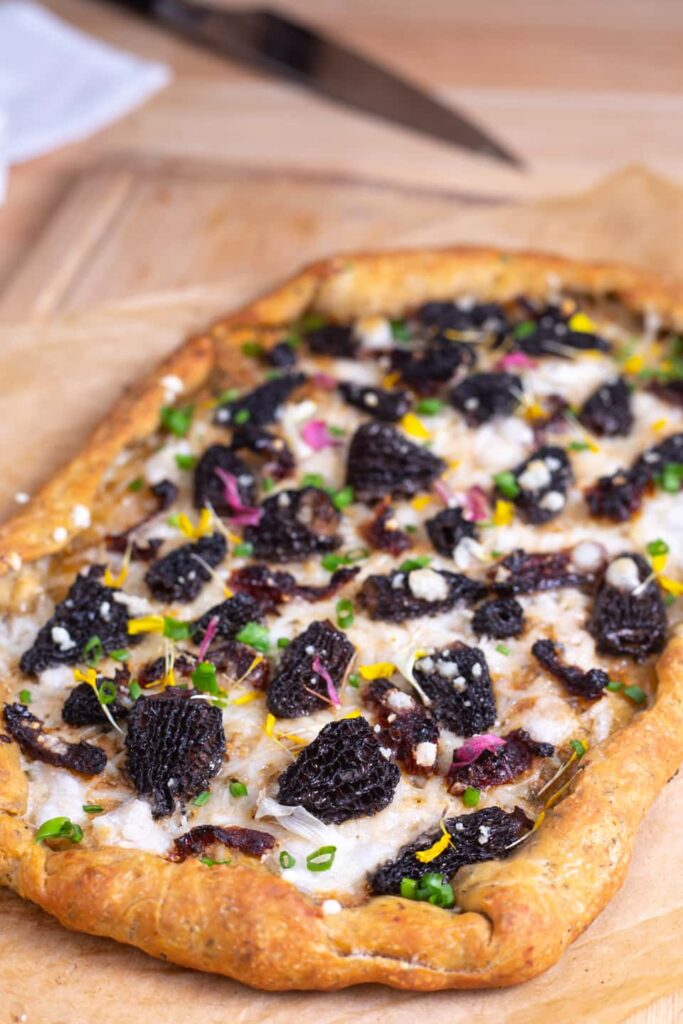 Do you love Wild Mushroom Recipes?
Check out these Chicken of the Woods Recipes, chicken of the woods is a mushroom that shreds and tastes like chicken!
Wild Lobster Mushrooms are a mushroom that tastes and even looks like a lobster! They make fantastic vegan seafood substitutes!
Hen of the Woods or Maitake is another wild mushroom that tastes fantastic. Hen of the woods is juicy and meaty resembling hen! Try this Kentucky Fried Hen of the Woods for an extra meaty mushroom wing!
How to Prepare Morel Mushrooms
To prepare morels you'll need to clean them.
If you are using dried morels simply add warm water to a bowl over the mushrooms and let them soak for 20 minutes. From there you'll rise the mushrooms until any dirt is removed.
If you are using fresh morels do a quick soak for 10 minutes in cool water. Rise them until all bugs and dirt are removed. The number of rinses you'll need will vary depending on the freshness of your mushrooms and how dirty they are! It may take anywhere from 10-20 rinses before they will be clean.
Variations on the Morel Pizza
Morels stand out in this recipe where they are known for their light and delicate texture. Morels have an earthy flavor that is more subtle than a portabella or cremini mushroom. That being said, you could swap out the morels for other wild mushrooms like shaggy manes, hawks wing, or even oyster mushrooms.
Another variation on this pizza is to skip the steps on making a garlic cream sauce and instead use classic tomato pizza sauce.

In this ticktock video I made a morel pizza with classic pizza sauce, some premade pizza dough, plant-based cheese, and onion flowers as a garnish.
It was fantastic!
This recipe uses a premade pizza dough, but don't let that stop you from making artisanal sourdough pizza dough!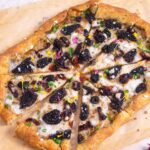 Vegan Morel Pizza
This vegan morel pizza has a creamy garlic base, topped with dairy free cheese, seasoned morels, sundried tomatoes, and garnished with edible flowers
Print Recipe
Ingredients
Creamy Garlic Pizza Sauce
Instructions
Prepare Pizza Stone
Put pizza stone in oven for 45 minutes to preheat the stone. If you don't have a pizza stone skip this step, but leave your oven on to preheat.
Clean/Soak Your Mushrooms
If using dried morel mushrooms rehydrate by adding warm water to a bowl with the mushrooms. Let them soak for 20 minutes, rise until clean.

Place mushrooms on a towel to dry off

If using fresh morels place in a bowl and pour cool water over them. Let them soak for 10 minutes, then individually rinse off each mushroom. Look inside the crevasses to ensure you are removing all the dirt and potential bugs

After they are cleaned place on a towel to dry off.
Sauce Preparation
Peel the garlic and shallot, then finely mince them
Cooking Creamy Garlic Sauce
Add the butter, garlic, and shallot to a sauce pan under medium high heat

Cook for 5-7 minutes or until the shallot and garlic is golden brown is translucent

Add in the white wine vinegar to deglaze, then add in the soy milk and flour

Stir and cook for 3-4 minutes until it starts to thicken, taste, add in desired salt* and the herbs

Set aside
Pizza Assembly
Stretch the pizza dough out to fit your pizza stone or baking sheet- whichever you are using

Add the sauce to the pizza dough, sprinkle on the mozzarella cheese

In a medium sized bowl add 1 tbs of olive oil to the morels, gently fold, mix to combine using a wide rubber spatula

Sprinkle over 1 tsp of garlic powder over the oiled morels and stir to mix.

Add the seasoned morels to the cheese covered pizza, then add sundried tomatoes, lastly sprinkling over crumbled feta
Bake
If using a baking stone add dough to the preheated stone and cook for 12-18 minutes. Until the cheese is fully melted and the crust is golden brown

If using a baking sheet, line the pan with parchment paper. Place pizza on and bake for 18-25 minutes
Garnish
Garnish the pizza with fresh green onion and edible flowers*
Notes
Pizza Dough: 
You can either buy premade pizza dough from Whole Foods, Safeway, Trader Joes, ect or you can make your own! Salt:
-The amount of salt you'll need will depend on the butter you are using. If using salted butter consider skipping the extra salt, if using unsalted butter start with 1/4 tsp salt. Taste it to see if you want it saltier
-Consider using truffle salt here, the flavor of truffles pairs wonderfully with morels. A smoked salt would also be great here.  Edible Flowers:
Scented geraniums, chive flowers, onion blossoms, snap dragons, chrysanthemums, and pansys are all great garnish options. 

Nutrition
Serving:
4
g
|
Calories:
460
kcal
|
Carbohydrates:
69
g
|
Protein:
14
g
|
Fat:
15
g
|
Saturated Fat:
4
g
|
Polyunsaturated Fat:
2
g
|
Monounsaturated Fat:
3
g
|
Cholesterol:
6
mg
|
Sodium:
1509
mg
|
Potassium:
280
mg
|
Fiber:
4
g
|
Sugar:
10
g
|
Vitamin A:
91
IU
|
Vitamin C:
4
mg
|
Calcium:
63
mg
|
Iron:
7
mg
Looking for more Recipe Inspiration?
Check out the latest recipes here:
By