These wild morel mushrooms are stuffed with lemon ricotta and then breaded and fried- this gourmet treat will wow your guests and family!
These fried and stuffed morels are absolutely addicting!
You can make these stuffed and breaded morels with any size mushroom, but it does work the best with larger ones.
The larger ones have more room for filling, after all!
These morels are stuffed with a vegan lemon ricotta, battered, and then fried. This gives you a bursting bite of lemon ricotta inside the savory mushroom that is extra crispy.
This is a gourmet appetizer or side that will wow all your guests!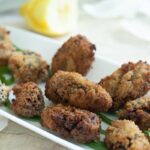 Lemon Ricotta Stuffed Breaded and Fried Morels
These deep-fried stuffed morels are filled with a bright lemon ricotta filling with green onion. The breading for these stuffed mushrooms is a blend of panko bread crumbs, flour, and garlic powder. The combination of the crispy savory breading with the soft, citrusy cheese center is something to be remembered!
This recipe uses a plant-based ricotta cheese to fill these mushrooms. A tofu ricotta will make these mushrooms more protein dense, whereas a delicate almond ricotta will be creamier and more decadent.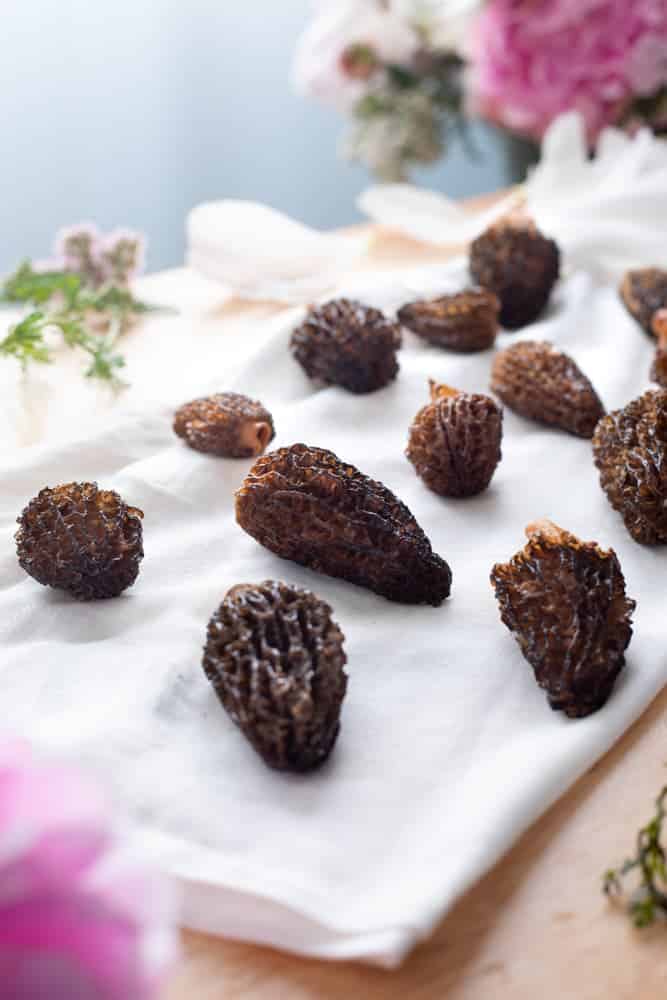 How to Prepare Morel Mushrooms
To prepare these mushrooms you'll need to clean them first.
Whether you have fresh or dried morels, they are wild mushrooms and they may have a little dirt and bugs in them.
It's an easy process and is worth it for these flavorful mushrooms!
Start by soaking your morels in water for 15 minutes – then rinse.
Soak the morels again for 2 minutes, and rinse.
Repeat this process roughly 7-15 times until all the dirt and bugs are gone.

The number of times you'll need to rinse the morels will depend on when they were harvested. Morels that are slightly past their prime are still edible but may have bugs hiding inside those little crevices.
Pouring the rinsed water into a jar will help you gauge if there is any bugs or dirt remaining in your wild mushrooms.

Unfortunately, you can't just do one long soak to remove all the debris, many small soaks are the best method to ensure your mushrooms are truly clean.

Whether if you are using fresh or dried morels they will need to be cleaned as they are wild mushrooms and will have debris!
After the morels are fully cleaned set them on a towel to dry out. Since morels are filled with lots of small holes they can hold onto water, so letting them dry out a little bit will help improve the flavor and texture of these mushrooms.
If you try to cook with the mushrooms while they are wet, the water on the morel will partially steam it. This will result in a rubberier texture and loss of flavor. Cooking with dry mushrooms will always improve its flavor and texture.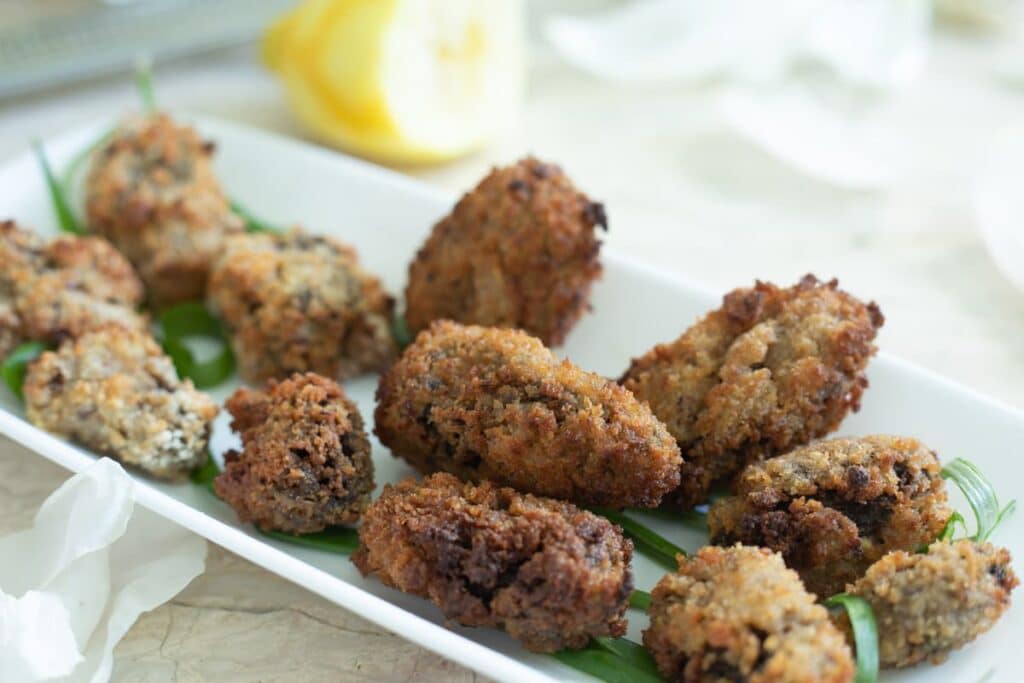 How to Batter and Fry Morel Mushrooms
To batter these mushrooms, you'll need a binder to mix your breading together.

This recipe uses a flax seed binder, it is neutral in flavor and helps the breading bind to the mushrooms.
Flax seeds are a great ingredient to use since they are loaded with healthy omega 3 fatty acids and are easy to find at grocery stores. If you cannot find flax seeds, then try using chia seeds in its place! Chia seeds are another fantastic binder that is also very healthful while not affecting the overall flavor.
The breading for these mushrooms is a simple blend of panko breadcrumbs, flour, and garlic powder.
You can use whatever breadcrumbs you have, along with whichever flour you prefer.
This recipe can easily be made gluten free by using gf breadcrumbs and gf flour.
If you want a more healthful version of this recipe, consider using whole wheat flour in place of all-purpose flour. The flavor will be slightly nuttier, consider adding an additional teaspoon of garlic powder to help counter this.
Best Oil To Fry Morel Mushrooms
The best oil to deep fry stuffed morels is a neutral oil with a high smoking point.
Neutral oils include Canola Oil, Sunflower Oil, Safflower Oil, Vegetable Oil, or Avocado Oil.
Essentially any oil with a high smoking point will work for deep frying the morels.
How Long To Fry Morel Mushrooms
You'll bring the oil up to medium high, which would be ideally close to 375 F.
Deep fry until it is golden brown, about 4-5 minutes.
If using a shallow pan that doesn't fully submerge the mushrooms, flip the mushrooms and cook each side for 4 minutes (or until it is completely golden brown and crispy)
Stuffed Morels in the Air Fryer
This recipe can easily be made in the air fryer rather than deep frying!

After stuffing and breading the mushrooms set them in your air fryer on a rack. Lightly coat with oil and then cook at 375 for 5-7 minutes.
The cook time will vary depending on your size and model of air fryer, so it is important to check on the mushrooms after 5 minutes to see if they need any additional time.
You want them to be golden brown and crispy!
Deep Fried Morels vs Air Fried Morels
In the recipe video below, I made both deep fried breaded morels and air fried breaded morels so you can see the side-by-side comparison.
The Air Fried Morels turned out crispier with a cruncher bite compared to the Deep-Fried Morels.
The ricotta melted well in both the air fried and deep-fried versions. The main difference was the deep-fried morels tasted richer and had a juicer mouthfeel. Where the air fried was crispy, light, and crunchy.

My personal preference is the Air Fried Morels, I like that they use less oil and are crunchier. The deep-fried ones were still very good. It's really up to your personal preference, which is why I have directions for both!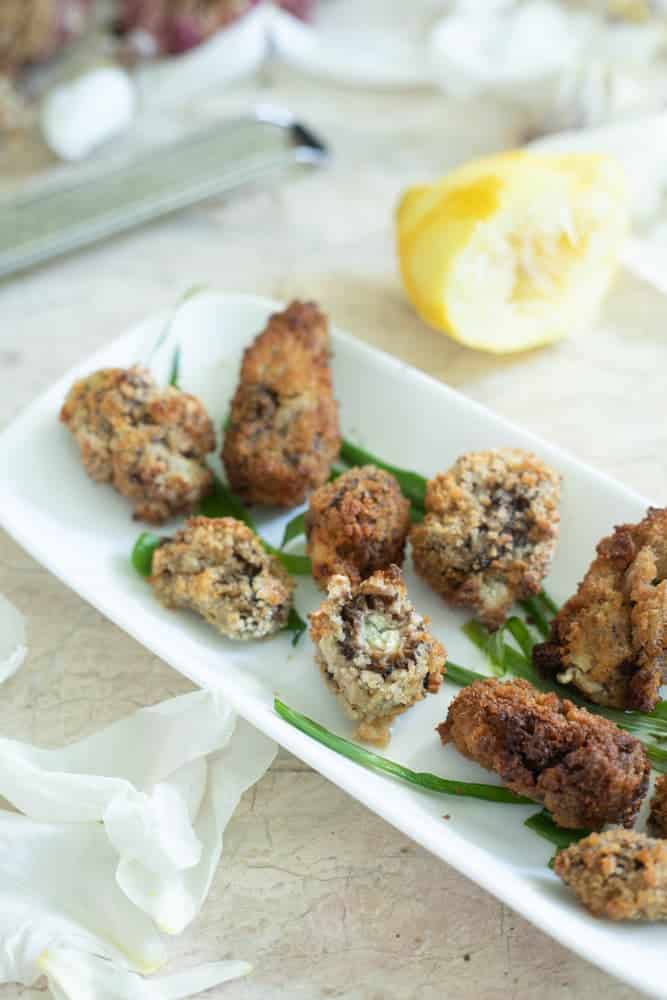 Looking for More Wild Mushroom Recipes?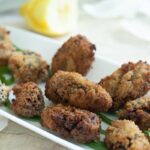 Breaded Lemon Ricotta Stuffed Morels
These morels are stuffed with a vegan lemon ricotta, battered, and then fried. This gives you a bursting bite of lemon ricotta inside the savory mushroom that is extra crispy.
This is a gourmet appetizer or side that will wow all your guests!
Print Recipe
Ingredients
Instructions
Prepare Morels
For Dried Morels: Rehydrate as needed.

For Fresh Morels: Soak in water for 15 minutes, gently rinse, then resoak for another 2 minutes, then gently rise.

Repeat this process of two-minute soaks and rinses until it is bug-free, and all the dirt is removed. Pouring the liquid into a jar will help you determine if you are catching any bugs*

It will take up to 10-15 rinses in some cases.

After the mushrooms are rinsed clean, gently dry the mushrooms, and set them on a dry towel to help draw out moisture.
Lemon Ricotta Filling
In a medium sized bowl add 1 cup ricotta, zest from 1/2 a lemon and it's juice, 1 tbs of finely minced green onion*, 1 tsp garlic powder, and 1/2 tsp Calabrian chili

Mash/mix together until homogeneous

Fill a piper or thick syringe* with the lemon ricotta filling

Gently fill the morels through the hollow stems, clean off any excess
Flax Egg
Add your 3 tbs of ground flax seeds, (or ground chia seeds) to a bowl with 1 Cup Water. Whisk together and set aside
Breading
In a medium/large bowl add 1 1/2 cups of panko breadcrumbs, 1 Cup All Purpose Flour, with 1 tbs of garlic powder
Assembly
Take your filled mushroom and dip it in your flax egg mixture, then dip in the breading. Repeat this for all the morels
Deep Frying Directions
To deep fry rather than air fry, heat up a large pot or wok with about 3 inches in oil. Bring to about 375 F

Fry the breaded mushrooms until golden brown (about 2-3 Minutes)
Air Frying Directions
To Air Fry the morels put in an air fryer basket and cook at 375 for 5-7 minutes (depending on your air fryer)
To Serve
Garnish with green onions and serve with truffle aioli, balsamic fig glaze, or dip into marinara sauce.
Video
Notes
Dehydrated Morels: 
If using dehydrated morels rehydrate 1 ounce of the dried. Once they are hydrated, they should be about 4 ounces. Do not cut your mushrooms as they stuff the best when they are whole.
Ricotta: 
Kite Hill makes a decent plant-based ricotta, otherwise use your favorite almond or tofu-based ricotta for a plant-based filling
No piper or thick syringe?
Take a plastic bag, fill it with your lemon ricotta filling, and cut a small hole in the corner to easily fill your morels.
Minced Green Onion:
If you simply chop your green onion, it may not fit through your syringe or piper. A clogged piper will not work for filling morels
To Serve:
Garnish with Green Onions and Edible Flowers
Serve with Truffle Aloli, Marinara, or Balsamic Fig Glaze
Lemon Ricotta
You will have some leftover lemon ricotta, use it up to fill crepes, to stuff with pasta, as a layer in lasagna, or spread over sourdough. 
The Morel Soaking Water:
When soaking the morels, pour the mushroom-soaked water into a glass jar to help you determine if you need to continue rinsing. You will want to continue the process of quick soaks and rinses until the water rinses clean of any bugs or dirt- a glass jar helps you see this. 
Consider dumping the water outside to help spread morel spores and let the bugs in the mushrooms live. 
Deep Frying Vs Air Frying:
Deep frying will leave you a more tender, decadent result.
Air frying will give you an extra crisp bite
Nutrition
Calories:

368

kcal

|

Carbohydrates:

48

g

|

Protein:

16

g

|

Fat:

13

g

|

Saturated Fat:

6

g

|

Polyunsaturated Fat:

3

g

|

Monounsaturated Fat:

3

g

|

Cholesterol:

31

mg

|

Sodium:

230

mg

|

Potassium:

359

mg

|

Fiber:

5

g

|

Sugar:

2

g

|

Vitamin A:

297

IU

|

Vitamin C:

1

mg

|

Calcium:

210

mg

|

Iron:

7

mg

Looking for More Vegan Recipe Inspiration?

By