Matsutake Rice is one of the best ways to cook the wild pine mushroom! The delicate flavors of matsutake is the highlight of this dish, with depth and complexity coming from the addition of dashi.
While matsutake rice (matsutake gohan) is traditionally a Japanese recipe it is a fantastic recipe for anyone who forages for wild mushrooms. The pine mushroom or matsutake has a delicate flavor that is distinctly funky with notes of cinnamon. They has a slight pine earthy flavor with spice- it's difficult to describe.
It is incredibly delicious however it can easily be over powdered.
These mushrooms are best served in a simple recipe where other flavors are delicate as to not compete with the wonderful matsutake flavor.
This simple rice recipe is the best way to showcase this gourmet wild mushroom!
This Matsutake Rice is made with a vegan dashi for a flavor packed mushroom rice! This is a staple recipe to make if you have matsutake mushrooms!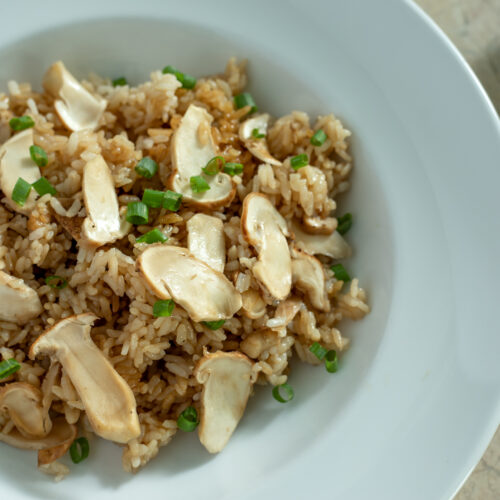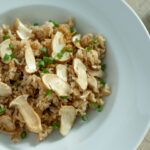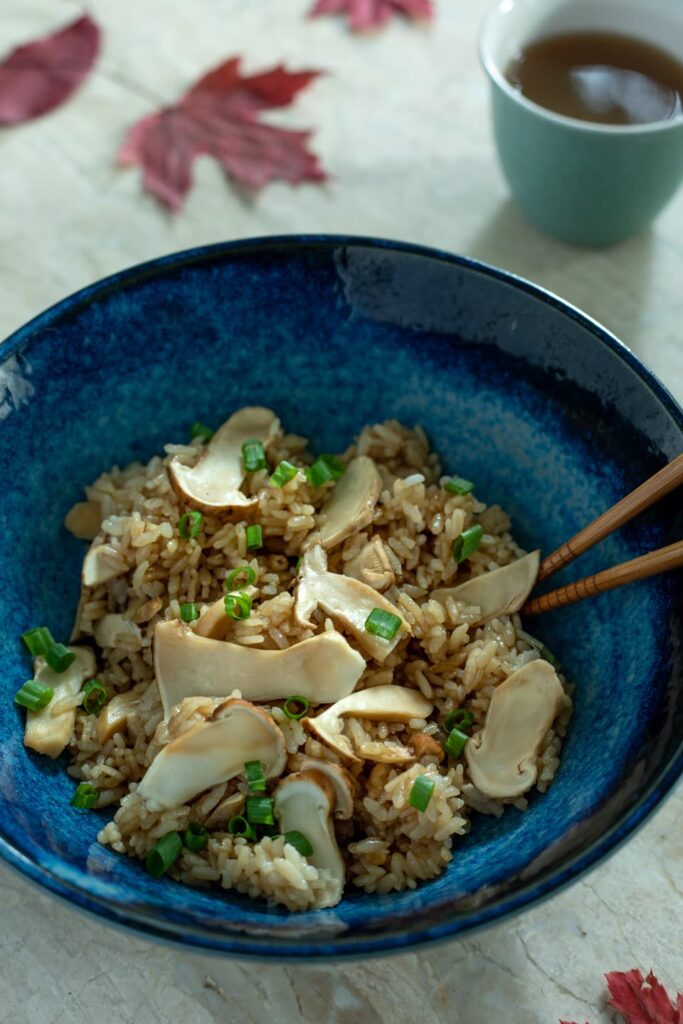 Where to Find Matsutake, The Wild Pine Mushroom
There are multiple varieties of matsutake that grow around the world. In general, they like mountainous pine forests in cooler fall weather.

In the pacific northwest there are the Western Matsutake, White Matsutake, or Tricholoma murrillianum. They are said to prefer the lodgepole pine, douglas fir, and mixed conifer forests. They start growing out of the ground in late August above 3,000ft. You'll find the more developed caps poking out the soil, otherwise they like to grow underground. They are most commonly found in late October through November.

Further south in Mexico and throughout South America there is the Mesoamerican Matsutake or Tricholoma mesoamericanum.

Along the Northeast coast (from Connecticut to Nova Scotia) there are American Matsutake or Tricholoma magnivelare.


Finland, Sweden, Russia, and Japan all also have their own variety of Matsutake or Tricholoma matsutake.

Foraging Matsutake Sustainably
Matsutake has a very high export value as it is a prized ingredient in Japan. Most of the Matsutake that is commercially foraged is exported there since they are willing to pay top dollar for them.
This leads to some sustainability issues. Over harvesting in an area makes it difficult for the spores to spread in the area and can disrupt the mycelium growing underground. Never take more than 50% of the mushrooms you find. If you overharvest you will harm the mushroom patch and there will be a decline in future mushrooms.
If you sustainability harvest, picking only about 30-40% of what you find, do little trampling of the area, and leave the area undisturbed- you will have a mushroom patch to return to for years to come.

Another issue is there are foragers who will rack the forest floor. The reason people do this is to find all the matsutake in the patch- not leaving any behind. They are a tricky mushroom to find since they mainly grow underground. But when they do this they are 1. overharvesting and 2. disturbing the mycelium.
Both of these actions will make it so there will be less mushrooms in the future.

According to IUCN Red List, an organization dedicated to conservation, the tricholoma mesoamericana (Mesoamerican Matsutake) population has decreased by over 50% in the last 20 years. This is all due to poor harvesting practices.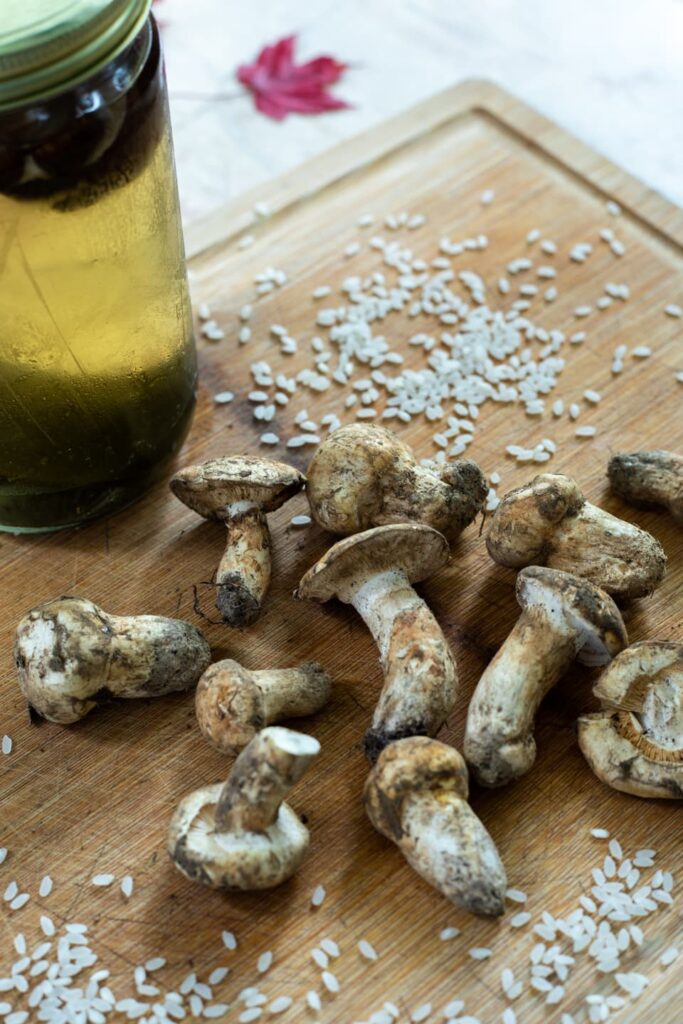 Can You Eat Matsutake Raw?
Yes!
Matsutake are one of the few mushrooms that can be enjoyed raw without causing digestive issues!
The flavor is much more subtle in it's raw form, however it is delicious raw served over many recipes!
While this recipe has you steam the mushrooms with the rice, you can also slice some raw matsutake mushrooms over everything.
Thinly sliced raw matsutake mushrooms are also wonderful over ramen, over pho, or over miso soup.
They are the most flavorful after being grilled or pan fried at a high temperature.
Matsutake Mushroom Rice Recipe
You might be asking, if pine mushrooms are the most flavorful after being grilled why are we making them steamed with rice?
The reason this is one of the best ways to prepare matsutake mushrooms is because the mushrooms flavor penetrates all the rice very nicely. The flavor of the mushrooms gets cooked into the grains of rice itself.

The dashi that is included in this recipe adds a further depth that pairs with the funkiness of the mushroom and really enhances the flavor. Most dashi recipes require dried or fermented fish in their dashi recipes. To make this recipe plant based the dashi is based on sea vegetables, shiitake mushrooms, and sun-dried tomatoes. This broth is high Glutamic Acid (naturally occurring MSG) so it really helps enhance and bring out the delicate flavors of Matsutake.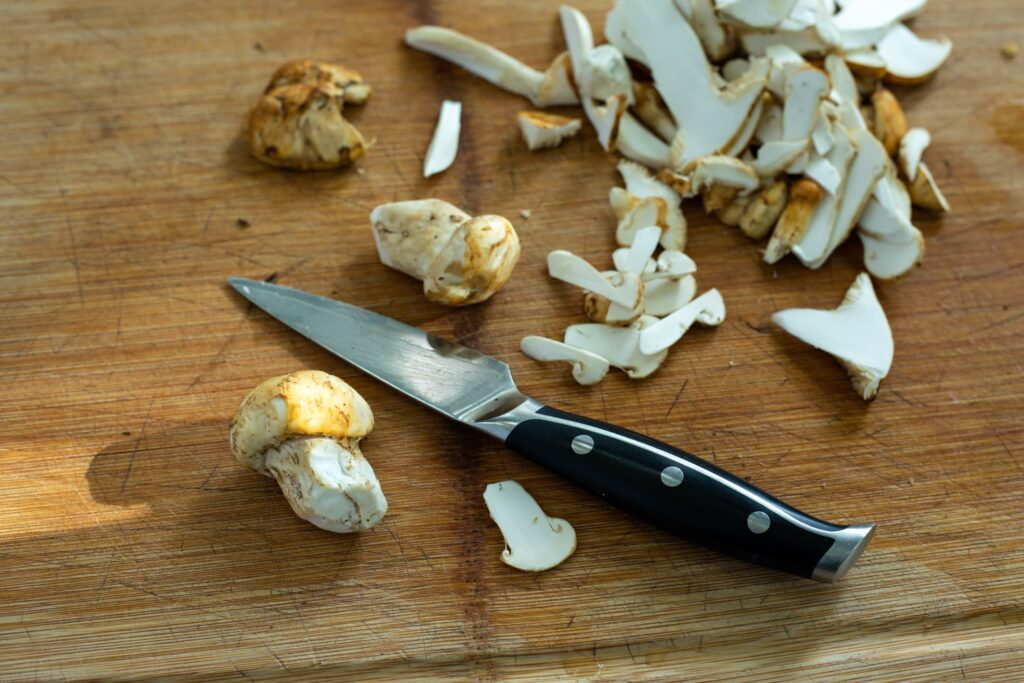 Matsutake vs Shiitake
For those of you who aren't mycologists and want to understand the difference between the mushrooms here's some key differences.
Matsutake grows under the ground with the help of pine trees. Shiitake grows on dying hardwood trees.
Since these mushrooms grow in dramatically different ways, they will taste very different. The mouthfeel will be different, the smell will be different, they will also look different.
Matsutake tastes slightly pine like, with notes of cinnamon, musk, spice.
Shiitake tastes meaty, earthy, buttery, with whole rounded flavors.
You should NEVER eat shiitakes raw (you will get sick), matsutake mushrooms are fantastic raw
Can you use Shiitakes instead of Matsutake in this recipe?
I don't see why not, however it will not be similar at all. Personally, I'm not a fan of steam shiitake mushrooms as they can get slimy and chewy. Some people love it since the flavor of shiitake mushrooms are fabulous. It's really up to your preference.
More Vegan Wild Mushroom Recipes
Love wild mushrooms?!
There are so many possibilities and ways you can cook with them! Here are some of my favorite wild mushroom recipes.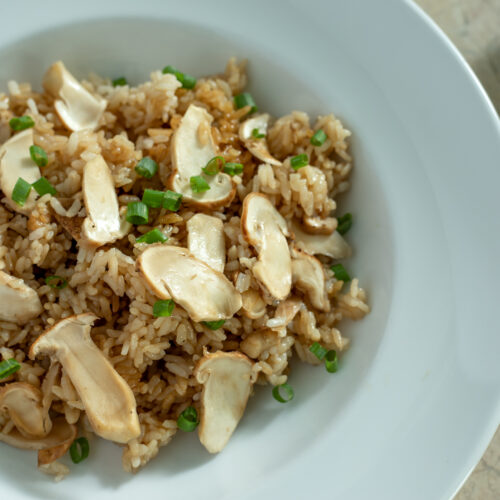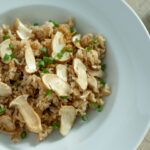 Matsutake Rice
This Matsutake Rice is made with a vegan dashi for a flavor packed mushroom rice! This is a staple recipe to make if you have matsutake mushrooms!
Print Recipe
Ingredients
4-8

ounces

Matsutake

While this recipe tastes best with more matsutake mushrooms- it can be done with as little as 4 ounces of mushrooms

1

Cup

White Rice

Short Grain

1

tbs

Mirin

1

tbs

Coconut Aminos*

or Light Soy Sauce
Dashi
10

Grams

Kombu

about two 5 inch strands

10

Grams

Dried Shitake Mushrooms

Roughly 10 Dried Mushrooms

3

Grams

Sundried Tomato

About 1 tbs worth

2

Grams

Smoked Dulse

About 1 tbs worth, Wakame works here too

4

Cups

Water
Instructions
Clean the matsutake by wiping off the dirt and cutting off the dirty bits that can't be wiped off. If your mushrooms are very dirty peel off the exterior.

This mushroom loses flavor if you soak it or if it gets too wet
Dashi
Soake the kombu and shitake mushrooms in water overnight

Strain and discard the soaking liquid

Add 4 cups of water to a saucepan on medium heat with the kombu and shitake mushrooms.

Once the water starts to boil remove and discard the kombu

Add the smoked dulse and simmer for 10 minutes.

Remove from heat and allow to cool.

Strain everything using a sieve, discarding the mushrooms and dulse and reserving the dashi liquid
Preparing the Rice
Rinse your rice in a sieve until the water comes through clear.

This helps remove the excess starches from the surface of the rice (improving the rice's texture) and removes any possible contamination from the transportation or handling of the grains.
Instant Pot Directions
Add your rice to the instant pot along with 1 cup of the prepared dashi, matsutake mushrooms , mirin, and coconut aminos

Cook for 12 minutes (or press rice button)

Allow the instant pot to natural release (wait 20 minutes before opening)

Fluff with a fork or chopsticks to prevent the rice from getting mushy
Stove Top Directions
Add your rice to a pot with 1 cups of the prepared dashi, matsutake, mirin, and coconut aminos.

Leave to soak for 30 minutes

Bring the rice to boil then reduce it to a simmer at low heat and cover for 15 minutes.

Remove from heat and leave covered for another 15 minutes

Fluff with a fork or chopsticks to prevent the rice from getting mushy
To Serve
Garnish with toasted sesame seeds, thinly sliced green onions, and a drizzle of toasted sesame oil
Notes
You'll notice this recipe uses grams. I find measuring with a kitchen scale gives me the most accurate and consistent results. I included rough American measurements for those of you who like to eyeball/ ballpark their measurements! 

What is Coconut Amnios? Coconut Amnios is a salty, savory, and slightly sweet sauce that comes from the fermentation of coconut. Many people use it as a replacement for soy sauce, however it has a lighter, sweeter flavor. It is fantastic in combination with soy sauce! It is great in this recipe as it is delicate and doesn't overpower the Matsutake. If you cannot find coconut amnios you can substitute with light soy sauce. However you will be missing out as the coconut amnios has wonderfully subtle flavor that is great with Matsutake.  Dashi: With this recipe you will have some leftover dashi. This umani rich liquid is perfect for making more rice or mixing with your favorite broth when making soups like ramen. Dashi is a fantastic base for sauces if you reduce it and add some soy sauce and chili oil- add that to your favorite vegetables! 
Nutrition
Calories:

368

kcal

|

Carbohydrates:

84

g

|

Protein:

9

g

|

Fat:

1

g

|

Saturated Fat:

0.2

g

|

Polyunsaturated Fat:

0.2

g

|

Monounsaturated Fat:

0.3

g

|

Sodium:

267

mg

|

Potassium:

669

mg

|

Fiber:

6

g

|

Sugar:

2

g

|

Vitamin A:

4

IU

|

Vitamin C:

2

mg

|

Calcium:

48

mg

|

Iron:

2

mg

Did you try this recipe?
Please tell us how it went and leave a review!

Hungry for more?
Here's more of the latest recipes:

By