This lobster mushroom mac and cheese is easy, creamy, cheesy, salty, goodness. In this recipe you will infuse the lobster mushrooms in butter to then add to the cheese sauce. Not only will you get bites of lobster mushroom but the sauce itself will taste lobstery, creamy, and cheesy!

Not familiar with lobster mushrooms? They are a wild mushroom that smells and tastes like lobster!
This lobster mushroom mac and cheese is a rich and creamy way to enjoy the wild lobster mushroom. This recipe has you infuse the lobster mushrooms in oil- that oil is then used as the base for the cheese sauce. You will not only get bites of lobster mushrooms but the cheese sauce itself will take on the lobster mushroom flavor!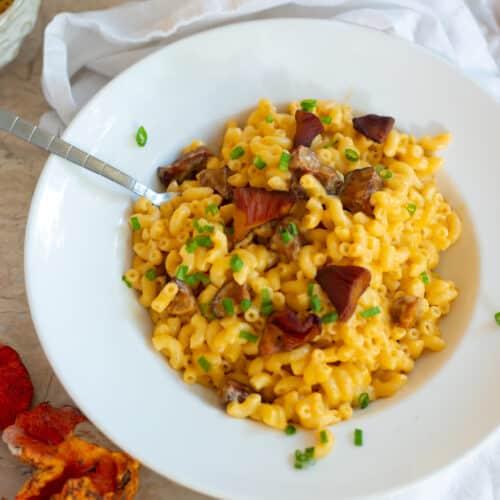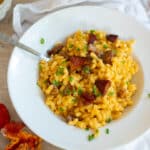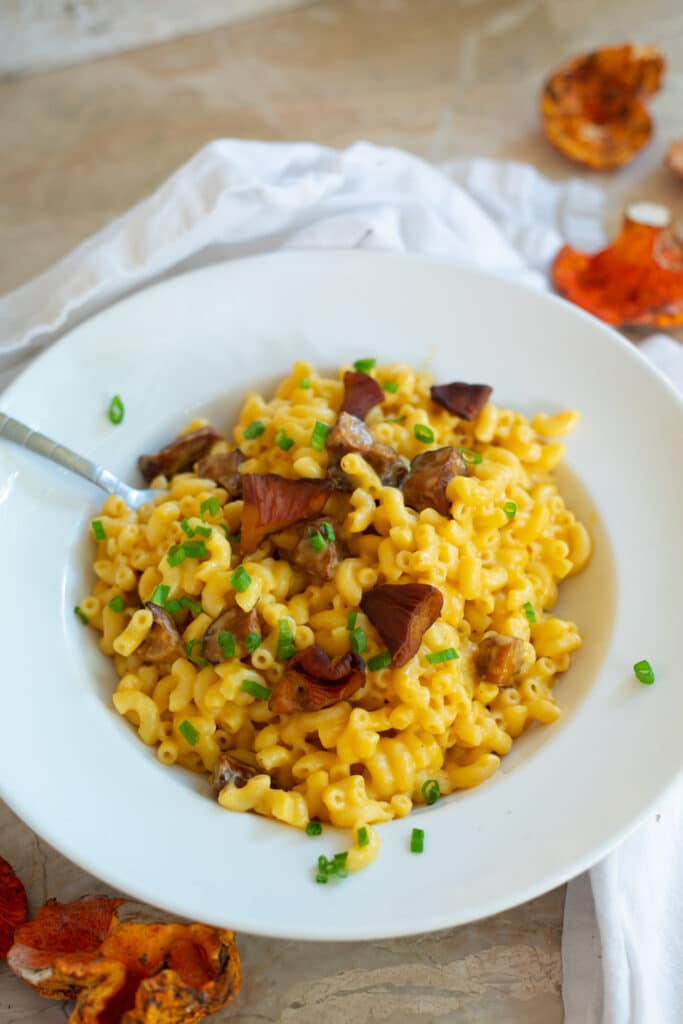 Fresh or Dried Lobster Mushrooms?
This recipe can be used with dried or fresh lobster mushrooms!
While fresh lobster mushrooms will offer a more powerful shellfish flavor the dried lobster mushrooms are much more accessible, and still offer the flavors you need. When using dried lobster mushrooms simply rehydrate them in cool water before adding them to the butter on the stove.

Fresh lobster mushrooms are not the easiest mushrooms to find.
They are a wild mushroom that can't be cultivated, and they only pop up in certain times of the year in selective locations. Because of this scarcity, they are not the cheapest mushroom to find. Dried mushrooms are going to be the most economical route, where the fresh ones will be the most powerful in flavor.
Where to Find Lobster Mushrooms
Forage Them
Finding fresh lobster mushrooms can be tricky since they must be foraged and cannot be grown.
The mushrooms grow in conifer forests with moisture, they grow in similar conditions to chanterelles and Chicken of the Woods. They can be found growing out of the ground under pine needles- they are bright red/orange, they stick out!
Lobster Mushrooms can be found in coastal areas of the PNW, along the East Coast, in the mountains of Colorado, or in the forests of Minnesota. They grow all cross North and Central America, unfortunately they do not grow in South America, Europe, Asia, or Australia.
To see if they grow in your area check out INaturalist. It's a website and app created by environmentalists to help log plants, animals, and fungi across the world. It's a tool that foragers like myself use regularly!
Foraging is the budget way to get these wonderful mushrooms

Buy Them Locally

Your local farmers market is the best place to buy fresh lobster mushrooms.
Check your local farmers market to see if there are any wild mushroom vendors! I've been able to find lobster mushrooms at numerous farmers markets in Denver and Seattle.
Even if lobster mushrooms don't grow in your area many mushroom vendors will ship out foraged mushrooms to other vendors. The mushroom foraging community is a tight knit community- they will be able to point you in the right direction of finding fresh mushrooms! If you live in Seattle, Pike Place consistently sells them fresh in the late summer to early fall.
Order Online
The easiest option is to order dried lobster mushrooms online.
Places like Whole Foods or other gourmet cooking stores will carry lobster mushrooms, but at a dramatically higher price. Etsy is where I order my dried mushrooms since you are buying directly from the mushroom picker. However, I've seen some options available on Amazon as well.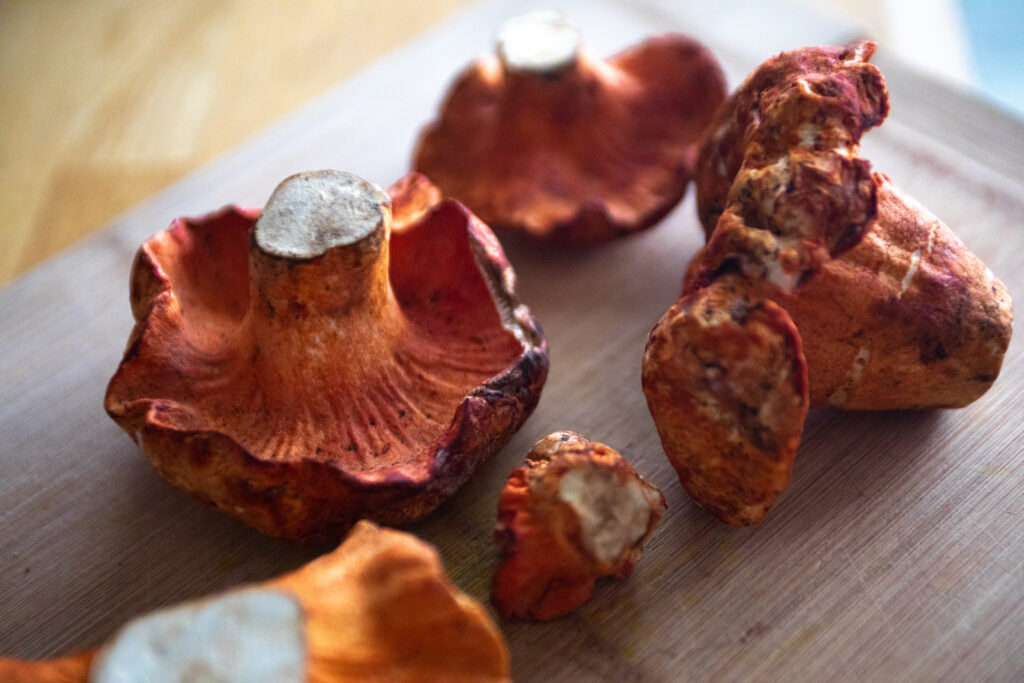 Infusing the Lobster Mushrooms in Butter
The first step of this recipe is to slow cook the lobster mushrooms in butter.
You can also use refined coconut oil in place of butter, however you cannot make this recipe oil/fat free. Lobster mushrooms flavoring is fat soluble- meaning cooking it in a butter or a fat helps enhance the flavors. The process to do this is very similar to making a garlic confit- think of this as a lobster mushroom confit. You slow cook the mushrooms with enough fat to fully cover them, then you will strain the mushrooms from the fat.

You'll use some of the infused butter for the cheese sauce but will be left with some leftover lobster mushroom infused butter.
This is one of the best parts of this recipe!
This lobster flavored butter is absolute perfection with any kind of sea food recipe. It is fantastic with pasta, it's pairs beautifully with any creamy dish. Last year I added a tbs of this infused oil to my Pumpkin Sauce and it added this umami depth that was very delightful. It works well in most savory, creamy dishes.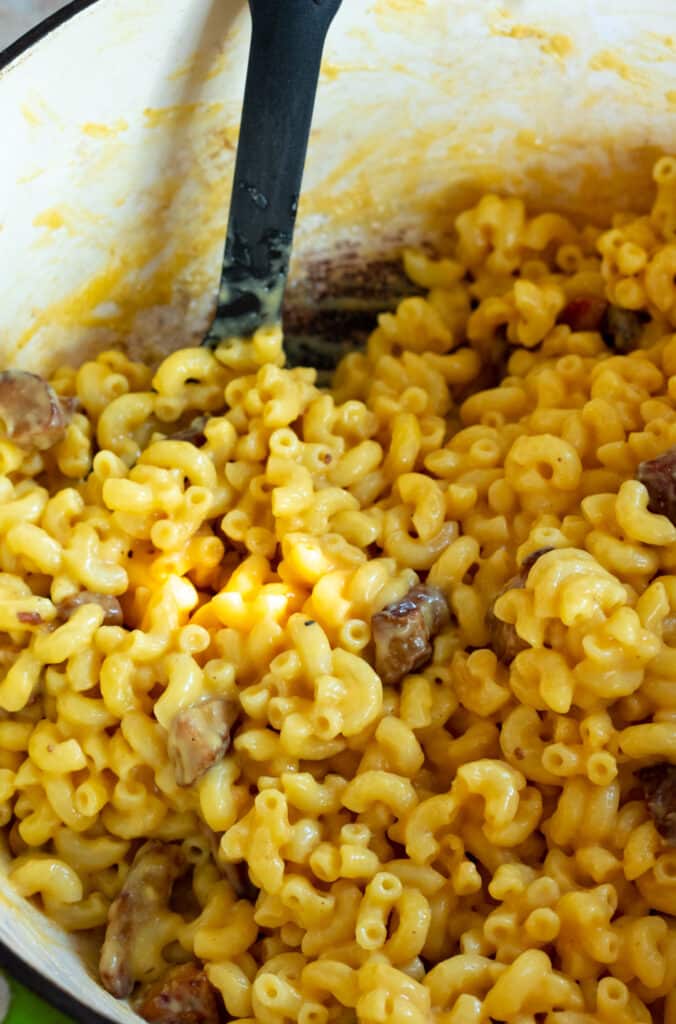 The Cheese Sauce
This lobster mushroom mac and cheese recipe uses a basic cheese sauce that is made from a plant-based cheddar. The brand of cheddar doesn't matter too much for this recipe- use your favorite. Better yet, make your own!

To make this sauce you'll start by making a roux with flour and the infused butter, this helps the sauce have that perfect rich and creamy texture.
From there you'll add milk and your seasonings. Soy Milk is a great option as it thickens well under heat due to it's high protein content. However, any type of milk you prefer will work here as long as it is unsweetened. Even aquafaba works amazingly in mac and cheese sauce- the high protein content with the neutral flavor can be a game changer in cheese sauces! Try to avoid using black or pinto bean aquafaba as the coloring of it is less appealing for this recipe.

One key to sucess is to use a whisk with this recipe! A whisk will help prevent clumps; you will want to stir this consistently to prevent any clumping.
Garnishes
After you dish up the Lobster Mushroom Pasta, garnish it with thinly sliced green onions. If you like a little bit of heat sprinkle on some red pepper flakes. A drizzle of Calabrian Oil is another fantastic option to add some spice. Try saving a few pieces of lobster mushroom to sprinkle over the top before serving!
Vegan Lobster Mushroom Recipes
Looking for more Lobster Mushroom recipes?
Once you try these mushrooms you will understand how special and unique they are!
They can be simply addicting!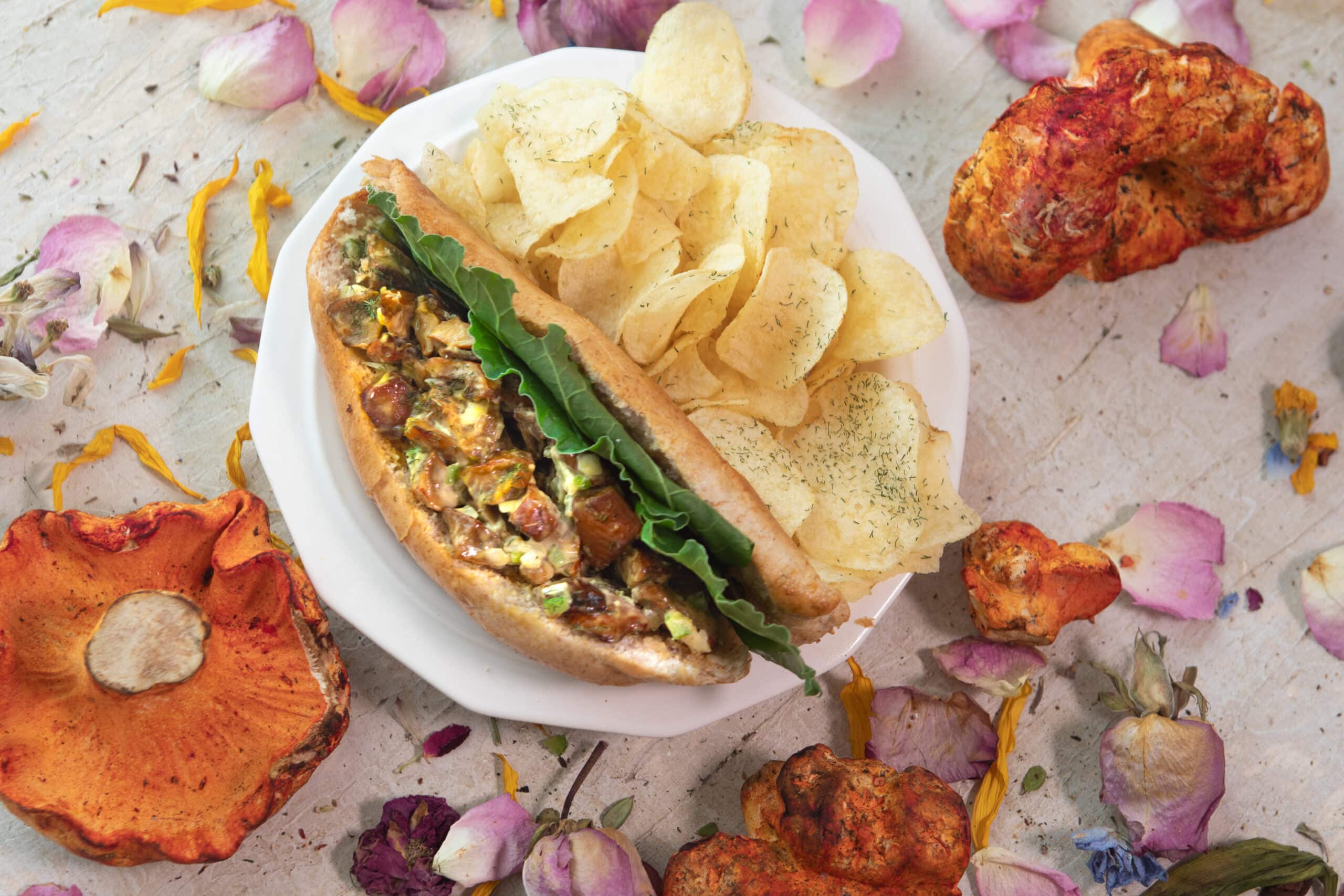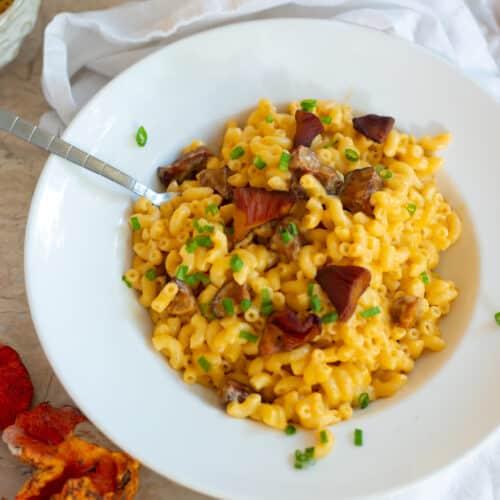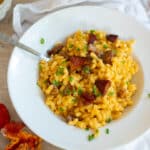 Lobster Mushroom Mac and Cheese
This lobster mushroom mac and cheese is a rich and creamy way to enjoy the wild lobster mushroom. This recipe has you infuse the lobster mushrooms in oil- that oil is then used as the base for the cheese sauce. You will not only get bites of lobster mushrooms but the cheese sauce itself will take on the lobster mushroom flavor!
Print Recipe
Instructions
If using dried lobster mushrooms, soak them in cool water for about 20 minutes. Rinse off any clinging dirt to ensure they are fully cleaned!

Wild mushrooms are not cleaned before they are dried, this is an important cleaning step!

If using fresh lobster mushrooms use a dry brush to clean out any residual dirt, try not to remove any of the red coating if possible. Cut off any bits that look old or buggy.

Either break up with your hands or roughly chop with a knife the lobster mushrooms into bite sized pieces.

In a medium sauce pan melt your butter on low heat, add the lobster mushrooms and add 1 tsp salt

Stir to completely cover the mushrooms in the butter. Leave on a very low simmer for 40 minutes (barley bubbling)

While your lobster mushrooms are infusing in the butter, add salted water to another pot and prepare your pasta according to your packaged instructions

Strain the mushrooms from the butter, reserving both.

On medium/high heat add 2 tbs of the infused butter to a saucepan

With a whisk add in 1 tbs of the flour, whisk for 2 minutes

Pour in the soymilk, garlic powder, and onion powder. Reduce heat to medium and continue to whisk for 3 minutes

Add in the cup of cheddar and whisk until fully combined.

Add in the lobster mushrooms and cooked pasta

Garnish your pasta with fresh green onions
Notes
With this recipe you'll be left with leftover lobster mushroom infused butter. Use this to add a seafood flavor to any of your recipes. It is incredible with pasta, but it also can be used to flavor 'oyster mushroom scallops' or added to 'lions mane crab cakes'. 
Nutrition
Calories:

573

kcal

|

Carbohydrates:

48

g

|

Protein:

17

g

|

Fat:

35

g

|

Saturated Fat:

20

g

|

Polyunsaturated Fat:

2

g

|

Monounsaturated Fat:

8

g

|

Trans Fat:

1

g

|

Cholesterol:

89

mg

|

Sodium:

984

mg

|

Potassium:

346

mg

|

Fiber:

3

g

|

Sugar:

4

g

|

Vitamin A:

1233

IU

|

Vitamin C:

5

mg

|

Calcium:

305

mg

|

Iron:

1

mg

Did you try this recipe?
Scroll down and share how this recipe went while leaving a review!

Looking for more recipe inspiration?
Here's the latest:

By