This is the sourdough bread for garlic lovers! This sourdough garlic twist bread pulls apart wonderfully and is loaded with five different kinds of garlic.
There's a different garlic experience in each bite!
The sourdough bread is filled with garlic confit, grated raw garlic, sliced black garlic, garlic bolts, and sprinkled with roasted garlic granules. The sourdough gives you both a soft and chewy, crusty experience; this bread is a showstopper.
A sourdough bread twisted with five different kinds of garlic that pulls apart!
While you proof the sourdough you will make a garlic confit that will be spread over the sourdough along with freshly grated garlic, roasted garlic powder, and slices of black garlic. This is all twisted into a beautiful loaf that pulls apart into thin layers.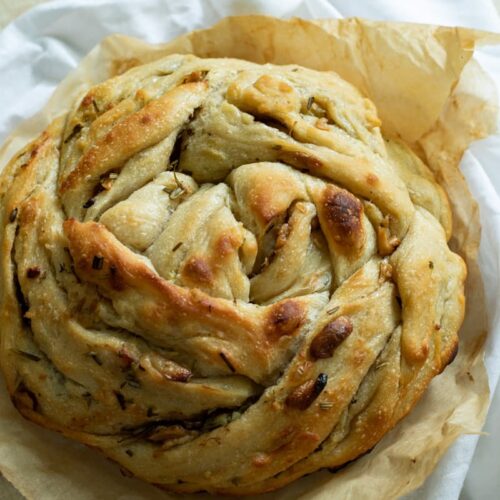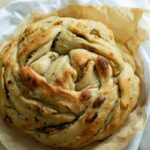 Garlic Sourdough Pull Apart Bread
This sourdough is a pull apart bread recipe where you braid the garlic filled dough and the ridges allow you to easily pull it apart. This makes this bread the best for dipping in soups or just snacking on!
The oil from the garlic confit helps the layers of dough remain separated when you braid them together.
The process of braiding the dough is similar to Babaka or Challah- where you fill the dough, roll it, and then braid it. In order to braid the sourdough the hydration is at 70% (7/10 ratio of water to flour), this helps create a more workable dough that doesn't blob out on us when we braid it.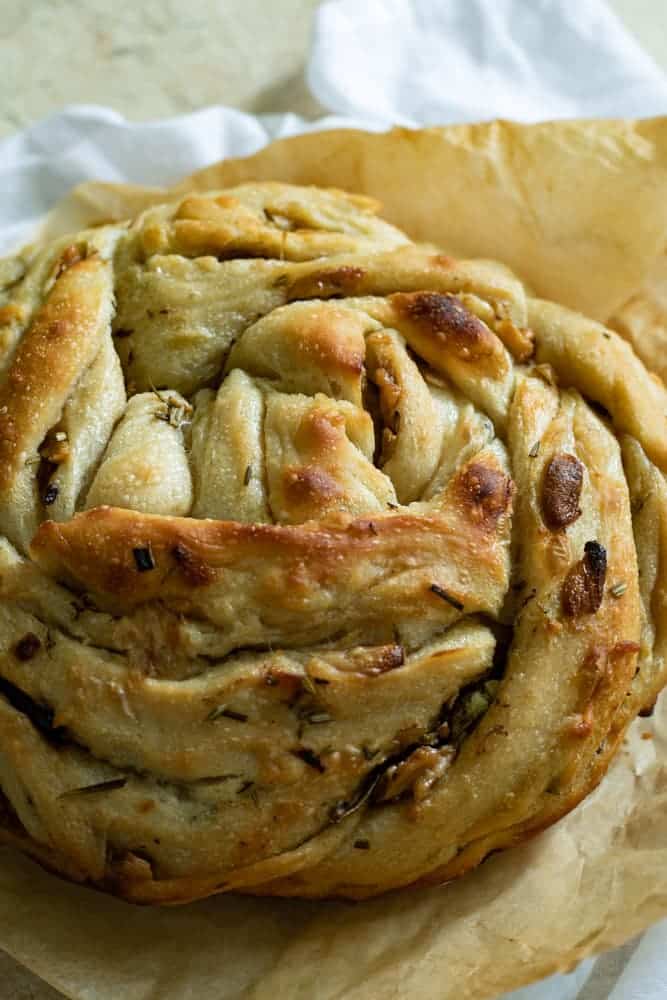 Baking Sourdough Bread from Scratch
While this is a straightforward sourdough recipe, like all sourdough recipes, this takes time. You'll want to feed your sourdough starter the night before you start assembling the dough. As you let your dough rise, you'll make a garlic confit to fill the bread. This recipe takes two days to make – but is worth every second!

If you are looking for a quicker bread recipe, check out this Air Fryer Focaccia recipe that can be made in 1 1/2 hours. Another winning recipe is this 1-hour Banana Bread!
Ultimate Garlic Sourdough
Using multiple types of garlic really makes this bread special.

Black Garlic is incredible in this recipe as it has a deeper, richer flavor compared to raw or roasted garlic. Black garlic is aged and goes through a process that makes the antioxidants more available, making it ultra anti-inflammatory. The flavor of black garlic is what really makes this recipe stand out. The flavor of black garlic is like burnt caramel, figs, molasses, yet has that garlic flavor.
It can be found at Farmers Markets, International Grocery Stores, health food stores, and gourmet grocery stores.
If you become obsessed with it, consider making it!
All it takes is wrapping heads of garlic in foil, then leaving in a slow cooker or rice cooker under keep warm for 3 weeks.
Garlic Bolts are garlic greens that grow off of fresh garlic bulbs. If you come across a clove of garlic that has sprouted try planting it in soil. This will not only help you grow more garlic, but you can also harvest the greens! Those greens are called bolts- they taste just like the garlic clove! Chop them finely and use like green onions- only expect a garlic flavor. They are incredibly easy to grow! No worries if you don't have any for this recipe- just stick with the other forms of garlic.
Garlic Confit is where you slow cook garlic in olive oil to make a soft, spreadable, version of garlic. While the dough is rising you will add in a head of garlic to olive oil and roast in the oven to add to the dough. When the garlic is slow cooked like this it sweetens in flavor and becomes ultra-creamy. When you take a bite of the bread the creamy garlic confit helps create a glorious mouthfeel. To add more dimension to this consider adding in other herbs like rosemary or oregano while cooking.
Grated Raw Garlic will add a slight sharpness and tanginess that really gives this bread an ultimate garlic flavor! It helps punch through the rest of the mellower garlic flavors and helps increase the complexity of garlic flavor. Only grate 1-2 cloves of the raw garlic, as this flavor really packs a punch!
Roasted Garlic Granules will add sweet mellow flavor that helps evenly disperse and wrap up the garlic flavor through the bread. You only need a small dusting of this. In a pinch you can use garlic powder in it's place.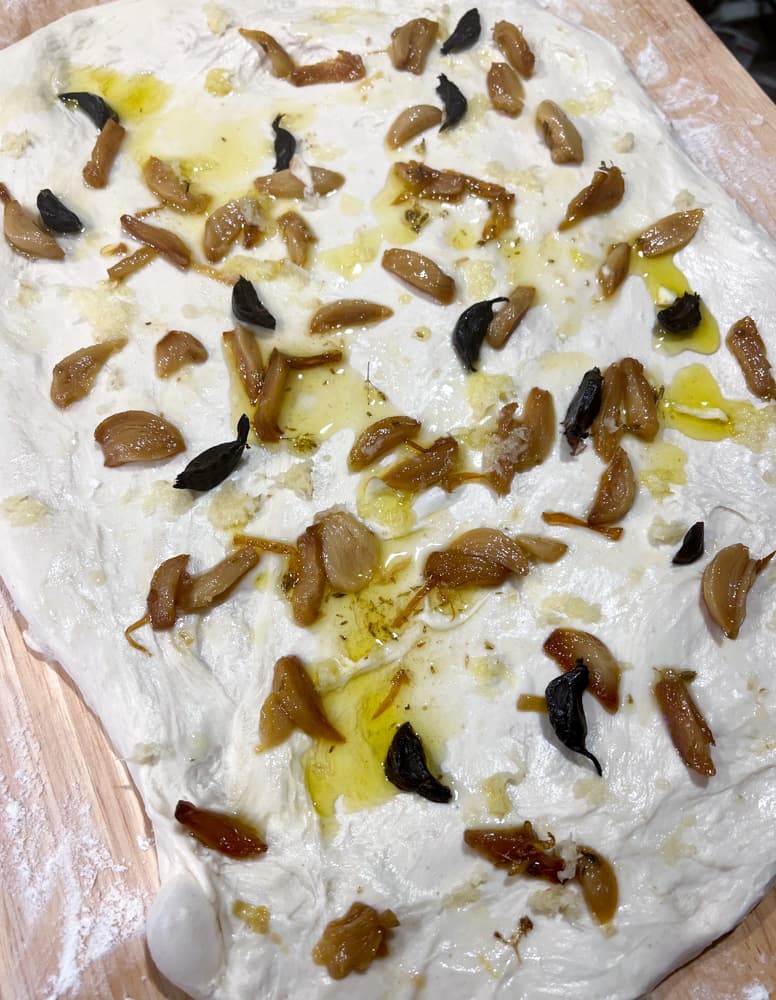 Baking Schedule
What to expect when making this recipe:
Feed your starter two nights before you want your bread.
The next morning, autolyze your Dough (Add Water to Flour).
Add Sourdough Starter and Salt to the Dough, and Fold the Dough roughly every 30 Minutes for 2 hours (4 times).
Let the dough rise for 4 hours.
Make the garlic confit by slow roasting garlic in olive oil for 1 hour.
Stretch out the dough, top with all the garlic, roll, braid, place in banneton and put in fridge overnight.
-The next morning, preheat the Dutch Oven and Bake.

That's the quick and dirty of what to expect!
(Watch the video below to see exactly how to make it!)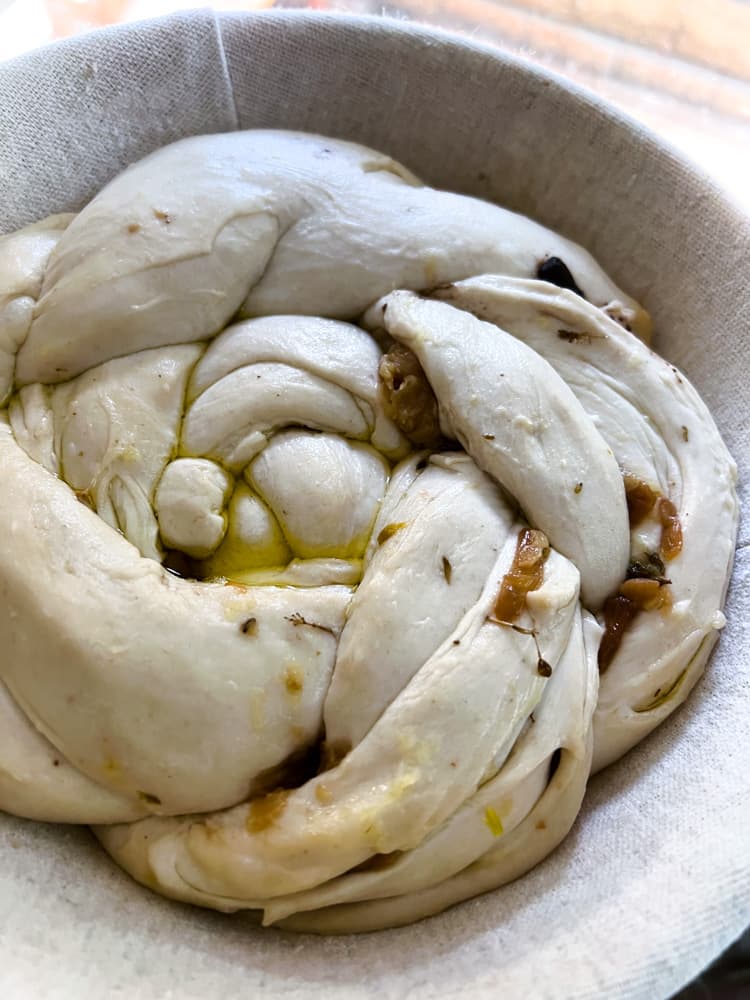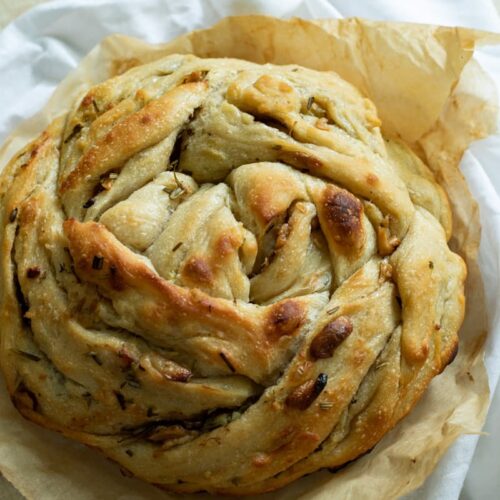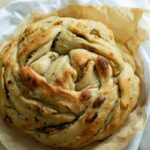 Garlic Pull Apart Sourdough
A sourdough bread twisted with five different kinds of garlic that pulls apart!
While you proof the sourdough you will make a garlic confit that will be spread over the sourdough along with freshly grated garlic, roasted garlic powder, and slices of black garlic. This is all twisted into a beautiful loaf that pulls apart into thin layers.
Print Recipe
Ingredients
420

Grams

Water

2 Cups

600

Grams

Bread Flour

4 1/4 Cups

90

Grams

Sourdough

Freshly fed and active sourdough starter

12

Grams

Salt
Garlic Confit
Additional Garlic
1

Cloves

Garlic

5

Cloves

Black Garlic

*Optional*

2

tsp

Roasted Garlic Granules

2

tbs

Chopped Garlic Bolts

*Optional*
Instructions
Start by feeding your sourdough starter so it is fully active- do this early in the morning or the night before

Mix then knead the flour and water together until it is fully mixed

Let rest for 45 minutes

While you are letting the mixed flour and water rest do this:

Preheat oven to 250F

Peel the garlic and slice into smaller chunks, place in a small bake safe dish and cover with just enough olive oil that it is submerged

Bake the garlic for 1 hour- then jar up with the oil and set aside

While the garlic is baking in the oven do this:

Stretch the flour and water mixture and fold in the sourdough starter and salt in incriminates until it is all folded and mixed in

Let rest for another 30 minutes

At every 30 minutes stretch and fold your dough about five times towards the center without tearing the dough.

Repeat this process 4 times

Let rest for 4-6 hours until it is puffy and risen (rise time depends on room temperature, cooler rooms need a longer rising time)

Stretch out the dough into a thin rectangle

Slice your cloves of black garlic into thirds and evenly spread over the surface of the dough,

spread out the garlic confit (spoon the garlic out of the oil, try not to include too much oil)

Grate your cloves of garlic over the dough evenly

Sprinkle the garlic powder over everything

Roll the dough into a long tube

At the end of the dough slice through the middle up to the top where you will leave roughly 3 inches, restuff any garlic that comes out

Braid the two strains of dough together and tuck together into a round loaf

Place in proofing basket and then put in the refrigerator for 12-16 hours (overnight)

Preheat oven to 500F

Place Dutch Oven Pot into the heated oven for 30 Minutes

Line the Heated Dutch Oven with parchment paper and place your loaf inside

Bake at 500 for 25 minutes with the lid on

Reduce oven heat to 450 and remove the lid of the Dutch Oven and cook the bread for another 2-5 minutes or until it is caramelized on top and edges of golden brown.
Video
Notes
Black Garlic: Black Garlic is a type of aged garlic that is black in color, is sticky, spreadable, and very soft. The flavor is garlic with a note of plum, dates, dark caramel, molasses, chocolaty, and very full bodied. It is made by aging garlic for 3-4 weeks at 140F, it's a slow process that doesn't dry the garlic out. It can be found at specialty gourmet grocery stores, farmers markets, and can be made easily at home. It is a gourmet treat for the garlic lover.  Garlic Greens: Garlic greens have a strong garlic flavor with an extra zip to it. If you plant sprouted garlic the garlic will grow greens- similar looking to green onion. However the garlic greens have a zippy garlic flavor that is a great addition to this garlic bread.  Other Additions to this Garlic Bread: Consider experimenting and adding other flavorings to this garlic bread. Chunks of plant based cheese, chopped green onion, a sprinkle of fresh basil or oregano, or even sundried tomatoes would be fantastic in this bread.  To Make it a Sliceable Loaf of Garlic Sourdough Bread:
If pull apart bread isn't your thing and you would rather have a garlic swirled loaf of sourdough follow these instructions.
Increase the amount of water to 480 grams rather than the 420 grams listed above. This will create a more sticky dough that will be extra fluffy (and jiggly!). This will help the various garlics blend into the dough better and will prevent the pull apart effect. Stretch the dough into a rectangle like above and use a dough scraper to roll the dough into a log. Split the rolled log of dough in half length wise and try to braid it. It will be messy and this does not need to be perfect. This helps distribute the garlic layers more easily- the layers will get lost as the dough congeals.  Place the formed loaf into your bannet and let rise overnight. Before baking in the oven score the top of the bread loaf to help the bread release steam as it cooks. 
Nutrition
Calories:

429

kcal

|

Carbohydrates:

63

g

|

Protein:

11

g

|

Fat:

15

g

|

Saturated Fat:

2

g

|

Polyunsaturated Fat:

2

g

|

Monounsaturated Fat:

10

g

|

Sodium:

629

mg

|

Potassium:

115

mg

|

Fiber:

2

g

|

Sugar:

1

g

|

Vitamin A:

13

IU

|

Vitamin C:

3

mg

|

Calcium:

40

mg

|

Iron:

1

mg

Check Out More Recipes Here!

By