This pizza crust uses sourdough discard to get that fluffy crust! This pizza crust is thick, crispy, with a soft center that will level up your next pizza night. Enjoy artisanal pizza at home using your sourdough discard!
This sourdough pizza crust is a staple recipe for any sourdough bakers- the flavors are unmatched!
This recipe doesn't use any yeast but rather this sourdough pizza dough is from starter.
This recipe works well with freshly fed starter and with older discard- as long as the sourdough discard isn't too acidic! If your sourdough stater has separated (a clear liquid on top) with a sour smell you'll want to refed it before making this recipe. Otherwise this recipe will work with hungry starter!
How to Make Sourdough Pizza Crust with No Yeast
The process of making a sourdough pizza crust is very similar to the process of making traditional sourdough bread. This recipe doesn't have you autolyze the dough- it's not needed here.

What you will do is combine all the ingredients and knead it until the dough is smooth and elastic. From there you'll stretch and fold your dough to help build up the gluten and structure of the crust. After you stretch and fold the dough every 30 minutes about 4 times the dough is ready to rise.

Your room temperature will affect how long the dough needs to rise for. In a hot kitchen in the summer, it may need only 2 hours. In a cold kitchen in the winter it may need up to six hours before it is risen. You want the dough to increase in size by 50%, you don't want the dough to double. If your dough doubles in size it will be over proven and will not rise when baked in the oven.

Here is where you have an option. After the dough is risen you can stretch it out and bake it the same day. However, if you are making sourdough pizza crust and want the health benefits from the cultures you will want to let the dough cold ferment overnight. Letting the dough ferment overnight will also improve the flavor and help give it a more 'sourdough' taste!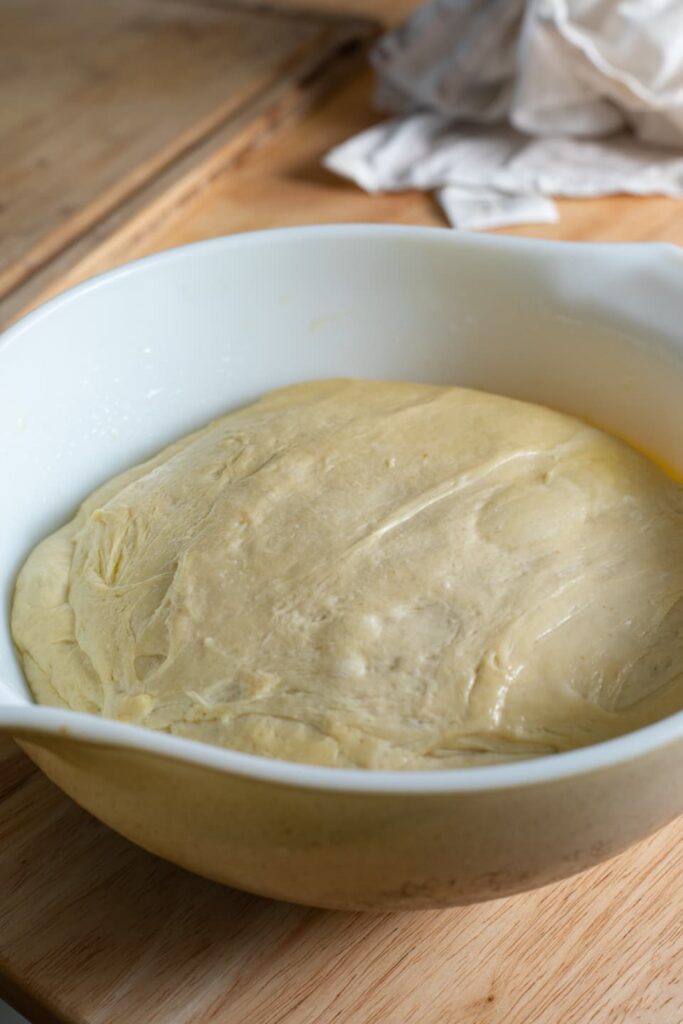 Health Benefits of Sourdough
Sourdough is fantastic for those with digestion issues as the cultures in the sourdough ferments/ eats the sugars in the dough. It helps make it much easier for our body to digest! Since the cultures eat the sugars and gluten in the dough it has less of a reaction on blood sugar levels- and helps our body digest that gluten! Some research shows that sourdough is more bioavailable than other breads because it is much easier to digest. That means more nutrients digested by your body!

Because of the improved flavor and health benefits of cold fermenting your sourdough (letting it rest overnight in your fridge), it is strongly recommended you do so!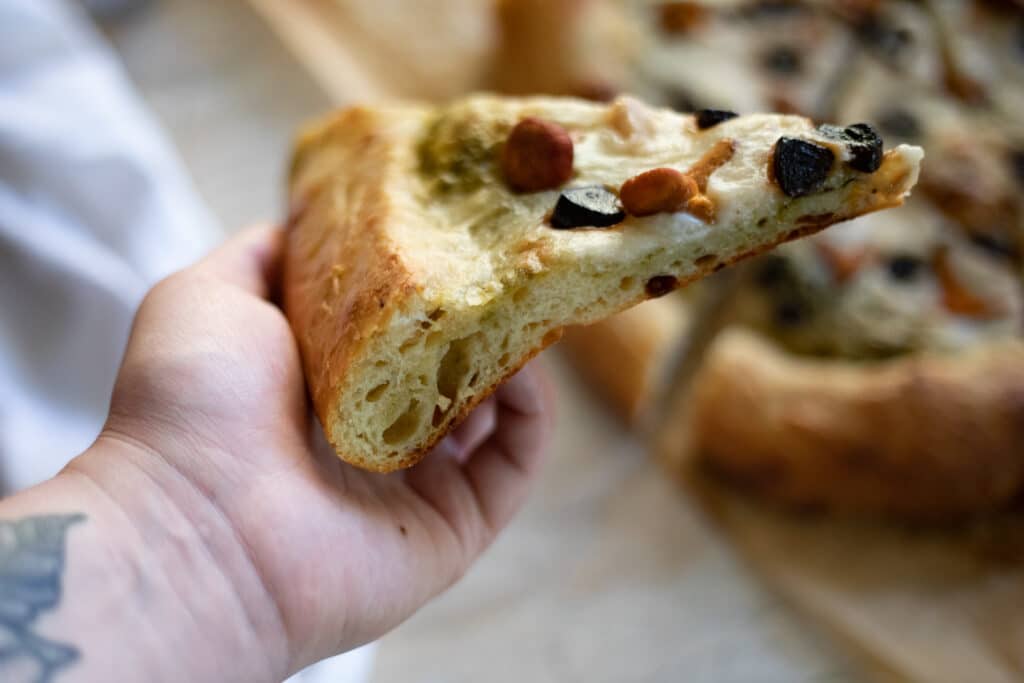 Looking for More Sourdough Recipes?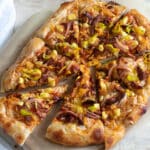 Sourdough Pizza Crust with No Yeast
This sourdough pizza crust has no yeast and relies on the sourdough starter for its lift. This recipe makes 1 large 8-inch thick-crust pizza. This is the crust for soft centers with crispy edges with a slight tangy flavor from the sourdough.
Print Recipe
Instructions
Weigh out your ingredients (recommended) or measure them into a mixing bowl

Mix in a standing mixer using a dough hook for 7 minutes

Otherwise hand knead for 10 minutes or until it is smooth.

The dough will be very wet and sticky

Set your dough in a large, oiled bowl (about 1 tbs worth) and cover for 4 hours, folding it every 45-60 minutes grab an edge of the dough and fold it over.

This helps develop the gluten and improves the texture of the crust.

It's ok if the dough absorbs the oil, it helps prevent the stickiness and makes the crust softer

Refrigerate overnight- this helps the sourdough ferment, develops the flavor, and gives you the extra health benefits of sourdough

Shape your dough by stretching it out and rolling the edges in for a crust.

Brush the pizza dough with an even coating of olive oil

Bake at 450F for 10 minutes, remove from oven

Add pizza sauce and desired toppings

Bake for 7-15 minutes or until the cheese is melted and crust is browned

More toppings will mean a longer cook time
Nutrition
Calories:

453

kcal

|

Carbohydrates:

66

g

|

Protein:

11

g

|

Fat:

15

g

|

Saturated Fat:

2

g

|

Polyunsaturated Fat:

2

g

|

Monounsaturated Fat:

10

g

|

Sodium:

1167

mg

|

Potassium:

113

mg

|

Fiber:

3

g

|

Sugar:

0.2

g

|

Vitamin A:

2

IU

|

Calcium:

13

mg

|

Iron:

1

mg

Did you try this recipe?
Please leave a review and let us know how it went!

Looking for more recipe inspiration?
Here is the latest:

By