This vegan BBQ Chicken Pizza recipe is spicy, sweet, tangy, savory goodness! This BBQ pizza will become a staple in your house – it's simply addicting!
This pizza uses soy curls as a vegan chicken replacement; when seasoned it tastes and has a mouthfeel just like chicken strips! The rest of the pizza uses sweet pineapple, zesty pepperoncini, hearty plant-based cheddar and mozzarella – all of which is perfection in savory BBQ Sauce.
Topped with soy curls, pineapple, banana peppers, red onion and cheddar and mozzarella cheeses on our BBQ/red sauce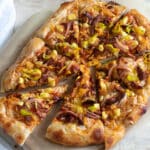 This pizza was inspired by Pizza Luce's 'Rustler' pizza, which is one of the best BBQ Pizzas in the United States (in my humble opinion). I'm sure we all have our favorite pizza spots; even though I've lived in multiple states throughout the US, Luce will always be my favorite.
This vegan BBQ chicken pizza recipe is simple to make and will leave you addicted to making homemade pizzas! (Cheaper AND better tasting than a pizzeria? Yes please!)
This recipe uses a sourdough pizza dough, but feel free to use a premade pizza dough from the grocery store!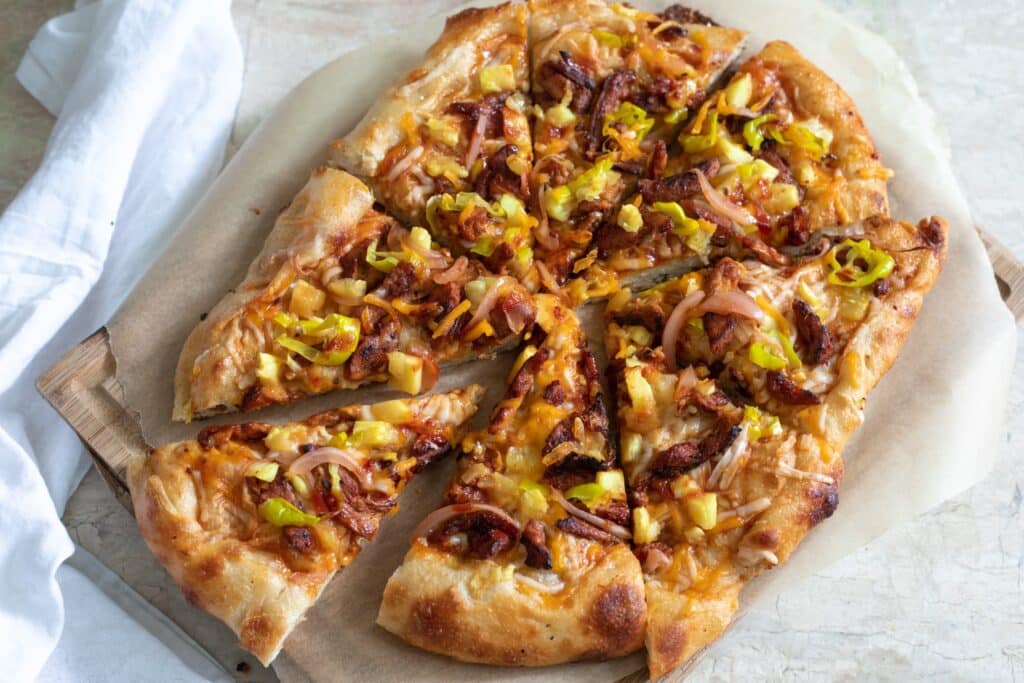 Looking for Premade Pizza Dough?
All of these shops carry premade pizza dough to help make your pizza adventures simpler. If you can't find any fresh dough, check out the freezer section of your local grocery store.
Trader Joes
Whole Foods
Safeway
PCC Market
Vegetarian Chicken for the Barbecue Pizza
This recipe uses soy curls as the 'chicken' for this Vegan BBQ Chicken Pizza.
Soy curls are delicious, chewy, meaty, and very chicken-like. They are dehydrated strands of soy that, when marinated and tossed in a sauce, taste fantastic! The soy curls are much more budget friendly compared to the vegan chicken you'll find in the freezer section, yet they are high in protein and great for you. They are my go-to gluten free chicken replacement whenever I cook (if I'm not making seitan).
The reason soy curls are a household staple is they are a high protein, very meaty, yet can be juicy, and they are more affordable than most vegan proteins. They are healthy in that they have no added ingredients, no salts, with no preservatives. They can really be dressed up nicely, as you can rehydrate them in any variety of sauces to make them extremely flavorful. If you cook them at a high heat following hydrating them, they get a crispy skin with a juicy center. It's not an exact replica of chicken strips, but it is very similar! If you want something that is a copycat version of chicken strips, it's worth it to invest in some of the premade chicken alternatives. Or consider making your own vegan seitan chicken!
The affordability is another thing to consider, especially when we are all feeling inflation.
Each bag (linked in the recipe, and below) makes about 1 1/4 lbs. of protein, making them $3.21 per pound (in 2022) when hydrated if you order the 6 pack from the manufacturer directly. In comparison, Alpha foodie strips is $14 per pound, Daring chicken is $14.9 per pound, and Gardien is $8.82 per pound.
That being said, soy curls are something you'll most likely have to order online. I've included links to what I order, otherwise for the most budget option is to order them from the Bulter website in bulk! Since they are dehydrated, they store great!
The process to make these soy curls into vegan chicken is to simply marinate them in a flavorful broth. I've found that the mixture of nutritional yeast, garlic, onion, and mushroom seasoning creates a chicken-like flavor. Another great option is to soak them in a vegetarian chicken broth to really get that flavor. As a person who doesn't want too much sodium in their diet, I prefer my spice blend over the premade broths, but the flavor is great for both!
After the soy curls are rehydrated then you'll toss them in some BBQ sauce and pan fry them. Pan frying them helps the soy curls caramelize and helps improve the overall texture. It also helps set in the onion flavor for the pizza!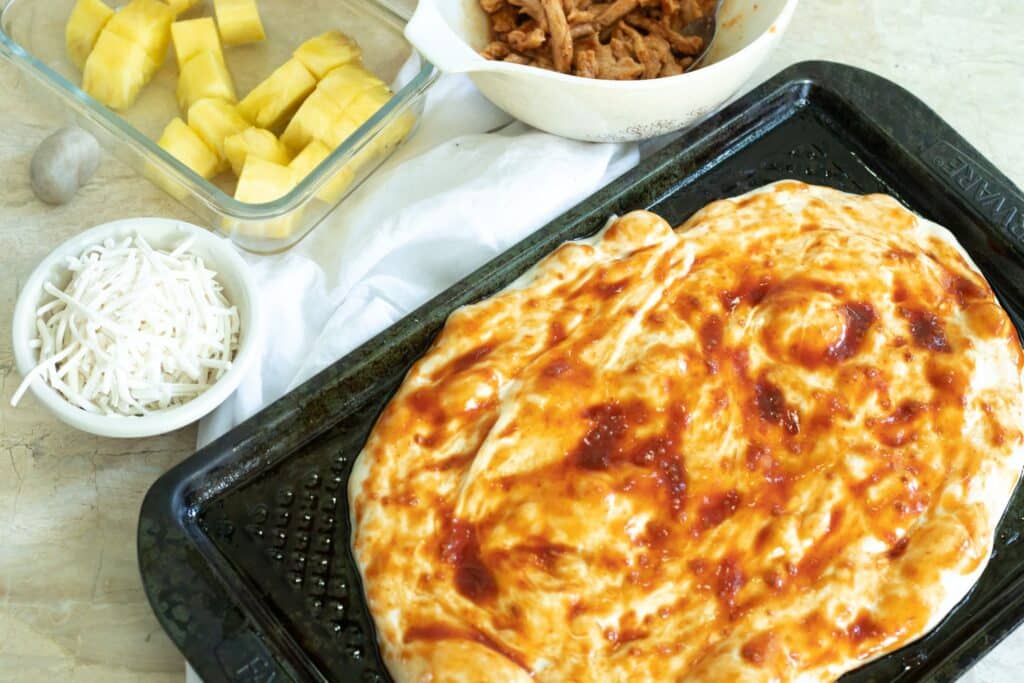 Other Topping Suggestions
This pizza really gets its magic from the tangy banana peppers, the sweet pineapple, savory soy curls, BBQ sauce, with loads of vegan cheddar and mozzarella. It's a lot. It's magical. But there are even more possibilities with this pizza! You could add some coconut bacon over everything, you could crumble over some smoked cheddar over the pizza, or you could even garnish it with chive flowers.
What's the Best BBQ Sauce to Use on this Vegan BBQ Pizza?
Any of your favorite barbeque sauces will work great for this pizza. Sriracha Garlic BBQ sauce from Trader Joes was a hit with this pizza!
---
Looking for more Vegan Pizza recipes?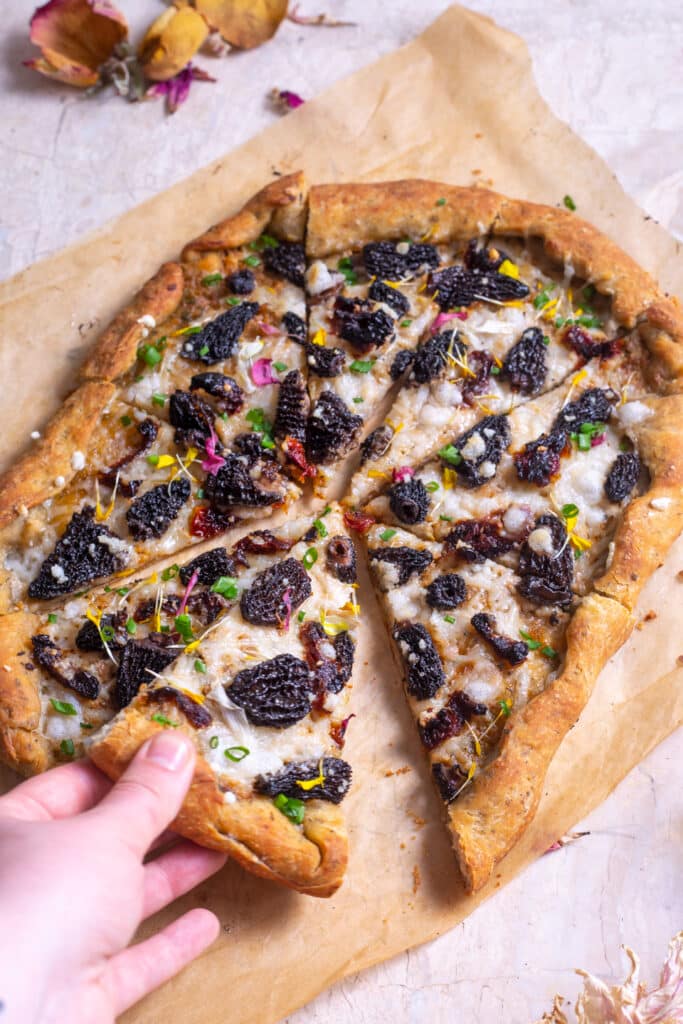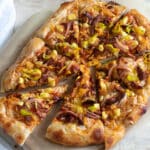 Vegan BBQ Chicken Pizza
Topped with soy curls, pineapple, banana peppers, red onion and cheddar and mozzarella cheeses on our BBQ/red sauce
Print Recipe
Instructions
Soy Curl Chick'n
Heat up 1 cup of water to boiling in a small bowl, by either bringing water to a boil over the stove or microwave the bowl of water for 2-3 minutes

Add the 1 tbs Nutritional Yeast Flakes, 1 tsp Mushroom Seasoning, 1 tsp Garlic Powder, 1 tsp Onion Powder, 1/2 tsp Smoked Paprika, and the 1/2 tsp Sea Salt

Mix to dissolve

Add the 1/2 cup of Dried Soy Curls

Set aside, let hydrate and marinate for at least 15 minutes while you continue with the next steps
Preparing the Pizza Assembly
If using refrigerated store-bought dough, let it get to room temperature for 30 minutes.

Otherwise make your favorite pizza dough recipe here.

Stretch out your dough over a baking sheet with parchment paper, or onto preheated pizza stone

Preheat oven to 450F or according to your packaged pizza dough directions
Vegan BBQ Chicken
Strain the soy curls from the broth.

Add 2 tbs of bbq sauce to coat them

Bring a frying pan up to medium high heat, add a 1tbs of neutral oil. Add the soy curls and sliced red onion to the pan and fry for 7-12 minutes to caramelize
Actual Pizza Assembly
Spread out the bbq sauce over the dough, sprinkle on the 1/2 Cup of mozzarella over the bbq sauce

Fold/roll in the crusts of the dough so the exterior is raised and all the pizza filling stays inside

Lightly brush the crusts with a little bit of olive oil and BBQ sauce to make it more flavorful and crispier

Add the bbq chick'n, finely chopped pineapple, pickled red onion, pepperoncini, then sprinkle the cheddar over everything

Bake in oven for 10-15 minutes or until the crust is golden brown and the cheese is melted
Video
Notes
Instead of making a vegan chicken broth you use a vegan chicken broth bouillon cube or premade vegan chicken broth. 
Roughly 3 tbs of red onion. About a 2-inch chunk out of a red onion 
Nutrition
Calories:

553

kcal

|

Carbohydrates:

68

g

|

Protein:

28

g

|

Fat:

19

g

|

Saturated Fat:

9

g

|

Polyunsaturated Fat:

2

g

|

Monounsaturated Fat:

5

g

|

Trans Fat:

0.1

g

|

Cholesterol:

43

mg

|

Sodium:

2362

mg

|

Potassium:

160

mg

|

Fiber:

5

g

|

Sugar:

15

g

|

Vitamin A:

491

IU

|

Vitamin C:

7

mg

|

Calcium:

292

mg

|

Iron:

5

mg

Did you make this Pizza? Leave a review below!

By