Freshly made flour tortillas made with sourdough discard and flavored with garlic are the ultimate treat! These soft and flavorful flour tortillas are a great way to use up your sourdough discard!
Flour wraps and tortillas are very simple to make, store well in the fridge, and can really level up your tortilla game.
Try out these garlic tortillas in enchiladas like these Vegan Spaghetti Squash Enchiladas! Another way to enjoy these tortillas is with this Vegan Nut Free Queso.
These garlic sourdough tortillas are made with discard sourdough! This quick recipe gives your soft and stretchy flour tortillas- that is packed with garlicy flavor.
These tortillas are perfect for veggie wraps or soft-shell tacos! Make these on a lazy Sunday for soft tortillas to enjoy throughout the week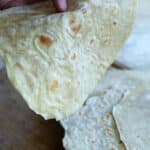 Do I need Active Sourdough To Make This Recipe?
Not at all! This recipe is meant for the sourdough baker who has sourdough discard, meaning it isn't very active. However, if you have active sourdough starter you can use that as well!
When feeding your sourdough, you'll be left with discard unless you are baking bread daily – which isn't most of us! The reason you discard sourdough is to help feed the wild yeasts; you want the wild yeast to be fed with fresh water and flour for a better rise.
Which is why this recipe is awesome! It uses that discard to create a simple flour wrap.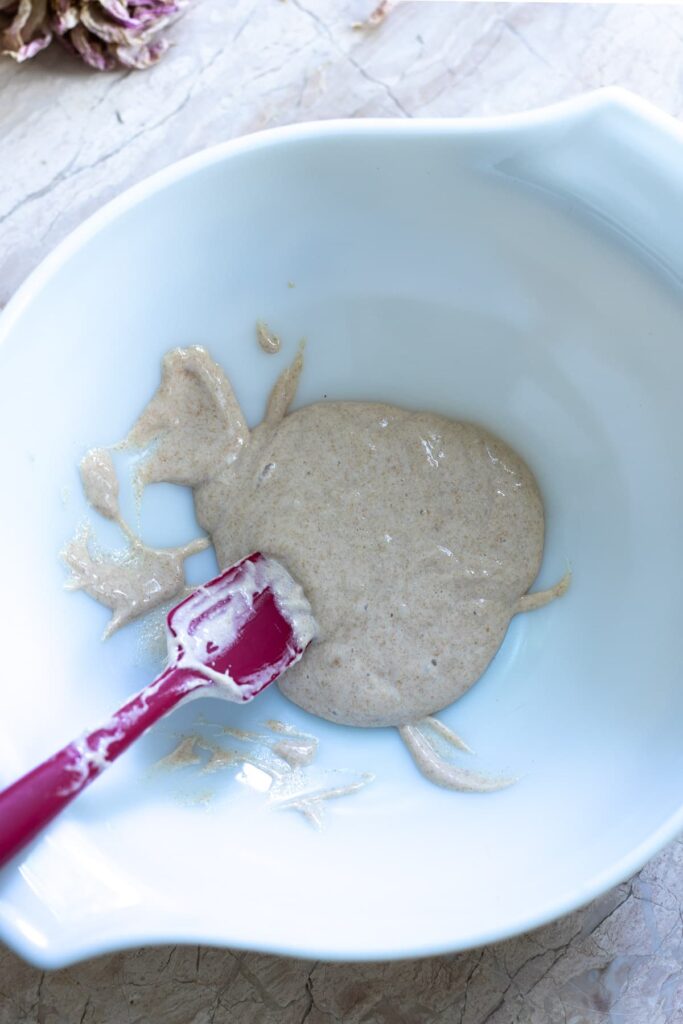 Storing Flour Tortillas with Sourdough Discard
These tortillas will last in the fridge for 3-5 days without drying out (as long as you don't overcook them!)
They do need to stay in an airtight container, or you can reuse a plastic bag to store them. You can freeze them and have them last for months as well!
If you want to freeze your tortillas, place a piece of parchment paper between each one to prevent sticking.
Making the Sourdough Tortillas Garlic Flavored
To make these tortillas garlic flavored you will want to use an infused garlic oil and dust each tortilla in garlic powder when you are frying them. This helps make that garlic flavor really pop! Consider trying out another flavored oil to customize the flavor, an Italian herb infused olive oil, black truffle oil, or even a chili infused olive oil would be fantastic in these tortillas.
Tips and Tricks for Successful Homemade Tortillas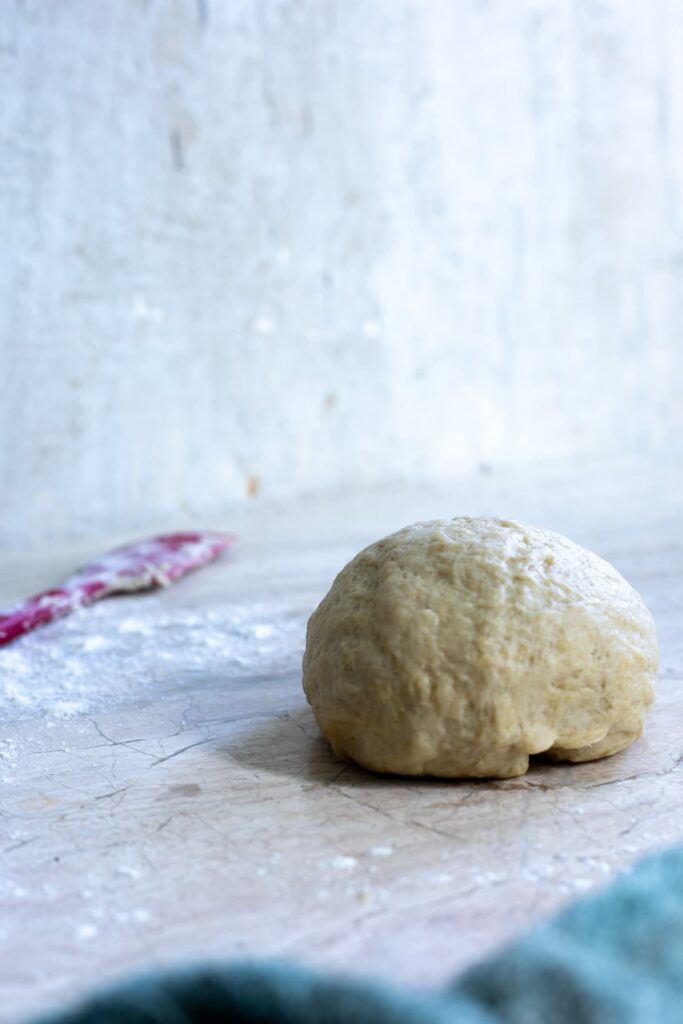 You don't need to knead your dough to make these soft and stretchy tortillas!
After you combine the water, flour, oil, and sourdough discard simply knead to combine the flour.
This takes only 1 minute!
After that you'll let the dough rest in a covered bowl for 30 minutes.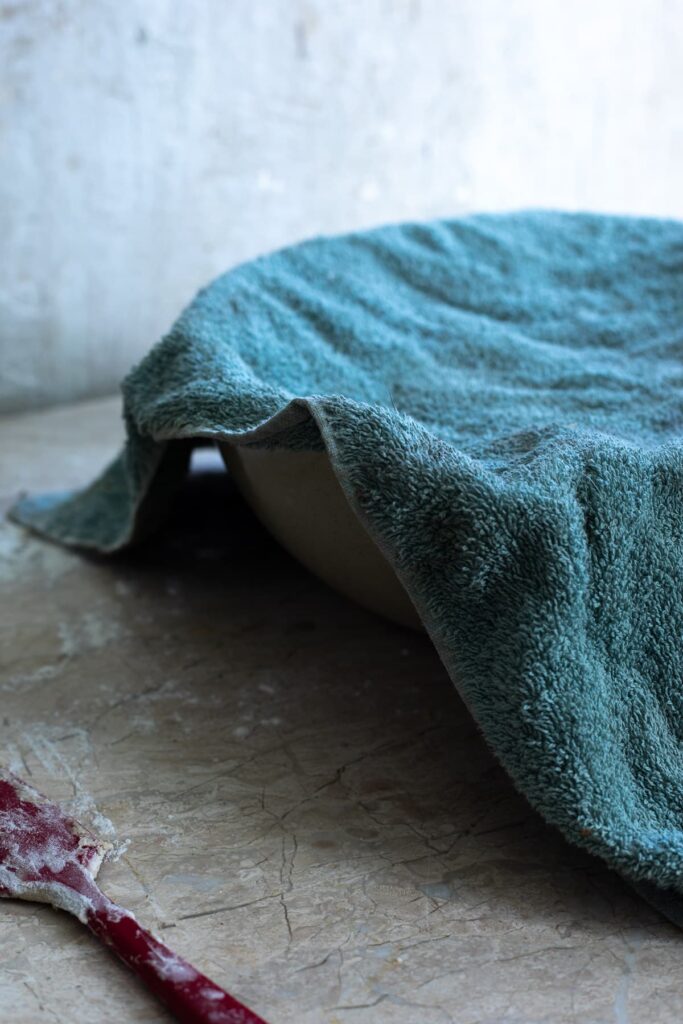 Make sure you preheat your skillet before adding the tortillas.
The best way to keep them soft is to cook them hot and fast!

Preheat the skillet before you even start separating your dough into dough balls.

To make small tortillas for soft shell tacos separate the dough into 8 dough balls,
for larger wraps separate into 6,
for burrito sized wraps separate into 4 sections.

To prevent the dough from drying out, roll them out right before frying them.

Frying the tortillas goes very quick!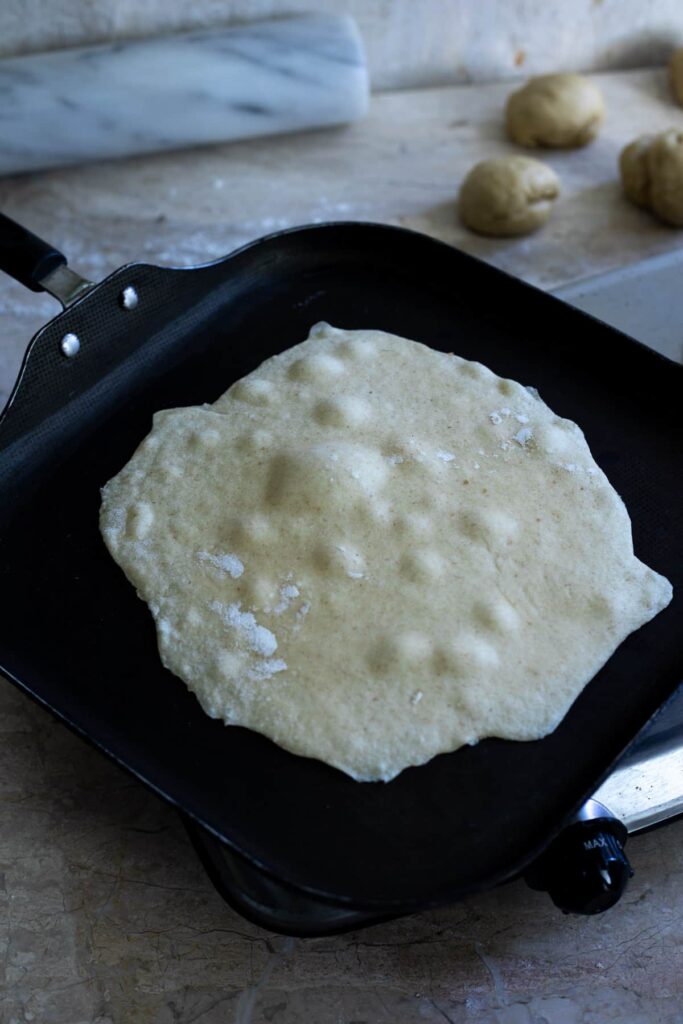 It needs about 60 seconds on the first side, just until it starts to bubble like in the image above.
Then when you flip it the tortilla only needs about 15-20 seconds on the other side.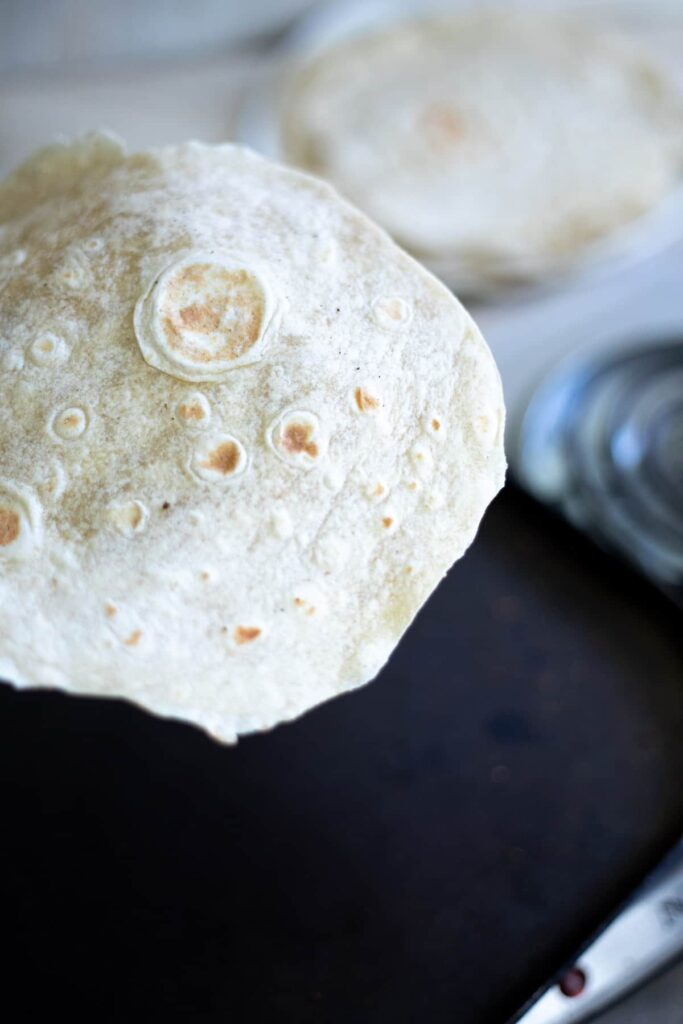 If you overcook the tortillas, they will dry out and won't be soft or flexible.
You are better off slightly undercooking them than overcooking them, especially since they are best enjoyed heated up!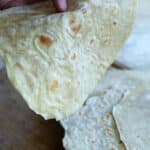 Garlic Sourdough Discard Tortillas
These garlic sourdough tortillas are made with discard sourdough! This quick recipe gives your soft and stretchy flour tortillas- that is packed with garlicy flavor.
These tortillas are perfect for veggie wraps or soft-shell tacos! Make these on a lazy Sunday for soft tortillas to enjoy throughout the week
Print Recipe
Ingredients
1/2

cup

Discard Sourdough

1/3

Cup

Water

1/4

Cup

Infused Garlic Oil

Or infused olive oil flavor of choice

1/2

tsp

Salt

1 2/3

cup

All Purpose Flour

Roasted Garlic Powder
Instructions
In a large bowl mix together the sourdough starter, water, oil, and salt

Add the flour and mix to combine, then knead for 1-2 minutes until your dough looks homogenous

Cover the dough with a towel and let rest for 30 minutes

Preheat a large skillet on high

Divide the dough into 8 pieces, rolling each section into a little ball

Roll out each section of dough into a thin, round circle that is roughly 1/4 inch thick

Sprinkle a bit of the roasted garlic powder over the tortilla

Individually cook each tortilla for one minute on both sides. Flip once little bubbles start to form so it has those nice brown spots

Let them cool before storing to prevent sticking
Nutrition
Calories:

228

kcal

|

Carbohydrates:

30

g

|

Protein:

4

g

|

Fat:

10

g

|

Saturated Fat:

1

g

|

Polyunsaturated Fat:

1

g

|

Monounsaturated Fat:

7

g

|

Sodium:

196

mg

|

Potassium:

37

mg

|

Fiber:

1

g

|

Sugar:

1

g

|

Calcium:

6

mg

|

Iron:

2

mg

By