This extra creamy, rich, vegan queso is easy to make and will fulfill all your cheesy dreams!
This vegan queso recipe is made with flavor and texture in mind- this gooey cheese is truly a copy cat recipe for tradition queso. This recipe is also a great way to save money- to make this is a fraction of the price as store bought plant based queso.
This creamy queso has no cashews, no nuts at all!

If you can save money while making a fresher, better tasting vegan queso at home, why buy it?
This is such an easy queso recipe!
It takes less than 15 minutes to make!
This vegan queso is liquid gold and is a summertime staple.

It is incredible dipped with chips, smothered over nachos, enchiladas, poured into burritos, drizzled over tacos, or made into mac and cheese.
The flavor of this is better and it is more affordable than store bought vegan queso. Since it's cheaper to make and it's healthy try making a huge batch- it really elevates TexMex recipes!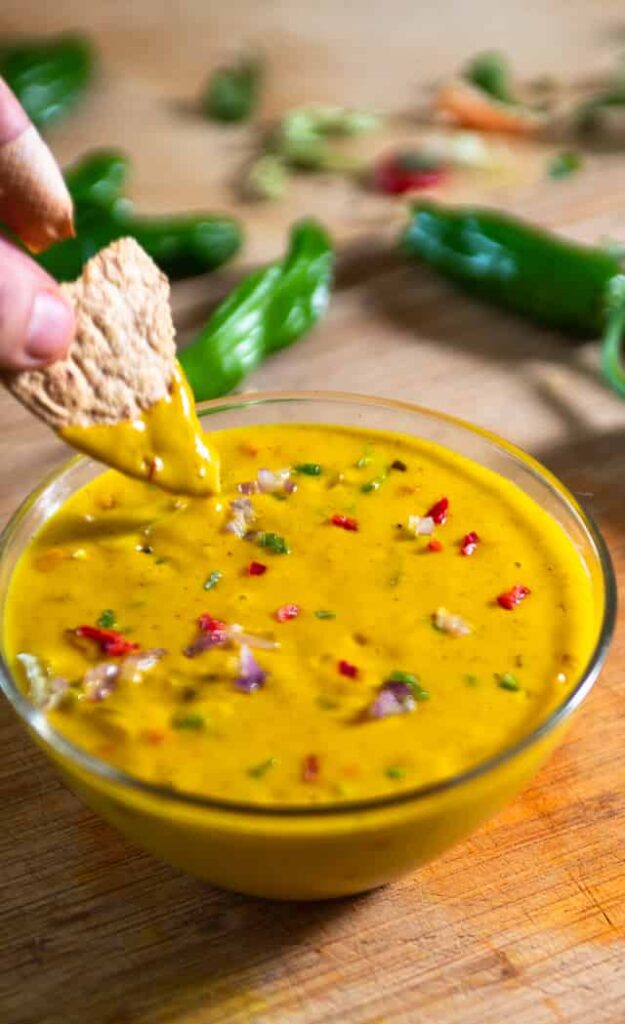 The process is simple, steam up some potatoes and squash- then blend it up coconut cream, garlic, miso, and your spices. I've recipe tested this queso with raw cashews and without- it doesn't make much an impact compared to only coconut cream. If anything, the raw cashews thicken the cheese by adding more fiber than what the coconut cream would. That extra fiber in the cheese makes it less appealing in texture.
What's wild is the extra creamy texture from the coconut and potato. While potato might not be what comes to mind when you think cheese, when it is watered down with creamy and blended on high the gooey texture is unbeatable!
Extra Creamy Queso- All Made From Plants
This queso is extra creamy using coconut cream and coconut oil to make it decadent. With all the flavors from the peppers, chilies, garlic- there is zero coconut or vegetable flavor.
A surprising ingredient is potatoes.
If you've ever tried making mashed potatoes in a blender you will see it creates a stretchy creamy texture, which makes a perfect base for low fat 'cream' dishes.
Over blending potatoes for mashed potatoes helped me discover that is makes an amazing cream sauce once the right spices are added.
If someone told me a couple years ago I would be making a cheese sauce with potatoes and coconut cream I would have thought you are nuts. But in reality- it works fantastically.
Why Not Use Cashews in Queso?
If you've made a plant based queso before you'll notice that most recipes uses cashews. Cashews offer a neural flavor and can help create a great cream.
However, the delicious cashew does come with many downsides.

Harvesting cashews comes with risks, many workers who deshell cashews are a risk for chemical burns while not being paid a fair wage.

The Guardian reports, " Some women were earning the equivalent of 30p a day and suffering permanent damage to their hands from corrosive liquid during handling the nuts" and "During the deshelling process the nuts produce a caustic liquid that burns the skin. In some cases, hand protection is available, such as alkaline pot ash to counteract the acid; alternatively, some women bandage their hands. In some factories, rubber gloves are available, but in many instances workers have to pay for them and not everyone can afford it".

The Inside Over says, "With vegetarianism and veganism on the rise, the need for cashew nut has grown exponentially over the years. With an annual value of over $4 billion, it commands high prices in Western countries and is widely featured in new and trendy recipes. Yet, it is exported from some of the world's poorest corners, and unbeknownst to the average consumer, those in the lower tiers of the production line of the nut, toil in some of the harshest conditions and suffer daily horrific burns and pain – just to feed the West's insatiable hunger for cashews"

Until I'm able to find more ethically sourced cashews I'm limiting it in my recipes. That being said, I still use them sparingly for recipes that doesn't have a good substitute for it. This is one of those recipes you don't need cashews to get that rich flavor.

This queso is so rich and creamy- it doesn't need the cashews!
This recipe has been tested with and without them- and it doesn't make a noticeable impact at all.
What you do need is full fat coconut cream and coconut oil!
The coconut flavor is easy to neutralize in this recipe so it tastes extra cheesy and not tropical. A combination of the nutritional yeast flakes, black salt, truffle salt, and miso all accomplish this.
Is Vegan Queso Healthy?!
Sure is! This recipe is loaded with veggies that are blended up to make a nice cream. It helps keep a smooth texture to the sauce while having a neutral flavor- all while helping make the result more nutritious.
This recipe is very versatile where it works with a variety of squashes like patty pan or delicata and also works with daikon root.
Many other variations of this recipe uses carrots with the potatoes- however I find that the carrot flavor is too strong. We don't want our cheesy queso to taste like a vegetable soup now do we?!
Instead I used a small paddy pan squash and found it creates a smooth texture without affecting the flavor. I've also tried it with a daikon root and it worked beautifully.

I love that daikon is an affordable root veggie, with little to no flavor – and it blends up like a dream (very smooth) after its been cooked. Traditional cheeses rely on heavy cream as the base. This recipe is much lighter where it is blended vegetables mixed with coconut cream. If you only did coconut cream with spices sure it would be richer, but then the coconut flavor would come through. Blending in squash or daikon helps remove the coconut flavor while making the queso more healthy.
Spices for Vegan Queso
What really makes this vegan queso amazing is all the chilies, peppers, spices, and seasoning that go into. The base of the cheese sauce doesn't have much flavor- but once you add all the spices and peppers, it packs a punch.

If you have any, try to use some fresh Chilies!
In the late summer and early fall Colorado is loaded with chilie stands all over- take an advantage of them by including them in this recipe. Hot Chilies work great in this plant based queso- the creaminess really help tone it down.
*2022 update* Living in beautiful Seattle now I found this recipe still kicks ass with canned pickled jalapenos.
Coconut Cream
What gives this queso it's rich flavor and ultra creamy texture is the coconut cream. The best results will be from using canned coconut cream, it really adds amazing decadence to this.
This recipe also works with canned coconut milk, regular and light. Try adding a couple of tablespoons of coconut oil to your light coconut milk to help get that creamy flavor. However if you want to keep it light (oil free, low fat), add some dried coconut milk powder and increase your spices (and peppers).
The coconut milk not only adds creaminess, but it tones down the vegetable flavor in this queso. Higher fat means a more creamy and cheesy queso. Which is why using coconut cream is my go-to, the flavor is unbeatable!

Try Pairing your Queso with Rainbow Salsa!
For the ultimate dipping experience try making some fresh Easy Rainbow Salsa to pair with! It's also fantastic over enchiladas like these spaghetti squash enchiladas.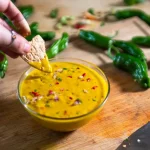 Creamy Queso
This vegan queso is extra rich and creamy while being secretly healthy. It is allergy friendly being soy, nut, and dairy free- all while being mouth watering delicious. This is a cheesy dip that everyone will love!
Print Recipe
Ingredients
3

Cups

Chopped Potatoes ( Yukon, Baby Reds)*

1

Cup

Summer Squash, or Daikon, or Turnip*

1/4

Cup

Coconut Oil

5.4

Ounces

Coconut Cream (3/4 cup)

2 1/2

tbs

Tapioca Starch*
Spices
2

tsp

Chickpea Miso*

2

tsp

Dijon Mustard

2

cloves

Garlic

3

drops

Liquid Smoke (or to taste)

3

capsils

Beta Carotene* Optional*

1

tsp

Black Salt

1

tsp

Truffle Salt*
Peppers & Chilies
2

tsp

Finely Minced Jalapeno

2

tbs

Minced Bell Peppers

4

tbs

Green Chilies
Instructions
Steam your potatoes and squash until very soft. That would be 10 minutes in an Instant Pot on high,

Otherwise steam on the stove for 30-45 minutes or until it is very soft

Add your cooked potatoes and squash to a blender. Add in your coconut oil, coconut cream, tapioca starch, miso, mustard, nutritional yeast flakes, garlic, liquid smoke, Beta Carotene, and half of the can of green chilies to the blender.

Blend everything on high until completely smooth- this will take a few minutes

Now stir in your peppers and chilies, and serve!
Video
Notes
If you want to use russet potatoes be sure to peel them. Otherwise keep the peels on the Yukon or baby reds for extra nutritional benefits
I've found that patty pans, delicata, daikon, and radish are all great in this queso. The most neutral in flavor is the daikon, but all taste great in this recipe
Chickpea Miso can be found in Health Food Stores like Natural Grocers. Otherwise you can use any variety of miso you have access to
The Tapioca Starch helps this sauce become more thick, stretchy, and gooey. It can be found in most supermarkets and is easily found in Asian or international grocery stores
Nutritional Yeast Flakes can be found in most health food stores like Natural Grocers, Whole Foods, ordered online, or at vegan markets.
It is filled with umami flavors with a slightly cheesy, nutty, depth that is an incredible spice. It is one of the most under rated spices in the culinary community and is considered a vegan staple since it helps create incredible flavors.
While it is recommended you DO NOT SUBSTITUTE IT- I understand it is not a common ingredient.
If you must substitute it, replace it with equal parts miso paste, an extra tsp mustard, an extra drop of liquid smoke, and consider increasing your peppers/spice. Taste as you go!
Consider using Beta Carotene Capsules.
It naturally colors your queso into an orange hue without altering the flavor. Often recipes will call for tumeric to color their sauces, however it can disturb the flavor.
Beta Carotene Capsules are found in your supplement isle at most grocery and health food stores.
If you don't add it your queso will be beige in color rather than the bright orange you see in the images.
Truffle salt helps adds deep umami to the sauce. You can find it at farmers markets, order it online, or find it at specialty cooking stores. Other things that would work here would be msg, mushroom seasoning, and…
-In a Pinch- use standard sea salt!
Nutrition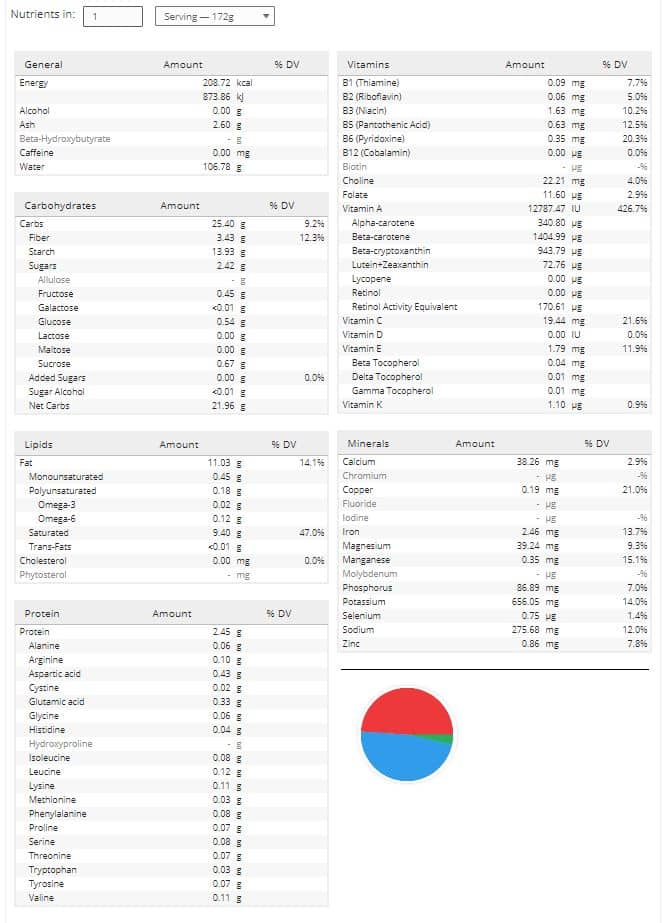 Looking for more snacks to share?
Check out these awesome snacks for your next get together or for vegging out!
Hungry for more?!
Check out the latest recipes and eco friendly tips
---
By