Rainbow Salsa is a healthy, fresh, tasty way to enjoy the fruits of summer!
This fresh salsa is a type of pico de gallo that has so many recipe possibilities.
Enjoy with chips, nachos, in burritos, added to your favorite nacho cheese sauce- try making it today!
This recipe is easy!
Simply chop up your multicolored veggies, add some spice, squeeze some lime juice, and stir.
Never buy fresh salsa at the store again- save money and start eating better tasting salsa today!
The key here is to use a variety of tomatoes and peppers that not only add a different hue, but also offers variation in flavor.
This is a recipe for people who like to eat with their eyes!
If you are looking for another summer dip- try making this vegan queso. Queso pairs wonderfully with this rainbow salsa for a quick snack or to have out when entertaining. A fun option is to make some nachos with this fresh salsa and drizzle over the vegan queso for a gooey cheese.
Extra Colorful and Extra Healthy Fresh Salsa
This colorful rainbow salsa is not only more beautiful than other salsa recipes, but it is higher in antioxidants. Creating gorgeous fresh salsa like this is so much better for your health!
Different variations of antioxidants are present in differently colored fruits and vegetables. The more that are present, the more effective the antioxidants absorb into the body. The deeper the color a fruit or vegetable has- the more antioxidants it carries.
How Pick Your Veggies For Rainbow Salsa
To keep this easy rainbow salsa recipe simple check out the farmers market for the largest variety of tomatoes and peppers. If the farmers market isn't your thing scope out your local grocery store and see what varieties they have. Most grocery stores have a yellow and red tomatoes, the amount of varieties really depends on where you go.
I've found that more upscale grocery stores will often carry more exotic and heirloom varieties. It's also a fun project to grow your own vegetables if you have the space for it!

Using a variety of tomatoes and peppers adds more colors and variety of nutrients. This salsa uses a Black Sea Man tomato, Red on the Vine tomatoes, and one Brandywine Yellow tomato. Consider trying different varieties- every variety of vegetable will have slightly different nutrients, flavors, and colors. Which is why nutritionists say you should eat the rainbow for your health!
The peppers also vary with a few shishito peppers, a jalapeno, and a purple bell pepper. You are not limited to using those pepper for this salsa- use what is available to you locally!
Looking for more summer recipes?
Try serving this salsa with Mermaid Mint Iced Tea it's a refreshing and gorgeous iced tea that is perfect for cooling you off after a hot summer day.
Rainbow Salsa
This fresh and colorful Easy Rainbow Salsa is a summer staple! This salsa is as tasty as it is beautiful and can be made in under five minutes.
Don't have the exact varieties listed?
No worries swap them with what you have available- do try to incorporate at least three varieties to make it more colorful.
Print Recipe
Ingredients
1

large

Black Sea Man Tomato*

1

large

Goldenwine Yellow Tomato*

2

small

Red Vine Tomatoes*

1/2

large

Red Onion

2

large

Cloves of Garlic

1/2

large

Purple Bell Pepper*

1/4

cup

Shishito Peppers*

1/2

small

Jalapeno

1/2

large

Lime
Spices
1/2

tbs

White Vinager

1

tsp

Cumin

1/2

tsp

Sea Salt or to taste

1

small pinch

Sugar
Instructions
Chop your tomatoes, peppers, and red onion and place in a large bowl

Finely mince your garlic and jalapeno, add to the bowl of chopped veggies

Sqeeze out half a limes juice in your mixture

Add your vinegar, cumin, salt, and sugar- now mix

Serve in your favorite salsa dish and enjoy!
Video
Notes
Try swapping out Black Sea Tomato for a purple tomato variety you have available
Try swapping out the Goldenwine Yellow Tomato for your favorite orange or yellow tomato variety
Try swapping out the Red Vine Tomato for your favorite red heirloom variety
Can't find a purple bell pepper? Swap it for your favorite kind of bell pepper!
No Shishito Peppers? Swap it out for your favorite pepper varieties, do a taste test to ensure it's at the heat you want.
If you accidently make your salsa too hot, add it to your favorite nacho cheese sauce to mellow out the heat
Nutrition
Calories:
16
kcal
|
Carbohydrates:
4
g
|
Protein:
1
g
|
Fat:
0.2
g
|
Saturated Fat:
0.02
g
|
Polyunsaturated Fat:
0.1
g
|
Monounsaturated Fat:
0.04
g
|
Sodium:
139
mg
|
Potassium:
123
mg
|
Fiber:
1
g
|
Sugar:
2
g
|
Vitamin A:
572
IU
|
Vitamin C:
19
mg
|
Calcium:
10
mg
|
Iron:
0.3
mg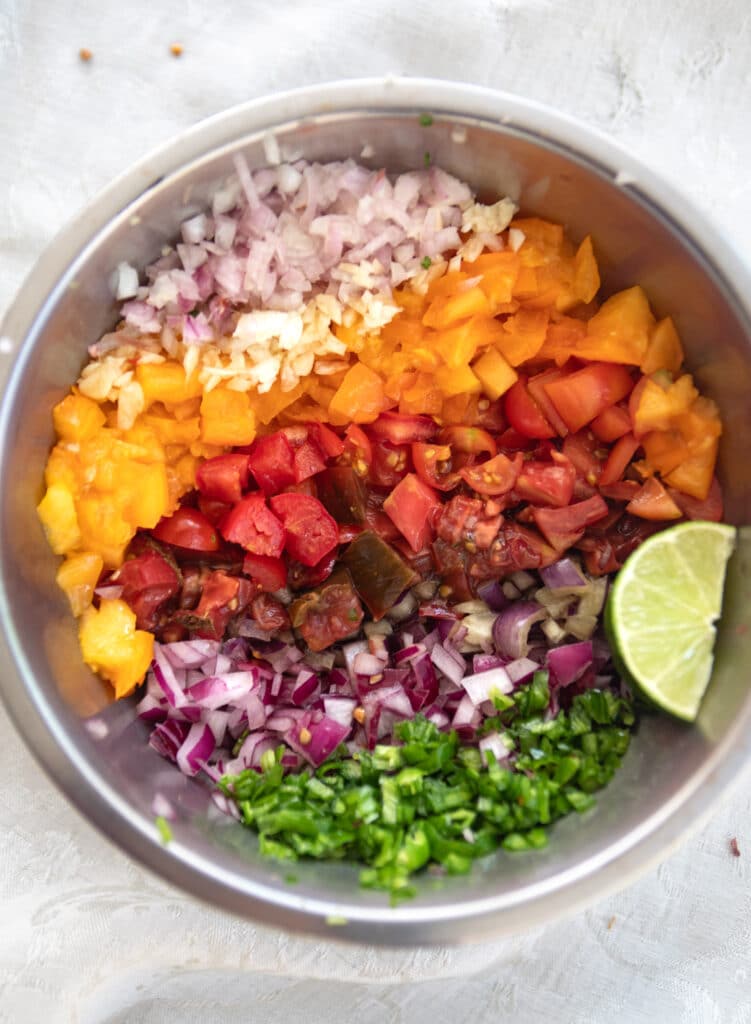 ---
By