The American Summer Wrap is a quick and easy vegan wrap is ultra flavorful and tastes like summer!
The flavors in this vegan wrap recipe are so unique, you need to try this!
This easy vegan wrap is made with plant based chix tenders, slices of watermelon, green onion, and fresh lettuce. This is a wrap that screams summer!
Tajin with watermelon and mint adds a sweet-yet-salty element while crunchy seitan tenders and ranch adds a creamy boost that perfects this wrap. It gives it a tropical yet satisfying bite.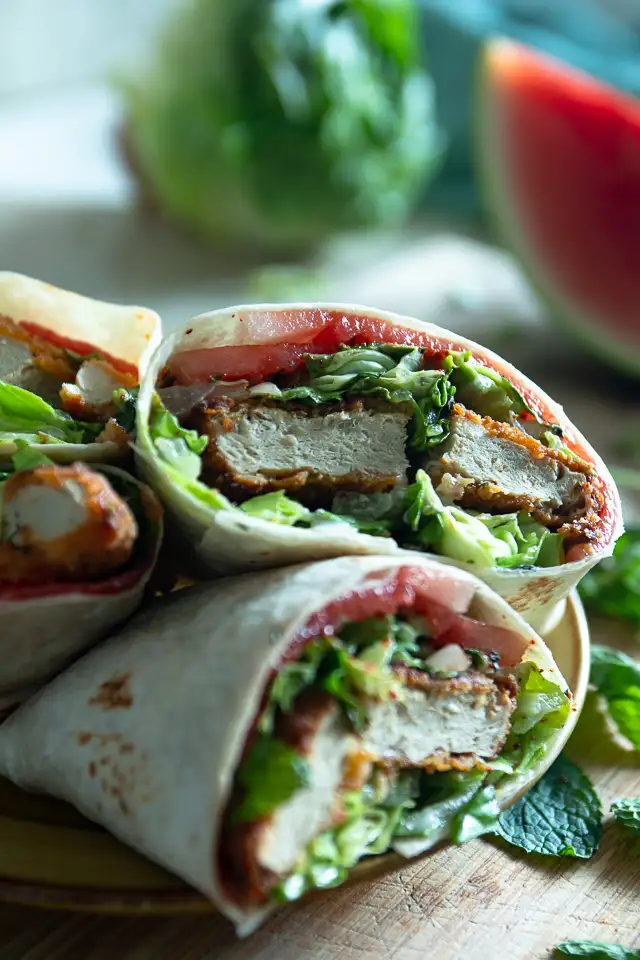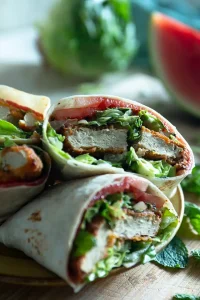 Vegan Chicken Ranch Wrap
To make this vegan wrap recipe you will need some plant based chicken tenders.
The brand you use doesn't matter to much- feel free to make your own too!
I personally like the gardien or bocca brand ones when I'm looking for something accessible. In this wrap I used the Gardien vegan chicken patty since my local grocery store had it.

If you can afford to splurge order brands like Peskies Kitchen, Atlas Monroe, or try some vegan chicken from one of the vegan online grocery stores like GTFOIt'svegan or shopvejii.
I've personally never order from those grocery stores, but I've tried Peskies Kitchen when I lived in Denver and LOVED it.
These are just some suggestions for you- not paid links.

The ranch is pretty easy to find vegan at most grocery stores. Use whatever brand you prefer or try making it!
I personally like the daiya brand if I don't want to make it, but I normally make at home to save some money.
It's super easy, just thin out vegan mayo with some plant based milk and season it up.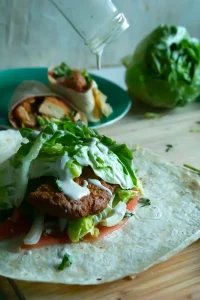 Flavor Packed Vegan Wrap

The key seasoning in this vegan wrap recipe is tajin, a Mexican seasoning made up of ground lime, chile de arbol powder, and sea salt.
It can be found at most grocery stores in the US, but can be made at home very easily for those of you who don't live in the United States!
The other factors to make this vegan wrap recipe be packed with flavor is using fresh herbs and green onion. Fresh mint and lime really makes this wrap taste ultra fresh and is a great contrast to the creamy ranch. Try adding some cilantro to make this easy wrap taste even more fresh.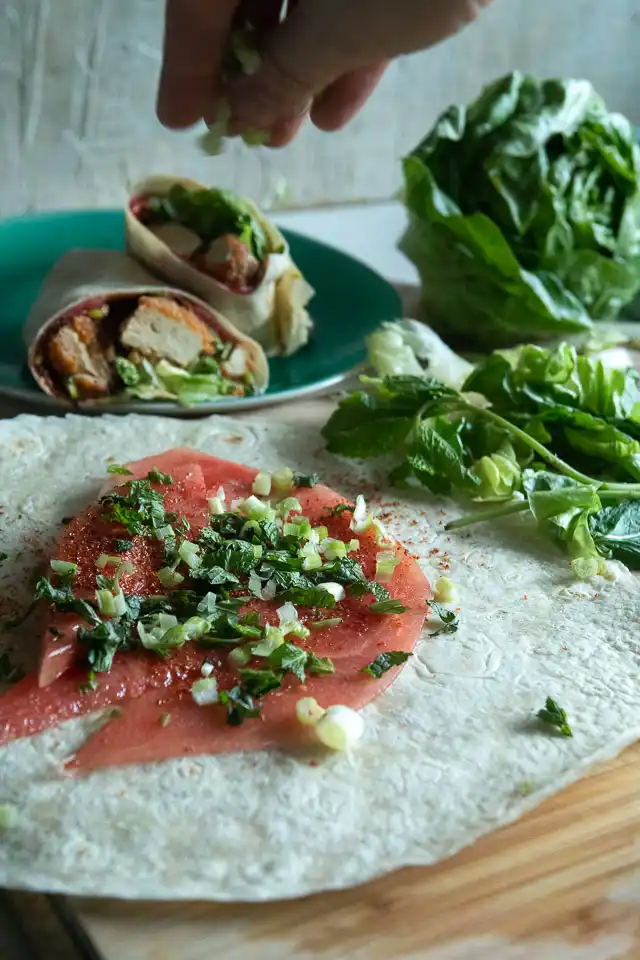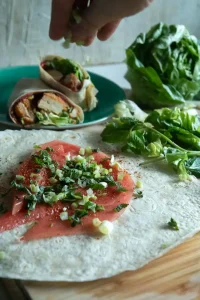 To Make Tajin at home…
Gourmet Sleuth kindly wrote up this at home tajin recipe– which is perfect if you can't find it locally.

Combine:
1/2 cup sea salt
1/8 cup de arbol chile powder
2 1/2 tablespoons of ground dried lime

If you are feeling brave- there are of other seasoning that could also be fun in place of tajin!
Try using kimchi salt- it has spice, tang, and adds a pop just like what tajin does. In place of dried lime consider using another citrusy herb like sumac. In place of using de arbol chili powder try using a Calabrian chili for a more smoky effect.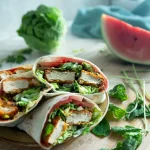 American Summer Wrap
This quick savory wrap tastes like summer! It combines sweet with savory using vegan tenders with ranch, wrapped around a thin slice of watermelon covered in Tajin seasoning, with a crunch of fresh lettuce.
Print Recipe
Ingredients
3

Thin slices

Watermelon

2

Strips

Plant Based Chicken Tenders

1

Large

Flour Tortilla

3

Leaves

Chopped lettuce

1

tbs

Chopped Fresh Mint

2

tbs

Chopped Green Onions

1/4

Fresh Lime

1

tbs

Vegan Ranch

dash

Tajin Seasoning
Instructions
Prepare your plant-based chicken tenders according to package directions.

Very thinly slice your watermelon- you want it slightly translucent!

Place your watermelon slices on your tortilla, then squeeze out your quarter lime over the watermelon

Sprinkle the juicy watermelon with Tajin, then add your mint, lettuce, and plant-based chicken tenders

Drizzle with vegan ranch and wrap it up
Video
Notes
If you do not have Tajin at home make it with the seasoning blend listed above, or simply use your favorite chili lime salt, kimchi salt,
Want it gluten free?
Swap the flour tortilla for corn or whatever your preferred gluten free tortilla is!
Then swap the seitan chick'n strips for marinated soy curls, fried tofu, or grilled veggies.
Not sure what kind of plant based tenders to try?
You can make your own seitan roast, bread it and fry it for tenders, or pick some up!
*not sponsored, just honest opinions to help you*
I love Pescky Kitchen (they are a little expensive, but worth it- it tastes so good!),
Gardein Ultimate Chix Tenders they are found at most grocery stores, but this is a link to an all vegan online market that sells it. They taste alright, and it's a good budget option.
Atlas Monroe is another high quality seitan tender that is expensive but tastes amazing.
Bocca is a budget friendly option that tastes ok, not incredible, but it's cheap and found at most grocery stores. Be careful when purchasing from them since many of their products have milk and eggs in it. Double check that the version you are getting is vegan!
Nutrition
Looking for other summer recipes?

Try this Easy Rainbow Salsa

This fresh salsa is a type of pico de gallo that has so many recipe possibilities.
Enjoy with chips, nachos, in burritos, added to your favorite nacho cheese sauce- try making it today!

By