Lets get spooky with these purple skull gnocchi's!
This vegan Halloween recipe is the ultimate comfort food, the gnocchi has a melt in your mouth texture. These gnocchi are vegan and can be made gluten free, all these need is your favorite sauce!
This spooky gnocchi is a purple skull shaped gnocchi! This vegan gnocchi is extra soft while being fun and festive. Simply bake some potatoes, peel and mash, form your skulls, and boil; this simple gnocchi recipe is a fun family project!
For the Perfect Spooky Vegan Dinner
For the best gnocchi, whether if you make it spooky or not, is with baked potatoes. There are other recipes online that have you boil or steam your potatoes but that can let in too much moisture and will result in a tougher, denser, chewier gnocchi.
Roasting your potatoes the oven helps draw out moisture which helps you use less flour.
Since you are taking the time to make gnocchi from scratch, lets get that melt in your mouth texture!
Traditional gnocchi uses baked-then-peeled russet potatoes.
However purple potatoes work fantastic in this recipe and give off a fun purple color! The purple hue in these potatoes are also loaded with antioxidants, you can't go wrong with an extra health boost!

I was able to find purple potatoes at my local farmers market, but you can also find them at Sprouts, Whole Foods, and International Grocery Stores (Asian Grocery stores will carry them!) Some locations of King Soopers and QFC carry them too, they'll be with the other sweet potatoes.
If you can't find purple potatoes in your area but still want fun colored spooky gnocchi consider adding in a tsp. of beet powder for a red gnocchi, charcoal powder for a black gnocchi, or even blue spirulina for a blue gnocchi.
Let's make Spooky Skull Gnocchi!
To shape the gnocchi into skulls try using a mold. I used this skull mold from amazon (commission link, it's what I use at home and I love it!)
After you put the dough in the mold you can use a chop stick to make the details of the skull stand out more.
It's as simple as pinching out a section of dough, flouring your mold so the dough comes out easily, pressing the dough into the mold- then you boil the gnocchi skull!
You can try to hand shape the gnocchi skulls using a chop stick- but I found that it was difficult to look good and it's pretty time consuming. Pressing the dough into a mold is much faster and gives you the best result.
How Much Flour for the Best Gnocchi?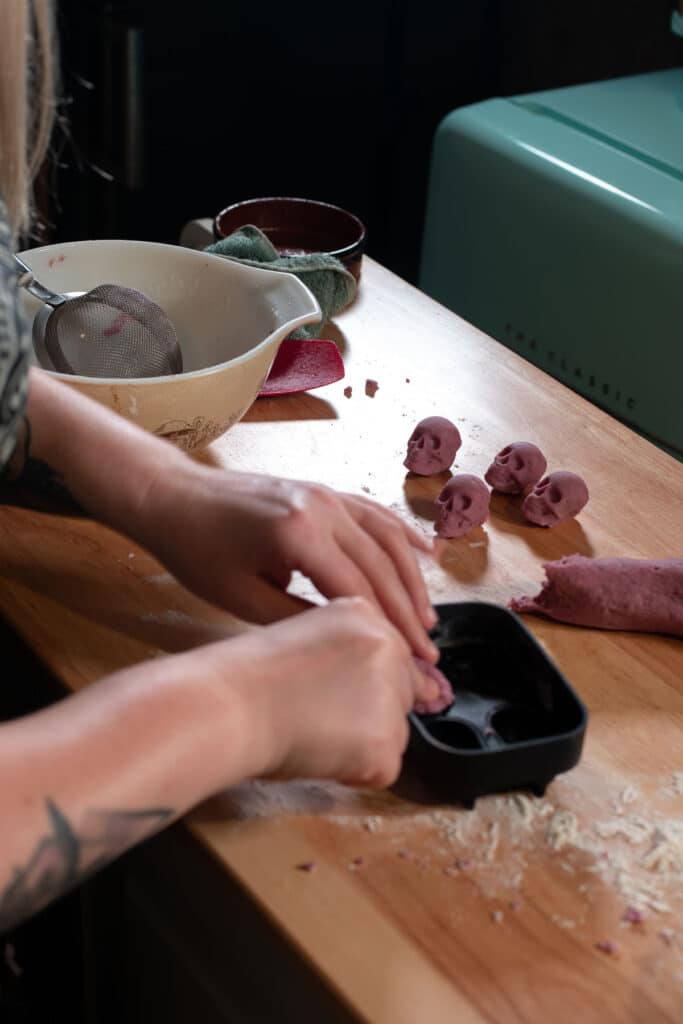 The best gnocchi uses flour only to help keep the shape, the more flour you use- the denser the gnocchi. While a firm dumpling of a gnocchi could be great in soup, as a pasta you want the gnocchi to be soft. Not too chewy or gummy.
The last batch of gnocchi I created used only 3/4 cup flour; purple potatoes (Crimson King specifically) tend to be a drier potato that doesn't need as much flour.

When you knead the dough together you want the dough to come together and get smooth. From there, you need to create a test single gnocchi in boiling water to ensure you have the right amount of flour.
You can always add more flour, but if you add too much it is impossible to fix.

To make your gnocchi gluten free, use potato starch in place of flour. The result will be softer after you boil the gnocchi but once you let it cool it will firm up. You can also use tapioca starch, however the gnocchi will be more gummy and chewy.

Add your flour in very small increments and test the gnocchi before shaping it!
How to Serve Vegan Halloween Gnocchi
This Halloween gnocchi is perfect in a creamy pumpkin sauce! I love this pumpkin sauce as it is both festive and it tastes so rich!
However, the skull gnocchi would also look cool in a red marinara sauce. Or if you like the purple and green spooky colors try serving it with a pesto sauce!
Since the gnocchi is neutral in flavor the sauce choice is a personal preference; any of them would be fantastic!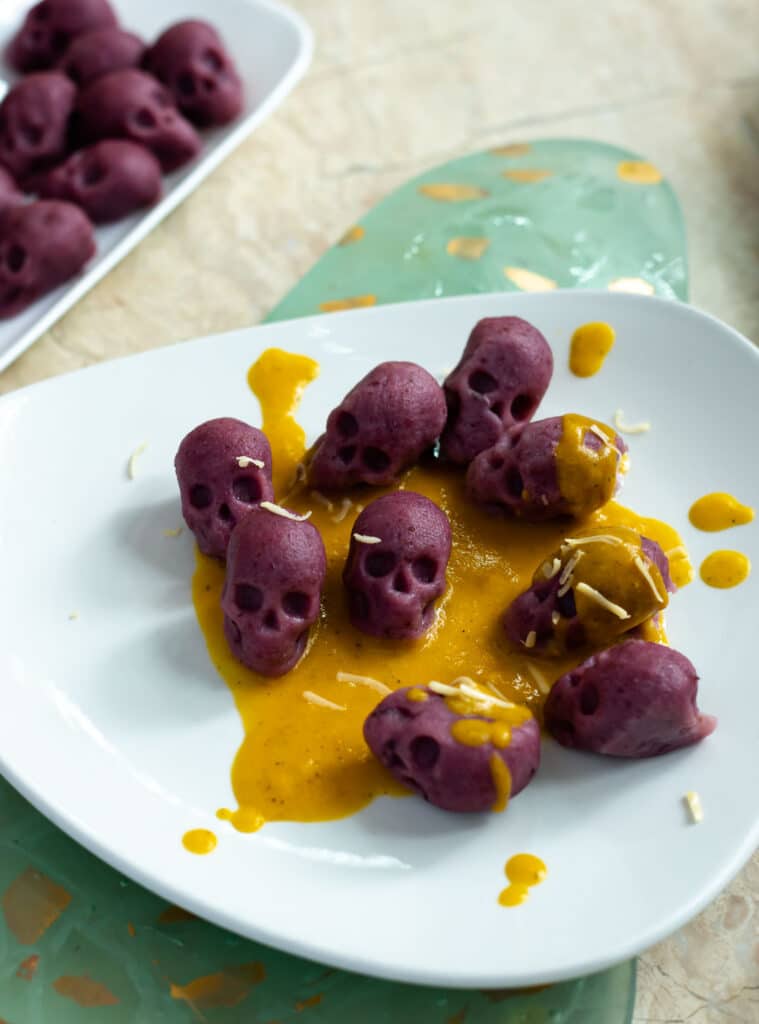 Looking for Other Fall Vegan Recipes?
Spooky Gnocchi
This spooky gnocchi is a purple skull shaped gnocchi! This vegan gnocchi is extra soft while being fun and festive. Simply bake some potatoes, peel and mash, form your skulls, and boil; this simple gnocchi recipe is a fun family project!
Print Recipe
Instructions
Roast your potatoes in oven on a baking sheet at 400 F for 50-60 minutes or until potatoes are soft through the middle when you poke with a fork after they're out of the oven. After they've cooled enough to handle, peel the potatoes. Then either rice your potatoes or mash them. Ricing your potatoes will give you the best result.

Add your flax seed powder and olive oil together for 2-3 minutes to thicken up- then mix it into your potatoes

Boil a large pot of salted water

Add to your potatoes and start to add flour, doing 1/4 cup at time. You want to use as little flour as possible while having a workable dough. The amount of flour you will use depends on the moisture level of your chosen potatoes. Gently work the flour into the dough with your hands, being careful not to overwork the dough as that can result in a tougher chewier result

Drop one gnocchi into the boiling water to test the flour consistency. Cook it until it floats after 1-2 minutes, then scoop it out. If it is too soft and falls apart, add more flour to your dough

Reduce water to low heat while you assemble the gnocchi

Roll your dough into a thin log, about 1 inch in thickness, then cut the dough into roughly 1 inch pieces Press the dough into your floured skull mold, then carefully remove them. You may need to use extra dough to press into the mold for it to come out properly, then cut off the excess at the back of the skull Repeat this until you've used up all your dough; don't let the skulls touch until you boil them or they may not turn out as well

Now that you have your gnocchi formed, turn your pot of water back on high to bring to a boil

Boil your gnocchi until it floats and scoop them out using a slotted spoon or sieve
Notes
1lbs and 8 oz is equal to six small potatoes or 4 large potatoes
Try out varieties of potatoes like Crimson King for the best color, or use your favorite blue/purple potatoes!
Instead of flax seed powder try using ground chia seed powder. Both of theses seed powders create a gelling and binding effect for the gnocchi.
To make this gluten free try using potato starch instead of flour. The result will be slightly more chewy and it will be more soft after coming out of the water, if you let it cool the gnocchi will firm up.
Nutrition
Calories:

564

kcal

|

Carbohydrates:

112

g

|

Protein:

15

g

|

Fat:

6

g

|

Saturated Fat:

1

g

|

Polyunsaturated Fat:

1

g

|

Monounsaturated Fat:

4

g

|

Sodium:

16

mg

|

Potassium:

1066

mg

|

Fiber:

8

g

|

Sugar:

2

g

|

Vitamin A:

5

IU

|

Vitamin C:

45

mg

|

Calcium:

45

mg

|

Iron:

6

mg

Checkout more of the latest recipes:

By