This creamy sunflower cream cheese is made from cultured sunflower milk using traditional cheesemaking techniques.
This dairy free cheese is so smooth, so creamy, and is the perfect addition to your cheeseboard or spread over your bagel!

It's made by creating a sunflower seed milk, you culture it, strain the curds, then you fold in some melted oil to increase the richness.
This recipe is essentially sunflower seed labneh with added oil. Which is how most cream cheese is created but with this is with nut free and vegan ingredients!

This dairy free cheese uses traditional cheese making techniques. You start by making a sunflower seed milk, then you culture it so it curdles, then you press out the whey from the curds, mix in some additional flavorings, and pour into a mold. Say goodbye to grainy seed paste that claims to be cheese and try out this real sunflower cheese recipe!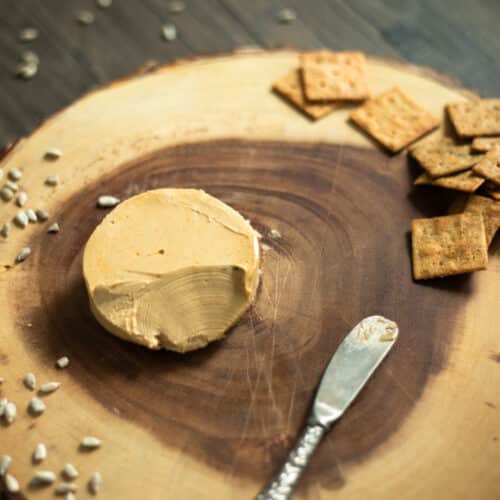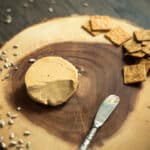 Traditional Cheesemaking Methods Applied To Sunflower Seed Milk
To make traditional cheese you culture milk, strain the whey from the curds, place into your mold, and then age. This method can also be applied to any plant-based milk- you can make cheese from any milk!!!

This recipe isn't a bunch of blended up nuts and seeds mixed with spices to taste like cheese.

This recipe is how to make real vegan cheese using the traditional cheese making method of culturing milk for a smooth, creamy, rich cheese.
Making Vegan Cheese from Sunflower Seeds
The first time I ever made a sunflower seed cheese recipe it used raw seeds that was blended into a cream. Books like Miyokos 'Artisanal Vegan Cheeses' or Piatt's "This Cheese is Nuts" have you ferment the blended seeds into a paste. It is able to melt with added oils and tapioca starch- but the mouthfeel never felt right. The fiber from the seeds was still present, creating a grittiness.
Since then, I started creating homemade tofu… And now I can't go back to blended nut pastes as cheeses.
You may be asking, how in the world is making tofu like making cheese?

It shares many of the same steps to make.
You make a rich milk
You curdle the milk
You press the water away from the curds in a cheese cloth
In all seriousness, tofu is a soybean cheese.
Look at how homemade dairy ricotta is made- it's the same process!
Fermented Seed Cheese- That's Probiotic!
For the smoothest and creamiest cheese, you want a recipe that uses milk rather than whole seeds or nuts. Whole seeds and nuts add in additional fiber that changes the mouthfeel. Dairy cheese has no fiber- to create a result similar to that creaminess, we must limit the fiber in our cheese. You must make your sunflower seeds into a milk to get started!

In some recipes you can curdle your seed milk by simply increasing the acidity by adding lemon juice or vinegar. Which works for higher protein nuts/legumes but can be a struggle for higher starch and higher fat seeds. While it is possible to curdle sunflower milk with lemon juice or vinegar the tangy flavor is strong. Vinegar can be incredibly overpowering.

Fermentation on the other hand adds a funkiness and depth that is found in aged cheese. When you ferment the milk the probotics are eating some of that starch and sugar- helping you get a curdle.
Weak curdles mean more of the liquid will run through the cheesecloth (they will essentially break) and you will have less cheese.
By fermenting your milk to help it curdle you are getting a better overall flavor, the gut healing properties of probiotics, and there will be less waste.


Sunflower Seed Cream Cheese- Made From Milk
The first step to make this recipe is to first make your milk. Sunflower seeds have a distinctive nutty flavor where I find you have a better tasting result by mixing in some other seeds. Hazelnuts and hemp seeds are both high fat and can really improve the overall flavor of your cheese. Switching up the nuts and seeds is totally up to your personal preference. Just keep in mind that almonds naturally contain sulfur and that could affect the flavor of your cheese. Almonds can add a bitterness to cultured cheeses because of the sulfur, which is why I don't recommend them.

Soak everything the night before you make your milk. You can use either a blender or milk maker to make your milk. Ideally you will make your milk with hot water to really help extract the fats from the pulp when it is blending.
I used an almond cow milk maker to make my milk to make things faster. Milk makers make the clean-up and whole milk making process faster, while being less messy.
That being said, I've been making plant-based milk for years using my regular blender and a nut milk bag up until recently. If that is what you have- use it!
Fermenting The Milk
Fermenting your milk will help add a depth in flavor, will help your milk curdle, and will make your cheese probiotic. There are a few ways you can accomplish this. You can either add in a tablespoon of unsweetened probiotic yogurt, coconut kefir, or add in a probiotic capsule.

The bacteria will help eat some of the excess sugar and starches, increasing the acidity, allowing the milk to curdle. For the fermentation process to happen the milk needs to be at 108°F to 112°F for the bacteria to activate.
The simplest way to keep your milk at 108°F to 112°F is to use an instant pot's yogurt function. However you can also do this by pouring your milk into a glass jar, and set that glass jar inside of a water filled slow cooker. Set the slow cooker to the lowest setting for keep warm. Use a thermometer to ensure the milk is at the right temperature- each model of slow cooker will have different settings.

This is why I like to use the Instant Pot's Yogurt function- it's designed to be at the right temperature for the bacteria to help aid in the fermentation process.

When it's done fermenting it will not look like yogurt in the slightest. The main reasoning for this is that sunflower seeds are much lower in protein compared to animal milk. It will look like loose curdles in water.
Strain the Curds
To strain the curds from the water you will need a cheesecloth. Using a tofu mold is also extremely helpful- this process is a lot like making a block of tofu. The one I have linked in the recipe is the one I bought and the one I use. However here is directions on how to make your own tofu mold if you don't want to buy one (look at step 1 to see directions on building a tofu mold).
If you line a tofu press with cheesecloth it should work for this- I haven't tested it but think it should work.

Take your tofu mold, line it with cheesecloth, pour in the fermented milk. Allow it to drain for about 30 minutes or so for most of the liquid to drain out. Then fold over the cheesecloth and gently press the curds. If you press too hard some of the curds will break and go through the cheesecloth. You want to be slow and gentle in the process.

Once it has been pressed you will scrap off the curds from the cheesecloth into a bowl. This is where we turn it into cheese.

This recipe is very similar to the middle eastern recipe for Labneh– a plain yogurt cheese. If you didn't add any other flavorings or oil this would be a sunflower labneh cheese! Try it plain before you add the other ingredients to see how you like it. I defiantly save some of the cheese at this stage to spread over my sourdough!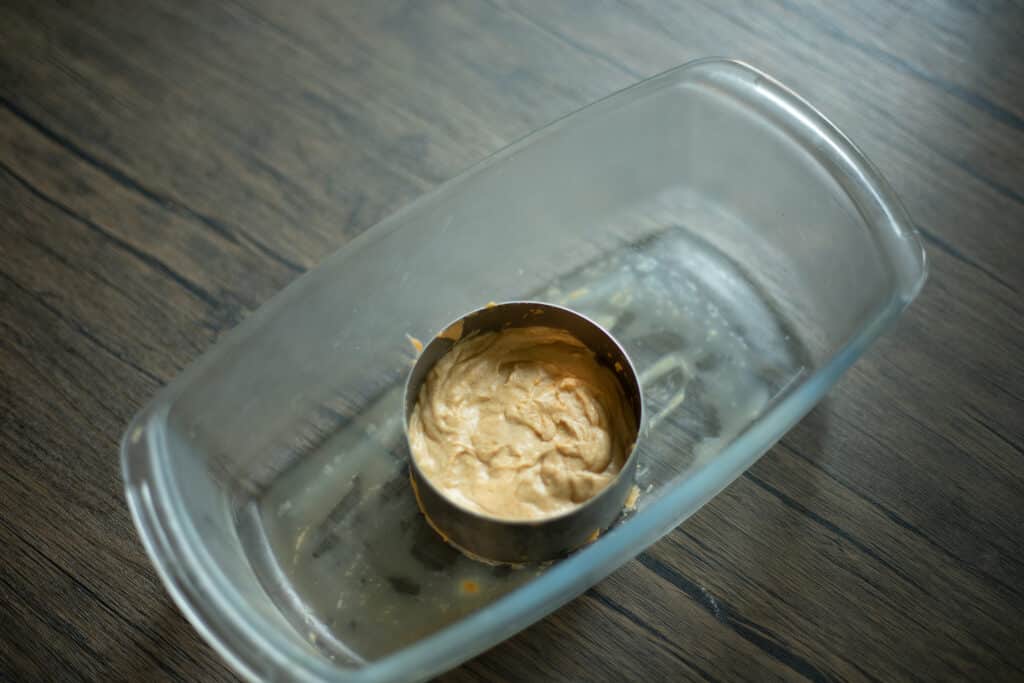 Flavoring Your Sunflower Cream Cheese
You have the option to use this cream as it is- but it is much better if you flavor it up a little. Using a whisk add in some coconut oil. The coconut oil helps firm up the cheese as it has a melting point of 76F- staying completely firm at any temperature below that. The coconut oil also cuts some of the tanginess from the curds while helping it feel richer.
At this point you can get creative with how you want to flavor your cream cheese. The simplest and delicious way is to add a little bit of smoked paprika and nutritional yeast.
Here are some other flavoring ideas:
Sliced Green Onions
Roasted Garlic
Minced Pickled Jalapenos
Thyme and Oregano
Agave and Blueberry Powder
Agave and Strawberry Powder
Forming the Cream Cheese
After you've strained the curds, added extra oil, and the seasonings it's time to pour it into a mold. A pastry ring works great here! You can also line a small bowl with parchment paper and use that as a mold. Make sure you line your bowl with parchment paper so you can remove the cheese. A small springform cake pan also works great as a cheese mold and doesn't require any parchment paper.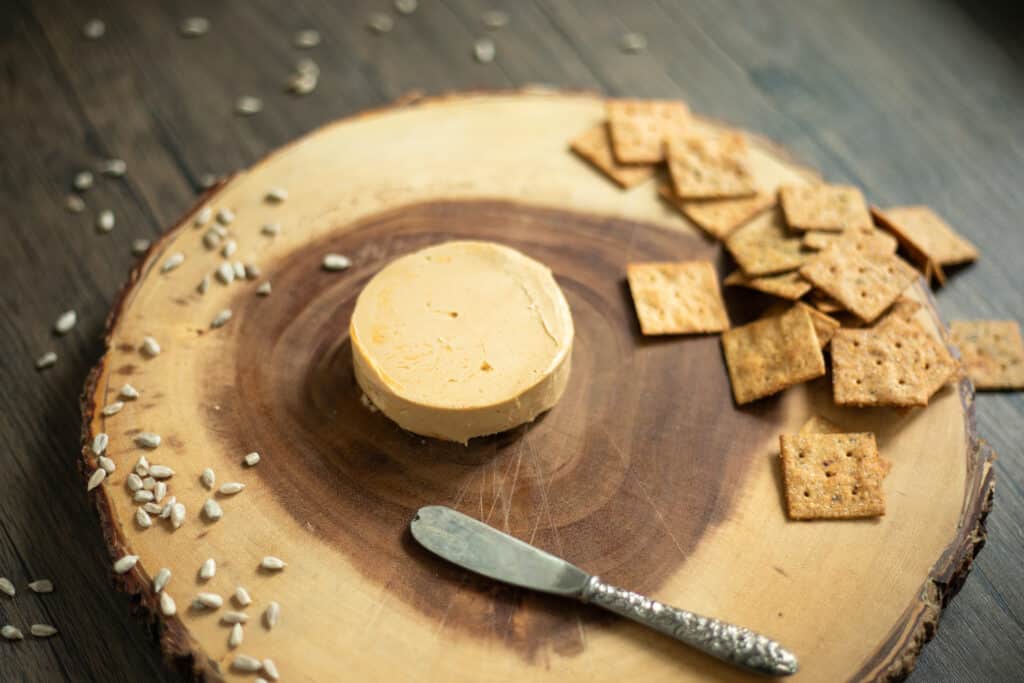 Looking for Other Vegan Cheesey Recipes?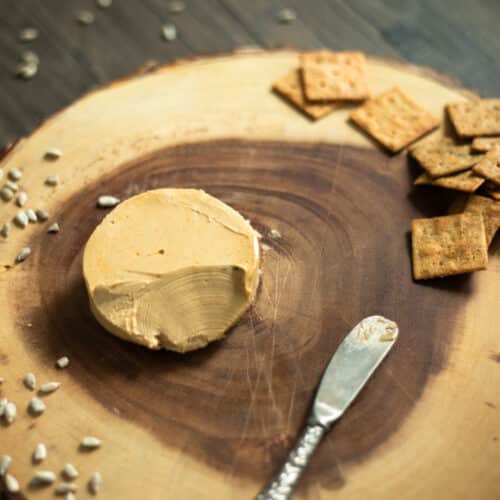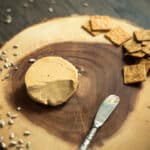 Cultured Sunflower Cream Cheese
This dairy free cheese uses traditional cheese making techniques. You start by making a sunflower seed milk, then you culture it so it curdles, then you press out the whey from the curds, mix in some additional flavorings, and pour into a mold. Say goodbye to grainy seed paste that claims to be cheese and try out this real sunflower cheese recipe!
Print Recipe
Ingredients
Sunflower Milk
1

cup

Raw Sunflower Seeds

3

tbs

Hemp Seeds

Optional, adds healthy omega 3 fatty acids and makes the cheese richer

3

tbs

Hazelnuts

Optional, increases richness. Walnuts or pecans also work

5

cups

Water
Culturing
2

tbs

Yogurt

of any kind, preferably unflavored, or add a probiotic capsule
Cheese Flavoring
3

tbs

Coconut Oil*

Helps firm the cheese up as it has a melting point of 76F, cold cheese be firmer, sliceable yet able to melt

1

tbs

Tapioca Starch

Helps bind the extra oil to the cheese

1

tsp

Sea Salt

Consider using smoked salt

2

tsp

Miso

Light Miso, Chickpea Miso, Sweet Miso

2

tbs

Nutritional Yeast Flakes

Optional, substitute with 1 tbs mushroom seasoning or 1 tsp MSG

½

tsp

Smoked Paprika

Optional

½

tsp

Truffle Oil

Optional, but delicious
Instructions
Sunflower Milk
Soak your sunflower seeds overnight in the refrigerator

Strain and rinse your seeds and either add them to your milk maker or to your blender. Add in about 5 cups of water.

Blend until smooth and strain. If using a blender strain using either a cheesecloth or a nut milk bag.

Discard the sunflower seed pulp (use for another recipe by adding it to your granola, oatmeal, sourdough, ect)
Culture Your Milk
Add your milk to either an instant pot or a slow cooker.

If using an instant pot set the temperature to the yogurt setting, if using a slow cooker set it to the coolest setting possible like keep warm.

Too warm of a temperature will kill the probiotics, too cool and it will take a long time to culture. It needs to be at a temperature around 110F

Add in the yogurt to the milk and leave it overnight (8-12 hours),

The longer you leave the milk to culture the sourer and more intense the flavor. If you want a milder flavored cheese, you can culture it in as little as 4 hours, just look for curdling and separation. If you don't culture long enough the curds maybe too delicate and strain throw the cheesecloth- resulting in a smaller amount of cheese.

This mixture will be thin even after culturing.

The goal here is to get the milk to curdle, become probotic, and have a slight tangy flavor
Forming the Cheese
Line a tofu mold/ tofu press/ mesh strainer with cheese cloth

Pour the cultured milk into the tofu mold slowly and you will see the watery whey separate from the curds. Allow it to strain until you are left with a thick cream.

If you are using a tofu mold/press wrap the cheese cloth over the surface of the cream and press out more of the water. The longer you leave the cheese to press the firmer your cheese will be. Be careful to not press too hard so the curds don't come out of the fabric

If you do not have a tofu press/tofu mold simply squeeze the liquid out of the cheesecloth gently so you are left with a thick cream cheese

Scrap out the cheese from the cheese cloth into a blender. Add the coconut oil*, salt, starch, miso, and nutritional yeast.

Blend until well incorporated

Pour the mixture into a mold.

You can line a small bowl with parchment paper for a mold, use a silicone mold, or use a small cake ring.

Leave in the refrigerator overnight to set
Video
Notes
You can make this cheese without any added oil.
Coconut oil helps this cheese be firmer. However it will still taste fantastic as a soft cheese! If you leave out the coconut oil consider treating this cheese like a thick cream cheese. It is fantastic spread over breads or filled into pasta! Use a high-grade cheese cloth to prevent curds from coming through the fabric.
If the holes are too large in your cheese cloth you will have a smaller yield. Often the single use cheese cloth fabrics have a larger porosity and will allow curds to pass through.
A grade 90 reusable cheese cloth or a thin, clean tea towel is ideal. In equipment section I linked to the reusable cheese cloth that I use. 
Nutrition
Calories:

253

kcal

|

Carbohydrates:

8

g

|

Protein:

9

g

|

Fat:

22

g

|

Saturated Fat:

7

g

|

Polyunsaturated Fat:

8

g

|

Monounsaturated Fat:

5

g

|

Cholesterol:

0.3

mg

|

Sodium:

476

mg

|

Potassium:

206

mg

|

Fiber:

3

g

|

Sugar:

1

g

|

Vitamin A:

52

IU

|

Vitamin C:

0.3

mg

|

Calcium:

41

mg

|

Iron:

2

mg

Did you make this recipe?
Please take a moment to rate and review it!

Looking for more recipe inspiration?
Here's the latest recipes:

By