These Vegan-Cheeseburger-Onion-Ring-Curly-Fry-Nachos will make your heart sing while satisfying your munchies!
Making these cheeseburger nacho fries will be the cure to your snack attack, your munchie mayhem, the ultimate food porn for your comfort food craving.
They will be the life to your party!
Yeah, they are that good.
Whether you want to serve these up for your Netflix/ stream session, or if you want to show off how dank vegan food can be, this is your recipe!

I personally inhaled these last April 20th for my munchies fix, creating this specific recipe as a homage to my Munchie Madness Nachos I created the previous year.
These vegan cheeseburger nachos are even better where it tastes like a burger in fries all in one!
You can make these in an air fryer, oven, or even a deep fryer!

To get started anyways, you will need to use your oven to melt the cheese after you cook up your fries and onion rings.
Then it's simply drizzling on your blue burger sauce, ketchup, and lettuce.

I used Alexia's Onion Rings and Arby's Frozen Curly Fries- both are vegan, both are extra tasty. Use whatever brands you prefer and even consider trying this with waffle fries, sweet potato fries, or tater tots!

For the beefy crumble I crumbled up some a plain Beyond Burger- it really helped give these a nachos a real burger vibe. You could do a homemade burger patty that is crumbled up or try out some other brands.
Check out Sauce Stache's videos for some awesome burger patty recipes if you want to make some from scratch.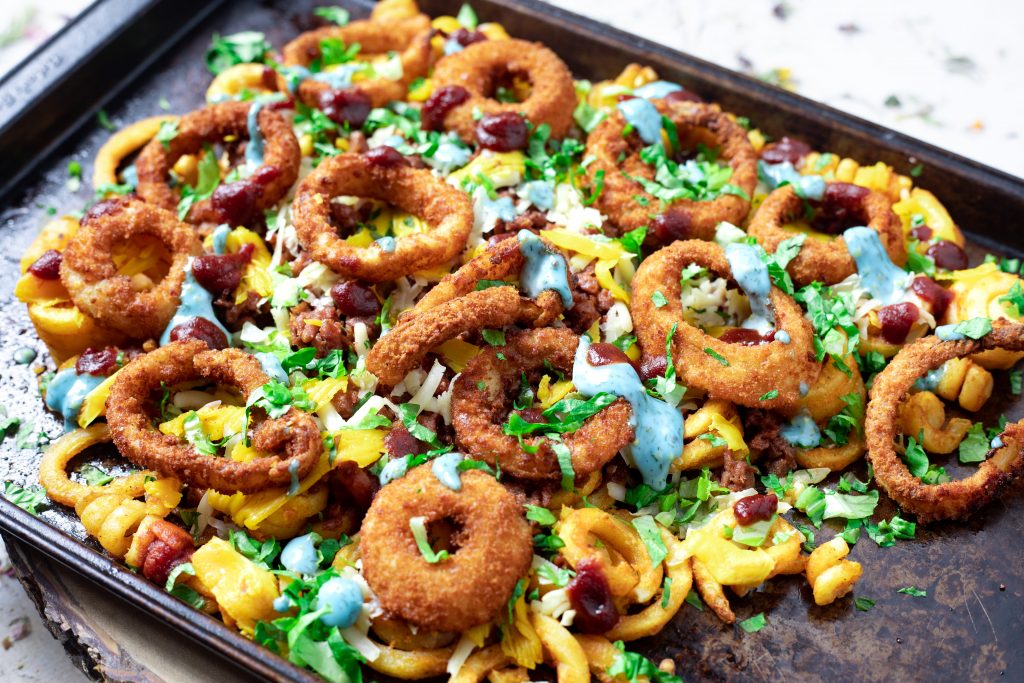 I used both Violife Cheddar Shreds and Follow Your Heart Smoked Gouda for the cheese.
Violife is one of my favorite brands of vegan cheese, the flavor is spot on and it melts really nicely, and I am obsessed with the flavor of the Smoked Gouda from Follow Your Heart because it really adds an *oomph* to it.
If you don't have vegan gouda on hand, try a vegan swiss, provolone, or add extra vegan cheddar to it.
Miyoko's cheese is my all time favorite brand, but it gets expensive. They use real cashews and coconut to make their cheeses, and higher quality ingredients means it's more expensive to make. That's where I also love to make my own cultured cheeses! We go through it fast in my house and since it takes time to create, store brand cheese does the job when we are out.
Daiya cheese has improved a ton in the past few years. It is the most affordable vegan cheese and they keep improving their recipes to make it more delightful. If you have the choice, pick up the sharp cheddar block rather than their cheddar shreds!
It melts better and has a better overall flavor.
If you've never made your own homemade ketchup before I strongly encourage you to give it a try!
It is very, very simple and tastes so much better than your classic Heinz ketchup. The version I create regularly is with tomato paste, balsamic vinegar, smoked apple salt, and maple syrup. Another I love has vegan apple honey, apple cider vinegar, and smoked apple salt in it.
Ketchup is a disrespected condiment that can be fantastic if you give the recipe a little love. I've been told over and over by other people, "Ketchup is a garbage condiment." What I'm telling you is, no, the ketchup you've tried up until this point has been garbage- allow me to blow your mind!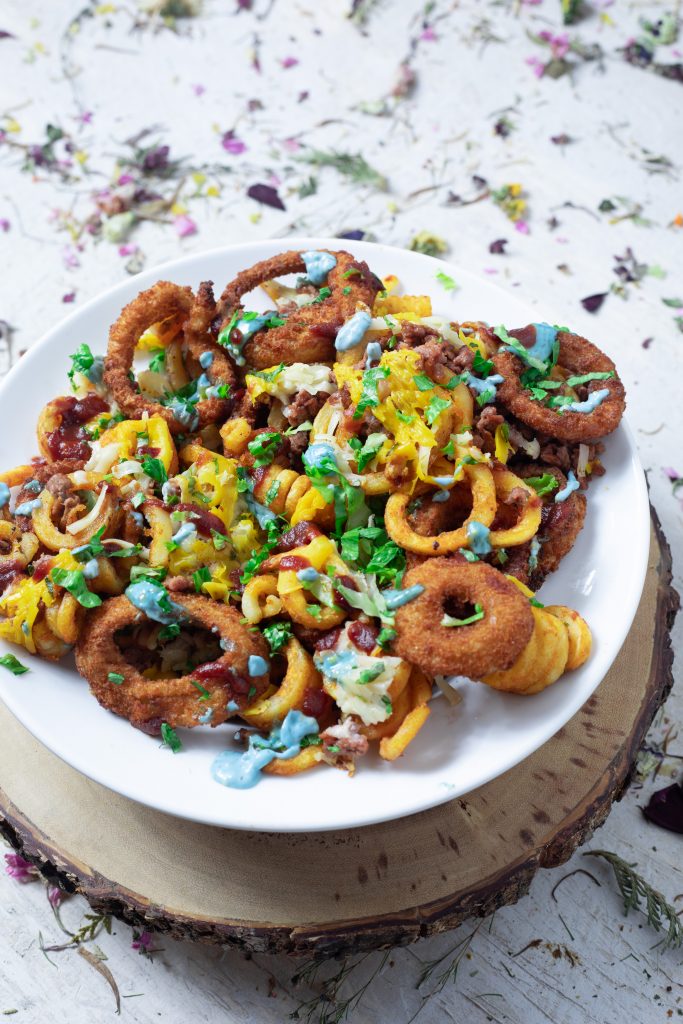 The burger sauce is what I imagine the other burger flavors that would normally be between the bun. Like mayo, mustard, and pickles.
I thought that slices of pickles over my fries wasn't ideal, but I still wanted to offer the full cheese burger experience.
The secret ingredient in this sauce is the Blue Spirulina. It has no flavor, is anti inflammatory, and makes your food blue! I love adding a teaspoon of it to my cream sauces for an extra wow factor.
The combination of mayo, dill, mustard, and vinegar creates those missing flavors that would be on a cheeseburger.
No need to dip these fries- they come plenty saucy!

If you love the look of this recipe, check out the restaurant that inspired the idea of making food colorful like this. I've never had the opportunity to eat there myself, but there are on my foodie bucket list to try someday!
(As if I need another excuse to go back to Amsterdam!)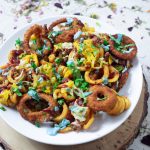 Cheeseburger Onion Ring Fries
Why do a burger and fries when you can have fully loaded cheese burger fries?
Print Recipe
Ingredients
11

ounces

(1 package) of Onion Rings

22

ounces

(1 package) Curly fries

2 Veggie Burger Patties, 8 oz

1/2

cup

Shredded Vegan Cheddar

1/4

cup

Shredded Vegan Gouda

4

Tbs

Ketchup

Shredded Lettuce for Garnish

Ketchup for Dipping and Sprinkling
Blue Burger Sauce
2

tbs

vegan mayo

2

tbs

mustard

2

tsp

white vinegar

1

tsp

dill

1

tsp

blue spirulina

1

tsp

onion powder
Instructions
Air Fry your curly fries at 400 F for 10 minutes, stirring halfway through, and cooking in batches or Bake the entire bag of curly fries at 425 for 25 minutes on a baking sheet or Deep fry your fries by setting your oil temperature to 360 F and cook for 6-7 minutes

Lay out your fries on a baking sheet for more layering

While you are heating your fries Crumble up your veggie burgers and cook them for 5 minutes on medium heat, so they are just under under done

Sprinkle your crumbles over your fully cooked curly fries

Air Fry your Onion Rings at 400 F for 8-9 minutes or Bake your Onion Rings at 400 F for 6-7 minutes, then flip and cook for another 3-4 minutes or Deep fry your Onion Rings at 360 F for five minutes Set aside

Preheat the oven to 350 F

Sprinkle your cheese evenly over the crumbled burger and fries

Add onion rings over the cheese and place in the oven for 6-8 minutes, until the cheese is melted

Mix together everything for your Blue Burger Sauce in a small bowl

Finely chop up two large lettuce leaves

Move your baked cheesy burger fries onto your serving plate and then sprinkle on your lettuce, drizzle your ketchup, slather your blue burger sauce over the top

It's burger fry time!
Notes
Swap out the Gouda for a Smoked Vegan Provolone, Pepper Jack, Havarti, or Swiss
Swap out the curly fries for waffle fries for a whole new experience
Top it with pickle slices!
Top it with red onion slices!
Make a BBQ edition, sub out the burger sauce for bbq sauce, swap out the veggie burgers for shredded king oyster mushroom or bbq jackfruit.
Then top with banana peppers, red onion, and maybe a little coleslaw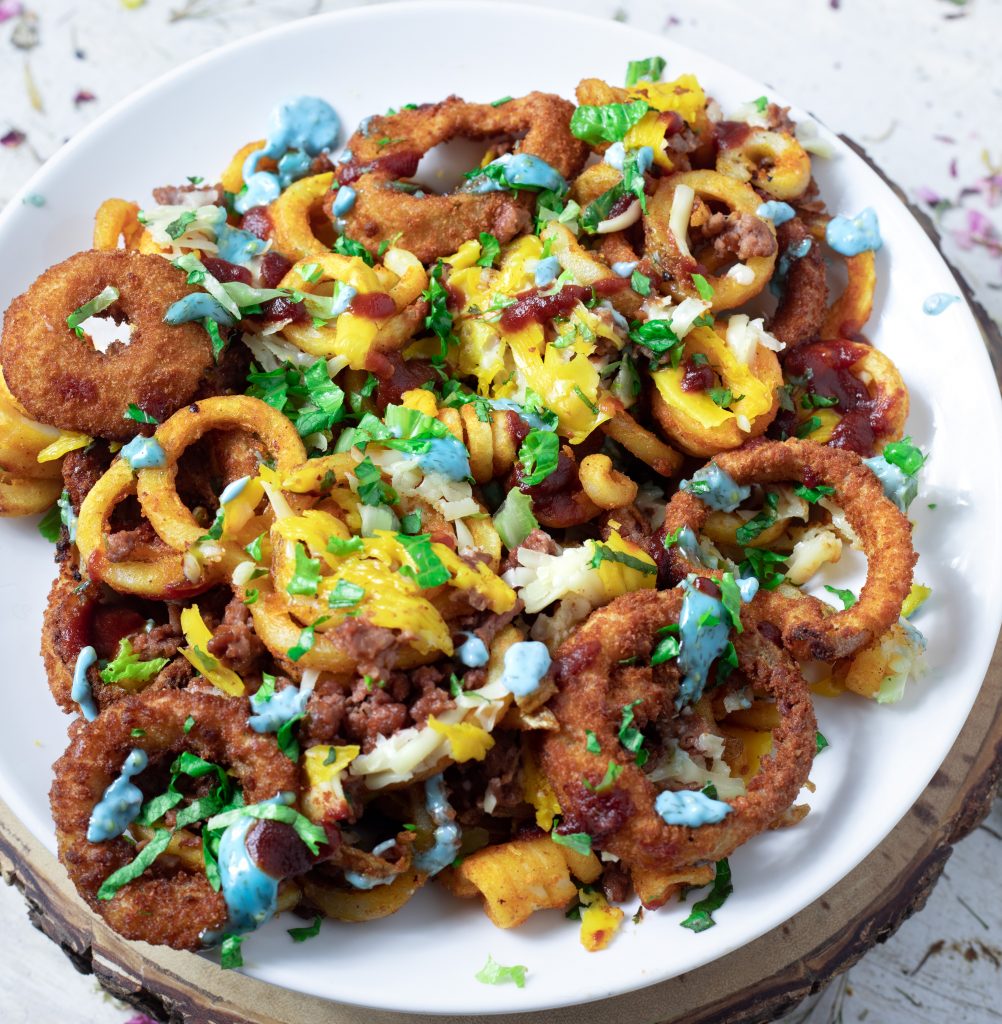 Stay tuned to the latest content- subscribe today!

Air Fryer Recipes Baking Recipes Breakfast Candy Recipes Chicken of the Woods Recipes Comfort Food Recipes Dip Recipes Drink Recipe Eco Friendly Lifestyle Fall Recipes Fried Recipes Gluten Free Recipes High Protein Recipes Instant Pot Recipes Late Summer Recipes Lobster Mushroom Recipes Low Calorie Maitake Recipes Mushroom Recipes Nut Free Oyster Mushroom Recipes Pasta Recipe Plant Based Seafood Recipes Sandwich Recipes Sauce Recipe sides snacks Soul Food Soup Soy Free Recipes Spring Recipes Stove Top Recipe Summer Recipe Sweet Recipe Tea Recipe Thanksgiving Vegan Recipes Winter Recipe Winter Recipes

By